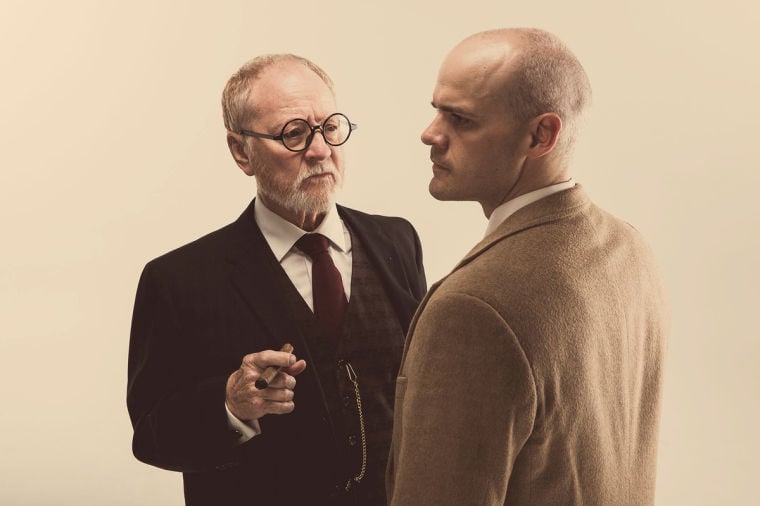 What: "Freud's Last Session" stage drama
Where: Omaha Community Playhouse, 6915 Cass St., Howard Drew Theatre
When: Friday through Nov. 17. Showtimes: 7:30 p.m. Thursdays through Saturdays, 2 p.m. Sundays.
Tickets: $35 adults, $21 students
When you're staging an imaginary conversation between two world-famous people — psychiatrist Sigmund Freud and author-scholar C.S. Lewis — you want to get certain facts right.
"Freud's Last Session," which opens Friday at the Omaha Community Playhouse, will have a set and props modeled after photographs of Freud's actual London office. Freud will have the beard and round eyeglasses you'd expect from photographs.
But, said director Kevin Lawler, this isn't a historical treatise. It's a lively, contemporary interaction — near the end of Freud's life in 1939 — about ideas that remain highly relevant today.
"We don't need to get too crazy re-creating every detail about these guys," he said. "What's more important is what's being shared and said and felt between them."
Bernie Clark, who plays Freud, has been reading some of Freud's writings, along with other literature referenced in the script. He has also watched brief snippets of Freud posted online, smoking his cigar and speaking.
"As Kevin reminds me, Freud was a stoic, really dogged," Clark said. "He was a very pampered child, which gave him a dogged determination to go on."
Nick Zadina, cast as Lewis, said he's been working with Playhouse associate director Susan Baer Collins on a British accent. Collins advised him to watch the movie "Shadowlands," in which Anthony Hopkins plays a slightly older version of Lewis. Zadina said it was interesting to watch how Hopkins, known for his homework on roles, chose to carry himself and speak as Lewis.
"A lot of the lines from our script are also in that movie," Zadina said. "Lewis loved to discuss and debate, but he rarely found people his equal intellectually. Taking that information into this play was helpful."
Lawler said that while a discussion or debate about ideas is at the heart of the play, "an even greater part is the desire for two human beings to interact with each other in a search for meaning, even from diametrically opposed camps or philosophies."
That hunger to try each other's beliefs on for size is what deepens understanding and leads to social progress, Lawler said. But he said that kind of interest in ideas and intellectual rigor is becoming ever more rare in modern society.
"We're so busy now we don't take time to sit and deeply engage with one another," he said. "But that type of interaction is what brings meaning to life. Not the soundbite. Not the tweet. That's the other piece of this play."
The Omaha Community Playhouse is offering a series of audience talkbacks after each of the performances of "Freud's Last Session," which opens Friday.
On evenings when one of the following is not scheduled, actors and crew will sit for a Q and A about the production. The other post-show programs:
Lone Tree Theatre. Julia Hinson, Josh Ryan and John Landrie briefly outline C.S. Lewis' literary work and preview their show "Ransom: Enacting a Myth." Presentation dates: Oct. 24, Nov. 2, 9 and 10. "Ransom: Enacting a Myth," based on C.S. Lewis' novel "Perelandra," will be performed as part of the Playhouse's 21 & Over series of free staged readings Nov.11.
C.S. Lewis: A Summary of His Life and Legacy. Bob Thune, pastor and founder of Coram Deo Church Community, outlines Lewis' life, then opens the presentation up to questions and comments. Discussion dates: Oct. 25 and 26.