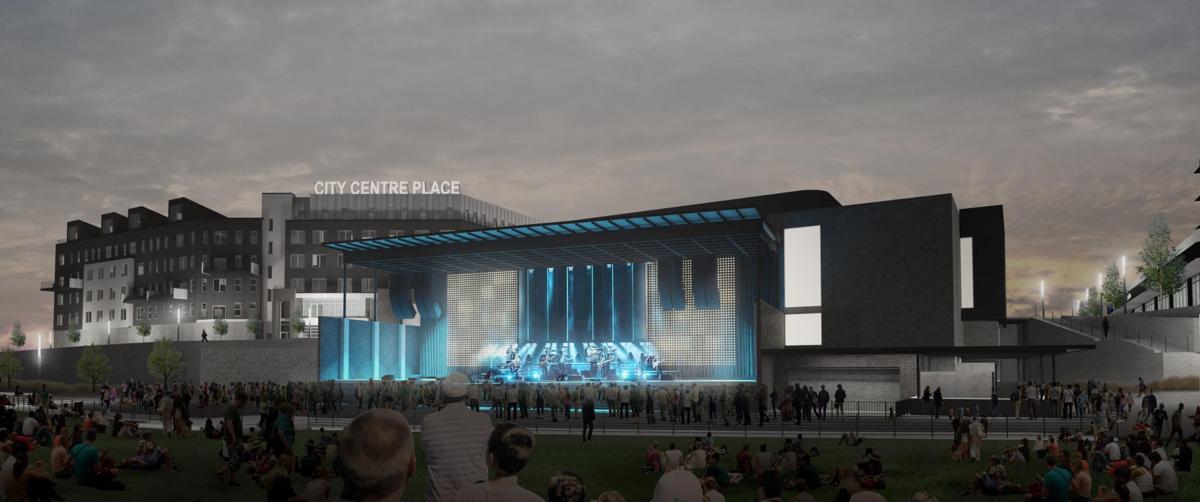 There's nothing quite like it in town.
The Omaha area has rock clubs and arenas, theaters and amphitheaters, but it doesn't have anything quite like the venue being built in La Vista by local promoter 1% Productions, Kansas' Mammoth Live and Omaha developer City Ventures.
With it could come acts such as Arcade Fire, Nine Inch Nails, David Byrne and LCD Soundsystem. Or Haim, Flaming Lips, All Time Low, Ben Howard and Kane Brown.
Artists like those have skipped the market because they don't have the right place to play, according to Mammoth and 1%.
"We're missing tours. When we don't miss them, we're putting them in oddball situations where the production doesn't work, or it's an odd fit, or the artist can't make money, or we can't break even," said Mammoth's Josh Hunt.
As part of La Vista's City Centre development near 84th and Harrison Streets, a music venue with an indoor space and outdoor amphitheater will be built. The indoor space will be a hybrid club and a theater.
The venue will be operated by 1% and Mammoth Live. They plan to break ground later this year and open in 2020.
The La Vista City Council voted unanimously Tuesday night to support a preliminary statement of intent to build infrastructure that supports the music venue. The dollar amount hasn't been finalized, but $3.2 million could be needed, said Brenda Gunn, La Vista's city administrator. City-funded improvements will most likely include restrooms, retaining walls, landscaping, access from the park to the development and emergency access.
"These are all things that we had planned to do for the park area anyway," Mayor Doug Kindig said.
Initially, 1%, Mammoth and City Ventures had proposed that the city build and own the amphitheater. But as conversations with the city and preliminary design work progressed, it made more sense to privately build and own the whole thing, said Marc Leibowitz of 1%.
The planned venue is not aimed at taking down other venues, Leibowitz said. Both production companies operate elsewhere in the metro area (Reverb and The Waiting Room in Benson), and they're eager to build a space that fits a need they've observed over years.
As for other venues in the Omaha area, they are too big or too small, too formal, their calendars are tight or 1% is not able to book acts at them.
"It's about the venue we want to build. It's about bringing something new," Leibowitz said. "We really just want it to be a top-notch experience. We're gonna go all out on sound and lighting. We want it to be permanent infrastructure — not tents for concessions or a stage you build that morning."
The inside venue will fit up to 1,800 people. The outdoor venue will fit up to 4,000. Both spots will be able to scale up, depending on the configuration of seating and other elements.
When complete, the space will be like a combination of Sokol Auditorium and Stir Cove.
The amphitheater will have a self-imposed curfew of 10 p.m. on weeknights and 10:30 p.m. on weekends, Leibowitz said. That will help keep down the noise late at night, he said, and encourage people to stick around the City Centre for food or drinks.
Hunt said he is surprised that Omaha doesn't have a similar venue.
"It's crazy there isn't a multi-format, varied function theater there," Hunt said. "If you look at any city the size of Omaha, with a few exceptions, there's one or two. In Kansas City, you have the Uptown and the Midland, and they both have full calendars."
While revenue from recorded music is declining, the concert industry is thriving.
"There are more shows in this market than ever before," Leibowitz said. "There are more shows out there. There's more business to be had, and we need a place to do it that works."
"It's gonna be really exciting for the market," Leibowitz said.
"We're missing tours. When we don't miss them, we're putting them in oddball situations where the production doesn't work or it's an odd fit or the artist can't make money or we can't break even." — Mammoth Live's Josh Hunt.