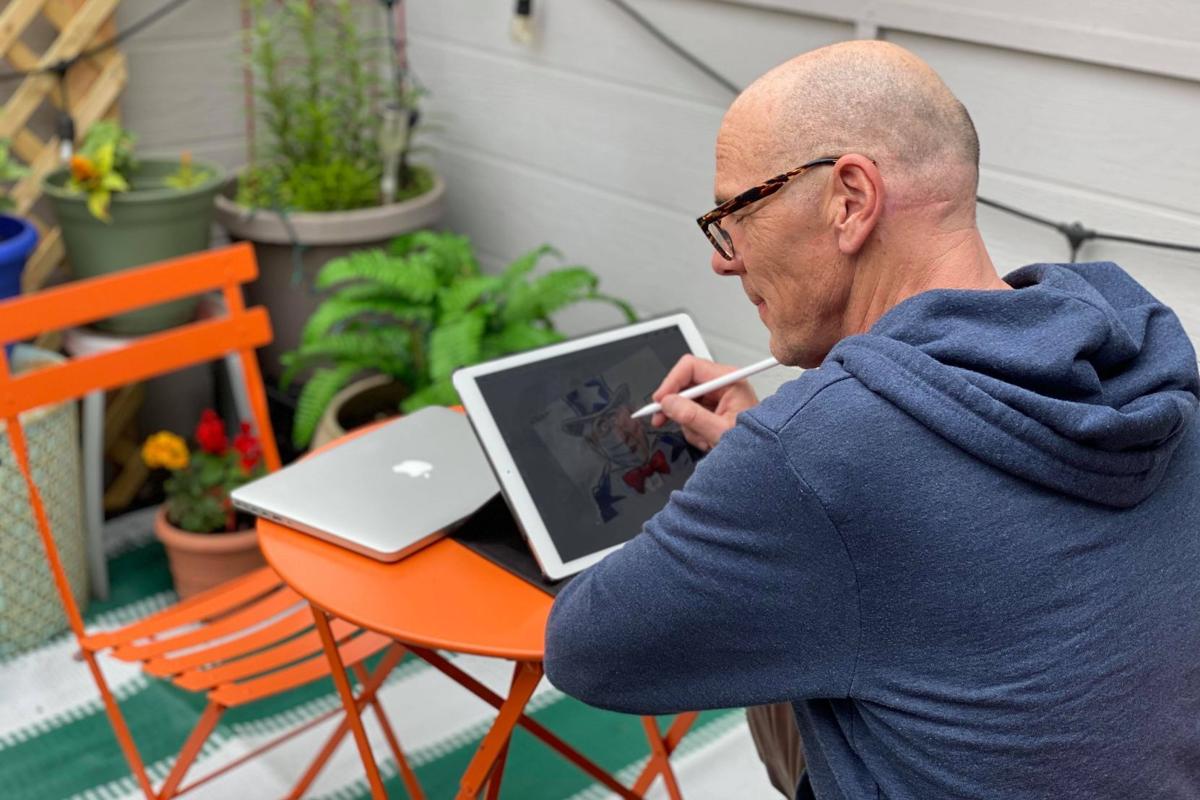 For three years, artist Jeff Koterba's new iPad and Apple pencil sat unused and unloved.
"My son encouraged me to use it and I tried to, in fits and starts. I just could not get the hang of it," said Koterba, who has been The World-Herald's cartoonist for more than 30 years.
He liked creating his cartoons at a drawing board, with real ink in a multilayered process. He was used to that. It was comfortable.
When the coronavirus hit and World-Herald employees began working temporarily from home, son Josh saw an opportunity.
Koterba was used to working remotely, sometimes from Josh's home in Florida or even overseas, but the iPad would be less unwieldy than a table and a bunch of pens in his tiny loft apartment, Josh argued.
"(He) told me that if ever there was a time to use it, it was now," Koterba said.
No dice. Dad wanted to sell it and be done.
Josh kept nudging. Let's start that comic strip together, he said.
Friend Steve Sack, a Pulitzer Prize-winning cartoonist at the Minneapolis Star Tribune, joined the chorus: "You just need to dive in."
All right, already, Koterba thought. You — and the late Steve Jobs — win.
"I don't know what happened," Koterba said. "I literally picked it up and said 'Today I'm going to start drawing my editorial cartoons this way.' At my age I didn't know if I could learn anything new, but it changed my life."
His first cartoon produced on iPad appeared in The World-Herald on Easter.
Koterba told a socially distanced group at the Hoff Family Arts & Culture Center in Council Bluffs about the evolution of his artistic process at the opening of a special exhibition on editorial cartooning. It was delayed from May because the center was closed due to the coronavirus and was the first event in the newly reopened building last week.
The iPad and Apple pencil streamlined a process that had several steps. And despite Koterba's apprehension, it's actually creating more vivid art than before.
With the pencil, he can get details in small pieces of the cartoon — say, an eyeball — by enlarging it on the iPad screen.
"You can put shadows in eyeballs," he said with something approaching awe. "I like to think that on some level, readers are picking up on these details."
It doesn't save him any time — in fact, the coloring process takes longer — but it allows him to tap into his original training in oil painting.
The change in process gives him a way to talk about a favorite theme: the advantages of being open to new things and how to apply that to everything in life, he said in an interview before his talk at the Hoff Center.
"I'm a big believer that whatever a person does, there are new ways to look at life," he said.
He was pleased to talk about his avocation and to see the exhibit, which features several Pulitzer Prize winners, in advance last week.
One thing that hasn't changed over 30-plus years is the way he comes up with ideas.
"I consume as much news as I can from as many perspectives as I can," he said, calling himself "a passionate centrist who will poke fun at anybody who deserves it."
He seeks opportunities to draw things that bring people together or offer them a way to agree to disagree in difficult times. Cartoons are still popular with readers, he said, perhaps because they're visual.
"Cartoons are a way in our busy lives and busy schedules to gauge what's going on in the world," he said.
And what about that comic strip with Josh?
They launched it online about five weeks ago and it has up to 1,600 followers. It's not political. It's about a dog, a cat and a turtle and their lives sequestered together at home. He said he and his son wanted to create something that brings people joy and happiness.
Through the strip, called "Chirpy," he has found that himself. Josh's kids, ages 6 and 9, are following Papa K's lead.
"My grandkids are working on strips I get to draw and it's amazing," Koterba said. "I've come close to crying."
He's living the life, pandemic be damned.
"I've never had so much fun drawing," he said. "Every day I am still learning."
Photos: At the 30-year mark, Jeff Koterba shares his favorite World-Herald cartoons
2019 marks Jeff Koterba's 30th year at The World-Herald. The fifth World-Herald cartoonist in a line that began with Guy R. Spencer in 1899, Koterba's award-winning has been work reprinted in publications around the globe. In fact, one actually traveled around the globe — aboard Space Shuttle Discovery. Here are a few of the more than 9,000 cartoons Koterba has drawn that he puts among his favorites. If you want to see more cartoons and learn more about his creative process, you can order his book, "Drawing You In," published to commemorate his 25th anniversary with The World-Herald.