Omaha Performing Arts on Wednesday announced plans to build a $109 million music venue in downtown Omaha.
The venue will be between Dodge Street and Capitol Avenue and 11th and 12th Streets.
Fundraising is underway for the facility, which is planned to open in 2023.
With a planned capacity of 1,500 to 3,000 and no fixed seats, the venue is envisioned as a concert hall for touring bands as well as a flexible performance space for local arts organizations. It could accommodate a standing-room crowd for a rock concert or a thrust stage and seating risers for an immersive opera performance, said Omaha Performing Arts President Joan Squires.
Omaha Performing Arts staff talked to other local arts organizations about what their needs would be in such a space.
"We've really tried to incorporate what they've talked to us about," Squires said. "This is a new venue for the community. It's for arts and entertainment."
Some artists have passed over Omaha because of the lack of a suitable downtown live music venue, Squires said. Others looking to play Omaha asked if the permanent seats in the theaters at the Holland Performing Arts Center or Orpheum Theater could be removed, which wasn't possible.
Omaha Performing Arts officials hope the new venue will be of a size and configuration that is appealing to touring artists.
"It's bigger than the Orpheum and smaller than the CHI Health (Center)," Squires said. "The bands want that kind of experience. They don't want to play CHI, but they're too big for some of the venues we have now."
The Omaha area already is a seemingly crowded space for music venues.
The new venue will be across Dodge Street from the Holland Performing Arts Center and less than a mile from the Orpheum Theater, both of which are operated by Omaha Performing Arts.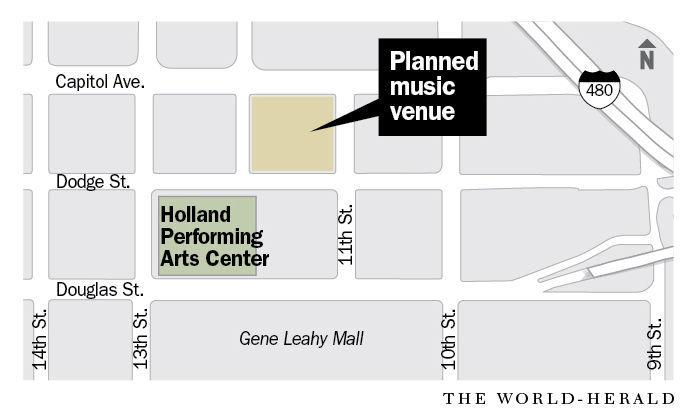 The area also is home to venues including the Ralston Arena, Baxter Arena and the CHI Health Center, as well as smaller music venues such as Slowdown in north downtown and The Waiting Room in Benson. Stir Cove is across the river in Council Bluffs, and a new indoor-outdoor music venue is under construction in La Vista.
Squires said Omaha Performing Arts' planned venue will fit in with the area's other venues because it will be a different capacity and focus. The Holland Center and Orpheum have seen an increase in bookings in recent years, which signaled a need for more performance venues.
"We have wonderful options now. We think this will add to and enhance what's already here," she said. "We have wonderful places like Slowdown and The Waiting Room and others, but this will provide a different type of experience."
The new downtown venue will be designed by Ennead Architects and Holland Basham Architects. After fundraising is complete, construction is planned to start in 2020.
A study by Eric Thompson of the University of Nebraska-Lincoln estimates that the new venue will bring 155,000 people downtown annually with a $13 million economic impact, Squires said.
The venue is the first phase of a planned campus expansion for Omaha Performing Arts. The second will include an education center, which will be constructed in what is now a green space east of the Holland Center. There is not yet a timeline for phase two.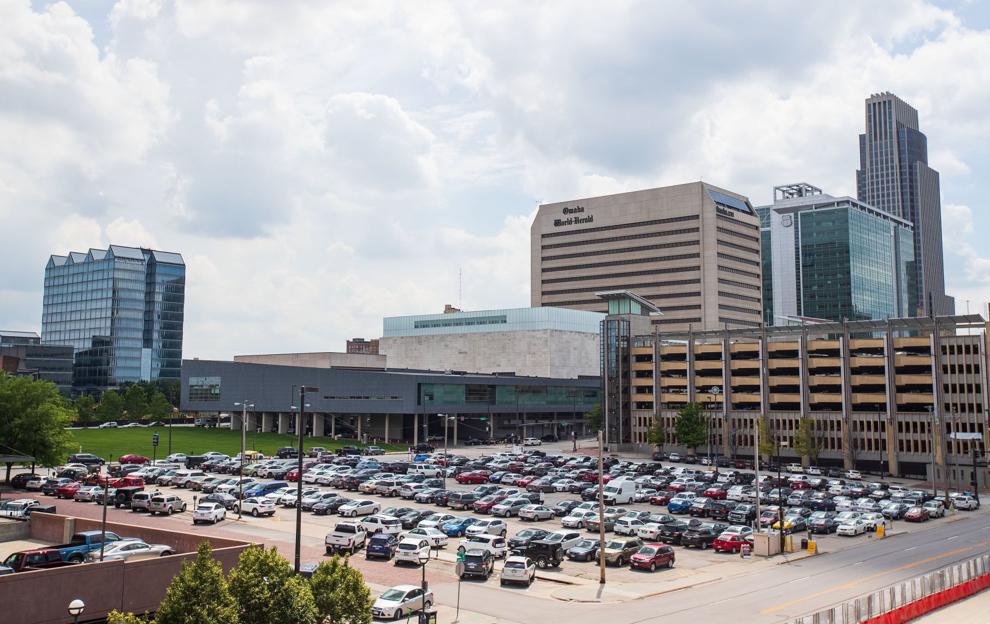 Currently a parking lot, the site of the venue was once considered as a possible headquarters for HDR. Earlier this year, the City of Omaha sold two slivers of adjacent city property to Omaha Performing Arts, which already owned the rest of the block.
Omaha Performing Arts' previous plans called for expanding east of the Holland onto property that holds three historic buildings. Proponents of historic preservation worried that some or all of the buildings might be demolished.
The arts group backed off those plans in 2016 after a public outcry over the possible land-swap deal involving the city, the group and HDR Inc. In the end, HDR chose to build in Aksarben Village.
Here's how the planned venue's capacity compares to others in the area