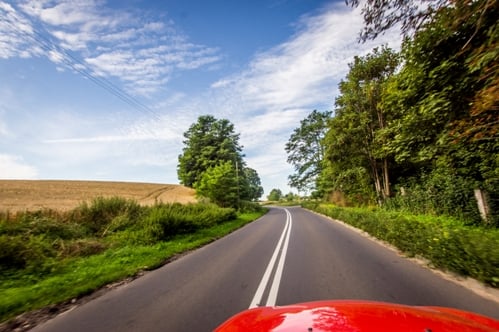 It's about time to hit the road.
Spring is here, and summer is coming, and I'm once again itching to get out of town.
Whenever I travel, I rarely hop on a plane to get from here to there. I'm much happier to hit the open road with a pile of tunes and some good friends while we drum out the beat on the steering wheel, do some highway harmonies and let the music's tempo dictate our pace.
As musicians are wont to roam the country to play their tunes, a plethora of road-focused tunes are waiting for you whether you're planning a lazy Sunday drive through the hills or a cross-country road trip.
"On the Road Again" by Willie Nelson
It's the ultimate road trip tune. "On the Road Again," its rolling rhythm and lyrics about driving with the best of friends can't be beat.
"East Bound and Down" by Jerry Reed
Put it on. Channel the Bandit. Hit the gas.
"Another Travelin' Song" by Bright Eyes
Visiting cities at the break of dawn and visions of a billion highways criss-crossing the country are exactly what I think of when I throw my bags in the trunk.
"Passenger Side" by Wilco
Much like in this tune, I prefer being in the driver's seat.
"Turn the Page" by Bob Seger
We've all been on a long and lonesome highway east of Omaha.
"Amarillo by Morning" by George Strait
The cowboy in this tune is committed to a life on the road, chasing his dream at the expense of pretty much everything else.
"Much Too Young (To Feel This Damn Old)" by Garth Brooks
A lonely trip down the highway with a worn out tape of Chris LeDeoux? Conjures up some memories.
"Wagon Wheel" by Old Crow Medicine Show
Sometimes, the only way to get closer to your baby is to hitchhike. (And I prefer this raw, original version to the slick, Hootie-fied version that's really popular.)
"Runnin' Down a Dream" by Tom Petty
Who hasn't stuck their hands out the window to glide in the wind and sung Del Shannon's "Runaway?"
"The Load Out" by Jackson Browne
Browne's album "Running on Empty" is full of songs written and recorded onstage, in hotels and on the tour bus. And this one, all about taking the band on the road, is the best on the record.