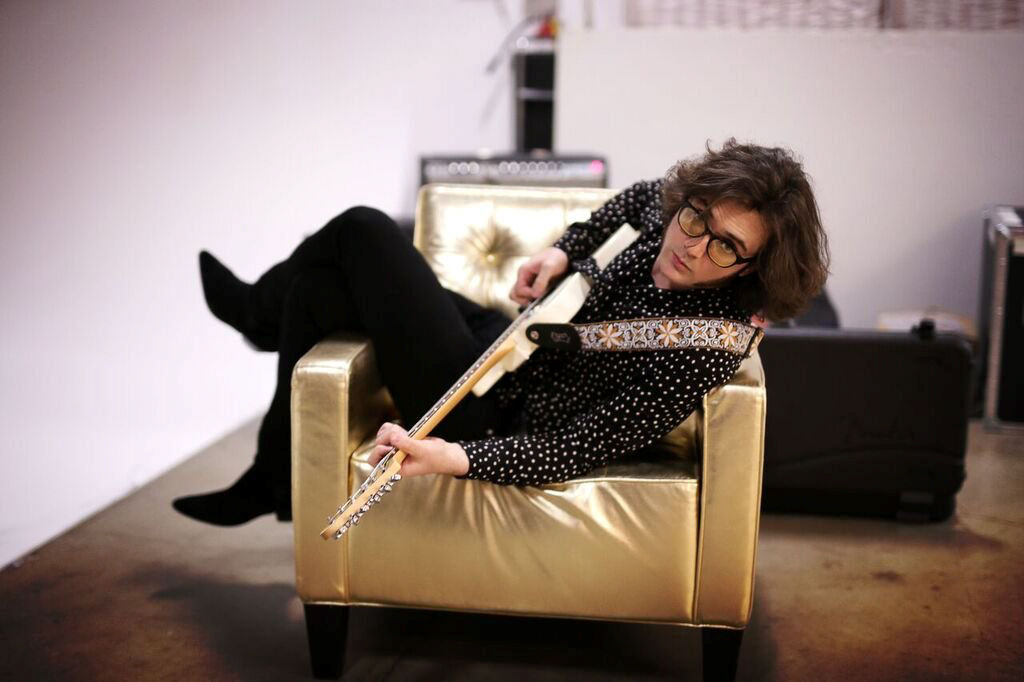 You ought to meet King Leg.
The singer-songwriter has a classic sound with a modern sensibility, like Roy Orbison mixed with Morrissey.
His first record, "Meet King Leg," was released a couple months ago on Sire Records, a Warner Bros. subsidiary.
King Leg is really Bryan Joyce, a 30-year-old born and raised right here. He graduated from Creighton Prep, headed to Nashville and, eventually, Los Angeles on his way to releasing his major label record.
Joyce is one of only a few Omahans currently signed to a major label. It's a very short list that also includes Conor Oberst.
Though King Leg's album was co-produced by country singer Dwight Yoakam and five-time Grammy-winning engineer and producer Chris Lord-Alge, the album's release has had little fanfare, even here in Joyce's hometown.
I caught up with Joyce to talk about the new record, his major label status and how the whole thing came together.
Q. How did you end up in Nashville?
A. I ended up in Nashville after college. I was interested in songwriting and music, so I went out there and found a school called Aquinas College.
But I kinda gave up on music for a long time. At least, I gave up wanting to do it as a career. I kind of just, you now, made the realization that it may not happen. I decided to have fun with it, and I never stopped writing. I kept writing and playing.
Q. How did you come to work with Dwight Yoakam?
A. I was hanging out in an alley at a show in 2015. Some lady approached me. I was with some of my bandmates, and she was a music publisher in town. I just thought she was hanging out, but she was waiting to say hi to Dwight. She invited me to her office to play some songs. I brought my band with me that were in Nashville at the time.
She had a party, and Dwight was playing a show in another town that night. The party was going late, and he ended up swinging by. He walked in the door as I was playing the song "Wanted."
I had met him, but that was the first time he heard me. He didn't realize that I was really serious or doing it as much as I was.
Q. And then you moved to L.A.?
A. I had played (my) first show with Dwight in Paducah, Kentucky. We played a few shows around Nashville, but it ended up looking more and more that it would be the best thing for me to move to L.A. if I wanted it to really happen. I moved out here and put an L.A.-based band together, and that's what we hear on the record. We recorded it at Capitol Records over about 12 days. Beforehand, we rehearsed and Dwight came to rehearsals and helped with arrangements.
Q. And what about Chris Lord-Alge?
A. It was amazing. It's hard to explain the feeling that he brought to the whole situation. We had worked with Dwight beforehand arranging the songs and getting them ready to go. The first day, we recorded maybe two or three songs, and (Lord-Alge) started mixing there on the spot there in the stuido, which is, I guess, kind of unheard of. It just sounded like it was radio ready. It hits you in your face the way he does things.
He put his thumbprint on this for sure and really got us excited about it in the studio.
Q. Signing with Sire Records is huge. Can you tell me how that came about?
A. Originally, I came out here and Dwight and I were planning on putting it out on his label.
I guess he was chatting with Cameron Strang from Warner letting him know what he was doing. Cameron just got interested and said maybe Warner would like to be involved with this. We ended up recording it thinking Warner would be involved somehow. We thought maybe Nonesuch would put it out, and I was excited about it because Oberst is on that label.
What happened is Lenny Waronker came by to listen and really enjoyed it. He went back to the Warner office and, I think, mentioned something to Robin Hurley, who is the VP of Sire. Then he ended up coming by.
Two songs in, Robin looks over at me. Did you listen to a lot of Morrissey? That really got me excited and threw me off. No one else had noticed that connection that quickly. It turned out he worked with Smiths and Morrissey.
Robin sent the album to (Sire Records founder) Seymour Stein, who still had the final say on what goes on with Sire.
It's really mind boggling and humbling in a lot of ways. It's like an out-of-body experience to have all this attention and validation from these guys.