A new student recital hall, a renovated concert hall and a professional sound recording studio — each with state-of-the-art acoustics — are impressive additions to the Strauss Performing Arts Center on the University of Nebraska at Omaha campus.
With several other improvements, they're all the result of an $18 million renovation and expansion project that was finished in February.
It's all beautiful, but it's not all finished. An anonymous donor has come forth with about $4.5 million for more work.
The funds will allow UNO to create a "grand entrance" to the building, something that's striking and visible from the parking lot and even Dodge Street, said educator and concert pianist Washington Garcia, the first director of UNO's School of Music. The school was established when he was hired in 2016; before then, music was just a department.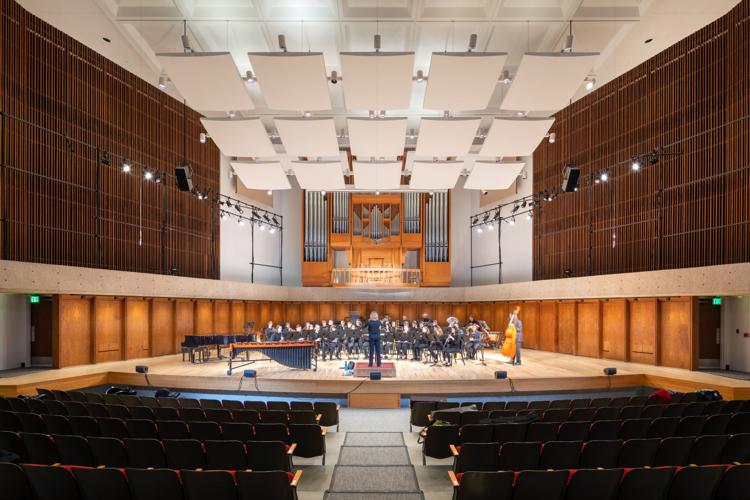 Garcia sees Strauss as more than just the home to music school offices, classrooms and practice areas. It's also a community concert destination, he said.
And as such, he added, it needs to offer "the first impression of welcome to the School of Music."
"When I joined the School of Music as founding director, I brought a vision to make it a shared space for students, faculty and the public, for making it a very beautiful place in the community," he said.
But a firm budget and plans for the renovation and expansion — which added about 25,000 square feet to Strauss — already were in place when he arrived at UNO, Garcia said, and they couldn't be altered.
HDR, architect for the project, worked with Garcia to do an additional-needs assessment in line with his vision and determined that a higher budget was necessary. It looked as though the second phase would be delayed. Then the donor emerged.
No state funds will be used for the additional work.
Construction on phase two will begin in May. Garcia expects it to be finished by the end of 2020 or in the first half of 2021.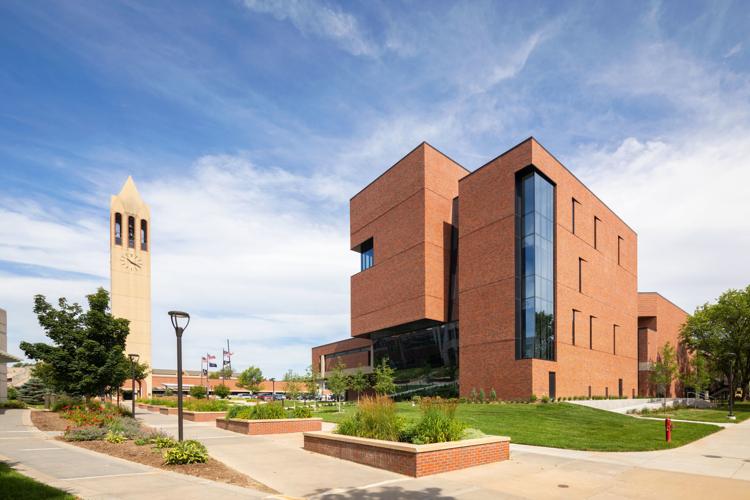 In addition to the new entrance, work will include:
Complete renovation of practice rooms. Right now, sound bleeds through the walls, making student practice sessions less than adequate, Garcia said.
Expansion of the music technology computer lab from 12 stations to 30. Garcia said music tech is the fastest-growing major in the School of Music, and the concert hall and the recital hall have the equipment to live-stream concerts.
"It's going to be huge," he said.
At least one more classroom that will accommodate subjects such as music history and theory, as well as sectionals for instrumentalists.
Audio and lighting updates in large rehearsal rooms.
A new floor in the lobby outside the renovated Jan and John Christensen Concert Hall. The floor now is polished brick that is noisy during concerts and makes it hard to safely move instruments.
"Once it is finished, we're going to be the best higher education music facility in the state," Garcia said.
He says he continues to be impressed with the generosity of Omaha's philanthropists.
"There are several people who have the capability to do this (donation), but what's amazing is that they're willing to do it," he said. "There are so many willing to share."
Since he came to Omaha, Garcia has been forming relationships across the city and beyond, both with arts leaders and others.
He cited the medical orchestra project with the University of Nebraska Medical Center, discussions with UNMC about a research project concerning music and his ex officio membership on the Opera Omaha board as some highlights of his community work.
"We feel we have a huge responsibility to make sure we give back to the community, because the community has been so generous," Garcia said. "We want to establish UNO as one of the best and most relevant schools of music in the U.S."
Theater reviews from Betsie Freeman in 2019
A collection of 2019 theater reviews from The World-Herald's Betsie Freeman.
Stay up-to-date on what's happening
Receive the latest in local entertainment news in your inbox weekly!