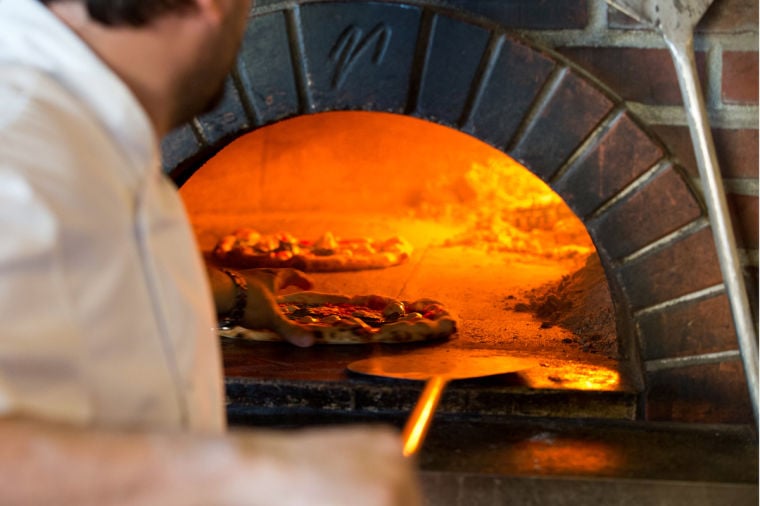 It plays out in slow motion, a scene from a pizza-themed prowl.
I'm five minutes late, rushing through the door of Dante Pizzeria frantically scanning the tables for my team of tasters. I don't see them. I exhale.
"We'll have three," I tell the man working at the front desk. He looks around the big restaurant, and then back at me.
"I think one member of your party might already be here," he said, nodding toward the bar.
There's a middle aged man with unruly salt and pepper hair there, a familiar face in a red and green plaid cardigan sweater, sipping a rocks margarita and reading a copy of the Sunday New York Times magazine.
I walk toward the stranger and he closes his magazine, folds it in half and takes a sip of his half full drink.
Alexander Payne doesn't say a word, instead greeting me the way Oscar-winning directors do — a peck on the cheek.
It gets even better 10 minutes later, when the tousled blonde head of one of Omaha's best chefs, the Grey Plume's Clayton Chapman, joins us at the table where we're now seated.
The director, the chef and the critic have joined forces to conquer the most epic of Food Prowls ever written: To find the best pizza in Omaha. Though we're known for Reubens and mid-rare steaks, a crust covered with tomato and cheese ranks a close third in the lineup of the foods our city is most passionate for.
In search of the best Omaha pizza pie, we drove to the Old Market, Benson, Ralston, midtown, Little Italy and the farthest reaches of the western suburbs.
THE CONTENDERS
1101 N. Broadway, Council Bluffs
Sgt. Peffer's Italian Cafe
1501 N. Saddle Creek Road
We started when the weather was still balmy — one pie we consumed on the grass, shoes off — and finished our last after the snow flew. We ate at 16 locally owned joints, devoured more than 30 pizzas and consumed enough calories to stagger a Soprano.
We ate pizzas that reminded us of our Omaha childhoods. We ate pizzas in restaurants where we hadn't sat in years, restaurants that felt like long-lost old friends. We ate pizzas at the family-owned joints that so many diners swear by, places born before the judges were, places where Omahans simply love to eat.
At one point, I asked Alexander, a man who most definitely has more to do with his time than eat with me at Omaha pizza joints, why he agreed to be a Food Prowl judge. He answered succinctly: He likes to have life experiences. Fun ones. And trust me, this is a fun one.
The team came up with simple rules. We'd order two pies at each restaurant. One margherita, the classic expression of the Italian pie, with pepperoni on half, because good pepperoni is a good measuring stick.
We'd order a second hamburger, mushroom and onion pie, the classic Omaha pizza, a combination that Alexander and I grew up eating and the one he still orders when he brings out-of-town friends to pizza dinners. We decided on categories: one for higher-end pizza, one for more basic.
The pizzas we had at Dante — a bustling, hip west Omaha restaurant that's packed on weeknights, most tables filled with pizza and wine — were the first to fit into that high-end category. The margherita, an instant contender, was one Alexander could not stop raving about after just one bite.
"This is just how an Italian pizza should be," he said.
Thin but crispy, with an incredibly light and airy, bubbly edge, the pizza hit all the right notes. A chewy, light, crispy base. Subtle, fresh, slightly spicy sauce. Cheese almost buttery in its creaminess. Big leaves of basil, just crisp from the hot wood oven.
We had pepperoni on half — Clayton makes the pepperoni Dante serves at his own restaurant, the Grey Plume, so he recused himself. But Alexander and I loved Clayton's take on the classic sausage, in huge, almost translucent thin rounds, dotted with flavorful fat and lots of spice.
We focused on crust at the original location of La Casa, a longtime favorite of Alexander's, to eat one of its truly singular pies off a red checkered tablecloth.
La Casa's crust is buttery and flaky, almost like a biscuit or a pie crust. The pizza is a big rectangle, cut into squares and served on a plastic tray. There's nothing else like it in town.
Shockingly, at least to Alexander and me, this was only Clayton's second pizza at La Casa. He'd eaten just one before, as a kid. An hour later, he was the restaurant's latest convert.
"The fat comes out of the pepperoni on the margherita pizza and renders great flavor," he said. "And the crust, it is like a pastry."
Alexander nodded vigorously, excited to speak.
"Hamburger, onion and mushroom is what I think of when I think La Casa," he said. "I think it is classically Omaha delicious."
Frank's Pizzeria — a tiny hole decorated with a mishmash of New York skyline photos and Husker memorabilia — is not classic Omaha like La Casa, it's more classic New York transplanted to west Omaha.
Alexander liked the stretchy cheese that sat below the toppings and the crisp crust. I liked the not-too-sweet sauce. We all liked the big splotches of white mozzarella and the fresh basil.
The crust fell smack in the middle of chewy and crispy.
At a few places, we took the remainder of our pies in a box. At the best places, Alexander laid claim to those boxes. He held onto the one at Frank's as we got up to leave, but before he rose, he opened the box, took a huge bite out of one of the slices inside, and then closed it again.
We met again in Benson, at Baxter's, on a weeknight. Clayton got caught at his restaurant, so Alexander and I shared beers over our slices of hamburger, mushroom and onion and a full margherita pizza.
"This is excellent neighborhood pizza," Alexander said.
On the Omaha style pie, uncooked red onions stole the flavor and dried basil overpowered the meat.
The more subtle margherita, though, placed right behind Dante's in terms of crisp but chewy crust, creamy cheese and fresh basil. We also liked its pepperoni. It came in the same big, thin rounds we had at Dante and was almost — but not quite — as tasty.
One more pizza fit into the higher end category, and that was at Pitch.
The pepperoni at Pitch is spicy — spicier than any we'd had so far — and the margarita is much smokier. The crust at Pitch is less delicate than Dante's, which is good because it can stand up to more cheese and heavier salami, like the pepperoni.
But the pizza we really love at Pitch is an outlier: the Shrooms, with its tender mushrooms, oven dried tomatoes, thyme cream sauce and drizzle of truffle oil.
"This is the standout," Alexander said. "This is the pizza to turn people on."
But because the truffle oil is so distinct, it can't be compared fairly to non truffle pizzas.
A month later, the three of us reconvened over coffee in the dining room of the Grey Plume to choose our winner. Or, as it turned out, winners.
We agreed, without question. Our favorite margherita, the best in the city, is at Dante.
Our favorite of the broader, less fancy category was also in west Omaha. The New York crust at Frank's clinched it.
Alexander had one more category in mind: Omaha pizza. And for that category, we all agreed, that there's nothing else quite like what you find at La Casa.
"It's to Omaha what the Philly is to Philadelphia and what deep dish is to Chicago," Alexander said.
Even after we broke it down into three categories, we still had other favorites: Alexander enjoyed Big Fred's, which we tried during the second leg of the prowl, for its thin crust and sweet-salty flavor combination. Clayton liked the sea salt we found on the crust of a margherita pizza at the Pizza King in Council Bluffs and the simple execution of the margherita at Ragazzi's. And, of course, the incredible Shrooms pizza at Pitch.
It might be impossible — even for a food critic, a chef and a director who has traveled the world — to pick the one single best pizza in Omaha. There's too much to like. There's too much collective memory between the three judges, Omaha natives, to leave something as good as any one of our top three off the list.
The scenes from this prowl will play out again and again, at pizza joints all over Omaha. But one will stand out. It's a scene where Alexander Payne, movie director, sits at a red and white checkered table at La Casa with out-of-town friends, introducing them to one of his favorites, the Omaha pizza.
Orsi's Pizza doesn't have a dining room, so we ate our pies from boxes outside the restaurant on a grassy spot, the scent of fresh baked bread wafting our way from the building. It was here, on our second meeting, that Alexander — shoes off, crumpled napkin in hand — coined a term that followed us for the next two months: "Softball Game Pizza."
A softball game pizza, we decided, is a perfectly good, pleasing pizza that any of us would have eaten after a sporting event, after a few late night beers with friends or while sitting on our couch on a lazy Sunday afternoon.
It's the sort of comfortable fit that a pizza from almost anywhere in town can provide. It's what we found at Orsi's — and lots of other places. Orsi's pizzas had a thicker, bready crust, middle-of-the-road toppings and thoughtful touches here and there. The best part was fresh leaves of green basil on the margherita pie.
We met at Mangia Italiana on another one of those gorgeous fall afternoons where it only feels right to have the windows rolled down. The restaurant wasn't serving its margherita pizza that day — they have a rotating special pizza and it sometimes appears there, but it wasn't when we visited. Instead we ordered two slices of straight pepperoni and our standard hamburger, mushroom and onion to share as a whole pizza.
It's worth noting that the slices had a different look and crust than the full pie. The slices were larger than the ones on the full pizza and the crust much thinner with what Clayton called a nice snap.
Everyone preferred the slices to the full pie, in terms of toppings (we dug their pepperoni) and crust. The whole pie had a doughier texture and seemed undercooked once we hit the center.
At Mama's Pizza on Saddle Creek in the midafternoon, we had the place to ourselves save for two burly construction workers devouring a pie at a nearby table. We grabbed our own silverware and cups and split two Lagunitas beers in plastic cups while we waited.
The cherry tomatoes on top of our margherita pie looked promising, sliced in bright red halves, but ended up overwhelmed by dried spices. Another miss for us: dried-out, hard pepperoni and a thick blanket of cheese that had a tendency to slide off the slice in one hunk.
Canned mushrooms, a particular dislike of mine, decorated the hamburger, mushroom and onion pie. The crust at Mama's was in the middle of what we tried: neither soggy and thick or crispy and thin. We placed it on the thicker side of Omaha pizzas, and though it wasn't crisp, it wasn't doughy, either.
At Big Fred's Pizza — my childhood pizza joint of choice, mostly for the Goodie Roonie, a double crust monster of a pizza that's probably closer to a casserole or deep dish — we found a thinner, crispier crust than any of us remembered.
Alexander noted the pleasing salty-sweet combination from a hint of sweet in the sauce combined with the saltiness of the pepperoni, which wasn't dried out and instead had a juicy finish.
The team chose the pepperoni pizza over the hamburger, onion and mushroom, though I appreciated the sliced fresh mushrooms instead of the rubbery canned ones. Like Alexander, I liked the sweet sauce and the crisp, super hot crust cut into big squares.
Big Fred's landed on the high end of the vast pizza middle ground, and Alexander said at the end of the prowl that he liked it much more than many others we tried.
Johnny Sortino's Pizza fell into our Softball Game Pizza category, and Alexander compared it favorably to the Nebraska classic, Valentino's. A blanket of cheese kept the pepperoni from being too crunchy and the thick edges had a breadstick-like quality with a buttery flavor.
But the pizza wasn't my favorite. A ton of sauce drowned my two slices, so if you like a lot of sauce, this is your place. I didn't like the canned mushrooms on the pie, and the crust, to me, read more spongy than crisp or chewy.
Everybody at Pizza King knew Alexander. His family is Greek; so are the owners of the old-school Council Bluffs restaurant. He couldn't have been kinder or more gracious to the family and staff who came up to greet him between bites. Because he knew the staff and owners, he decided not to rank the pizzas, but Clayton and I found a lot to like, especially the sea salt adorning the crust of the margherita pie. The crust on the hamburger, onion and mushroom pie was softer, with more heft. On both pies, we liked the slightly sweet tomato sauce and the measured use of dried herbs.
The sprinkle on that salty crust stuck with Clayton and remained one of his favorites when all was said and done.
At the Pizza Shoppe in Benson, we met over two tiny pies that landed in the middle. The margherita struck me as more of a cheese pie than anything else. The only hint of basil came in a few small, rather flavorless dried flakes. This was decidedly Softball Game Pizza, perfect after an evening of bar hopping.
Omaha World-Herald readers urged us to check out Ragazzi's Pizza in Ralston, and we found one of the better margherita pizzas and a hamburger pie that Clayton preferred.
"Fresh basil, I like it," Clayton said. "Tomatoes slightly cooked, like it."
We all liked the thin, crispy crust and the sauce, which was tangy and not too sweet. I appreciated that neither pie was swimming in sauce; Alexander said the margherita was in his top five of the ones we tried. Though Clayton liked the hamburger pie, with its mild flavors, I found it blander than most. And the pepperoni on a third pizza wasn't our favorite. Sliced thick, almost like salami, the pepperoni on my slice had curved up into a little sausage bowl and held a small pool of grease.
The Zio's Pizzeria in the Old Market is packed over the lunch hour, and we waited in line to order before squeezing into a booth as soon as it emptied. I've always been a fan of the thick bread stick of crust on the end of a Zio's pie; I definitely liked it more than the rest of the team. We liked the fresh basil on the margherita, but the tomatoes seemed undercooked, and the load of toppings on the hamburger, onion and mushroom slices made the crust almost wet.
Clayton liked the tomato sauce — he called it "bright and fresh" — and the pepperoni had a crispy, almost bacon-like texture.
During another prowl — for chicken fried steak — I noted that the menu at Caniglia's Venice Inn mentioned the restaurant had been serving pizza since 1946, so we returned for this prowl to check it out. The two pies had thicker crust, standard toppings and a bit too much cheese for our taste. The restaurant also doesn't serve a margherita, so we tried the pepperoni instead, which tasted like a standard pepperoni pizza.
We ordered our two pies from Sgt. Peffer's near Saddle Creek and reconvened across the street at the Homy Inn to dine, and we weren't the only ones. A swift business at the bar meant the delivery man from the midtown restaurant came back twice to deliver to other tables we ate.
If something could be a perfect compliment to a pitcher of beer at the Homy, it's a Peffer's pizza, with its bready crust, thick layer of cheese and greasy finish.
"This pizza does exactly what it is supposed to do," Clayton said.