I don't advise trying to eat Ansel's braised pork breakfast sandwich on one of its house-made bagels while in a moving vehicle.
That's what my dining partner did last week, though, and trust me, despite the mess, it was an amazing, if decadent, way to start the day.
I don't know why I slept so long on Ansel's, which is owned by Joel and Krys Marsh of Noli's Pizzeria and operates out of the original Noli's bay on Farnam Street in the Blackstone District.
It turns out that Ansel's takes pastrami and bagels as seriously as Noli's takes New York-style pizza.
The pastrami is the star of Ansel's twist on the Reuben. It's house-cured and made from Jon's Naturals Piedmontese beef, piled almost obscenely high. Close to Katz's Deli — that famous New York City institution — high. The meat is tender, super smoky and, really, just darn good.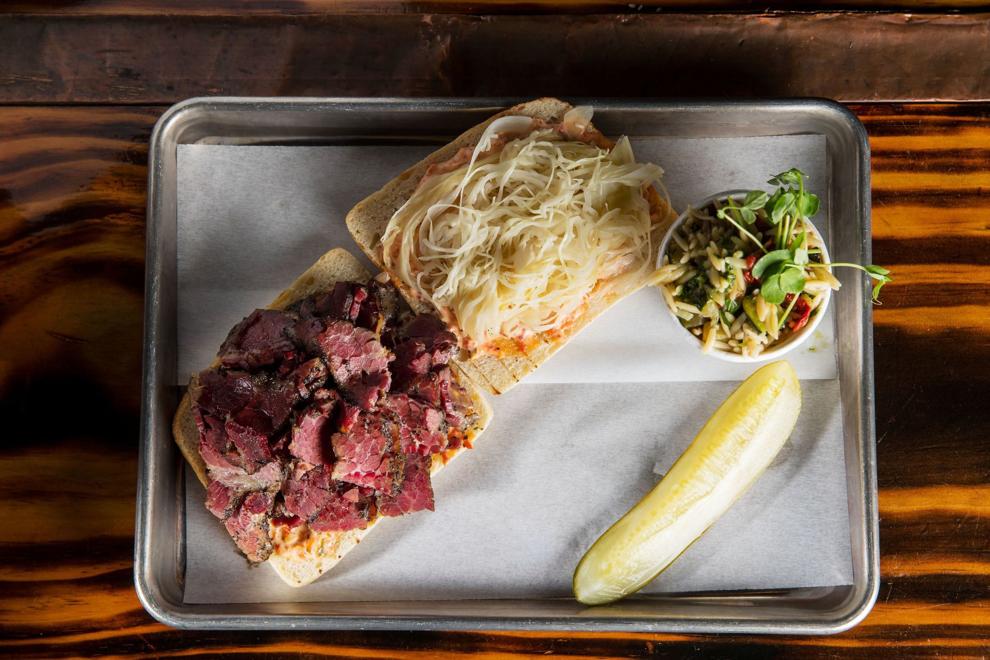 It's topped with mild, house-made kraut, as is traditional. But then this Reuben takes a left turn: there's no Swiss cheese, no Russian dressing and no grilled rye bread. Instead, it's finished with red pepper aioli, zucchini relish and microgreens, and served on a chewy-crisp rye Noli roll. My dining partner said it was one of the best sandwiches he'd had in a long while.
That pastrami takes nearly two weeks to make, start to finish, Joel Marsh said. He uses a brisket point, which is the fattier section of the beef. It gets trimmed, then brined for 10 to 12 days in a mixture of salt and puréed celery. It comes out of the brine, is smoked for six to seven hours, then cooled. The next day, the meat gets steamed for three hours and cooled again, and the next day, it's finally sliced and served.
To keep it at the right temperature, the restaurant uses a sous vide system.
"It's not cooking it, but it keeps it at the right temperature and as fresh as it can be," Marsh said. "It's quite the process. It took a long time to come to that. A lot of trial and error."
It's worth the time — you can taste that dedication.
The turkey club — a customer favorite, if photos online are any evidence — is also great: roasted turkey, bacon, Havarti, tomato, lettuce and a tangy lemon herb aioli on a classic Noli's roll; gluten-free bread options are available, too.
The sandwiches come with a side: fruit, a salad topped with house-made poppy seed dressing, kettle chips or a pasta salad.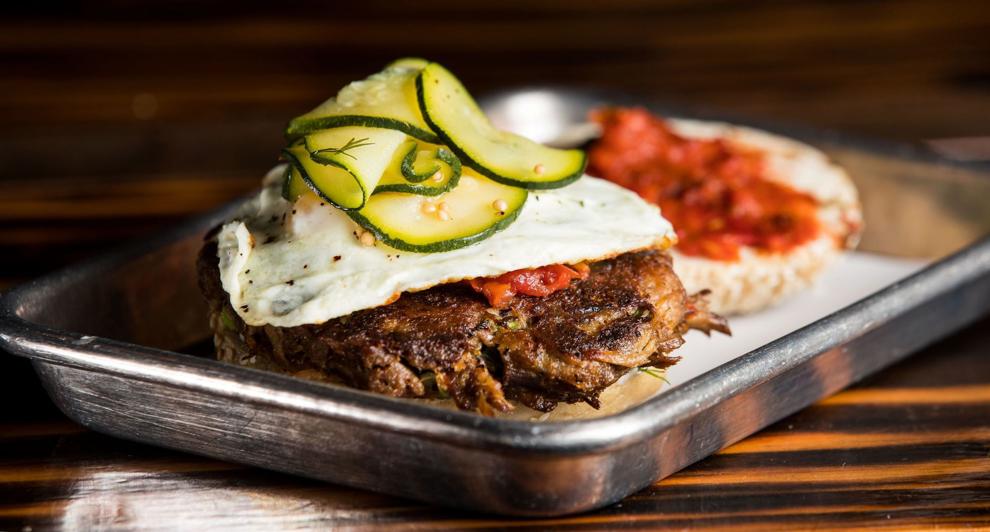 I'd heard good things about Ansel's breakfast sandwiches. What I heard turned out to be true.
That aforementioned pork sandwich has a lot going on, but all the elements somehow harmonize: house-braised pork, tender and spicy, packed barbecue-like flavor. There's also smoked heirloom tomato, pickled zucchini, cream cheese and an over-medium egg (not too runny and not too fried) all on the bagel of your choice; we went with an everything bagel.
Lox was crossed off the menu the two mornings I visited, so I asked about it. The staff told me if I was willing to wait a few extra minutes, I could get it; I was, and I did. The house-cured salmon had a firm but biteable texture and a nice flavor; paired with the classics, including capers, pickled onions, dill and cream cheese, it's one of my favorite breakfasts anywhere.
Worth noting: My cream cheese came studded with bits of shaved citrus peel, which added a nice, bright finish.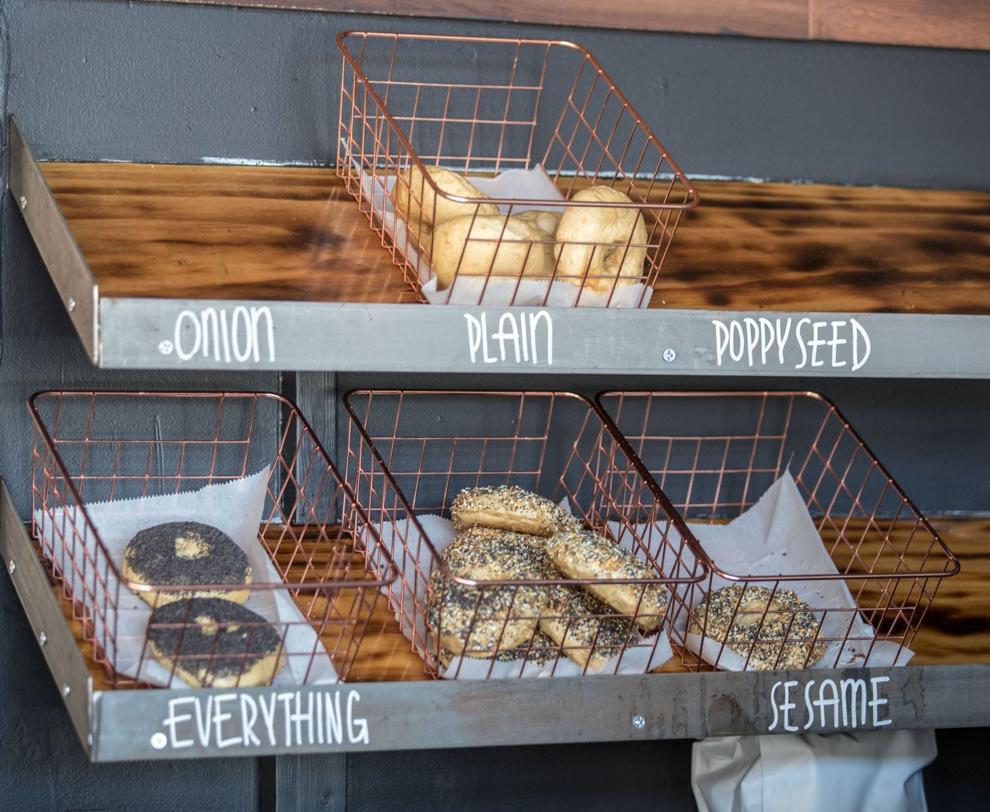 Ansel's, like Noli's, has "New York water," which it uses for bagel making. Both restaurants partner with a local filtration company to turn Omaha water into New York water.
Marsh said he uses a simple dough for the bagels, which proves overnight. In the morning, bagels are formed and boiled in a mix of water and locally brewed Scriptown Nut Job beer. The barley in the beer, he said, lends most of the flavor to the bagels.
The bagels have a fine crumb inside and a chewy, excellent exterior. We tried a handful of the flavors, including plain, everything and poppy seed; any one would be excellent toasted with a thick smear of cream cheese. The restaurant has flavored cream cheeses, including an ever-rotating chef's creation, which is currently a sweet mixed berry.
My only complaint: I never saw a fully stocked bagel selection, so I only got to try part of what Ansel's serves. Marsh said it's been a balance figuring out how many bagels to make in the morning; the restaurant doesn't want to waste them.
"But if someone comes in and orders a dozen in the morning, you're kind of out of luck," he said.
Marsh said he's working on trying to get more bagels available. He's also considering expanding Ansel's hours, opening earlier on weekdays and staying open later on weekend afternoons.
Ansel's is doing a lot of things right, availability aside. Omaha has long been short on legit pastrami and bagel spots. The restaurant brings a much-appreciated level of craft and care to the local deli game.
Food reviews from The World-Herald