There are a few things, I think, that mark the signs of a healthy dining scene. Fauxmaha Hot Dogs, which opened three years ago as a small food cart, is a really good example.
When I started as the food writer nearly seven years ago, I wouldn't have imagined an all-vegan hot dog stand having much of a chance at making it. But the stand's owner, Mick Ridgway, said each year since Fauxmaha began, he's seen more and more new customers. Some are vegan. But most, he said, are simply adventurous eaters looking to try something new.
"They just like the food," he said.
I'm one of the latter group. And, to be sure, it doesn't hurt that Ridgway's dogs, which come topped with vegan mac and cheese, slaw and barbecue sauce and in the style of a bánh mì sandwich, to name a few, are super tasty. And I'll be back to try his chili, which friends have raved about, this fall.
The first night, we found the Fauxmaha trailer, which is easy to spot with its bright red paint job and yellow logo, parked in the lot outside Natural Grocers on 78th and Dodge Streets. We got in the line, ordered a classic vegan dog and a barbecue dog and, right after our order, the trailer pulled in its sign: sold out.
"That was a crazy day," Ridgway told me later. He'd been at both locations of Natural Grocers at lunch and dinner, when we arrived, and the cart got mobbed; sellouts, he said, have become more regular.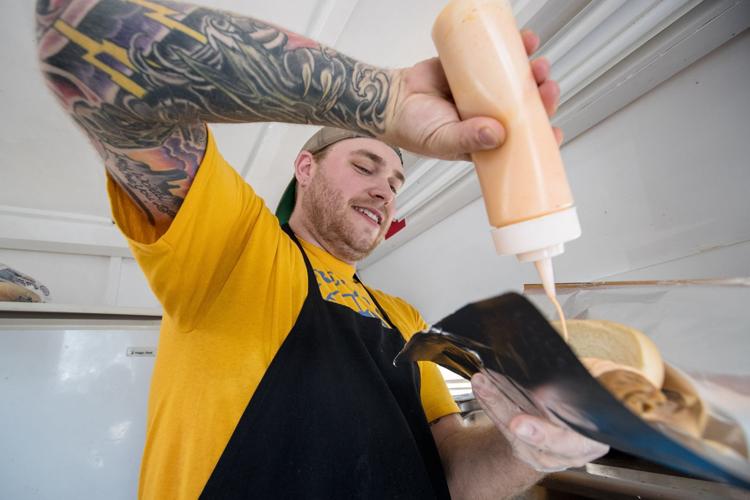 We perched on the curb with our two dogs. I topped mine with the condiments on a table outside the truck: relish, ketchup, mustard and sauerkraut. The buns are soft and just warm. The hot dogs have the right texture: firm but not chewy, and never rubbery like some of the meatless store-bought hot dogs I've had. The dogs are all made from scratch, from a recipe Ridgway perfected.
Even better was the barbecue dog, with a sauce spicy-sweet and an excellent slaw spread over the top. Ridgway told me later he aims for the slaw to be made with cabbage sliced razor-thin, which it was. He wouldn't tell me what spices he mixed with his vegan mayonnaise, but I'll tell you, it packs some serious flavor.
Another day, even with the rainy weather, I waited in a short line at Fauxmaha over the lunch hour, when it parked in the Modern Love lot, near 50th Street and Saddle Creek Road. I had to chuckle as the people in front of me left with their order in a giant yellow Hummer H2 with the license plate "GOVEGAN."
I added spicy buffalo sauce to my mac and cheese dog — a special that day — and it was the right call. The mac and cheese on the dog is made with sunflower seeds, Ridgway told me, so it's safe for diners with nut allergies.
It wasn't as creamy as cashew cheese, but it had plenty of flavor and, mixed with the buffalo sauce, a pleasant kick. The mac and cheese stayed put on top of the hot dog, and a sprinkling of scallions on top added a bright note. It's over the top, but it doesn't go too far.
The bánh mì dog is just what it sounds like. Loaded with fresh cilantro and shredded carrot and pickled onion, it, like everything else, packed flavor, spice and just the right texture.
Ridgway has begun adding new special items to his menu here and there. He made a breakfast sandwich recently, and a sloppy joe. And come fall, he makes what I've heard is a killer vegan lentil chili; of course, you can get it as a chili dog.
"There's no real schedule to when I roll out another special item," he said. "I do it when I am just getting bored. When I want to shake it up a little bit."
The cart's razor-sharp focus and well executed-menu are the main reason it's found success in its niche. But I think it's also damn cool that Omaha, a city known for steaks, can support it healthily. That's the kind of food city I want to call home.
Stay up-to-date on what's happening
Receive the latest in local entertainment news in your inbox weekly!