Last week, I had perhaps the best pretzel roll I've ever eaten at the new Culprit Cafe in Midtown Crossing.
I know, it's a bold pronouncement. But that roll, part of a sandwich with house-cured gravlax, dill cream, capers and red onion, was so good that I'm still thinking about its perfectly chewy crustiness. I'm still thinking about the heavy sprinkle of salt at its top, the perfect maltiness of that bread. I'd have eaten almost anything if it came served on this roll, and that's a fact.
As you might have guessed, bread — brioche, pretzel, beignet, baguette — are still stars of the show at the new second location for the bakery, also serving customers at 16th and Farnam.
But there's more on the menu in Midtown, including a full bar serving wine and cocktails, a succinct dinner menu and a brunch that, to my eye, seems already wildly popular.
The new location is Culprit 2.0 in more ways than one.
Brunch at Culprit Midtown is packed; more on that later. At the dinner hour, though, the restaurant is emptier; I chalk that up to people simply not realizing that it's serving dinner, dessert and drinks until 9 p.m. and on weekend nights until 11. Owner Luke Mabie said it's been a challenge so far to get the word out; I suspect that's about to change.
I had that delicious gravlax on pretzel at the dinner hour. The kitchen serves the full lunch menu along with a select list of entree-sized dishes.
Mabie said he spoke a lot about the dinner service with Block 16 owners Paul and Jessica Urban. When they began serving dinner at their restaurant, they told Mabie that they started with a full separate menu, but quickly realized diners still wanted their lunch menu. Mabie followed their lead in Midtown.
Right now, evening diners can choose from the full list of lunch sandwiches along with three items on the dinner menu: a pasta dish, a rotating chef's special and the one we tried, a super savory chicken pot pie topped with a pillow of airy puff pastry. If customer demand calls for more dinner entrees, Mabie said he will expand that list down the road.
In the pot pie, a creamy white bechamel sauce hugs big cuts of peas and carrots and a generous amount of shredded chicken. It's your childhood favorite, but with better ingredients and plenty of seasoning.
We sampled two cocktails: The fleetwood fashioned, a riff on an old fashioned made with a stevia leaf tincture instead of simple syrup, and the La Louisiane, a rye whiskey drink with an absinthe rinse. There are plenty of original cocktails, too, including selections that feature the restaurant's wonderful espresso. I'll be back to sample more of this list, plus the surprisingly large selection of red, white and sparkling wines.
My one complaint: Our food arrived before our cocktails. Though the drinks were satisfying, I'd have preferred them sooner.
Mabie said he'd long wanted to open a second location; the bakery and restaurant operations together had grown too large for the downtown spot alone. When he heard about the available Midtown space, formerly home to Delice, he jumped at the chance. Now, all the baking is done downtown. The Midtown kitchen cures salmon, makes homemade pasta and prepares the savory dishes.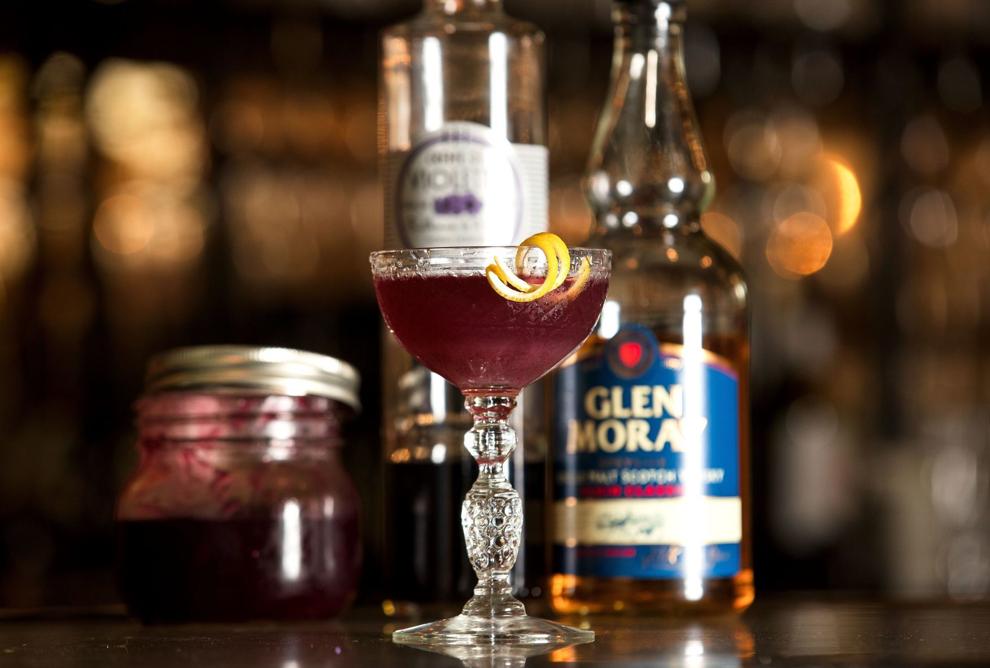 At lunch on weekends, Culprit's dining room is packed. Its coffee is excellent; I had a latte and my dining partner had an Americano that he described as one of the best cups in Omaha.
Both sandwiches we tried were great. The MTX breakfast sandwich comes served on a soft brioche bun with flavorful grilled ham, chives, provolone cheese and a soft-scrambled egg with a tender finish.
The Culprit Cristo comes served on two buttery, pillowy beignets, and between them is grilled ham, cheese and a fried egg. A side of house jam with a sweet-spicy ginger kick cut perfectly through the richness.
I didn't really think too much about ordering a side of the $6 crispy potatoes; I can guarantee I won't ever skip them again. Crispy is no joke — these are super crisp, a sort of home fry/potato chip hybrid topped with queso fresco, Korean gochujang aioli and cold, lightly dressed greens. It's the humble, forgettable breakfast side dish gone high-end.
Culprit has loads of desserts in a case by the register, and we tried a verdant pistachio cheesecake with a cookie crust and chunky crumble on its top.
I have always liked Culprit. I've reviewed the downtown location's menu, and its classic doughnut tied for the win on a Food Prowl last year. With this new location, the restaurant is expanding in a smart, likable and, most of all, super tasty way.