It was the little things that stood out to me at Timber Creek Pizza Pub & Grill.
The surprisingly fun cocktails, for one, like a smoked Old Fashioned and a mule created with Nebraska-made ingredients. A pile of lightly breaded and fried house-made pickles with homemade ranch. The hand-cut french fries next to a burger topped with homemade barbecue sauce.
Though most of the menu focuses on pizza — what I'm comfortable calling a "Nebraska" style of pie, with a medium to thick crust and lots of toppings — the attention to detail is what makes the place likable.
Owner Matt Bashara runs the locally owned spot, which he opened this spring off 178th and Harrison Streets, after running a franchised pizza restaurant for a few years. Bashara opened Timber Creek so he could be the ultimate decision-maker about what the restaurant serves. Lots of items on the menu are singled out as "house-made," including rubs and sauces.
The menu is heavy on pub favorites, and we began with two: char-buffed chicken wings and pizza. There's a wide array of sauces available for the wings — a few are house-made. We tried the kickin' bourbon barbecue wings, and with their tender meat and large size, they're good. Our batch was a bit saucier than I expected, and this particular barbecue is more sweet than spicy, so it's wise to choose a different sauce if you prefer the latter.
Timber Creek's pizzas have a medium-thick, bready crust with a sturdy base and a chewy edge crust. Toppings are many and heavy, and the pies are cooked on a dimpled sheet that allows the bottom crust to crisp instead of sag.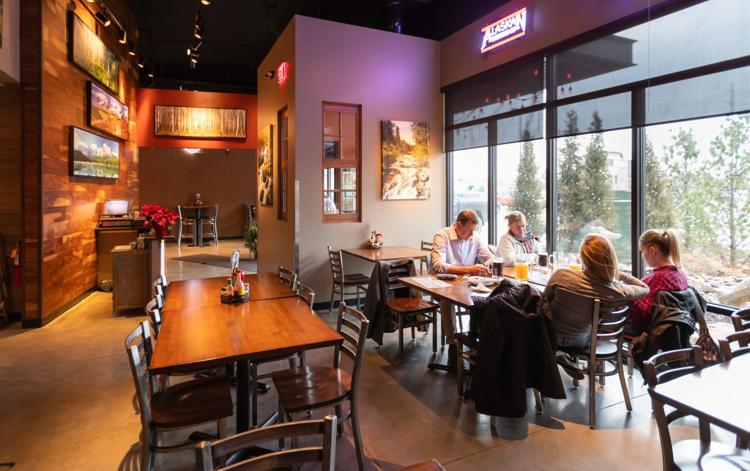 Ingredients seemed of good quality: One night, we tried the Boulder, with smoky shoulder bacon, Italian sausage, small pepperoni rounds, pickled red peppers and a house blend of cheese. Another, the more intense Upset Grizzly Bear pizza (no actual bear involved) was topped with Italian sausage, pepperoni, banana and jalapeño peppers, cream cheese and the same house blend of shredded cheese.
Pepperoni that had crisped, curled edges was standout both times. The cream cheese on the second pie is intense and rich; I managed just one slice.
Timber Creek has lots of beers and a few wines, but the cocktails are really where it's at. The smoked Old Fashioned comes served on a thick wood board in three parts: an empty glass with a slice of orange, cherries and a sugar cube; a glass filled with ice and a bottle filled with the drink's ingredients and smoke. Let the smoke mingle briefly with the whiskey, muddle the fruit and sugar, combine the two and ... voila, a sort of DIY craft drink that's mighty tasty.
We also enjoyed the Nebraska mule, made with La Vista's Soldier Valley vodka and Omaha's Brickway ginger beer.
Inside, Timber Creek is divided into a few rooms, including a bar and two dining room spaces.
Bashara's relatives took most of the photos in the restaurant — mountain landscapes and forests — during family vacations. There's lots of wood in the space, as well as some interesting design elements, like an open wall made of trees in one part of the dining room.
As the weekend draws closer, Timber Creek seems to get busier: a Thursday evening was much busier than a night earlier in the week. Television sets fill the dining room and bar, and there's not really a spot anywhere where diners can't see at least one.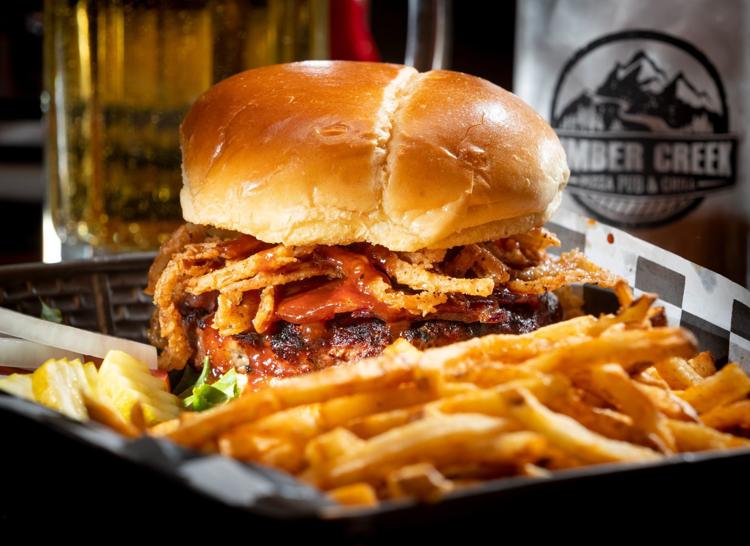 There's more on the menu than pizza and wings; fried pub favorites are there, too.
I really liked Timber Creek's lightly house-pickled and fried pickles, which come with a big bowl of house-made ranch dressing. (If you're not a ranch fan, there's also a honey mustard option.) My mother-in-law is a big fried pickle fan (hi, Sally!), so I've tried a lot of them, and Timber Creek's tangy, lightly breaded crispy version are some of the best I've had anywhere.
The Ol' Smoky burger comes with more house-made barbecue sauce, layers of cheese, crispy onions and a soft bun. We ordered ours medium-rare, and it came out just about there, with a pink center and a nice meaty flavor. House-cut fries on the side were better than anything that might have come frozen from a bag.
Timber Creek isn't trying to be fancy, but it is elevating the typical sports-bar/wing-joint fare into something a touch more thoughtful. And that's something I can appreciate.
Food reviews from The World-Herald