This an interesting time for sushi in Omaha.
There are the places we've all eaten rolls fried and tempura-battered, often coated in mayonnaise-based sauces. More recently, we've added two super high-end sushi spots to the landscape, each offering more unusual fish choices, more handcrafted bites and a more singular experience.
Butterfish, which is new in Blackstone, falls somewhere in between the two, for both its menu and its location, between downtown, Benson and the suburbs.
I found some truly likable moments during two dinners, and I think the spot could find some traction with diners who have experienced sushi before, but haven't gotten adventurous just yet. The restaurant is on the safe side of daring.
Butterfish has a lot of menus: one for sushi, another for cooked items, a third for drinks and, depending on when you get there, another card listing happy hour specials. The first night, we decided to focus almost entirely on sushi.
Though the restaurant is owned by chef Matt Moser and Matt Carper, who also run Stirnella and Red Lion Lounge, both just down Farnam Street, chef Jose Vega, an alum of Blue Sushi Sake Grill, manages the raw menu.
He's covered all the basics and added some creative moments. The deconstructed firefly roll is one: a base of avocado rolls sits under a pile of raw tuna, red onion, scallion, sambal, ponzo and a hearty dose of chili oil. It's all topped with a dollop of tobiko, raw fish eggs. Though the dish, for me, was a bit heavy on the chili oil, I appreciated it. Avocado went a long way toward cooling things off.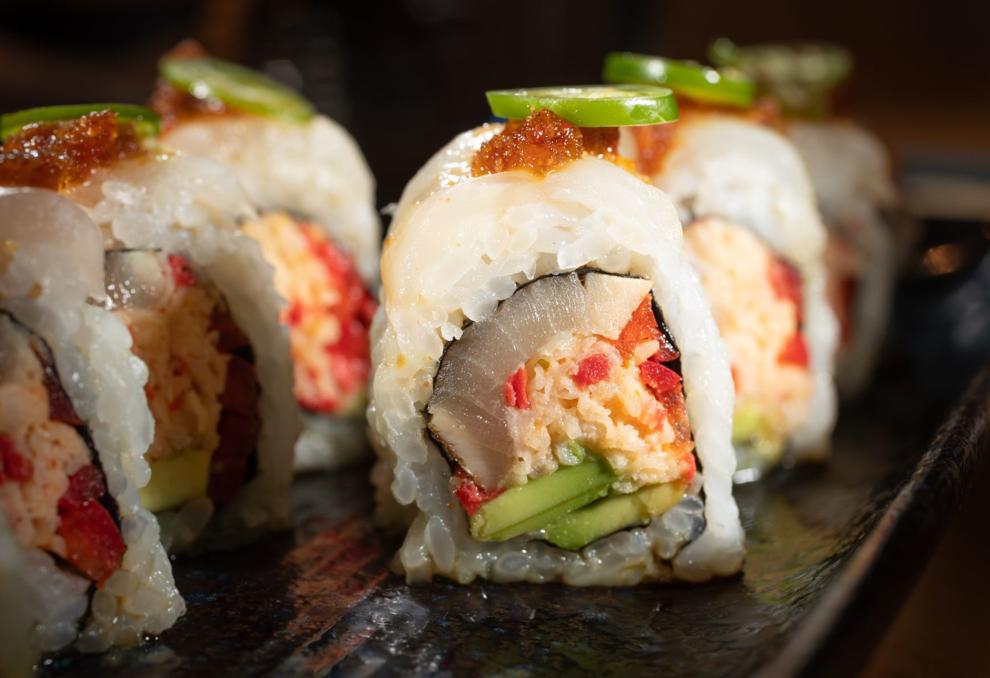 The Ralph Macchio roll (lots of Butterfish rolls have fun names) had spice — but in a more balanced way than the firefly — with albacore tuna, spicy crab, red pepper, avocado, crunchy daikon radish, yuzu sauce and a thinly sliced serrano atop each roll.
I skipped the more classic rolls in favor of the nigiri, and when I go back to Butterfish on my own, I'll do that again. I really enjoyed bites of creamy butterfish escolar, salmon toro and yellowtail hamachi. The high-quality fish arrived nicely prepared and the pressed rice in each bite had the perfect, slightly sweet flavor that sets off the fish's clarity.
Like Stirnella, the bar serves a large list of tap wines, and I sampled a couple. Don't be put off by tap wines; often, they're fresher than their corked siblings. A yuzu margarita from the cocktail list came with a heavily salted rim and a hint of sweet. Maybe the best drink we sampled was a pot of hot, flavorful monkey picked oolong tea, which the restaurant gets locally from the Tea Smith.
Inside, the restaurant has a modern Asian look and feel, with enclosed booths along the east side and a bright, open dining room with seating around an open sushi bar. Omaha artist Andrea Stein created many paintings of animals for the space, including a large, eye-catching portrait of a snow monkey in the main dining room. Hard surfaces mean when it gets busy, like it did the second night we visited, it can get noisy.
On that night, we focused solely on Moser's menu of cooked dishes, which he created with sous chefs Phil Cleary and Juan Garcia.
I had already singled out the peanut butter pork cheek as an item I wanted to try, and it did not disappoint. Just slightly flavored with peanut butter, it nodded toward an American takeout favorite, but most definitely was not that.
Instead, Moser created a refined take on the familiar: tender pork served with red curry, hunks of sweet potato, cauliflower, crisp apple slices and pickled jicama, crunchy peanuts and Thai basil. I'd not hesitate to order it again, or the other dish we tried, the duck confit eggroll. The high-low idea continued here. A super-thin, crispy-skinned eggroll came filled with the most tender, flavorful duck, along with kale, roasted sweet potato and watercress. The whole thing sits atop a slather of tangy orange sauce for dipping.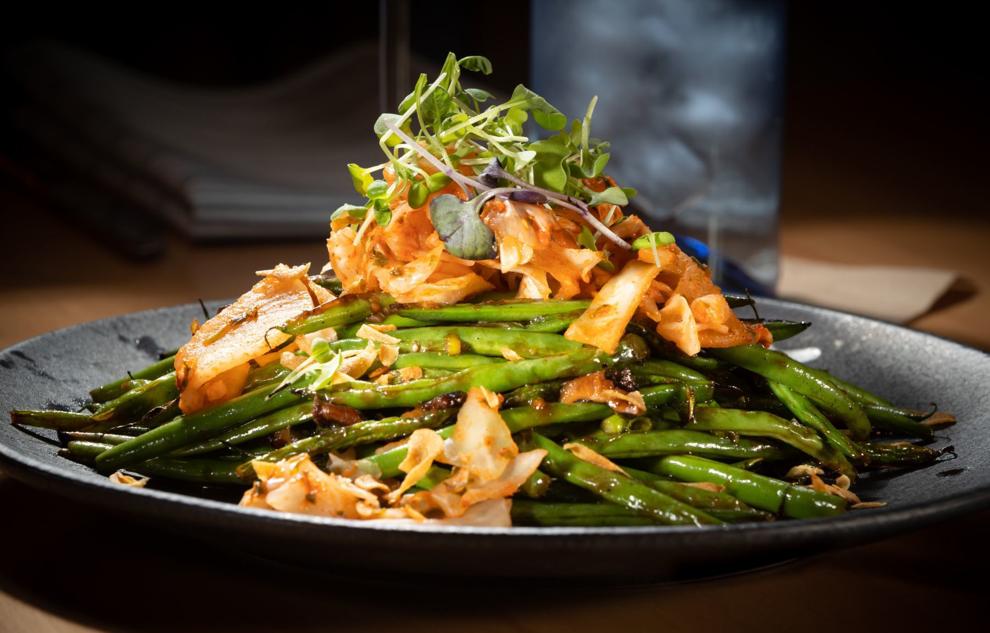 The appetizer menu's blistered beans — sizzled green beans served with kimchi and crisp garlic, among other items — and its Brussels sprouts, an Asian bent on the style of Brussels that have become so popular, are both excellent. I especially liked the mint and sunflower seeds with the Brussels.
When I spoke with Moser and Carper later, I asked them how they thought Butterfish fit into the Omaha sushi scene.
"I think we are in between," Moser said. "We're not super-refined, but we are approachable."
He said the restaurant strives to use local, seasonal ingredients where it can, including locally raised beef in its version of broccoli beef.
Carper said some customers see cashew chicken and broccoli beef on the menu and expect the same thing they might get from their favorite Chinese American takeout spot. There's been a learning curve, he said. The restaurant's version of Mongolian beef has been especially surprising for some diners.
"Some people get it," he said, "and some people don't."
To that end, if customers request rice with their meal, the kitchen provides it. For the record, I never missed rice during my meal, and it never occurred to me to ask for any.
I like the restaurant's high-low take on Chinese-American dishes, and I like its measured creativity. Like its owners envisioned, Butterfish sits somewhere in the middle of Omaha's sushi scene; a spot, I think, many diners might appreciate.