I have a secret to tell you: Every once in a while, I need a break. After what sometimes feels like an endless stream of tacos, medium-rare beef, cocktails and pizza — aka my job — the periodic "healthy" review is often a welcome respite.
I got so inspired by the fresh energy of The Grove Juicery + Wellness Cafe, I walked on a 90-degree afternoon from my downtown office to the new spot, on the corner of 24th and Farnam Streets. The cool green juice I drank as my reward was totally worth it.
I liked nearly every cold-pressed juice I tried. I liked a berry smoothie. And though I had some issues with my acai bowl and the sometimes very limited nature of The Grove's available menu items, I'll go back. There's more to try.
My favorite of all the juices — I tried three — was the bright Sweet Jane, made with kale, spinach, celery, green apple and lemon. It had a smooth, pleasant texture and tasted less of celery than some other green juices I've tried.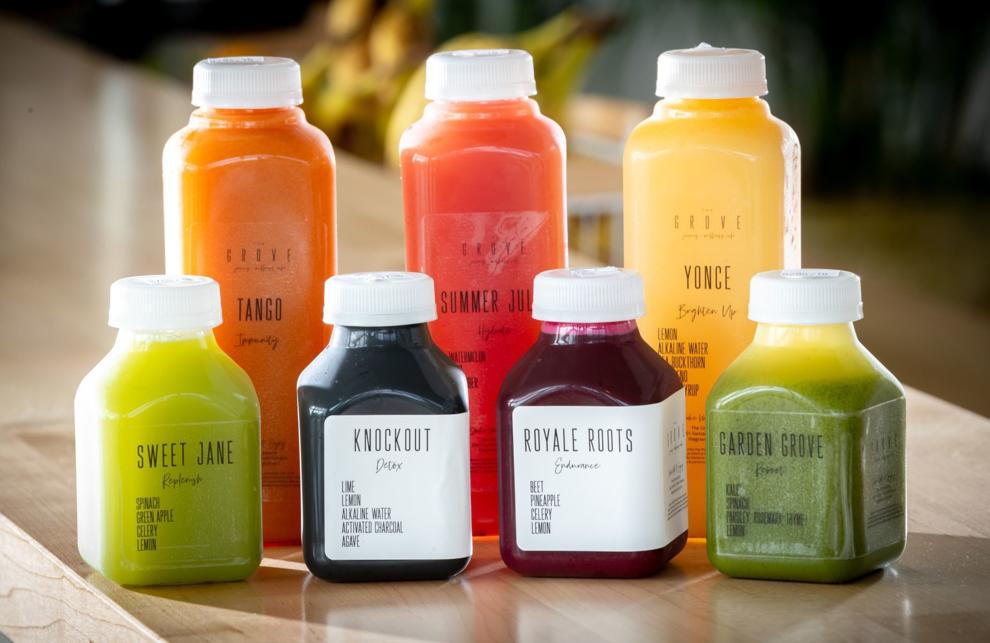 Also good: the Yonce, a mix of lemon, jalapeño, maple syrup and sea buckthorn, a plant said to provide nutrients and antioxidants. You might have guessed that this juice is named after Beyoncé and her famed lemon and cayenne juice cleanse. I found this version both more substantial and with less heat than the spicy lemon juices I've tried before; it's surprisingly tasty.
Cucumber dominated a seasonal Summer Julep juice, and if you like the flavor, this will be a hit. I wished for more of the other three flavors, though: watermelon, mint and pear.
All the shop's juices are "cold pressed," which means no heat is applied to the fruit or vegetables during the process, keeping nutrients dense. The shop also makes homemade almond, hazelnut and pistachio milks, among others, which are the bases for latte drinks and smoothies. The Grove also has shots — tiny shooters of nutrient-dense drinks — and longer juice cleanse sets. There's also homemade nut butter.
The menu includes lots of juices I still want to try, including Garden Grove, another green juice made with rosemary and thyme. It was always sold out.
Also sold out were the menu's energy bites, made from a base of the shop's homemade nut butter and including ingredients like cacao, coconut and matcha. Depending on the day, the juice cooler either looked chock-full or almost bare.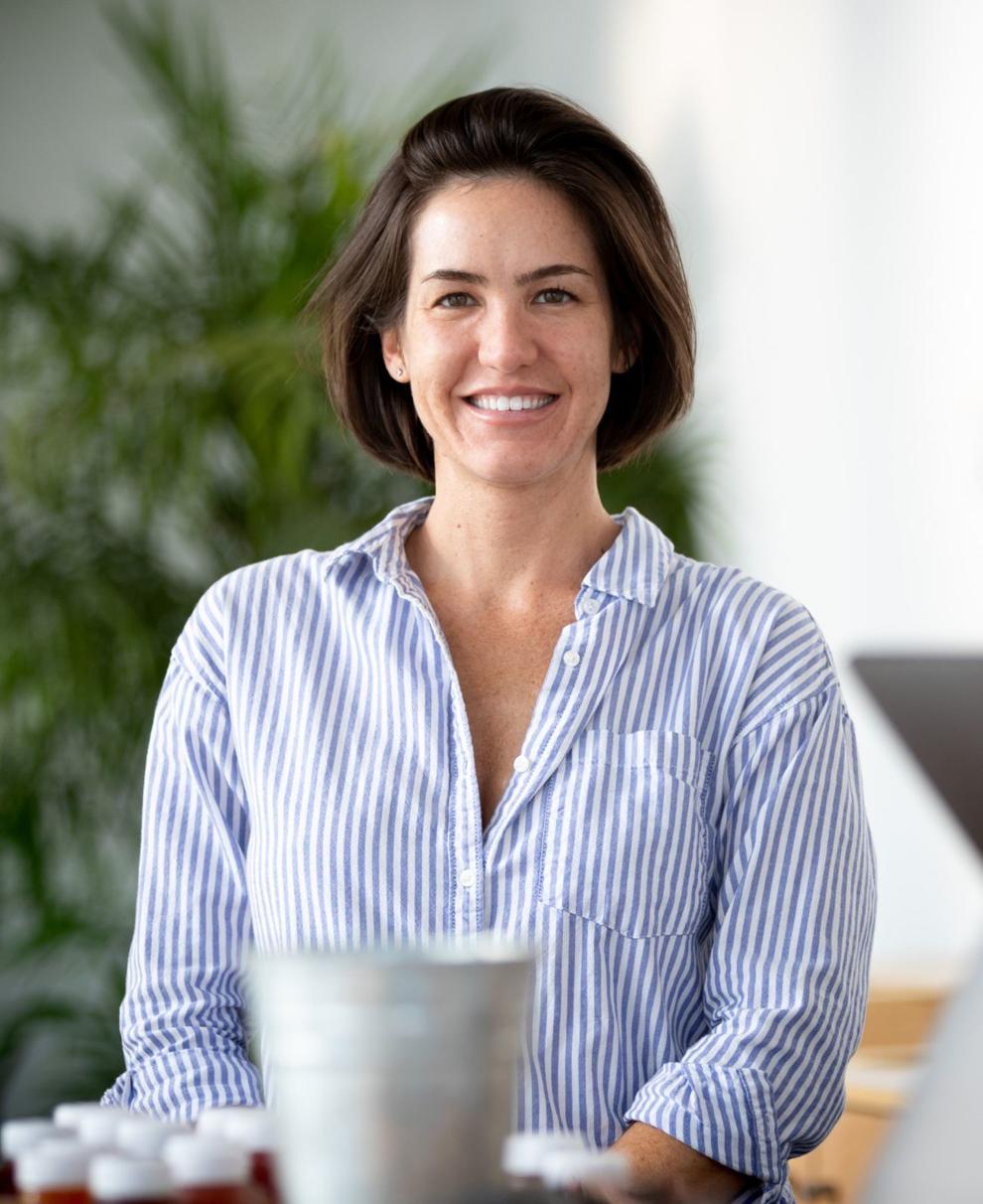 Owner Meghann Schense told me later that she's been working on the shop's production schedule so that more items on the menu can be regularly available. Because the dishes don't include preservatives, they have a short shelf life. She also said more seasonal selections are on the way.
I took the most issue with The Grove's acai bowl. Though its toppings — sliced banana, granola and cacao nibs — were tasty, there wasn't much of them. And once I got past them, the acai itself tasted more of ice than any particular berry or fruit. It melted quickly into what looked like purple soup.
Schense said they're working on it. Most acai bowls use a pre-frozen base, she said, but they're trying to make their own additive- and preservative-free version that includes acai, blueberries and Nebraska-grown aronia berries.
"We have changed the recipe a few times," she said. "The staff has not all been consistent, and I know that."
After some additional training and improved ingredients, she said the bowl is better.
Inside, The Grove is super stylish, with its white-and-wicker interior, wide array of verdant plants and navy blue velvet couch. I found a seat twice on a banquette along the east-facing windows, a nice place to sip a drink or to work.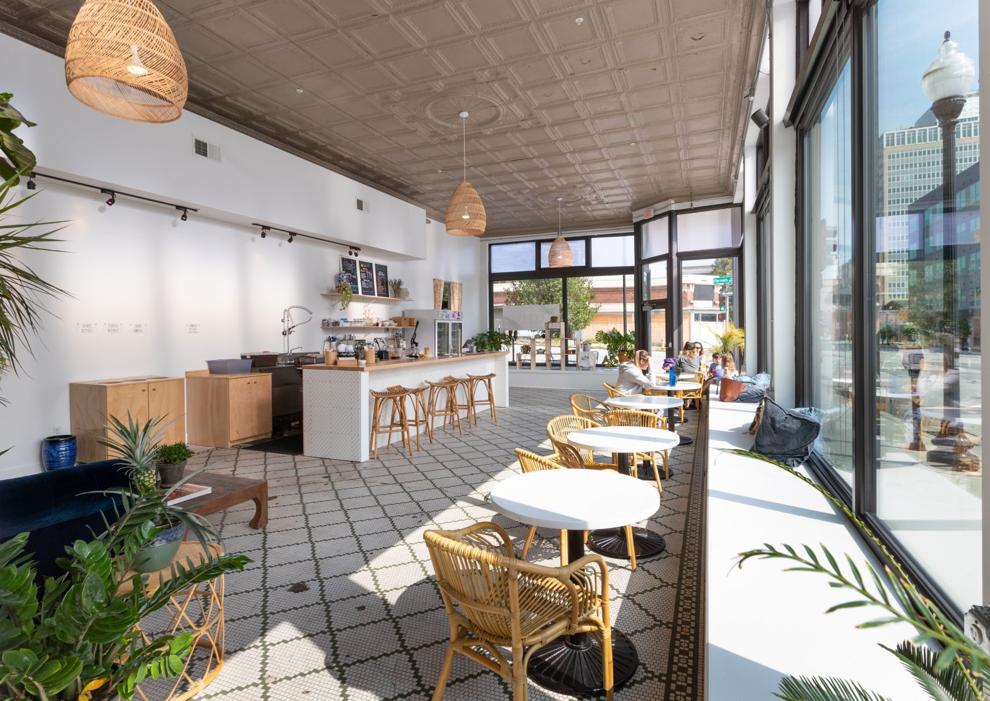 Schense, who recently moved back to Omaha after working in the fashion industry for seven years, said the interior of the 100-year-old building retains its original floors and tin ceiling. Their vintage feel makes the space pleasantly rough around the edges. She said she found inspiration from both Paris and Los Angeles in the space's design. I definitely saw the latter.
She saw a gap in Omaha's wellness market, specifically when it came to food. Living downtown without a car, she kept walking past the corner bay on 24th and Farnam and thought the spot had potential. The Grove opened there about three months ago. It's seen a growing customer base, especially from guests at a new hotel across the street.
The Grove is expensive, and if you're familiar with cold-pressed juice, you'll not be surprised to find that a small bottle is $5 and a large is $9. The acai bowl runs $10. Schense said she took into account the labor-intensive juicing process, as well as the cost of bottles, labels and caps, which are put together and filled in-house. Then she tried to balance that to the Omaha market.
"A lot goes into it," she said. "The small sizes are a great way for people to try it. Once people know what they like, they grab the larger size."
I can see how The Grove is filling a vacancy in Omaha's dining scene. This is not the sherbet-laden Juice Stop. Instead, it struck me as a health-focused operation serving the real deal. That said, its main item, the acai bowl, needs work.
If the staff and Schense can refine that bowl and have a wider array of items available daily, I think this hip but healthy spot could find more than just one roving reporter walking through its downtown doors.