I first heard of Amateur Coffee Parlor a year ago, when I spotted the bright, cheerful bags of coffee on display at local shops and wondered who was behind it.
Now, owners Jasmyn and Jacob Wichert, who launched their business in 2016, are running an equally cute coffee "parlor" on Cuming Street. The tiny spot with just a handful of seats is different in one big way: It's all vegan.
I sampled a handful of drinks — there's coffee, tea and fun drinks like matcha and turmeric lattes — all made with either oat milk or almond milk. The shop usually brews with a brand of oat milk called Oatly, but one of the days I visited, they were out.
I really enjoyed both the iced oat milk latte I tried one warm day, with a pump of just-sweet house-made vanilla syrup. Another day, I tried a hot latte with almond milk, and its extra-creamy finish belied its dairy-free origins.
An Americano's flavor focused solely on the beans, and the shot, nicely pulled, emphasized the complex notes of the house blend without any trace of bitterness or burnt taste. Across the board, the Wicherts know how to make a good cup.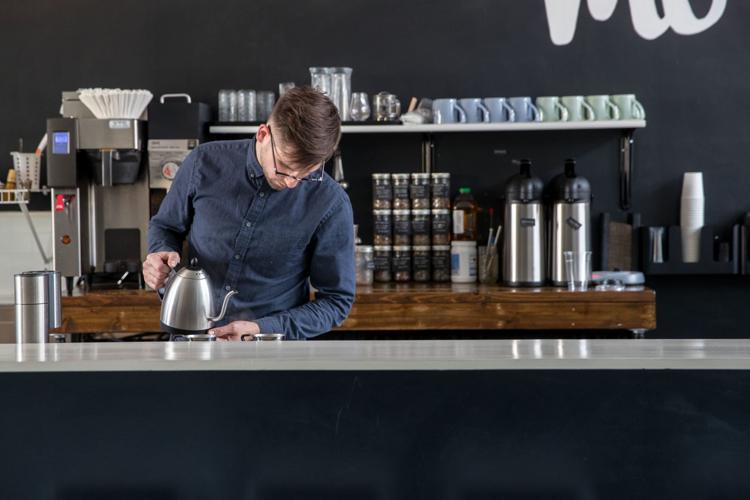 There's much more than just coffee: They brew a wide variety of locally made teas from Artemis, and the menu goes in-depth to describe the flavors of each. There's also hot cocoa, matcha lattes and a golden milk latte, made with turmeric.
Like any good coffee shop, the Wicherts also serve baked goods — all of them vegan — from local bakeries, including Sweet Magnolias, just around the corner from their location, and Scratch Baking Co. They make vegan waffles in-house, one plain and one studded with chocolate chips, topped with vegan maple syrup. We tried a scone from Sweet Magnolias heavy with berries and lemon zest, and a frosted cake doughnut from Scratch Baking; both are worth treating yourself.
Jasmyn's artwork is displayed on the front of Amateur's coffee bags, and I have to admit, the drawings are a big part of what draws me to the different varieties of house-roasted beans.
A vanilla ice cream cone is on the front of the "affogato" brew, which has been roasted to emphasize notes of brown sugar, vanilla, black cherry and Meyer lemon. It produced a smooth, satisfying cup and, in keeping with how Amateur serves it, I mixed mine with a splash of almond milk, which brought out the coffee's silky texture.
During our visit the next week, we tried the house blend; the picture on the front is of the Wicherts' house. It's a seasonal blend, the bag says, and it's their idea of the "perfect cup." I liked its rounded, pleasant finish. It made for an easy-drinking coffee perfect for the weekend when you're sure to have more than one cup.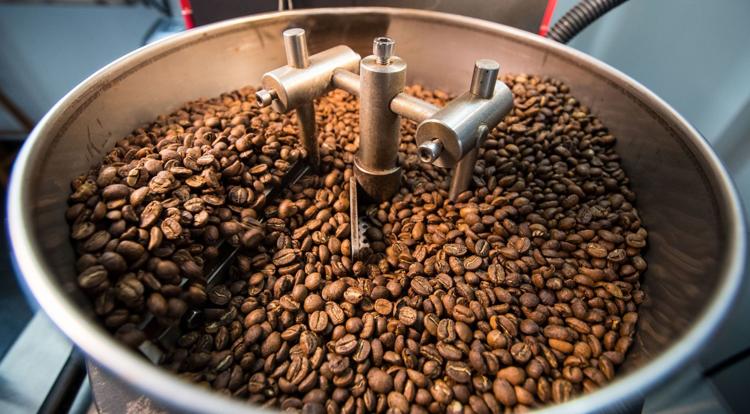 Jacob Wichert roasts the beans — I saw him at the helm of the roaster both times I visited. He learned how to roast coffee beans from roaster Tom Dancer, who runs Tap Dancers Specialty Coffee, also in Omaha. The rest of Jacob's knowledge came from self-teaching and trial and error.
He roasts green coffee beans, which the couple source from farmers in Nicaragua, New Guinea and elsewhere. It's important to them to recognize the farmers who raise the beans, they said, and to that end, each style of coffee on their website notes the origins of the roast. That information is noted on the back of their bags, too.
They offer a $15-a-month coffee subscription service through which customers can choose to have bags of beans delivered weekly, every other week or monthly. Customers can let the Wicherts choose the flavor they receive, or choose their own. All the flavors are also for sale in their parlor.
The couple chose their name because of the word's meaning, as quoted on their website: "The enthusiast who pursues their work in the spirit of love."
I can see that more than a pinch of love has gone into the Amateur Coffee Parlor; I think you'll taste it, too.