One evening at J. Gilbert's, the new Kansas City-based steakhouse in the Capitol District, I could cut my filet with a butter knife.
"What more do you need to know?" I wrote in my notes.
Well, thankfully (for you and for me, since I have a job to do) there is more to know about this new downtown steakhouse, which I think lands somewhere between the old-school Omaha classics and the highest-end steak you'll find in this city.
There is, of course, lots of red meat on the menu, along with seafood, a few barbecue staples and some lower-priced, more casual dishes.
The higher-end items were what most impressed at J. Gilbert's. But on another night, when we dug into some of the menu's lower-priced options, the food impressed less.
Every single aspect of our dinner on that first evening went off without a hitch: perfectly cooked meat, delicious sides, attentive service, great cocktails. It might be one of the single best meals I've experienced in Omaha this year, thus far.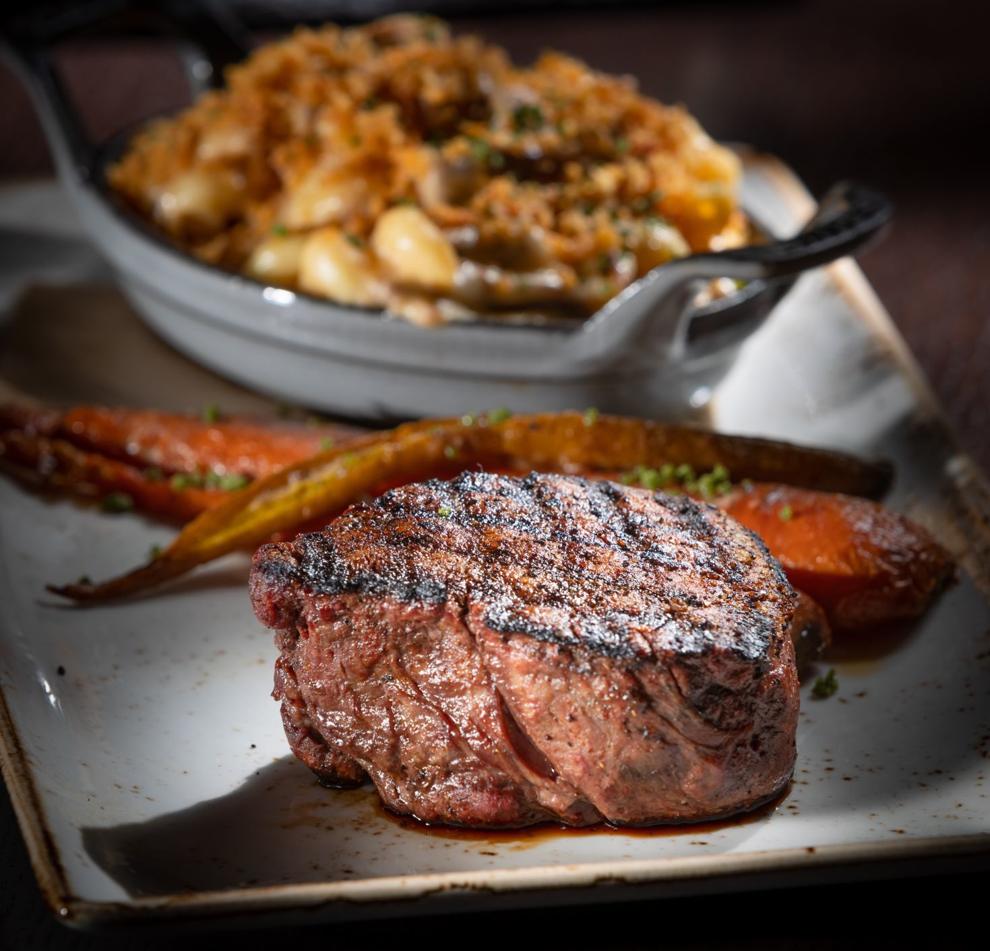 My filet, like I said, was outstanding. Diners get the choice of a 4-ounce, 6-ounce or 8-ounce filet paired with a seafood side, either scallops, shrimp or a crab cake, which is what I chose. Crab meat dominated the patty, as it should have, and I saw hardly any filler, breadcrumbs or otherwise, to hold it together. My 4-ounce steak arrived perfectly medium rare, with a buttery, expertly seared exterior seasoned with plenty of salt.
The Oysters Rockefeller arrive in a trio on a bed of salt; their hot, cheesy finish and tender, just-chewy bite rivaled oysters I've had in oyster country.
The wood-grilled ribs, a nod to the restaurant's Kansas City heritage, are a full slab of pork spare ribs bathed in Kansas City-style barbecue sauce. Executive chef Jimmy Masters told me the ribs are smoked daily in-house, and the barbecue sauce is also made on-site. That care showed. I don't think it's a stretch to call it some of the city's tastiest barbecue. Save room for the sides, particularly the homemade creamed corn, which is made with fresh corn — clearly shaved right off the cob — and plenty of bacon. It's an old-school classic done with a modern, hearty twist.
There are lots of sides at J. Gilbert's, and we tried many: crispy Brussels sprouts, creamy au gratin potatoes, a mac and cheese studded with plenty of lobster and another one with barbecue burnt ends, and — maybe my favorite — sautéed mushrooms mixed with rich truffle butter. That last item definitely was worth an upcharge of a few dollars.
Like any good steakhouse, J. Gilbert's nails the classic cocktails, including an excellent barrel-aged Manhattan and a presentation-heavy smoked Old Fashioned served in its own glass-capped carafe. It's a nice touch.
There are lots of those types of nice touches at the restaurant, like how the crusty sourdough bread comes with both a classic soft butter and a house-made, salty pastrami butter. Or how each table is topped with a bottle of that homemade barbecue sauce as well as a house-made smoked salt.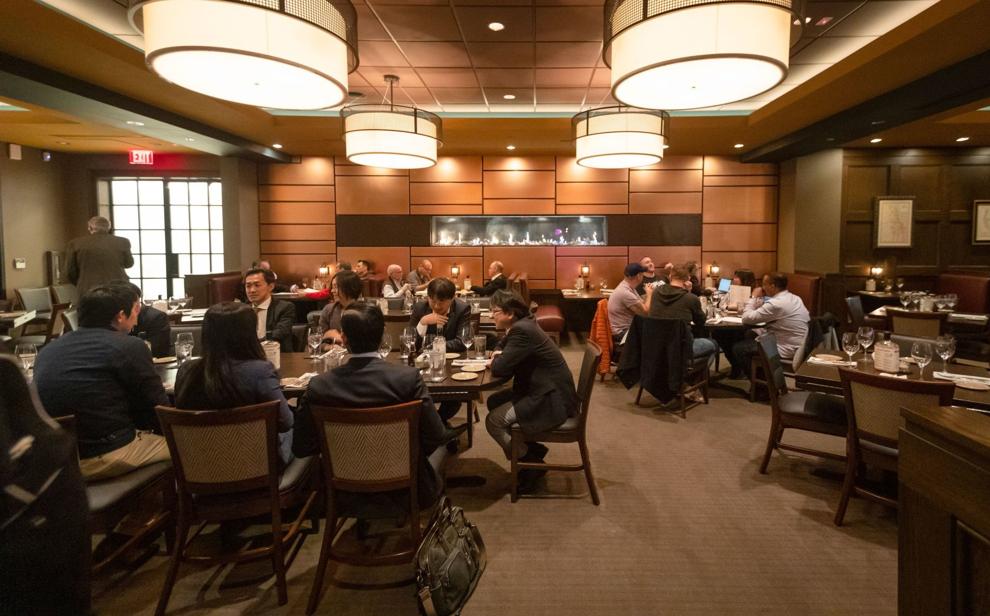 Inside, the restaurant is dark and warm, like most steakhouses, but has some modern touches. The large bar area was particularly busy, and the dining room, a mix of tables and booths, stretches far back; it's one of the larger restaurants I've written about in some time.
The atmosphere feels fancy enough for date night. But it's also casual enough to grab a burger and a cocktail before a Creighton game; one night, we saw Bluejay basketball coach Greg McDermott doing just that (though it was a non-game evening).
Masters said the space seats 250. A second level includes mezzanine seating at a few two-top tables and rooms for private parties.
Service across the board was casual but knowledgeable.
Sign up for the Go newsletter
This complete guide of local music, movies, dining and entertainment will have you weekend ready.
My biggest disappointment came in ordering steak frites; the steak, a thinner, less expensive Flatiron cut, was far past the medium-rare I ordered. Some pieces were just-pink. Masters said fewer guests at the restaurant have ordered the dish, and it's been a challenge for staff to perfect its cooking. The fries, crisp shoestrings, and a dollop of red pepper romesco were nice; I just wish the steak had been executed better.
A wagyu burger also arrived past the medium we ordered. Masters said the restaurant can cook its burgers to any temperature a guest requests.
A large, bone-in ribeye arrived perfectly cooked and seared to perfection, like nearly all the steak we experienced. One dining partner, more sensitive to spice, found the house rub a bit overwhelming.
Masters said the J. Gilbert's rub includes salt and pepper, coriander, smoked paprika, brown sugar and coffee, among other ingredients, and that while it was on all the steaks we tried, it might have soaked into the fat on my partner's ribeye, becoming more dominant. The restaurant is also known for its mesquite wood grill, he said, and that also brings flavor to the meat.
To me, the pretzel-coated onion rings, with their chunky crust, tasted somewhat of malty pretzels, but my two companions didn't get the flavor at all.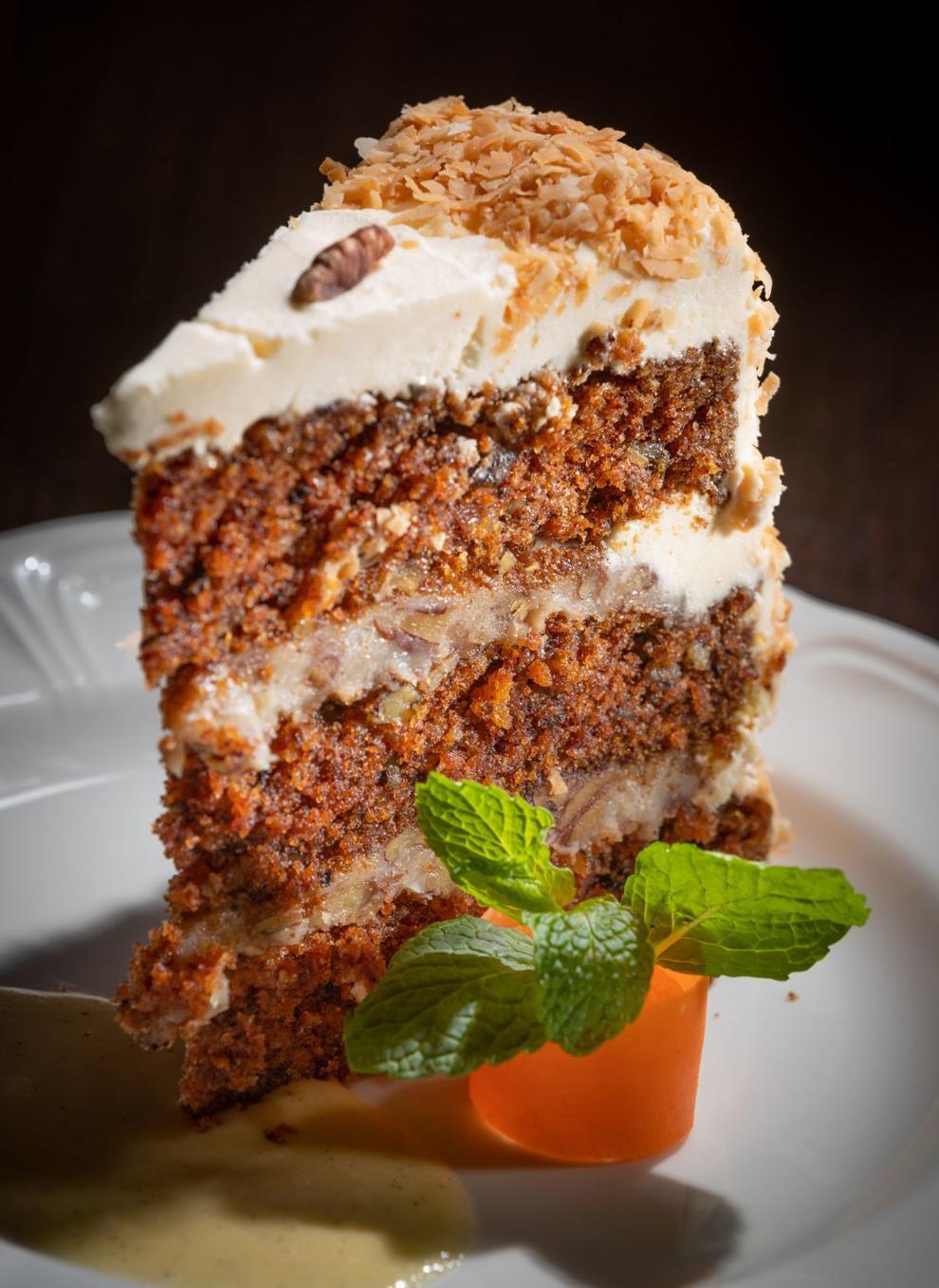 If you can, save room for dessert. Of the two house-made cakes we sampled, I loved best the coconut cake, with its four layers sprinkled with crisp, tropical toasted coconut. My friend, a sort of carrot cake connoisseur, loved the dense, tender texture and rich sour cream frosting at J. Gilbert's.
J. Gilbert's is expensive, but it feels worth it. It's modern classic, but not stuffy. It's not Johnny's Cafe in an old-school way, but it's not as modern as Monarch Prime, either.
It's somewhere in the middle. And honestly, that's what I like about it.
Food reviews from The World-Herald