You may have wondered, like I did, what it would mean when Modern Love, Isa Chandra Moskowitz's restaurant, moved from its tiny location off Saddle Creek into a bay three times the size in Midtown Crossing. The restaurant also nearly doubled its menu in the process.
Well, the news, I'm excited to share, is good. Great, even.
Modern Love's new dining room is beautiful — bright and airy, with touches of Moskowitz's signature black and fuchsia. What's more, the space now lives up to the menu that she's been cooking here since 2014.
Yes, Modern Love is vegan, but that doesn't matter anymore. It's simply a damn good restaurant doing its thing in a space that matches its modern approach to food.
To wit: You won't find a single complaint in my review, the second I've done of Modern Love. All the "swanky comfort food" I wrote about in 2014 is still on the menu: mac and shews with crispy tofu and kale; delicious desserts (stay tuned for a new favorite); and her beet burger, which my Food Prowl named the city's best meatless burger.
Moskowitz told me after my visits that the new, much larger kitchen has allowed her to keep fan favorites on the menu all the time, and add many more dishes, including regular rotating specials. Also new: milkshakes, soft-serve ice cream and a great list of house cocktails.
The bigger, brighter space means diners no longer have to get elbow-to-elbow cozy with the stranger eating next to them, like they did at the old Modern Love. Moskowitz said the new location's higher visibility has brought in a lot of new customers.
The Omaha space also now feels much more in line with her other Modern Love, the well-known spot in Brooklyn. Both have large dining rooms with high ceilings, big murals by local artists and similar color schemes.
"The price point is the biggest difference," she said. "Everything is more expensive in New York."
The other main difference, she said, lies in regional preferences. For instance, matzo ball soup and spicier food go over well in Brooklyn. But Omaha is perhaps the only place you'll find a chili and cinnamon roll special (lucky us!) or a vegan bierock.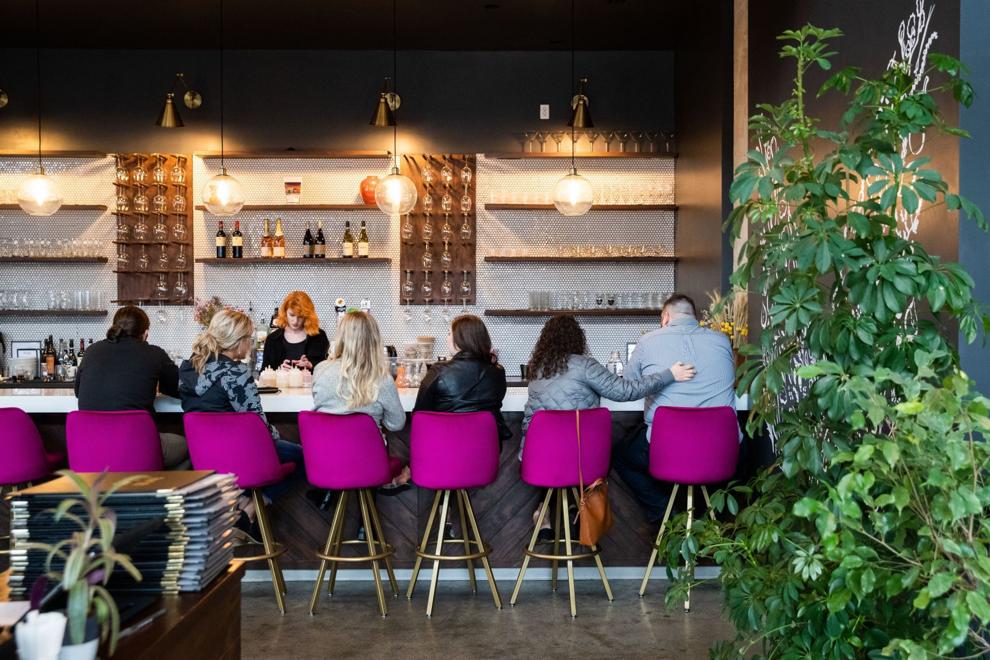 The bar area in the Omaha space means cocktails and drinks became a big focus here, too. I fell hard for the celery juice gin and tonic; the trendy veggie juice, thin and bright green, pairs surprisingly well with a hit of thyme and junipery gin. (Our server, knowledgeable and friendly, said the staff spent weeks perfecting the drink.)
The MoLo punch is a refresher, with pomegranate, grapefruit, limoncello and gin, among other ingredients. The kombucha sour packs a tart blast, balanced with whiskey and fruity fermented tea. And a guava margarita balanced fruit and tequila in a pleasant way. One other thing: The restaurant's thin bamboo straws are some of the nicest recyclable drinking straws I've encountered.
Moskowitz said Modern Love is trying to grow its bar program, and has also expanded its lists of wine and local beer. I could easily see that new bar area as a place I'd return just for a drink.
The starters (which one could pair with one of the aforementioned drinks) included some of my favorite items on the menu.
Fried cashew mozzarella breaded with herby crumbs is incredibly rich, and the basil-spiked marinara is its perfect acidic foil. Verdant edamame hummus full of spring mint comes served with a gorgeous plate of rainbow carrots, charred shishito peppers, sliced cucumbers, grilled asparagus, pickled radishes, greens and grilled flatbread.
Peanut cauliflower wings (I'm in love with the new cauliflower trend, by the way) are served with a creamy peanut sauce and a sprinkle of black sesame seeds. Our server reminded us to add a squeeze from the lime wedge that comes with the dish; it adds an acidic brightness.
You might notice that the garlic Parmesan Brussels sprouts come out of the kitchen quite frequently; I can see why. Crisp-edged sprouts come served in a tilted bowl topped with arugula, sorrel, pine nuts and an artful drizzle of the right amount of sauce.
The mushroom bourguignon entree has all the decadence you expect from the French classic — red wine and mushroom gravy studded with a variety of flavorful bits of chewy mushrooms, cauliflower mashed potatoes, roasted pearl onions, tons of herbs and the crown jewel: a fried oyster mushroom tucked under grilled asparagus. That mushroom, with its unusual texture and meaty flavor, is great.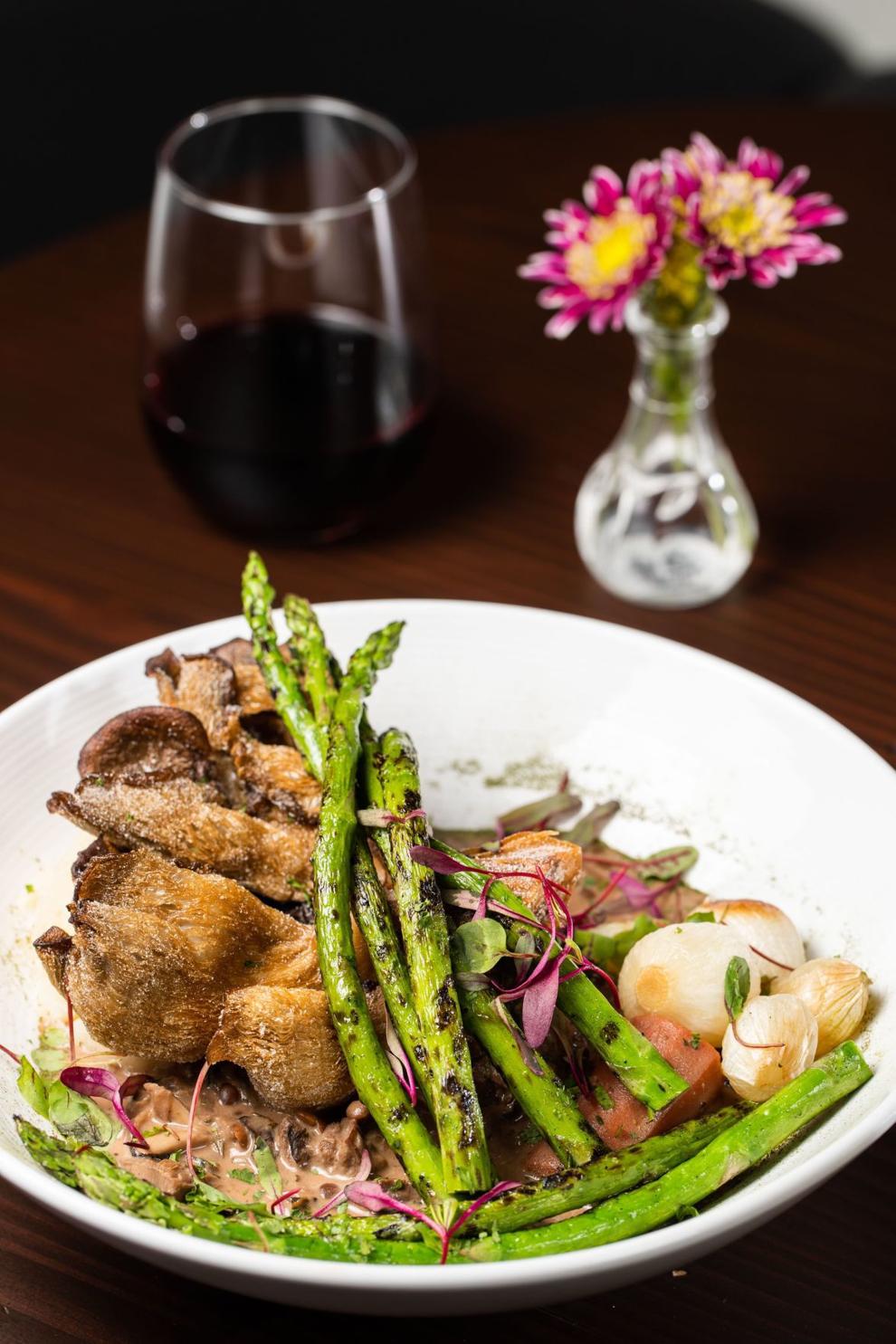 The chickpea cutlet Parmesan most definitely belongs on the "swanky vegan comfort food" short list. It gave me total old-school Omaha vibes, with a thinly breaded pair of herby chickpea cutlets served next to linguine and marinara sauce, garlic bread and a "bitey" arugula salad.
The Reuben could go on that list, too. It was a special during my visits, so it's been replaced, but if you see it again, don't delay: smoky seitan brined with beets is seared in cast iron before it's piled on locally made Farine + Four marble rye with sauerkraut and cashew cheese sauce.
Let me swoon over one more thing before I go: the warm blackberry cinnamon roll. Read those words again. Warm. Blackberry. Cinnamon. Roll.
It's definitely the best dessert I've had so far this year: An absolutely divine over-sized cinnamon roll, its icing tinged with lemon, comes served under a ladle of warm blackberry sauce studded with fruit. I promised myself I'd just have a bite. Instead, the roll brought conversation to an abrupt halt while I fought my dining partner to get my half, fair and square.
Get it. Seriously. Get it.
Despite the ambitious nature of the new Modern Love, and the fact that Moskowitz is now running two restaurants plus still writing cookbooks (she's working on her latest), things are running like a well-oiled machine — from my seat in the dining room, at least.
Modern Love, at first, might have been mostly about what's not on its menu: dairy, meat, eggs. It's real success is making me (and many other diners, I hope) forget that altogether. Instead, they're dining at Modern Love to enjoy the experience of dining at what's emerged as one of Omaha's signature — one of its best — restaurants.
Food reviews from The World-Herald