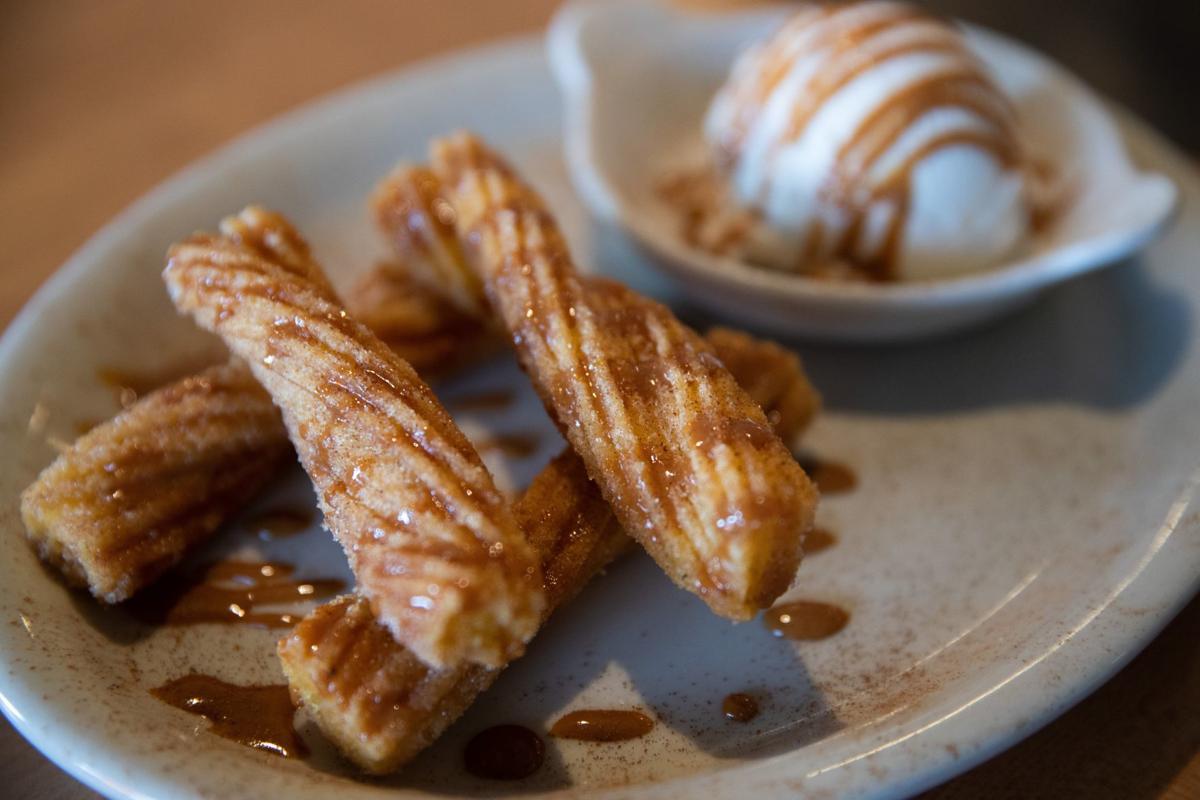 Now, more than ever, that should be a life-governing rule.
It's particularly important at Rivera's Mexican Food, but not because everything else is inferior. The appetizers and entrees are wonderful.
It's just that a certain dessert is so dang good. Blissfully good. I-must-save-room-for-it good.
My husband deemed Rivera's churros the best dessert he's ever had at a restaurant. (I've made him many desserts over 36 years, so he was smart enough to add a qualifier to his endorsement.)
They would be terrific on their own — square, deep-fat-fried wands of dough smothered in cinnamon-sugar. But when you add a scoop of extremely creamy vanilla ice cream and pools of dulce de leche, they're off-the-charts delicious.
Rivera's reopened several months ago after being closed for repairs following a fire in August 2018. We've been thinking it would be a good time to revisit the eatery at 120th and Blondo Streets, and we finally got in after several attempts when the wait was an hour — or more — even on a weeknight.
I never had the churros before the fire, so I can't say whether they've changed. I can say, however, that the general high quality of the pre-fire food wasn't a casualty.
We visited on a recent Saturday night and waited about 20 minutes for a table. I ordered the Enchiladas Monterey, chunks of steak and mushrooms rolled up in flour tortillas and covered with a smoky and sweet red sauce and what looked like queso fresco. It was garnished with caramelized onions and had a drizzle of sour cream on top.
The flavors blended unlike any Mexican food I'd had before. The onions were an especially inspired addition. The whole thing was delightful — and huge. I ate only one of the enchiladas at dinner and had the second for lunch the next day, and still couldn't finish it all.
The dish's only disappointment for me was that the mushrooms tasted like the canned variety; I much prefer fresh. I'd probably order it again, however.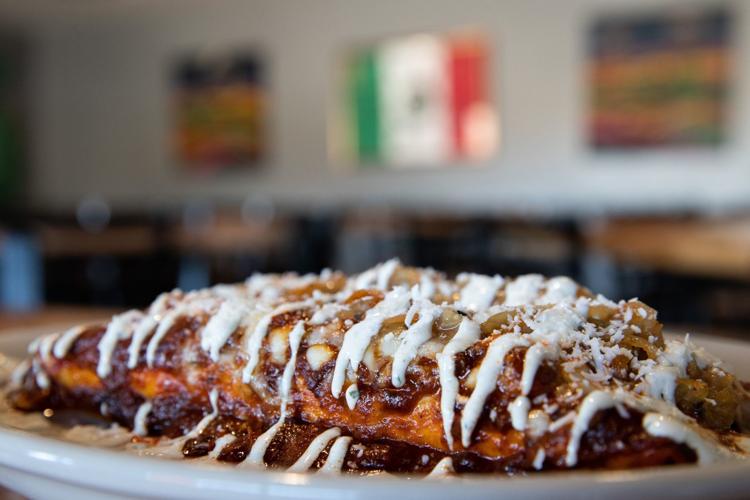 Mayan Pork, pork shanks marinated in Yucatan spice rub and then slow-braised in Mexican beer and spices, was the spouse's choice. (They had him at Mexican beer.) It was topped with an unusual almond mole sauce.
The pork nearly slid off the bone into the sauce, which again was different from other Mexican cuisine I have sampled in Omaha. It was pleasantly but not cloyingly sweet, and the crushed almonds gave it an interesting — and pleasant — mouthfeel. He'd order it again without hesitation.
I don't know what's in Rivera's Yucatan spice rub, but an online recipe lists Mexican cinnamon, oregano, allspice, cloves and cumin among its ingredients.
Before we were acquainted with the churros, an appetizer seemed like a good idea, and it was. The Jalapeño Diablo Poppers also were unlike others I've had before. For one thing, they appeared to be made on the premises rather than purchased from a supplier.
The menu said the jalapeños were grilled before being surrounded by cheese and lightly fried with a super-crisp coating that we suspected contained cornmeal. They were worth the risk of getting too full for dessert.
The sour cream dipping sauce accompanying them was fine, but I found myself wishing for something more complex.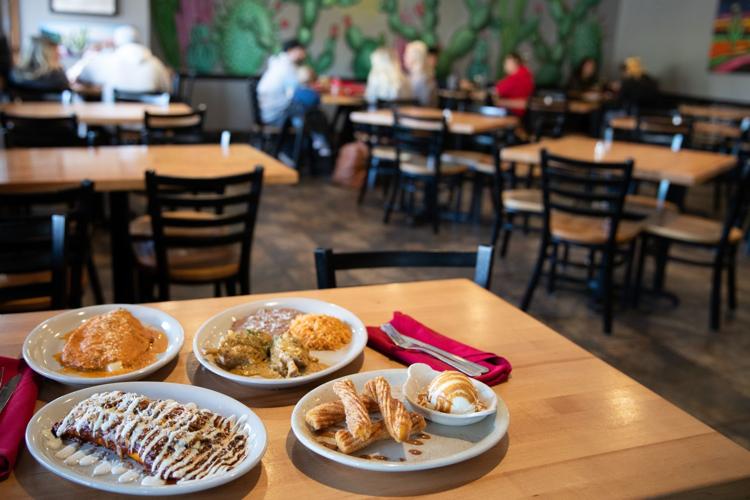 I returned on a Tuesday for lunch so I could try the Chiles Rellenos, my favorite Mexican entree. It was fried on the outside and fluffy on the inside, and the pepper seemed extremely fresh. Covered with a distinctive homemade smoked tomato sauce, it was just right: The batter-fried pepper didn't get too soggy.
On that trip, I had a tiny portion of guacamole with my chips, which also comes with a tasty salsa that's roasted for hours, creating a pale orange color and a delicious flavor that's all its own, owner Jesús Rivera said.
The guac had a bright lime taste that I loved, though I judiciously added salt.
I also took an order of cinnamon-sugar sopapillas to the office, where co-workers enjoyed them, though a couple of us agreed that they probably are better straight out of the fryer. They got a little tough after sitting in honey on the drive back.
All entrees come with refried beans, Mexican rice or both. They were fine and tasted fresh, if not distinct.
Service was prompt and cheerful on both visits. When a couple of things were delayed, both servers made sure we knew the status of our food.
Entrees range from $12 to $17, with a few items higher than that. One decadent-sounding dish, Robbie's Lobster Enchiladas, is $29.99.
Before the fire, Rivera's had a reputation for elevating standard Mexican fare into something special, with care and distinctive ingredients. It's still that place.
We'll be back. Maybe next time, depending on our collective mood, we'll begin with the churros.
Stay up-to-date on what's happening
Receive the latest in local entertainment news in your inbox weekly!