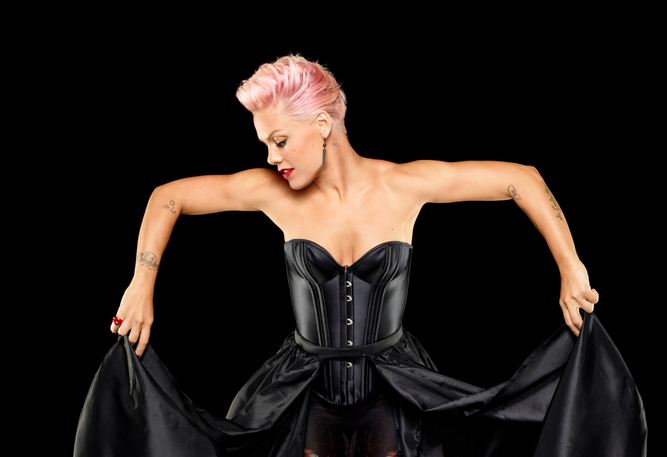 If you go: Pink with The Kin
Where: Pinnacle Bank Arena, 400 Pinnacle Arena Drive in Lincoln
Tickets: Regular tickets are sold out; a limited number of VIP tickets may be available through Ticketmaster.com
Your favorite band has a new album out. Will it stick with the tried-and-true formula that made you love it in the first place? Or will it veer off the charted course?
Artists grow and change. They try new things, and sometimes that's good. But sometimes it's downright terrible.
For Pink, the rosy-haired singer who's set to play a sold-out show Saturday at Lincoln's Pinnacle Bank Arena, it's been all good.
She began her career as a member of the girl group Choice. Then dubbed "P!nk" after her shock of brightly dyed hair, she released the R&B album "Can't Take Me Home."
Though the album was super-successful, she fought with her label to move away from R&B to a more pop-rock sound. It was the best thing she could have done.
Fans have eaten up pop-dance hits "Raise Your Glass" and "Get the Party Started" as well as vocal pop tunes "F**kin' Perfect" and "Just a Pill."
The Los Angeles Times even said "it's fair to claim that Pink is the most trailblazing artist from (her) teen pop class."
She's not the only one who has successfully switched genres. With a little help from readers, we look at some of the biggest genre-switching artists.
We've all danced to "Stayin' Alive," but the Bee Gees' career didn't kick off with "Saturday Night Fever." Through their first decade as a band, the brothers Gibb were very much a rock group, in the vein of other early '60s Brits The Beatles. Then Robin Gibb discovered his vibrato, the brothers went disco, and the rest is history.
New Bee Gees: "Jive Talkin' "
At one point, Katy Perry released an album of gospel and soft rock music under her given name, Katy Hudson. Her eponymous debut was not well-received, and though she recorded a follow-up, it was never released. She eventually adopted the name Katy Perry ("Perry" is her mother's maiden name), signed with Capitol Records and released the pop music we all know and love.
Old Katy Perry: It's not available for sale anywhere, but you can listen to "Faith Won't Fail" on YouTube.
New Katy Perry: "I Kissed a Girl"
Years before his cover of Old Crow Medicine Show's "Wagon Wheel" or his other country hit, "Alright," Darius Rucker was too often referred to as Hootie. As frontman of '90s soft alternative band Hootie & the Blowfish, Rucker was the most recognizable member. He still sings strummy tunes such as "Let Her Cry" in concert.
Old Rucker: Hootie & the Blowfish's "Only Wanna Be With You"
New Rucker: "Don't Think I Don't Think About It"
From folk to rock to metal
Ryan Adams is well-known for strumming some folk tunes, but he has also put out death metal tracks as Werewolph and formed backing band The Cardinals to give him more of a rock backbone. He hasn't officially switched from one thing to another, but he's always dabbling in something.
Old Adams: "Come Pick Me Up"
New Adams: Ryan Adams & The Cardinals' "Let It Ride" or Werewolph's "Mega Wizards"
From folk to rock to blues
When Bob Dylan took the stage at the Newport Folk Festival in 1965, he was the pre-eminent folk singer. When he sat down and plugged in a sunburst Fender Stratocaster guitar, some in the audience booed his performance. It was revolutionary. These days, Dylan plays even his most famous folk songs in a blues-rock style. Dylan's Strat from Newport is going up for auction and could fetch as much as $500,000.
Old Dylan: "A Hard Rain's a-Gonna Fall"
New Dylan: "Thunder on the Mountain"
From rock to experimental
Remember when this band was a rocking post-grunge group? Marq Manner does, though he laments its change from being a guitar rock band into what he called "blip blop."
New Radiohead: "Lotus Flower"
From funk rock to alt-rock
You can divide the career of the Red Hot Chili Peppers into two eras, according to Michael Clark: the time before "Californication" and the time after. Before, they were a funky, rap-rock ball of energy, and then, Clark said, "they decided that 'Californication' would take them to adult contemporary and a point of no return." Not everyone feels the same. John Murren has enjoyed the Chili Peppers' recent efforts more than the group's early funk-rock years.
Old Red Hot Chili Peppers: "Give It Away"
New Red Hot Chili Peppers: "Dani California"
From space rock to weirdo rock
Cody Wilmer has an affinity for some of The Flaming Lips. He especially liked their midcareer music such as "Yoshimi Battles the Pink Robots" that showed them going from an upstart indie rock group to spacey, musically driven pop-rock masters. Since, though, the band has gone in a darker, noisier direction, and Wilmer hasn't enjoyed the results, especially since frontman Wayne Coyne's voice has gone downhill. In Wilmer's words, it's like the band said, "let's make some real mysterious crap that doesn't make sense."
Old Flaming Lips: "Do You Realize"
New Flaming Lips: "Butterfly, How Long It Takes To Die"
From pop-punk to pop-rock
What was once a pop-punk rock band is now a pop-rock machine. Sometimes that's great, and sometimes it's blah, said John Murren. "I don't always enjoy the results," he said. But he also wouldn't love to hear the band's now 10-year-old pop-punk sound all the time, either.
Old Fall Out Boy: "Tell That Mick He Just Made My List of Things to Do Today"
New Fall Out Boy: "Dance, Dance"
At one time, Robert Plant was the golden-haired, golden-voiced angel/singer of Led Zeppelin. For decades, we enjoyed Plant's beautiful vocals on "Stairway to Heaven" and "Misty Mountain Hop," but these days he's more inclined to make bluegrass music with Alison Krauss. Thanks, Jeff Peterson, for recommending this one.
Old Plant: Led Zeppelin's "Whole Lotta Love"
New Plant: "Gone Gone Gone (Done Moved On)" with Alison Krauss
A multi-instrumentalist (and great guitarist) and a wonderful singer, Steve Winwood was a much-wanted talent who formed bands such as Blind Faith and Traffic. Later in his career, Island Records coaxed him to release some solo records that included hits such as "Higher Love" and "Valerie." Jeffry Schnepel said the move to pop "worked out quite well I'd say." These days, though, Winwood mostly avoids his solo work.
Old Winwood: Traffic's "Dear Mr. Fantasy"
New Winwood: "Higher Love"
Remember when Garth Brooks decided to make a rock 'n' roll album? Totally normal — except that Brooks decided to make an entirely different persona, Chris Gaines, complete with a dark wig and a soul patch. Thanks to Kevin Molland for recommending the Brooks/Gaines switch.
Old Brooks: "Friends in Low Places"
New Brooks: "Lost in You" by Chris Gaines
From pop-punk to serious rock
John Murren prefers the older, wiser Blink-182 to the band's beginning pop-punk goofiness. When they started, Blink-182 was just a few punks making fun songs like "Dammit" and "All the Small Things" that we loved to sing along to. Then in 2003, the band got serious. In the liner notes of the deluxe reissue of "Take Off Your Pants and Jacket," Hoppus said their manager wanted more summertime singles. "'You want a (expletive) single? I'll write you the cheesiest, catchiest, throwaway ... summertime single you've ever heard!'" he wrote. "I drove home, grabbed my guitar, sat on the floor, and wrote 'The Rock Show' in 10 minutes."
Old Blink-182: "What's My Age Again?"
New Blink-182: "Stay Together for the Kids"