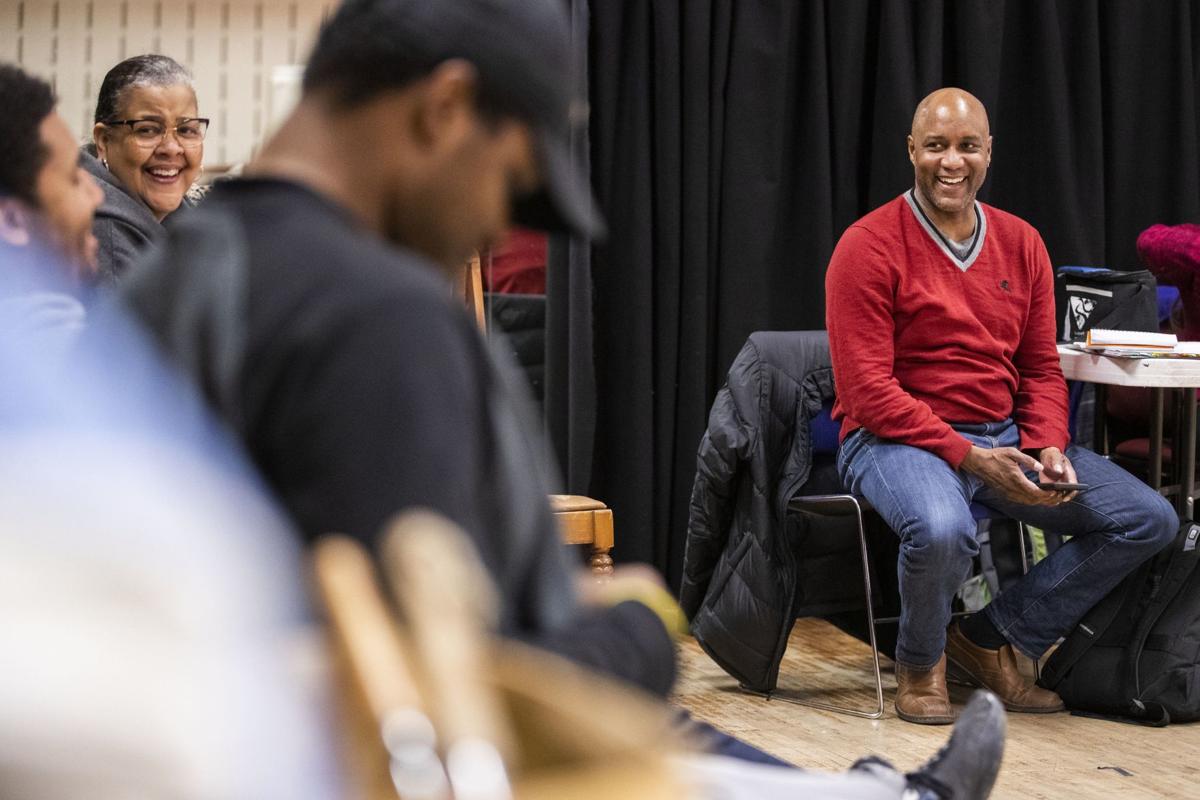 Omahan Tyrone Beasley is happy and thriving in the career he never thought he wanted.
His dad, John Beasley, a nationally known actor, tried to persuade his son to consider the theater life, but Tyrone resisted, thinking he was too shy. He went his own way and pursued a degree in visual arts from the University of Nebraska at Omaha.
Then Tyrone saw "Rain Man," and everything changed.
He'd seen plenty of plays in his 20-some years, but nothing in them affected him like the performances in the 1988 film.
"The thing that really grabbed me was the talking — they (an autistic character and his brother) were talking over each other. That seemed natural," Tyrone said. "I said, 'That's what I want to do.' "
So he can now thank superstars Dustin Hoffman and Tom Cruise for a rich and diverse life: He's been an actor in Chicago, Atlanta and elsewhere; earned a graduate degree in theater from California State University, Long Beach; ran his father's John Beasley Theater in Omaha, where he honed his directing skills; and now is the artistic associate director of outbound programming at the Rose Theater, working with underserved youths throughout the community.
The last few months, Beasley also has found the time to direct "A Raisin in the Sun," opening Thursday at the Omaha Community Playhouse. Though he's become a fixture in the Omaha theater landscape, it's his first production at the Playhouse, either as an actor or director.
Sign up for the Go newsletter
This complete guide of local music, movies, dining and entertainment will have you weekend ready.
He hardly had to think about accepting the job. He's thrilled that his Playhouse debut is Lorraine Hansberry's groundbreaking 1959 play about a tight-knit black family that faces housing discrimination and other issues in Chicago.
"It's a play that resonates as strongly today as it did when it was first produced," Beasley said.
The play, based on real-life events, lends itself well to Beasley's directing style, a system he has refined over the years after working with noted directors.
Among his early jobs was playing the Prince of Morocco in "The Merchant of Venice" at the famed Goodman Theater in Chicago. That play's director was Harvard graduate Peter Sellars, who is known for his innovative leadership not only over plays, but opera and symphony performances as well. (He's not, of course, the late actor from the "Pink Panther" movies.)
Beasley said he learned things from Sellars as a grateful, wide-eyed newbie that he morphed into his own process.
Back then in Chicago, the young actor was the first to audition one Saturday for a part in "The Merchant of Venice." Beasley read a monologue from "Much Ado About Nothing," a different William Shakespeare play, then Sellars asked him to do it another way, with more anger. Beasley complied, Sellars said thank you and it was over.
Beasley left, disheartened.
"Why am I banging my head against the wall?" he asked himself. "I need a real job."
When he got home, he had a message on his answering machine from Sellars, who said he realized they hadn't taken the time to talk at his audition. Blame it on being the first that day, the director said. Sellars told Beasley he was impressed that he didn't go too far to comply with his suggestions, but stayed true to his convictions about the character of the prince.
"He said he hadn't met an actor like me," Beasley said. "I said, 'I've never met a director like you, who's willing to talk.' It was enough to keep me going, even if I didn't get the part."
Beasley got the part, then learned that it entailed not only a run in Chicago, but a European tour that would include a stop at Britain's The Royal Shakespeare Theatre.
He eventually made his way to New York City, where he started to encounter performers he recognized from movies. When he sat next to Philip Seymour Hoffman one day, it dawned on him that the two of them had something in common.
"Wow, I'm an actor," he thought.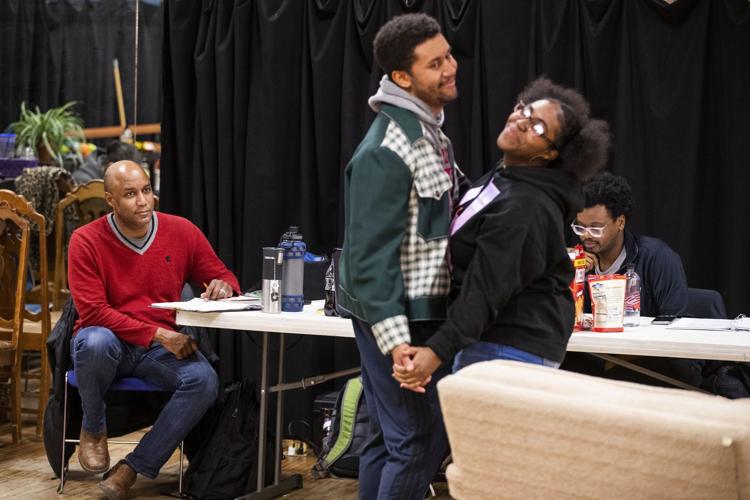 Now 54, Beasley puts everything he absorbed during his early years in the business to use as a director and in his work at the Rose.
Techniques he learned from Sellars are at the forefront. During "The Merchant of Venice," Sellars made his main objective talking with his actors about anything and everything — sometimes even at dinner. He also gave actors feedback in the middle of the play's run. Many directors end their work after a premiere, handing the play over to the stage manager.
For "A Raisin in the Sun," Beasley has shared research about civil rights and racism with his Playhouse cast. In the play, members of the Younger family plan to use an insurance payout to move into a home, but are thwarted because of institutional racism.
The director used a 1951 incident in Cicero, Illinois, to drive home what the Youngers were facing. About 4,000 white people took to the streets in the town to prevent a black family from moving into an apartment in their neighborhood. He also talked to the cast about political machinations in presidential administrations during the civil rights movement.
He had the cast improvise how they would perform a pivotal scene from the play: a typical morning in the cramped Younger household. The exercise, he said, would help them define and follow their instincts.
"Acting," he said, "is human nature."
His mantra: Take your time and don't fear failure.
Theater newcomer Karen Fox, a 61-year-old retiree who worked at Offutt Air Force Base, found Beasley's advice particularly helpful. She's playing family matriarch Lena Younger, a lead character, in her first show ever.
She said Beasley encourages actors to be natural and try to relate to their characters in a real way.
"I didn't have any expectations of what a director would be like, but he's not one of those people who are constantly, 'Do it this way' or 'Do it that way,' " she said. "He asks, 'How would you do this instinctively?' That has really helped me. He's a great guy."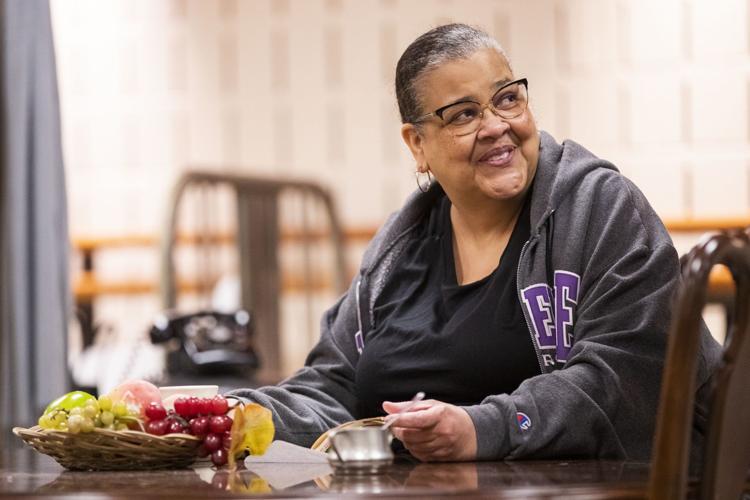 He's also calm and soft-spoken, with no apparent pretensions. That, no doubt, helps him in his full-time job with the Rose Theater, which takes him out into the community to work with agencies such as Girls Inc. and Banister's Leadership Academy. He's also in charge of the Rose's Young, Gifted and Black program.
With kids, he brainstorms how to create theater out of issues such as gang violence, teen pregnancy, the foster care system and youth incarceration.
He also works with young men at the Nebraska Correctional Youth Facility.
"They start off the first day — some are 'voluntold' for the class — saying, 'I don't wanna be here,' " he said. "By the end, they're saying, 'When are you coming back?' "
That, he said, is one of the things that makes him proud and happy that he chose a theater career.
He has kids of his own — he married late (in 2012) and has a 5-year-old, a 3-year-old and a 1-year-old.
He might not have to coax much for at least one of them to become a performer like Dad — and Grandpa.
The youngest, a girl, "already loves to dance," Beasley said, and an instructor at the Rose is eager to sign her up for classes.
---
'A Raisin in the Sun' at the Omaha Community Playhouse
Tyrone Beasley looks on while directing the play 'A Raisin in the Sun' with cast members Donté Plunkett performing as Joseph Asagai and Olivia Howard performing as Beneatha Younger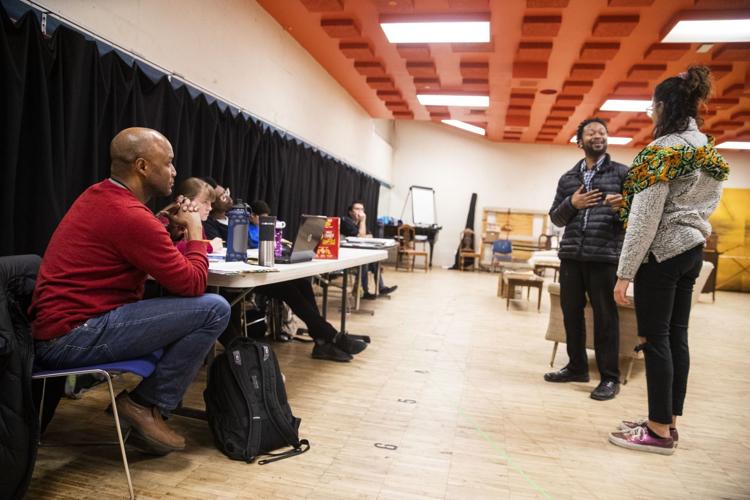 Brodhi McClymont, 13, performs as Travis Younger during a play rehearsal of 'A Raisin in the Sun'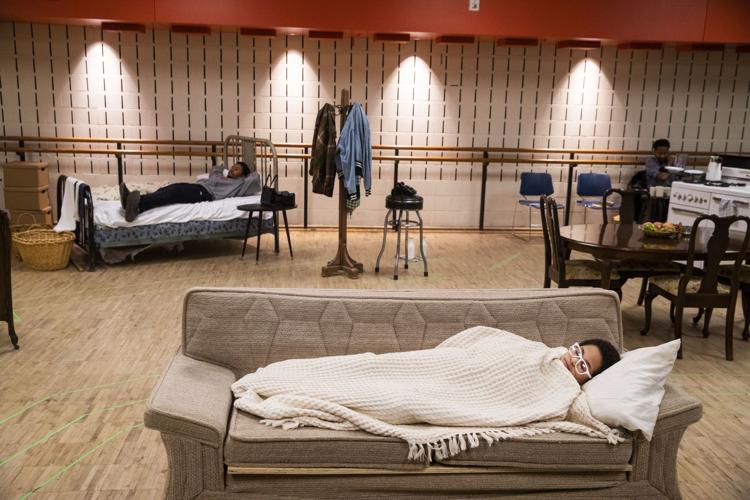 Tyrone Beasley talks with cast member Karen Fox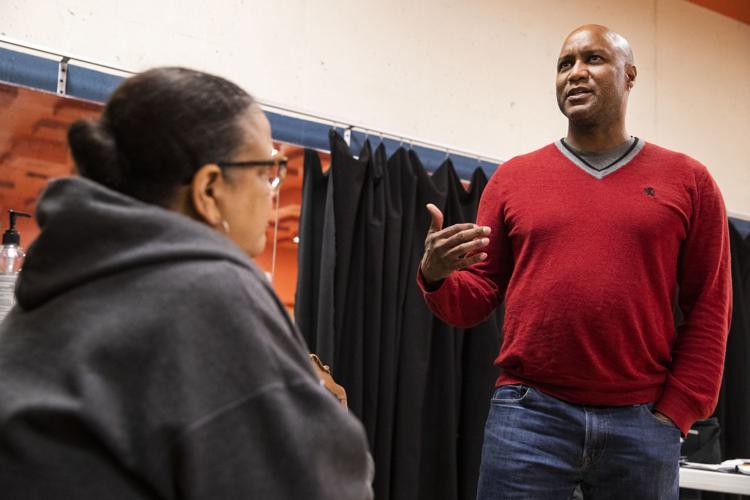 David Terrell Green performs as Walter Younger and Olivia Howard performs as Beneatha Younger.
Tyrone Beasley takes notes while directing the play.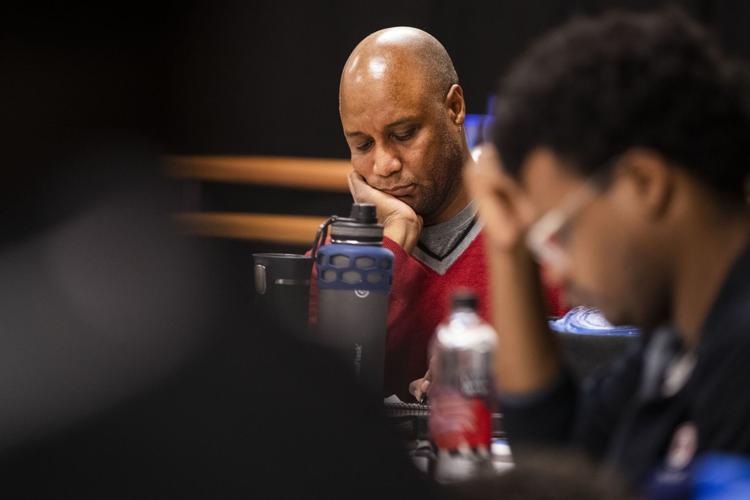 Olivia Howard performs as Beneatha Younger.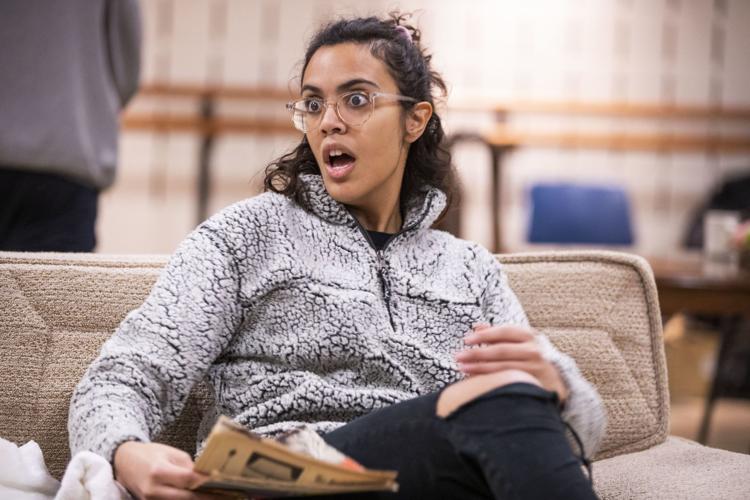 Tyrone Beasley checks out the stage and set with cast members before rehearsal.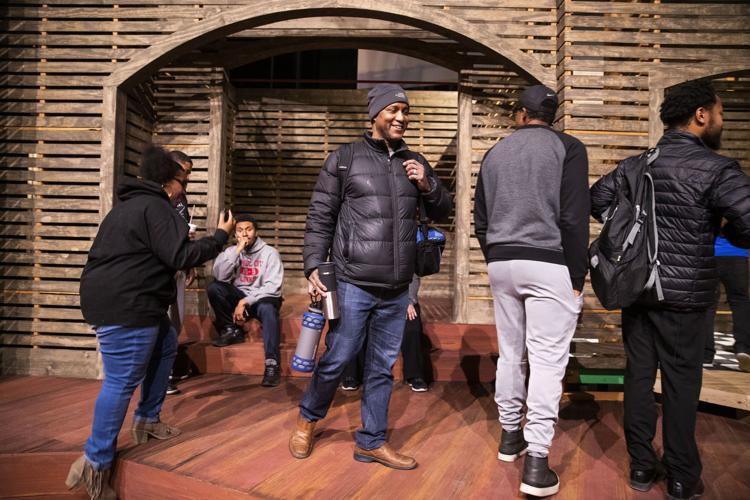 Tyrone Beasley talks with cast members before rehearsal.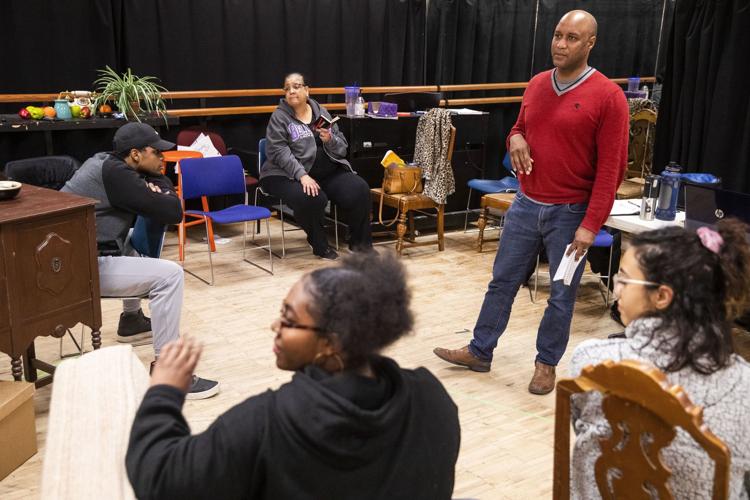 Tyrone Beasley talks with members of the cast, including Karen Fox.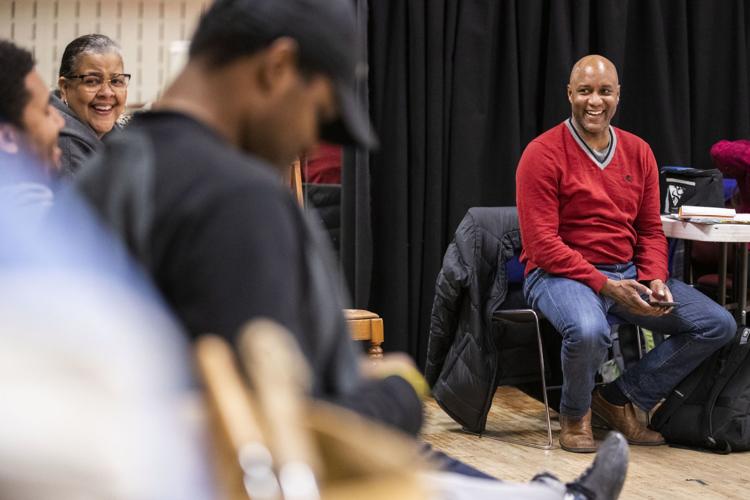 David Terrell Green performs as Walter Younger and Olivia Howard performs as Beneatha Younger.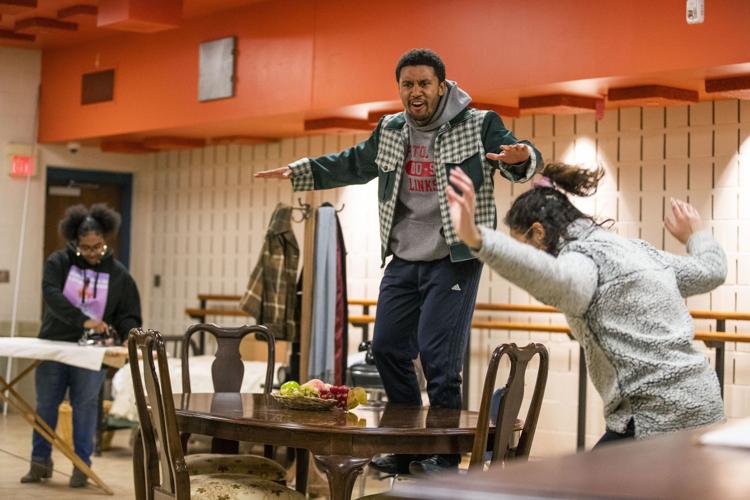 Karen Fox performs as Lena Younger.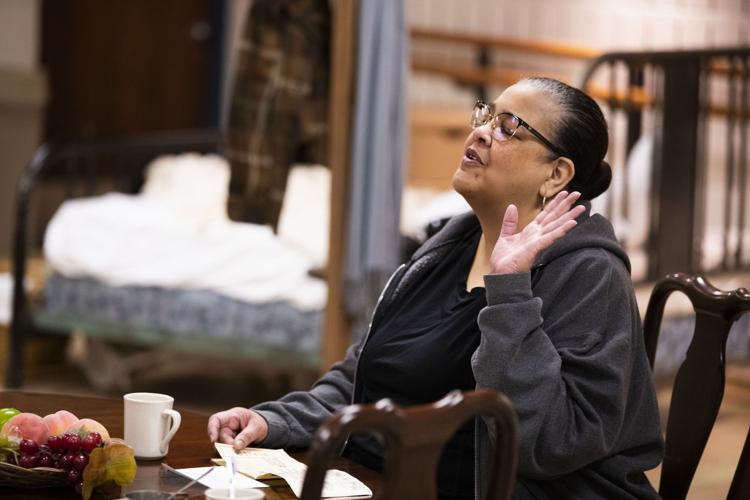 Tyrone Beasley looks on at David Terrell Green performing as Walter Younger and Faushia Weeden performing Ruth Younger during a rehearsal.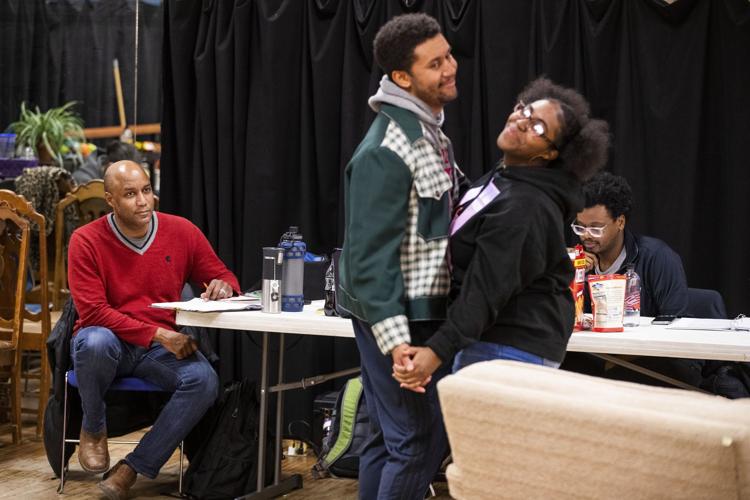 Tyrone Beasley directs a 'A Raisin in the Sun'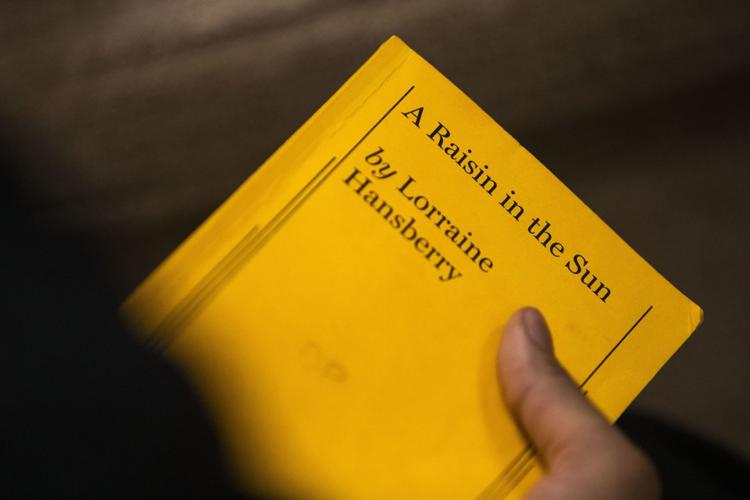 Karen Fox performs as Lena Younger.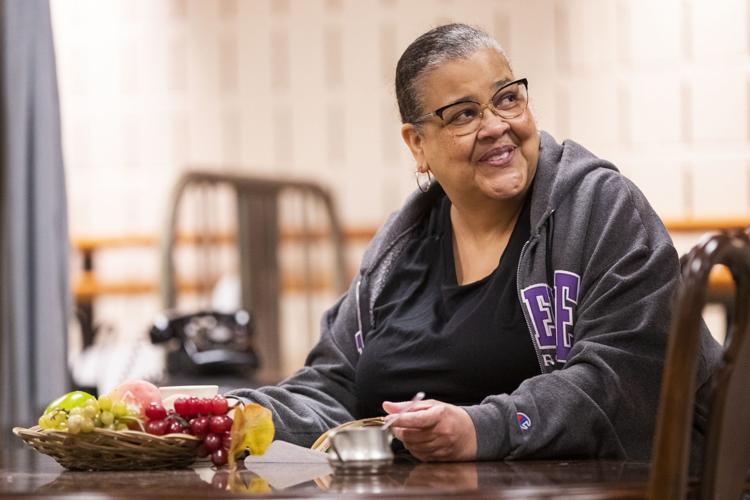 Tyrone Beasley takes notes while directing the play 'A Raisin in the Sun'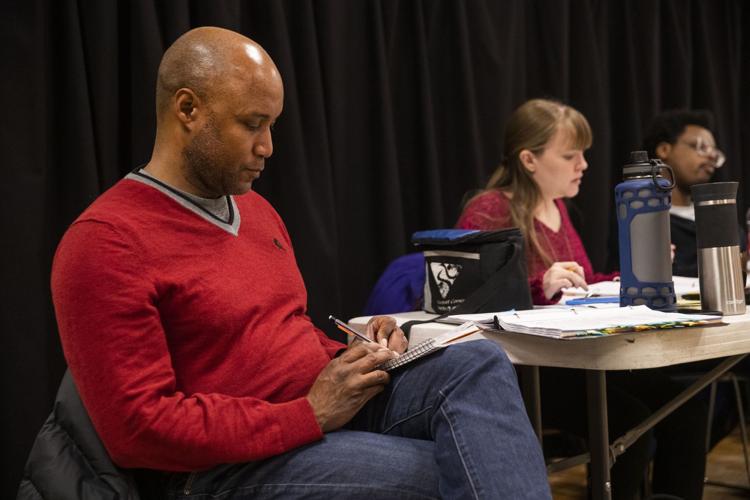 Stay up-to-date on what's happening
Receive the latest in local entertainment news in your inbox weekly!