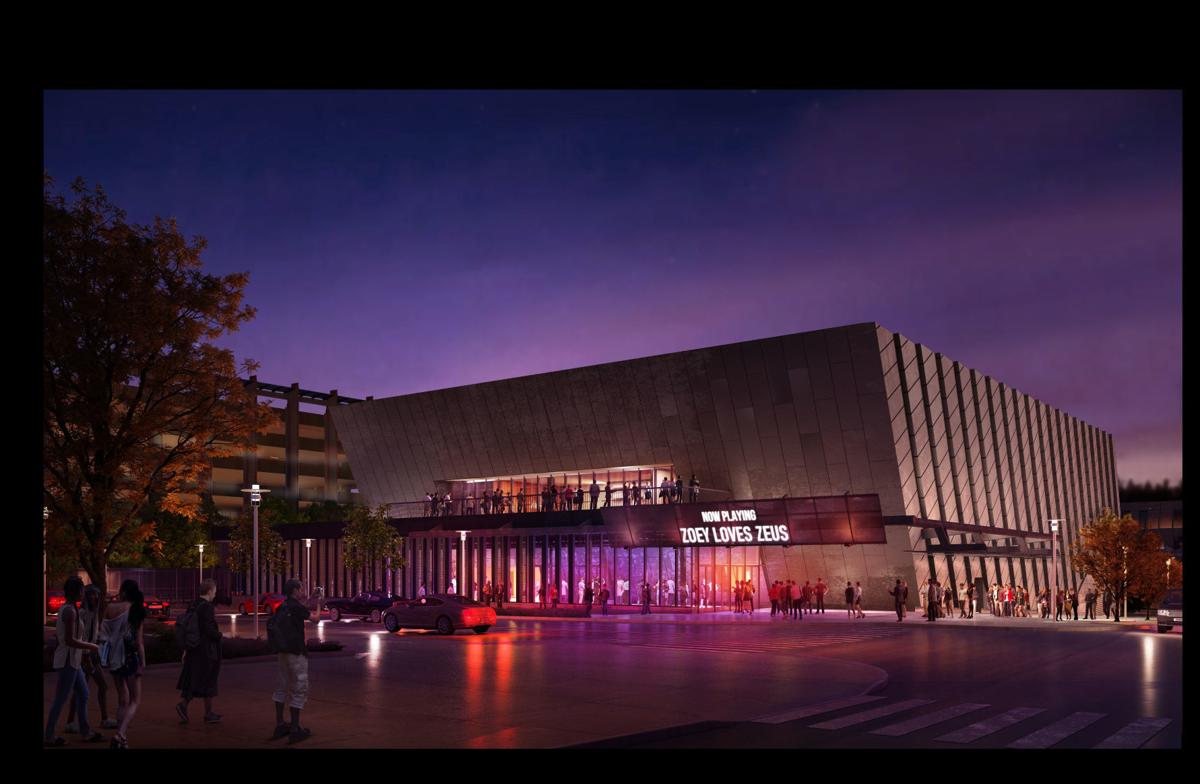 By now, you've probably heard the news: Omaha Performing Arts is planning to build a new music venue with an estimated cost of $109 million.
It's big news for the concert scene and for downtown Omaha, and it seems like everyone I know has been talking about it since the news was announced last week.
And people have questions. I'm going to answer them. Here we go.
What will the venue be like?
Built between Dodge Street and Capitol Avenue and 11th and 12th Streets, the facility will be an indoor concert hall with an open floor. (Kind of like a large open room with a balcony.) The only fixed seating will be in the balcony. It will have a capacity of 1,500 to 3,000. It's an adaptable room, so it can accommodate a standing crowd for a rock show or seats, stages, risers and whatever is needed for an arts or opera performance.
What kind of shows will be there?
In its press release, Omaha Performing Arts mentioned that some artists are skipping the area because they don't have a venue of the proper size and configuration in which to play. They didn't get into specific artists, but it is apparent that some groups (especially rock bands) they work with want a venue the size of OPA venues such as the Holland Performing Arts Center or the Orpheum Theater, but also want more of a traditional concert venue and less of a theater. Some don't want seats at all.
Local performing arts organizations have expressed interest in hosting performances there because it's planned as a more adaptable venue than the aforementioned theaters.
Does this allow OPA to do more things at its other venues?
Certainly. Go ahead and look at OPA's calendar. It's pretty packed. This music venue will allow them to put pop/rock concerts — Interpol, Lana Del Rey, Wilco, Incubus and Third Eye Blind are all recent/upcoming examples — in the new venue, which should be more accommodating. That leaves the theaters open for other things, including theater, dance, opera and symphony concerts.
Will this venue compete with other local venues?
It's a little hard to tell at the moment, considering we don't know precisely who will be playing there, but I'm sure the venue will compete with other local venues to some degree.
Stir Cove in Council Bluffs is a similar size (though it's an outdoor venue and limited to warm-weather months).
The under-construction venue owned by 1% Productions and Mammoth Live at the City Centre development in La Vista is somewhat similar, but that will be a combination indoor/outdoor venue.
Some have also mentioned Sokol Auditorium, which fits a maximum of 1,500. It's hard to consider that "competition," per se, since it's a rental hall that hosts more weddings than it does concerts.
So while it has some size similarities to those venues, it definitely has different aspects. And you have to consider that OPA has a different mission than those who operate the other venues.
Is Omaha saturated with music venues?
We're getting there, for sure.
The area already has a multitude of hockey/basketball arenas that also host concerts. (And I personally don't think we need more.)
With this addition to the music scene, I think we'll be at the point where there's a music venue of every size and configuration imaginable. I don't think there's a niche we don't yet cover.
Sign up for the Go newsletter
This complete guide of local music, movies, dining and entertainment will have you weekend ready.
Why will it cost $109 million?
It seems like a steep price, doesn't it? That's specially true if you consider venues such as Ralston Arena, which can fit more people and cost a fraction to build.
But consider that OPA is going to make a state-of-the-art building that is aesthetically and functionally impressive. It's building it on costlier downtown real estate. It's working with world-class architects. And have you ever been inside the Holland Center? It's a gorgeous building that's a wonderful place to hear the symphony or a rock concert. And it cost $107 million to build when it was erected 15 years ago.
I expect this new building to have similar aesthetics and functionality, and it will fit up to 1,000 more people than the Holland's 2,000-seat theater.
Why do we need this?
Strictly speaking, it's not necessary. But no music venue truly is.
We have lots of other venues. We even have others of a similar size. But this will have different uses than 1%'s new rock club — I don't think Opera Omaha is going to play City Centre — and I'm not complaining about more places to see concerts. It's a good thing for music, and it's a good thing for downtown Omaha.
How will the building affect parking?
The venue will be constructed where there is currently a surface parking lot with more than 100 spaces. Losing that many parking spaces in an area with at least three parking garages and a multitude of surface lots (not to mention street parking) is not going to be a big deal.
Downtown is going to be a different scene in a few years when the Riverfront is finished, the Capitol District is finished and this venue is built. Parking might get a little tight if there's a Creighton game the same night as a symphony performance and events at the park, but I think we'll all survive if the worst part of that is having to park a few blocks away.
---
Here's how the planned venue's capacity compares to others in the area