Actor Nik Walker has been playing Aaron Burr in "Hamilton" for three years, first as an understudy on Broadway and then as part of a national tour.
He's sung the same words, executed the same dance steps and taken the same bows hundreds of times.
And, he says, there's nothing mundane about any of it.
"There's always something new about this role and how it goes," Walker said in a recent interview from Tulsa, Oklahoma — the last city before the "Hamilton" cast and crew come to Omaha for a 3½-week run at the Orpheum Theater. "It's very rare that you get a role like this. It's like a gift for an actor."
Area residents have been eagerly awaiting the arrival of the extraordinarily popular sung-through musical by Lin-Manuel Miranda since Omaha Performing Arts announced a couple of years ago that it would open in fall 2019. The production uses a nontraditional cast and various genres of music, including jazz and hip-hop, to tell the story of America's early days. Actors of color portray characters such as Burr, Hamilton, Thomas Jefferson and George Washington.
"It's the story of America then as told by America now," Miranda says.
Telling that story is challenging, said Walker, who auditioned several times before winning a role.
The show is mentally and emotionally taxing, especially for those in principal roles. Walker said good characters are the result of how much thought actors put into lines. Because Miranda's characters are constantly changing, he said, "that takes a lot out of your mind and soul." Scenes leading up to the duel between Burr and Hamilton are especially grueling.
And, he said, the music is hard. If you're Burr or Hamilton, your mouth is never closed.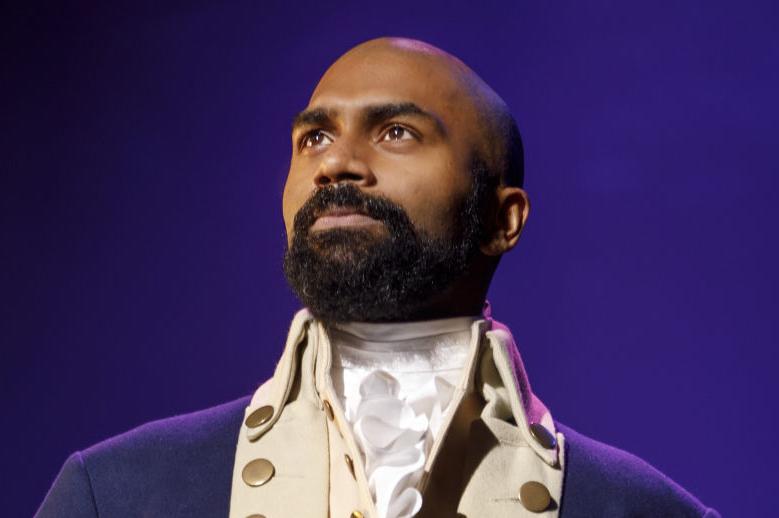 Performances also are physically exhausting — basically three hours of nonstop kinetic movement, he said. Cast members must learn to maneuver around sore limbs and other body parts.
"A physical therapist travels with us, and she's booked all the time," he said. "It's the hardest show I've ever done, without exception."
He copes by preparing all day for the three hours he spends onstage (six if there's a matinee). He relaxes by watching cartoons before performances.
Bosses with the touring company help, too, he said. They fly his wife out once a month to see him.
And Miranda regularly checks in at various tour stops. Walker caught up with him recently in Austin.
"We sat in my dressing room and watched 'Batman,' " Walker said.
Miranda has remained humble and kind in the face of legendary success, Walker said, and his personality "permeates throughout the show and the company."
Walker gets regular vacations like anyone else; he'll be missing the first week in Omaha because he'll be at Disneyland in Southern California.
Sign up for the Go newsletter
This complete guide of local music, movies, dining and entertainment will have you weekend ready.
Audience reaction makes the work gratifying. "Hamilton" has been a financial blockbuster, setting a Broadway box-office record for the most money grossed in a single week in New York City in late November 2016, when it grossed $3.3 million for an eight-performance week. It was the first show to break $3 million in eight performances.
Walker attributes the show's popularity to its accessibility and its ability to reel in an audience.
"A lot of shows (such as 'Les Misérables') show you a revolution, but 'Hamilton' takes you with it," he said. "From the very early stages, you become invested in what (Hamilton) is doing."
He also believes it's inspirational because it shows that people, especially young people, can accomplish great things. Hamilton was 19 years old at the time the show is set.
"What they were doing, creating a country, was an experiment. It was never stable, always morphing," Walker said. "The country was built by kids. All they knew was something was wrong, and they wanted to change it."
As much as he loves playing Burr, Walker said his time with the tour probably will end sooner rather than later. He misses being home in New York City with his wife, who's also an actor.
He graduated from New York University's Tisch School of Drama in 2010 and has had some interesting work in his career, including roles in "Motown: The Musical" on Broadway, "Peter and the Starcatcher" off Broadway and "Law and Order: SVU" on television.
But "Hamilton," he said, is the pinnacle.
"I don't know if I'll ever get to play a role like this again," he said. "This has been a part of my life for so long, I wonder what it will look like when I leave the tour. I hope life with 'Hamilton' isn't over when I leave. I want to be around it."
Theater reviews from Betsie Freeman in 2019
A collection of 2019 theater reviews from The World-Herald's Betsie Freeman.