When I was a kid, I used to be something of an Anglophile, due mostly to PBS and reruns of "Doctor Who."
Two British college roommates and one trip to London pretty much put the kibosh on my Anglophilia, but I still have a soft spots in my heart and my head for some aspects of British culture. I like my chips with vinegar, my ale brown and my pubs browner.
You can slap the name "pub" on any bar, but that doesn't really make it one. Luckily, Mister Toad in the Old Market has the look and feel of a genuine English pub.
Mister Toad has been in existence for 50 years. It's the former home of the historic Hotel Howard. Few can argue that the Old Market today is far less sketchy than it was in 1970. Mister Toad really classed the place up, and it hasn't stopped since. It's particularly picturesque around the holidays, festooned with tasteful lights in the trees out front. It's been a cornerstone business in the Old Market, setting a classy mood at what still feels to me like the district's main entryway at 10th and Howard Streets.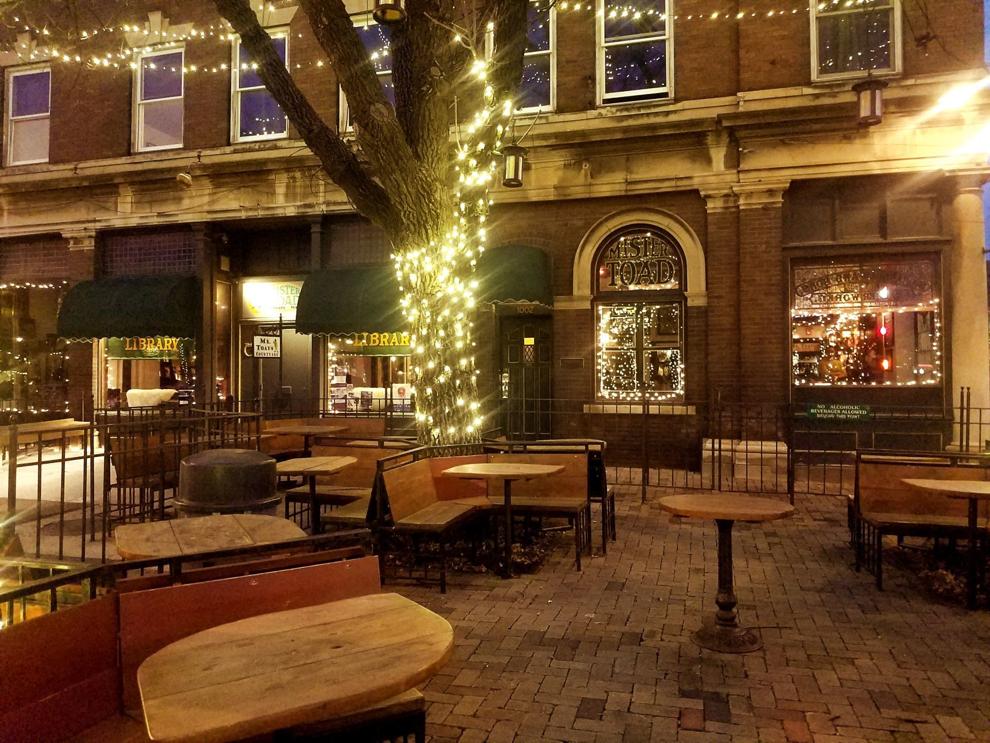 Out front of Mister Toad is a fenced-in patio with the best perches for people-watching in Omaha. It was too cold at my last visit to play "Tourist, Local or Just Works Down Here" out front, but it is worth noting for later when warm weather strikes.
Inside, Mister Toad is quaint without the kitsch. It consists of two large rooms. The front is done up in Tudor fashion, with wood beams and trim across the ceiling. It isn't church-themed, but it is all very calm and cozy, with pew seating and stained glass windows that really pop. The walls have a few paintings, old photos and some high-end mirror signage for Chivas, Bushmills and Taylor Walker & Co. Ales & Stout. A Saloon Watneys sign, the Union Jack and other British paraphernalia complete the feel. But it gets even cozier in the west room, which is a large, high-ceilinged library.
I had to keep things British, so I had a Boddingtons Pub Ale followed by a Newcastle. There are about 45 imported and local craft bottles on the menu. Most are $5, with a few $6 and $7 exceptions where noted. There are 16 wines from $5 to $10 per glass. There are 15 bourbons, six ryes, 16 single single-malt scotches (six blended) and six Irish whiskeys. The menu is quite extensive.
Happy hours are 2 to 6 p.m. and include $1 off all beers and all drinks above wells. Every Sunday night is Jazz Night at 9 p.m. with Luigi, Inc.
Mister Toad is a great place for a civilized day or evening, for reading a book or meeting with friends. Hope to see you there.
---
Recent World-Herald nightlife reviews
Recent World-Herald nightlife reviews
Trying to find a new go-to bar? Check out some of the latest World-Herald nightlife reviews to find the place that's right for you.