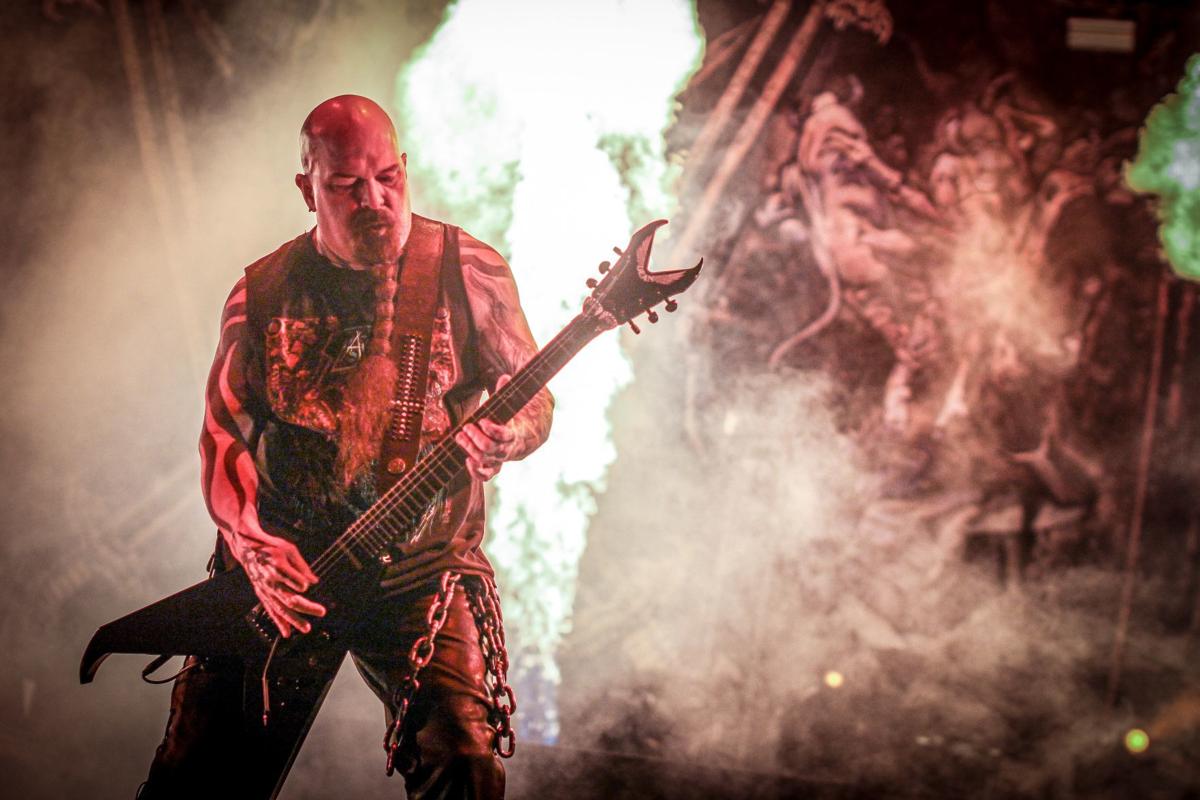 Slayer said goodbye to Omaha in a way we would not soon forget.
If you were there, I bet you can still feel it in your chest this morning, a deep thrum imparted there by the thunderous thrash metal titans. Perhaps you still feel the scald of the huge flames that shot skyward throughout the epic concert.
On Monday night, Slayer bid farewell to Omaha with one final, fast, frenetic set as its farewell tour winds down within the next several days.
Was it the loudest concert in the arena's history? Perhaps. I've seen quite a few there, and I don't ever remember earplugs barely providing a defense. Such was the case for Slayer's onslaught of songs such as "Raining Blood," "Born of Fire" and "World Painted Blood."
Photos: Slayer's farewell tour stop in Omaha with Primus, Ministry and Phil Anselmo
Relive the epic heavy metal concert with our photos. 
Tom Araya, Kerry King, Paul Bostaph and Gary Holt shook the very walls of CHI Health Center while devoted fans slammed around in the arena's packed lower bowl in a celebratory release of aggression.
Metal's that kind of genre. It lets you get those feelings out with wild fury if need be, and King's slamming guitars and Araya's aggressive howl are your muse. Quite a crowd gathered for the catharsis. There were kids and adults with canes, men in motorcycle club cuts and women in cardigans, people in Punisher hats and folks in standard-issue black T-shirts. And maybe half the crowd rocked some kind of Slayer apparel — T-shirt, hoodie, tattoo, whatever.
Fair warning: Metalheads of Omaha may limp into work Tuesday broken or battered or bruised or tired or late. Or perhaps not at all.
Why? They were subjected to a gauntlet of heavy metal Monday night as Slayer smashed through a lengthy farewell set and Primus, Ministry and Philip H. Anselmo & the Illegals each gave their own hourlong seminar.
Primus delivered a host of its weirdo rock including songs such as "Wynona's Big Brown Beaver," "Jerry Was a Race Car Driver" and "Mr. Krinkle." And stuck in the middle of a bunch of metal bands, Primus was perhaps the most gifted group musically. Bandleader and bassist Les Claypool stomped around the stage while hammering out head-spinning basslines while Ler LaLonde and Herb Alexander held songs down through time changes and complicated riffs.
Led by the dreadlocked and much-pierced Al Jourgensen, Ministry rocked through a load of thunderous, grinding industrial metal including "Jesus Is My Hot Rod" while headache-inducing strobes — the only things that lit up the stage — flashed incessantly.
Sign up for the Go newsletter
This complete guide of local music, movies, dining and entertainment will have you weekend ready.
As for Anselmo, he led his solo band through a set list that was completely filled with songs from the band that made him famous: Pantera. Dedicated to his late former bandmates, Dimebag Darrell and Vinnie Paul, the set included "Strength Beyond Strength," "Mouth for War," "Becoming," "Hostile" and "Walk."
There for Slayer, fans knew every word to those Pantera songs and shouted them along with Anselmo's aggressive growl. Meanwhile, they formed a massive swirl of bodies as a circle pit formed in the center of the packed arena floor.
And it went on and on: Slamming songs. Slamming bodies. Head-banging towers of flame.
Fans hung with Slayer till the end as they played songs such as "Angel of Death" and "Chemical Warfare."
Fans didn't want it to stop.
Seemingly, neither did the band. When it all came to a close and the lights went up, Slayer's King, Bostaph and Holt walked the lip of the stage tossing out guitar picks and drum sticks. 
Araya stood on the corner of the stage and admired the audience. Those who remained showered him with applause, and he nodded at fans and took short bows.
Then he approached the microphone one last time.
"Thanks for hanging around. Thanks for being a part of this," he said. "You were a part of my life. I'm gonna miss you guys."
Stay up-to-date on what's happening
Receive the latest in local entertainment news in your inbox weekly!