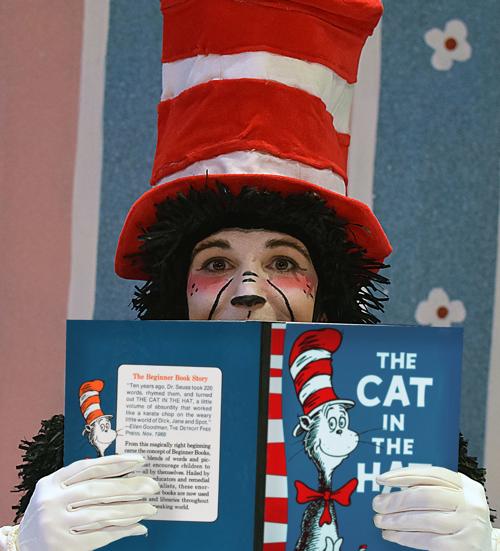 Generations of kids have embraced the crazy world of "The Cat in the Hat."
In the classic children's book by Dr. Seuss, a frenetic feline in a red-striped fedora shows up to spend a rainy day with a boy and his sister, Conrad and Sally. The Cat does all kinds of wacky things, including juggling a fish, a cake and a rake. He also introduces the siblings to a couple of new friends, Thing 1 and Thing 2, who make a huge mess.
Sounds like the perfect material for a fast-moving play, especially for younger children.
It was. The show, originally produced by the National Theatre of Great Britain, was produced at the Rose Theater in 2014 and will open for another run this weekend.
Sign up for the Go newsletter
This complete guide of local music, movies, dining and entertainment will have you weekend ready.
Kevin Ehrhart returns as director, and he says he loves the story.
"(It) seems simple on the surface, but it has a much deeper meaning," Ehrhart said. "It is a story about resilience. In life, things get crazy and then come out the other side. You just have to approach the chaos with flexibility and joy."
As a parent, he said, he sees the Cat's spirit as a way to help children build confidence and face challenges.
Ehrhart and choreographer Sue Gillespie Booton worked together on dance-like stage movement to celebrate important events in the show. It reaches a fever pitch when the Things destroy the house, causing a bathtub to fall through the floor and a light fixture to fall right before Mom comes home.
Kids and adults should enjoy the energetic clean-up scene that's set to speedy music, he said, especially a magical machine that was created by props mistress Devon Denn-Young.
"I think the moral of the story is this: Even when you are faced with a gloomy day, don't let it get in the way of having a joyful life," the director said. "As the Cat says, 'Even though the sun is not sunny, we can have lots of good fun that is funny.' "
Theater reviews from Betsie Freeman in 2019
A collection of 2019 theater reviews from The World-Herald's Betsie Freeman.