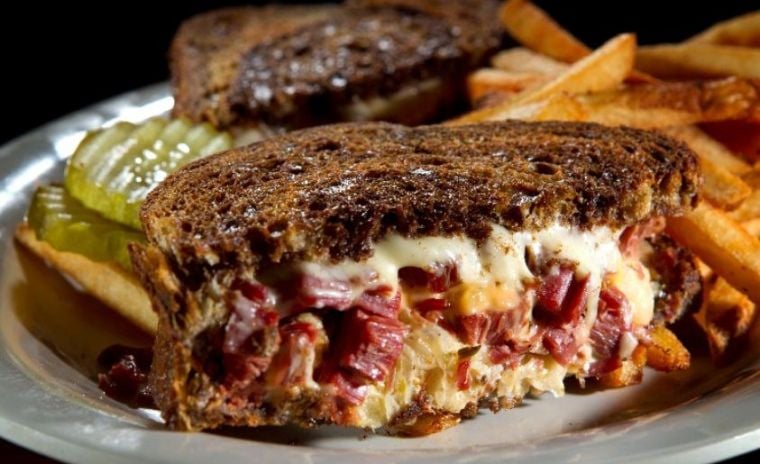 If there's one thing that gets Omaha foodies excited, this writer included, it's the mention of the Reuben sandwich, an Omaha original. And if there's one thing that gets Omaha foodies even more excited, it's an entire festival dedicated to Reubens.
The ReubenFest will happen for the third time starting Nov. 18, at the Crescent Moon, the home of — in my very humble opinion — Omaha's best Reuben.
The Moon will be serving my favorite Blackstone Reuben, with its savory hunks of house-cooked corned beef, seasoned kraut and Russian dressing nestled between two slices of rye, which is sent through a conveyor-belt pizza oven before being served. (It's the only way the restaurant had to cook the sandwiches when it first opened, and they're so good that way it's held on to the tradition.)
Also on the menu: the smoked corned beef Reuben sandwich, which came out during last year's ReubenFest and stuck around because it was so popular. It's slow-smoked corned beef brisket with marble rye, Swiss cheese and smoked sauerkraut.
This year's special menu items available only during ReubenFest include a spicy California Reuben burrito, which is shredded corned beef, seasoned and stuffed in an extra-large flour tortilla along with cooked diced potatoes, cheese, onions, bell peppers and cilantro; a fresh-ground corned beef burger, which is a blend of hamburger and corned beef fashioned into a burger and served on a pumpernickel Kaiser roll with the choice of cheese and toppings; and a house-made Reuben sausage. Those items will be available all week.
On Nov. 22 only, the restaurant will serve a Reuben-style Biercock — think a Reuben Runza. Marbled dough will be filled with corned beef and a blend of Swiss cheese and sauerkraut, then baked to a steamy, crusty finish.
Two items will be available on Nov. 23 only: corned beef and hash and a Reuben pizza, with marble rye dough stretched thin and topped with the usual Reuben ingredients.
The celebration runs Nov. 18 through 23. The Moon is at 35th and Farnam, right across the street from the Reuben's birthplace at the Blackstone Hotel. For more information, call 402-345-1708.