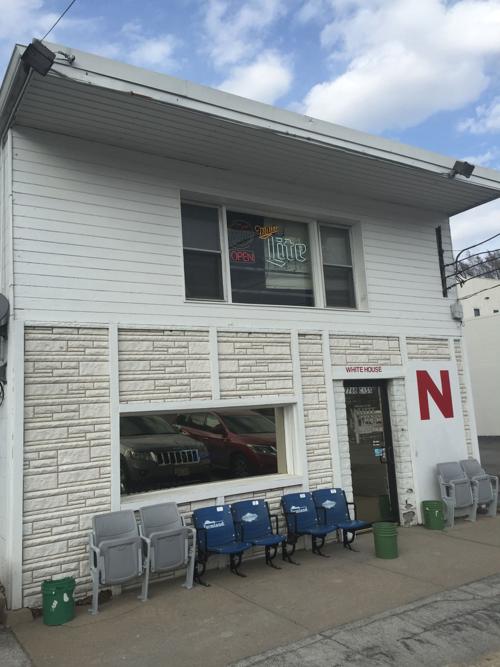 The longer I live in Omaha, the more I've become a big fan of some of the area's out-of-the-way, small-town bars. The only problem is that there's not always enough time to drive an hour round-trip just to have a burger and a beer in a friendly rural environment.
That's the beauty of the White House Bar & Grill: You can still get that small-town bar feel right in the heart of the city.
Situated on the north side of Cass Street at 78th Street, the White House can be hard to find if you're not looking for it. Living up to its name, it is indeed a white stand-alone building, with a painted red "N" on the front.
I hadn't been here in a while and actually was surprised to see that the place is painted all white now. It was all red before, which made it easier to spot from the road. In fact, now that it's totally white, it almost feels like the bar is camouflaged in its surroundings.
As you get out of your car, you'll notice two things immediately: First, the White House Bar isn't in all that big of a building. And second, the bar has eight stadium-style seats out front. They look like a pretty inviting place to have a seat and a conversation with whomever is sitting down next to you.
Walk through the front door, and what you thought was a rather small place on the outside turns out to be an even smaller bar on the inside. But that's what really adds to the charm of this little dive bar — it's almost like hanging out in someone's basement bar in rural Nebraska.
And, much like hanging out in a basement bar, you'll notice that anyone who walks through the front door generally is greeted with a welcoming "hello" or the other popular bar greeting "Where've you been?" — only in the friendliest of ways, of course.
Unlike a basement bar, you'll find a few decent draft beer selections, including Rebel IPA and Sam Adams seasonal, along with your other assorted dive bar domestics. The White House also has a pretty extensive inventory of vodka and a decent amount of the now wildly popular Moscow mule cups — something you might not find in a rural bar.
This is a bar and grill, and that's what sets this bar apart from many other small bars in town — the chance to get some good old bar food as you sit and make new friends.
Your bartender, who also doubles as your short-order cook, can fire you up just about everything you think a bar and grill should have, including onion rings, fried mushrooms, wings and several varieties of hamburgers and Philly-style sandwiches. The grill offers chili and a seasonal soup of the day. But if you're looking for a salad or tofu burger, I would suggest eating before you leave the house.
Spots like the White House Bar & Grill reinforce why I love to visit small, unpretentious places. There will always be a market for bar owners who still understand that a lot of us are looking for a cold beer and a cheeseburger and fries at a reasonable price all served up with great service and friendly customers.