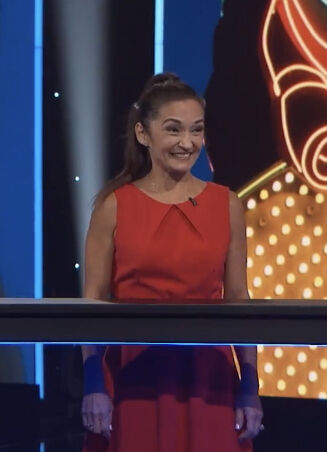 Omahan Rita Kucirek saw comedian and former late-night TV star Jay Leno onstage at the Holland Center a couple of years ago.
She also used to catch glimpses of him driving one of his many cars when she lived in Los Angeles and walked her dogs on Mulholland Drive.
But she didn't have an inkling that, one day, she would appear with him on television.
That happened earlier this year when Kucirek was a contestant on Leno's new game show, "You Bet Your Life." The half-hour program, a remake of the Groucho Marx classic, premiered in September, reuniting Leno with former "Tonight Show" sidekick Kevin Eubanks.
Kucirek taped the show in L.A. late last summer and it was broadcast Wednesday on Fox 42 in Omaha. She couldn't tell anyone the outcome until after her episode ran.
That was tough, because she had good news to impart: "I won!"
Her take was $2,750. She hasn't gotten the money yet and she's still mulling how to spend it.
"I'm torn between donating it and buying a Louis Vuitton (bag)," she told The World-Herald after the show aired.
The show is much like the Marx version, which ran from 1947 to 1961. Two strangers — one male, one female — are randomly paired to answer trivia questions for money. One person could win more if they uttered the secret word sometime during the proceedings.
"You debate on them and he (Leno) makes fun of you," Kucirek said.
With her partner, who is from Atlanta, she nailed five questions about knighthood.
The last one, "Which 007 was a knight?" was a cinch for Kucirek, 56.
"It was Sean Connery," she said. "He was my childhood idol."
She also said the secret word, "subway," when Leno engaged them in a conversation about transportation.
Kucirek learned about the show's contestant search on Instagram and sent in a tape.
She's met her share of celebrities as a rock concert regular and a 16-year server at Gorat's restaurant, where she has waited on financier Warren Buffett.
One of her goals was to get a photo with Leno, but her onstage interaction with the star was fairly limited and she was barred from taking a picture.
When she encountered Leno outside after the show, she thought she had a another chance. Alas, her game show luck had run out."
"I went up to him in his Town Car and said 'hello,'" she said. "A cop stopped me from taking a selfie."
---