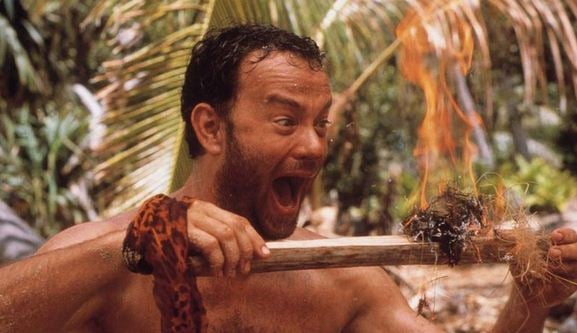 The Robert Redford-starring "All is Lost," which opens in Omaha Friday, joins the pantheon of great survival movies. Stories in which a person (or small group) finds himself isolated and in a desperate battle with the elements.
If you can't get around to seeing "All is Lost" this weekend, the survival genre's rich with good entries. Here, imho, are the very best.
A note on criteria: I'm playing it loose with what qualifies as a survival movie here. In most cases, the antagonist is nature (a bear, a boulder, a wolf pack). But in a few instances the thing to be survived is other humans. So in that case, isn't my methodology a little wonky? Why not include "Texas Chainsaw Massacre" or "28 Days Later" or, I don't know, "Die Hard"? I don't have a good answer for this, and I'm sorry.
Easily the most kinetic and exciting guy-trapped-under-a-rock movie ever made. The based-on-a-true-story film features a top-form James Franco as Aron Ralston, who got his arm stuck under a boulder while canyoneering and freed himself with a pocket knife. It's suspenseful, moving and eventually brutal, breezing right along thanks to Danny Boyle's pinball machine-style direction.
The movie that introduced Gen Y to the concept of cannibalism. We were probably too young.
"Alive" follows the true story of a Uruguayan rugby team who gets stranded in the Andes after a plane crash. To survive … extreme measures. And, hey, Ethan Hawke!
This docudrama from "Last King of Scotland" director Kevin Macdonald reenacts a mountain climbing expedition gone wrong in the Peruvian Andes. Like "Man on Wire" or "The Cove," this is a doc that plays like a big studio thriller.
A 1966 gem that everyone should see despite how politically incorrect it seems now. A group of guys on safari in Africa encounter a tribe, and one of the guys refuses to give the tribal leaders a gift. The tribe is offended and kills all of them but one. They instead give him a head start and hunt him across wild Africa. He's naked and weaponless and must use his wits to survive. It's awesome.
Anthony Hopkins and Alec Baldwin fight a bear. And when they're not fighting a bear, they're speaking the almost literary dialogue of David Mamet. And then they go back to fighting a bear. And it's a pleasurable cycle of high-low art.
Liam Neeson vs. a wolf pack. It's a bloody, brutal good time at the movies. But it's also a thoughtful, melancholy film about accepting that you and everyone you love will someday die.
In this period western, a group of settlers are lost in the Oregon desert, their only hope two untrustworthy guides. It's a slow-moving film, naturally, but sometimes unbearably tense. When that wagon's going down the valley and it looks like it might crash and if it crashes, everyone's going to die … man. And it's also got a few nice performances from Michelle Williams, Bruce Greenwood and Will Patton.
The ULTIMATE guy movie. A group of National Guardsman on an isolated weekend exercise in the Louisiana swamps use a couple of canoes that aren't theirs and incur the wrath of the local Cajuns. It's fevered, disturbing, breathless. And the cast. Keith Carradine, Powers Boothe, Fred Ward, Peter Coyote. It's "The Expendables" for cinephiles.
"All is Lost" reminds us that Robert Redford can still be a great actor and movie star, and it reminds us that he used to be in movies like "Jeremiah Johnson," a grand, tragic adventure about a guy who tries to hack it alone in the wilderness. With Redford in his prime and all those stunning Utah vistas, the movie's mostly heaven.
The star and director of "Forrest Gump" set out to make a modern-day "Robinson Crusoe," and they nailed it. They nailed it so completely that no one should ever again attempt to make a stranded-on-a-deserted-island movie.
Because your deserted island movie's not going to have Tom Hanks. It's not going to have ice skate dental surgery or an unopened FedEx package that serves as a symbol of hope. It won't have Wilson, one of the most memorable characters in all the movies that's also a volleyball.