In the very first scene of ABC's new sitcom "Bless This Mess," therapist Rio (Lake Bell) holds up a grainy photo of a charming farmhouse standing beneath bright blue skies. She's trying to convince her patients that she is not, in fact, having a nervous breakdown as she prepares to leave her job and give up life in New York City for a small alfalfa farm in rural Nebraska.
"How could I not move to a farm in Nebraska when it looks like this?" she says of the photo. "Bam, I'm living in a Pinterest page."
As you might expect, cracks in the dream begin to appear when Rio and her music journalist husband, Mike (Dax Shepard), finally arrive at their farm, inherited from Mike's aunt, in the land of the Good Life: The house is a dilapidated shack, the soil barren.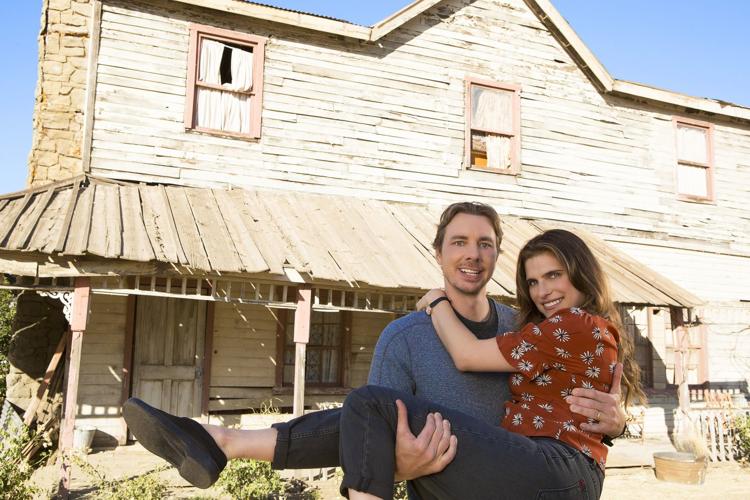 Undaunted, Mike carries his wife over the threshold. Then the floor promptly collapses. Next, the ceiling.
The new series, which airs Tuesdays at 8:30 p.m. on ABC, follows the couple as they attempt to make a go of it on the farm in fictional Bucksnort, Nebraska. Along the way, they befriend colorful locals like Rudy (Ed Begley Jr.), a barn-dweller who occasionally uses the couple's bathroom, and Constance (Pam Grier), who serves as town sheriff, hardware store proprietor and theater director.
It's true the series is covering well-trod territory; the plot will seem familiar to anyone who's ever seen "Green Acres" or "The Money Pit." But "Bless This Mess" works, thanks to smart writing and a strong cast of seasoned pros. The first episode, which aired Tuesday, drew in 4.69 million viewers, a "tidy ratings start," according to Deadline.
Locals skeptical of how a network comedy will portray rural Nebraska need not worry. In the series' first two episodes, the Nebraska characters are as three-dimensional as anyone else on screen. Some befriend Mike and Rio. Others, like the Bowman family (played by David Koechner, Lennon Parham and JT Neal), are more skeptical of the new arrivals.
Bell, who also serves as co-creator, and Shepard are immediately likable as the hapless couple, deftly navigating two roles that could quickly become insufferable under less-agreeable actors. (Rio is addicted to her smartphone; Mike, listing his Midwestern bona fides, brags that he can always find the best heirloom tomato at Whole Foods.)
But Grier and Begley Jr. regularly steal the show. In the series' first episode, the pair has a hilariously awkward exchange in which the two discuss stretch denim. Later, Rudy bluntly explains: "We have a lot of sexual chemistry. Enough said."
Though the series was shot in California using a green-screened backdrop of Nebraska, the first episode includes several nods sure to please its Midwestern audiences: The couple passes a green "Home of Arbor Day" highway sign as they travel to their new home, and Mike sports a Husker hat while he repairs the ruined roof.
The series benefits from a mostly Midwestern writing staff, which includes Omaha native Barbie Adler. Co-creator Elizabeth Meriwether said Adler serves as a kind of Nebraska consultant for the showrunners.
And it plays well on-screen. Most of the jokes are squarely on the new couple, not the locals. In the first two episodes, there was only one joke that really fell flat for me: Mike and Rio offer the Bowmans a series of New York snacks — biscotti, unsweetened ginger beer, homespun noodles — while the family looks on confused. Apparently, people don't eat those things in Bucksnort.
But mostly, the Cornhusker State is simply a backdrop for a story that pokes fun at the urban idea of "getting away from it all." Here, Mike and Rio discover that life on the farm is more complicated than a social media fantasy. Success depends on hard work and, perhaps, a little dose of Nebraska nice.
In the pilot's final scene, the couple cling to the farmhouse roof after their ladder fell, stranding them there. Suddenly, Constance arrives, coming to the rescue with a team of new neighbors.
"Hey," she explains, "this is just what we do, OK?"