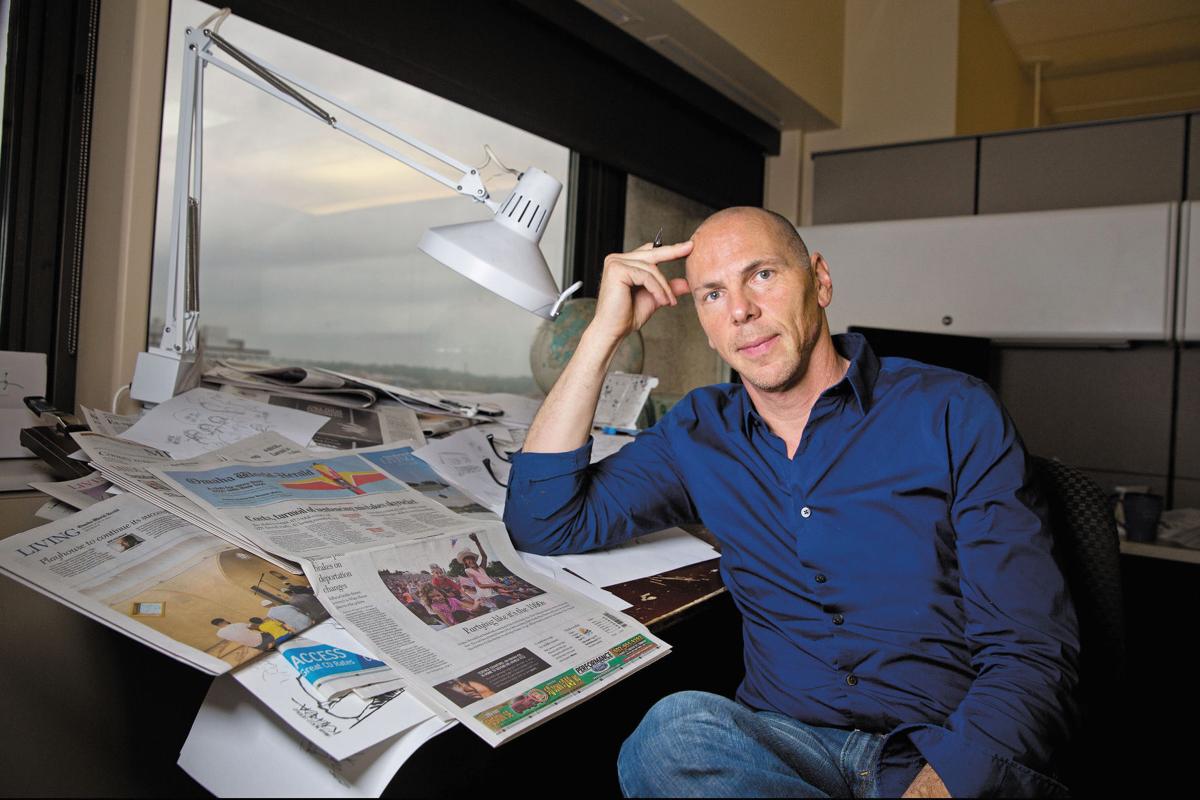 Koterba will speak on "Illustrating the Future" at 6 p.m. Friday at the center, 1001 S. Sixth St. The event will be the first gathering in the Hoff Center since it closed in mid-March because of the coronavirus .
The talk accompanies "Lines With Power and Purpose: Editorial Cartooning," which features 51 historic cartoons from the nation's metropolitan newspapers. The original works include cartoons by six Pulitzer Prize winners from the first half of the 20th century.
The drawings offer a glimpse at political commentary during an era spanning two World Wars, the Great Depression, nostalgia for the homespun charm of the Midwest, presidential elections and discontent with the government. They not only provided comic relief but also were meant to shape public opinion.
The exhibit comes from the Melton Gallery at the University of Central Oklahoma, where the cartoons have been housed for more than three decades. It was originally set to open in May.
Koterba's talk will center on how his work process has evolved and how to embrace change. People are welcome to bring sketchbooks. Preregister at Pottawattamie Arts Culture and Entertainment's website or call 712-890-5600 if you want to attend the free talk in the center's bar area. The gallery will be open for exhibit viewing.
The exhibit will run through June 21. Hours are 5-9 p.m. Thursdays and 11 a.m. to 6 p.m. Fridays through Sundays. Guests to the center are required to register for exhibit viewing at the above website or phone number, wear a mask and observe social distancing.
Photos: At the 30-year mark, Jeff Koterba shares his favorite World-Herald cartoons
2019 marks Jeff Koterba's 30th year at The World-Herald. The fifth World-Herald cartoonist in a line that began with Guy R. Spencer in 1899, Koterba's award-winning has been work reprinted in publications around the globe. In fact, one actually traveled around the globe — aboard Space Shuttle Discovery. Here are a few of the more than 9,000 cartoons Koterba has drawn that he puts among his favorites. If you want to see more cartoons and learn more about his creative process, you can order his book, "Drawing You In," published to commemorate his 25th anniversary with The World-Herald.
Stay up-to-date on what's happening
Receive the latest in local entertainment news in your inbox weekly!