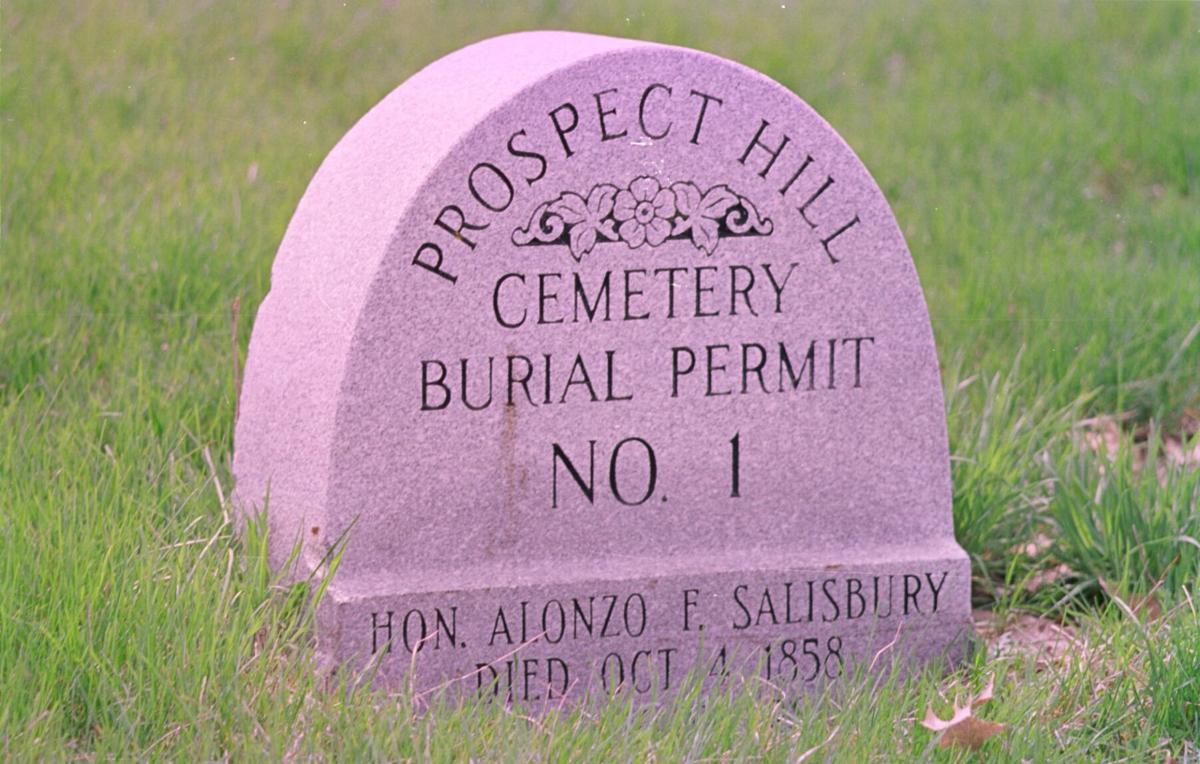 New York City had its famous riddle, "Who was buried in Grant's Tomb?"
Omaha has a graveyard riddle, too, and the answer isn't nearly as cut and dried as President Ulysses S. Grant and his wife, Julia, entombed — not buried — in the General Grant National Memorial.
The stumper: Who was the first to be buried in historic Prospect Hill Cemetery at 32nd and Parker Streets?
Is it the Hon. Alonso F. Salisbury, territorial legislator? Prospect Hill recognizes his grave as its burial permit No. 1. But Prospect Hill wasn't his initial burial place when he died in October 1858.
Is it Jabez L. Winship, who died of an accidental self-inflicted gunshot while trying to hunt down a rat outside his Harney Street house? His burial was in June 1858, four months before Salisbury died, and on what are now the Prospect Hill grounds.
Could it be young Charles F. Wyman, son of Omaha's first commissioned postmaster? The child's interment date of April 7, 1855, is the oldest found among the nearly 11,500 found on Prospect Hill's database. But the cemetery wasn't platted until 10 years later.
Maybe 14-year-old legislative page T. LeGrand Goodwill, burial date of Dec. 16, 1856? Or any of the others — brothers Willis and Charles Wilbur and Kate McCormick — shown on the website with interment dates before Salisbury's?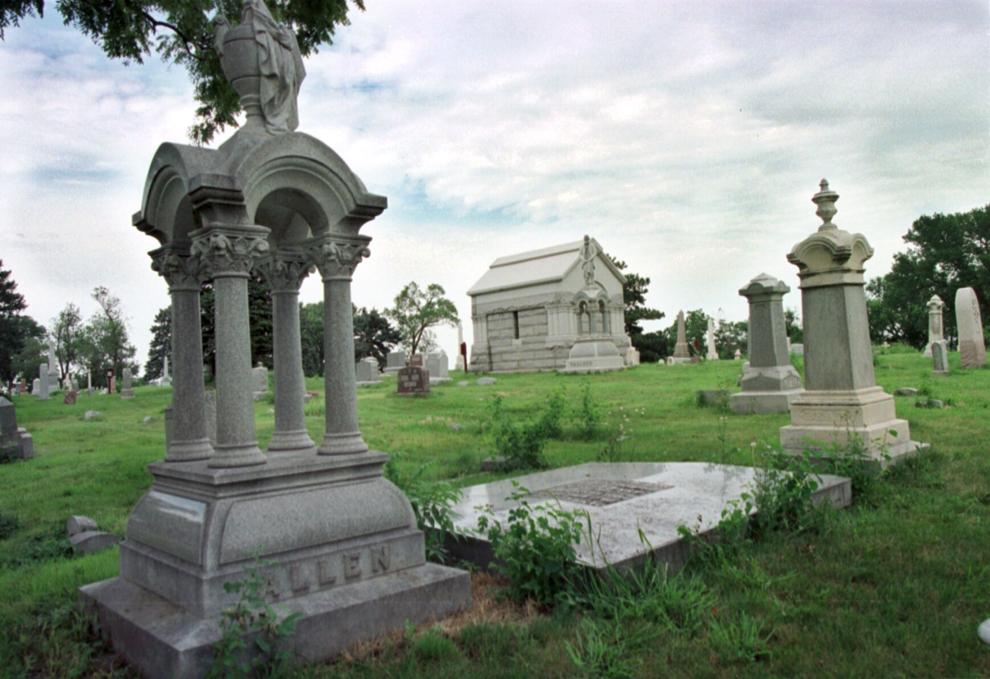 Newspaper accounts and early histories of Omaha are contradictory and confusing. Name changes and land acquisitions for cemeteries, reburials from one gravesite to another and incomplete records make it a challenge to reach a conclusion to this riddle.
But the search spurs a look at the formation of Omaha's most historic cemetery, which would spawn the largest cemetery in the state, Forest Lawn.
The first burial grounds in Omaha were scattered and unorganized. That began to change in February 1858 when Omaha Mayor Jesse Lowe, his brother Enos Lowe, his son William Lowe, his brothers-in-law John Paynter and Frederick Brown and attorney James Woolworth incorporated the Cedar Hill Cemetery Company. An 1866 city map shows Cedar Hill occupying 40 acres southwest of what would be 30th and Blondo Streets. Lowe's land was unfenced and cattle grazed at will.
On adjacent land to the north, the Rev. Moses Shinn formed the Omaha City Cemetery. It opened in May 1860 with Omaha real estate pioneer Byron Reed its agent. By 1865, Reed owned the land and that year replatted it with 1,008 lots and changed its name to Prospect Hill.
Therein begins the confusion. Lowe had Cedar Hill. Shinn had Omaha City Cemetery. Reed took Omaha City and turned it into Prospect Hill. Graves are known to have been moved from Cedar Hill to Omaha City/Prospect Hill — and in one noteworthy instance — onto Forest Lawn.
Prospect Hill's records are on microfilm in the History Nebraska research room in Lincoln and the W. Dale Clark downtown library in Omaha. What you find is a hodgepodge of original and recopied interment registers, burial cards and burial permits.
A handwritten register shows Salisbury as the first name on 16 interments listed for 1860. None of the other "contenders" for the first burial is included. Goodwill certainly couldn't be — his first resting place was on the grounds of the family home at 15th Street and Capitol Avenue.
How was that list compiled — and when — by Reed? That was questioned by newspapers even in 1885: "The absence of some details with regard to the parties interred during (1860) leads to the presumption that the original record, of which the present is a transcript, must have been kept in a manner peculiar to the unsettled condition of the times."
Almost certainly Salisbury was buried first at Cedar Hill. That's what Prospect Hill's history says. How did he get to Prospect Hill? His must have been one of the first graves moved between the cemeteries. But when? And when did Reed do his canvas of the grave markers?
Winship's grave at Prospect Hill is in its first addition, which came from Cedar Hill land. Perhaps there wasn't a tombstone placed on his grave when Reed came through. The one there now is from the mid-20th century.
Cedar Hill's upkeep waned after the death of Jesse Lowe in 1868. His heirs replatted some of it for residential lots. In 1875, when son Jesse Lowe Jr. discovered that Parker Street was going to be cut through the plat, he sold land north of the street to Reed. The latter then arranged for the remaining Cedar Hill graves to be relocated to Prospect Hill.
Reed transferred ownership of Prospect Hill to the newly formed Forest Lawn Cemetery Association for $1 in November 1885. It ended his quarter-century interest in cemeteries.
Forest Lawn was the result of Prospect Hill filling up at a time when the city limits were advancing westward. Even today, new cemetery land cannot be established inside Omaha's city limits. Resurrection Cemetery, at 78th Street and West Center Road, was allowed because the land already was owned by neighboring Calvary Cemetery.
J.H. Brackin sold the Forest Lawn association 320 acres, of which 90 was treed, for $100 an acre. It ended up being his final resting place. After the sale, the Florence-area pioneer moved for his health to Pasadena, California, only to die there in September 1886. Because Forest Lawn was not yet ready for burials, Brackin was temporarily interred at Prospect Hill before being reburied in the first grave dug at the new cemetery. In fact, the first five burials at Forest Lawn were reburials from Prospect Hill before there was a first funeral, that of printer W.J. Clary in November 1886.
Jesse Lowe Sr. is now buried at Forest Lawn. He had three "final" resting places — Cedar Hill, Prospect Hill and Forest Lawn.
Prospect Hill regained its independence from Forest Lawn in 1890. It survived property, management, upkeep and financial issues and since 1979 the Prospect Hill Cemetery Historical Site Development Foundation has given the cemetery its deserved care, attention and recognition. Visitors can take a walking graveyard tour of notable Omahans from the territorial period through the early part of the 20th century (find an interactive map at Prospecthill-omaha.org/famous-burials.html).
Yes, the Prospect Hill riddle remains unsolved, largely from not knowing full details about reburials. The area also already was known to be a burial ground for Native Americans and pioneers before Lowe, Shinn and Reed sought to give an unrefined frontier town a proper final resting place.
So who was first? That has been taken to the grave. Someone's.
---