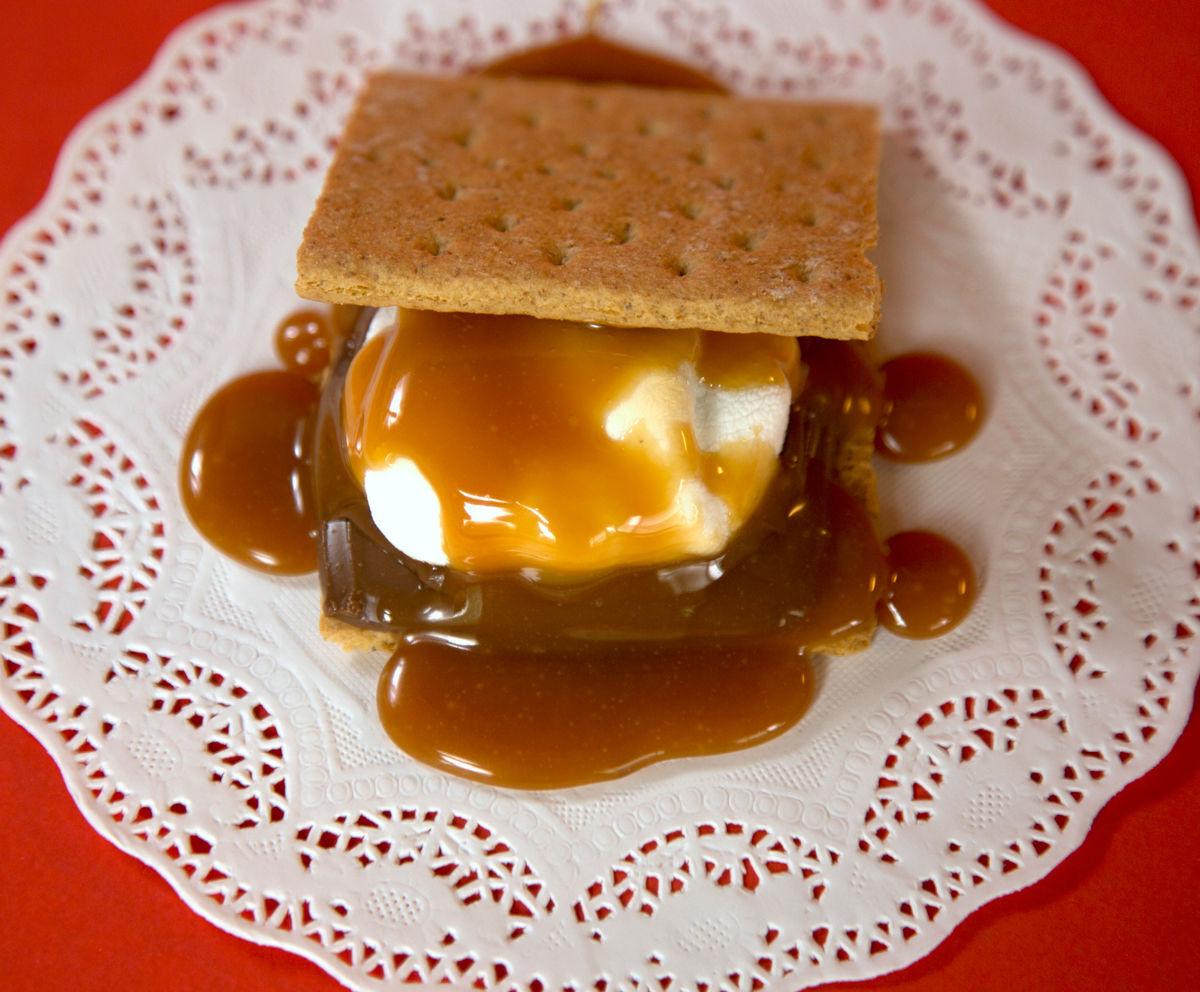 Note: Recipe can be altered to use fire-roasted marshmallows.
What you need
4 tablespoons unsalted butter, at room temperature, cut into four pieces
12 whole graham crackers, broken in half to form 24 squares
2 bars (1.55 ounces) milk chocolate, broken into individual pips
What you do
1. Place the sugar into a medium saucepan over high heat and whisk as it begins to melt. It will form clumps first but eventually will become liquid, in about 5 minutes.
2. Turn heat to low, stop whisking and continue cooking in sugar, gently swirling the pan occasionally, until it turns a deep amber color, about 2-3 minutes. It will burn quickly, so keep an eye on it.
3. Add the butter. Whisk until melted, about 1 minute — the caramel will bubble rapidly during this step. Remove the mixture from the heat and whisk in the cream. The sauce will be slightly lightened in color from the butter and cream. Add the salt and whisk to combine. Pour the caramel sauce into a jar and let it cool in the refrigerator for at least an hour before preparing the s'mores. It will thicken as it cools.
4. Place a rack in the upper third of the oven and turn the broiler to the low setting. Preheat for 5 to 10 minutes. Spray a baking sheet with cooking spray.
5. Place 12 graham cracker squares on the prepared baking sheet. Top each square with 2 chocolate pips. Squish each marshmallow with your hands and place 1 marshmallow on each s'more. Broil the s'mores until the marshmallows are golden brown on top, about 3 minutes. Keep a close eye on them.
6. Transfer the s'mores to a serving dish. Drizzle the salted caramel onto toasted marshmallows and top with the remaining graham cracker squares. Serve immediately.
Source: "S'mores!" by Dan Whalen