How Nebraska-native Harold Lloyd invented the modern action movie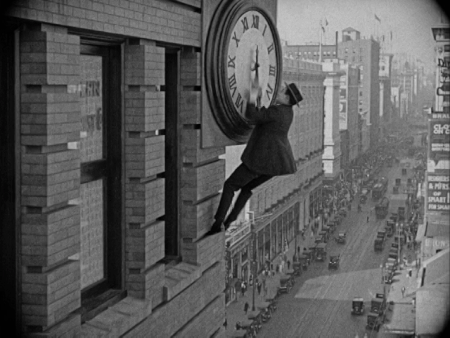 This is a column called Nebraska at the Movies, and it's based on the idea that Nebraska has had a weirdly outsized role in Hollywood. (Or at least it *seems* that way to us.)
Harold Lloyd. Marlon Brando. Johnny Carson. Gabrielle Union. Fred Astaire. Hilary Swank. Alexander Payne. Darryl F. Zanuck. Henry Fonda. "Boys Town." Adam Devine. Larry the Cable Guy. Nick Nolte. Dick Cavett. Marg Helgenberger. L. Ron Hubbard. And many more movies and movie stars.
The column will poke around some of the more surprising corners of Nebraska film history, while also just generally looking at the state's history of going to the movies. This will be the place for photos of old movie theaters and drive-ins, old movie ads, reprints of amusingly misguided movie reviews from the World-Herald's past and a lot more I haven't thought of yet.
* * *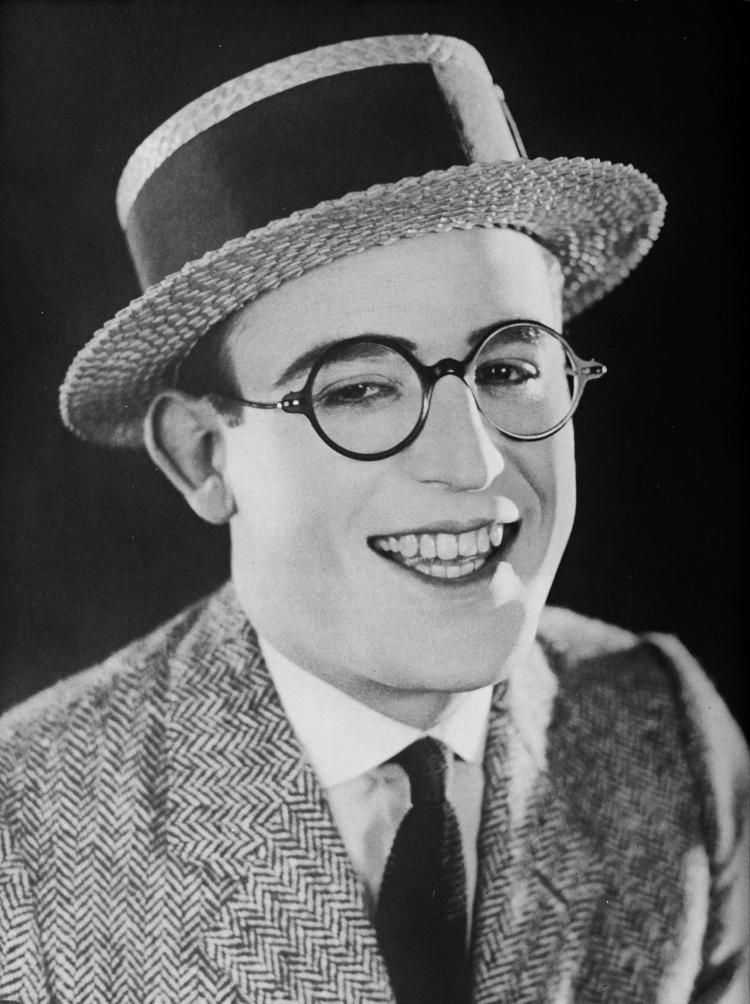 Even if you've never seen a silent film, you likely know the image:
A man in round horn-rimmed glasses and a straw hat clings to the hands of a clock high on the side of a tall building, his feet flailing above the laughing, cheering crowd far below.
Roger Ebert called it "the most famous shot in silent comedy."
Even now, 95 years since "Safety Last!" was released, Nebraska native Harold Lloyd's climb of the building makes for sweaty-palmed viewing.
In the film, Lloyd is a country boy who's moved to the big city to earn a good living and marry his sweetheart (played by Lloyd's soon-to-be real-life wife Mildred Davis). But so far, still poor.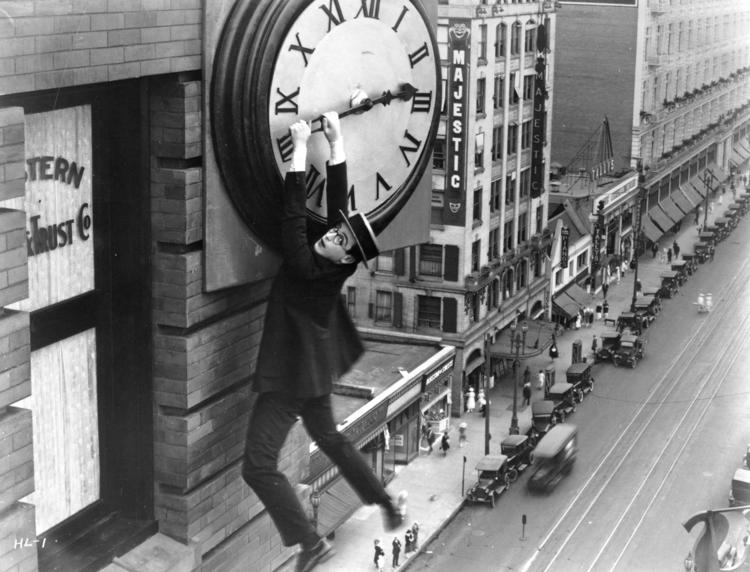 When the general manager of the department store Harold works at offers $1,000 to anyone who can draw a crowd to the shop, our hero sees an opportunity. His roommate Bill (Bill Strother) is a Human Fly, an act — more common in the 1920s — in which a man would climb buildings for an audience. (Strother was a real-life Human Fly who broke his leg doing this very thing shortly before "Safety Last!" started shooting.)
Harold's scheme: Bill will climb the building, drum up publicity for the store, earn the $1,000 and split the money with his buddy Harold. And Harold will finally have the financial stability ($500!) he seeks. He'll be able to marry his gal.
But on the day of the climb, Bill runs afoul of the law, forcing Harold to make the ascent himself. With each new floor, Bill pops his head out a window and tells Harold he'll change places with him on the building, as soon as he can shake this cop. But he never shakes the cop. Harold has to make the whole climb.
Watching Lloyd slowly scale the building — finding footholds in the gaps between the bricks, his progress hindered by peanuts, pigeons, dogs, carpenters and tennis nets — it's still extremely funny. But mostly it's just terrifying. Because it looks real. More real than the CG-laden effects of most modern blockbusters ("Skyscraper," in theaters this weekend).
This is in part because much of it was real, and much of it was really Harold. He had stunt doubles for a lot of the wide shots, and some of the hair-raising heights were achieved through false facades and careful camera angles.
But the fact remains that Harold was really up there, clinging to the clock hands so long that at one point during the shoot his right shoulder popped out of its socket.
Harold was at this time one of the wealthiest and most popular actors in the world. During the 1920s, his films overall outgrossed those of Charlie Chaplin and Buster Keaton. And though he's now lesser-known than his fellow giants of silent comedy (historian Kevin Brownlow called him "the third genius"), Lloyd made more movies than Chaplin and Keaton combined.
For much of the climb, if one little thing had gone wrong, Harold Lloyd easily could have fallen to his death. Harold called movies like "Safety Last!" his "thrill pictures."
But what he was really doing up on the clock was inventing the modern action movie. Through "Safety Last!" and his other comedy thrillers ("Speedy," "Girl Shy," "Never Weaken," "High and Dizzy" and more), Harold was creating the model for motion pictures that mix comedy and suspense (and maybe a little romance) — an action-movie prototype that would go on to influence Jackie Chan, Tom Cruise, "John Wick" and even "Mad Max: Fury Road," the greatest movie ever made.
In the developing days of America's most popular art form, Lloyd climbed higher than any other star. And what makes the feat all the more impressive? He did it with one and a half hands.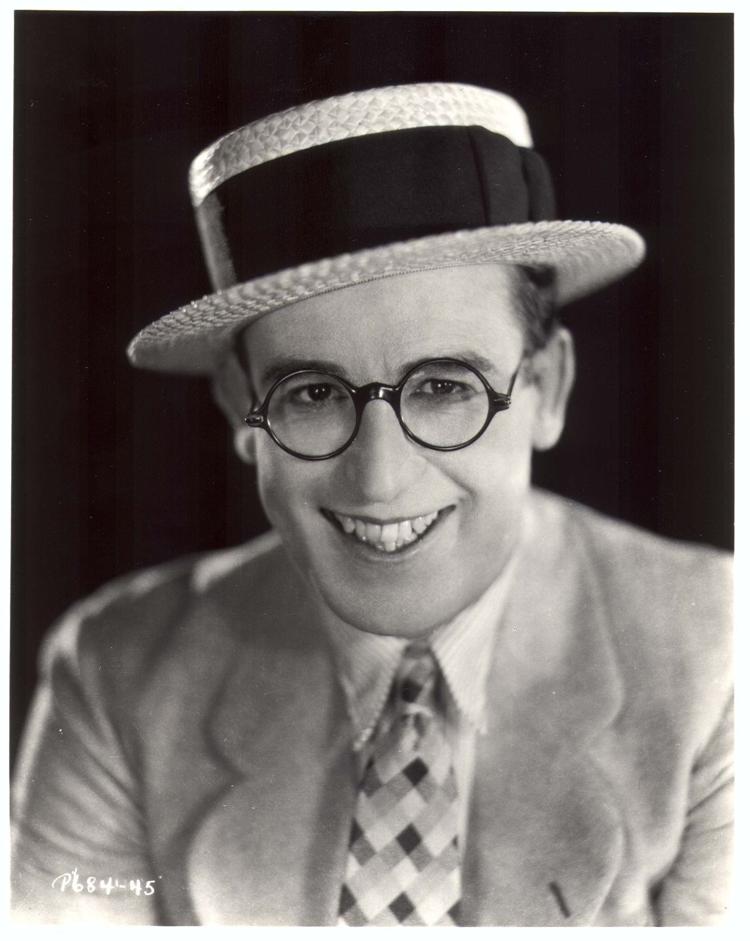 Rediscovered
Harold Lloyd was born on April 20, 1893, in Burchard, Nebraska. But, as Lloyd wrote in his autobiography, "Birth was one of the least interesting things that ever happened to me."
Over his next 77 years (he died of cancer in 1971), Lloyd made more than 200 movies, many of them among the most successful and critically acclaimed of the silent era. Lloyd's 1925 film "The Freshman" was the second-highest-grossing silent comedy ever, behind only Chaplin's "The Gold Rush."
Harold Lloyd biographer Annette D'Agostino Lloyd (no relation) estimated that between 1921 and 1928 Lloyd's films grossed $2.3 billion (adjusted for inflation). "He was a god," she said.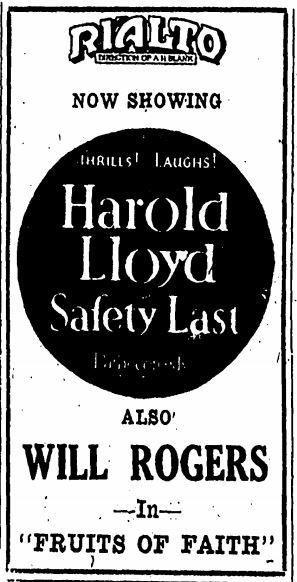 In 1928, Variety magazine ranked Lloyd the richest actor in Hollywood. He was a founding member of the Academy of Motion Picture Arts and Sciences. His was the fifth celebrity handprint at the Chinese Theatre on Hollywood Boulevard.
At the peak of his popularity, Lloyd was as big as Chaplin and much bigger than Keaton. But over the course of the 20th century, his reputation faded.
Keaton became more popular and well-regarded. Chaplin crystallized his status as the greatest comedian of all time. Lloyd's stock dropped.
Some of this was his own doing. Like Chaplin, Lloyd held the copyright to most of his films (which made him a very rich man). But he was particular about licencing his films out to theaters and TV. He didn't like seeing his movies chopped up to allow for commercial breaks. Meanwhile, the films of Keaton, Chaplin and Roscoe "Fatty" Arbuckle continued to play in living rooms across the country, keeping them fresh in the minds of audiences while Lloyd's star dimmed into obscurity.
But in recent years, Lloyd has been rediscovered anew. His most famous films have been released on DVD by the Criterion Collection and found their way to streaming. Nebraska's biggest star found the spotlight once again.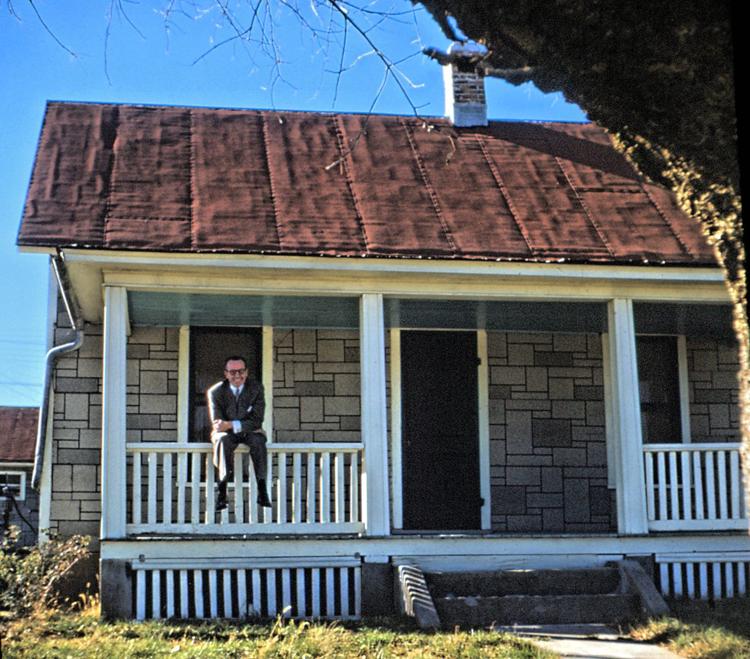 Movie-crazy
But before all that, Lloyd was a Nebraska boy who moved around a lot. His father, James Lloyd, had trouble finding steady work, so the family switched cities frequently.
Describing his childhood in his biography, Harold writes:
"The towns were Burchard, Humboldt, Pawnee City, Beatrice and Omaha, Nebraska, and Fort Collins and Denver, Colorado. No two of us can agree, can even reach a compromise, as to the order of these movings, and no one kept a diary."
But he had stories from each town.
In Beatrice, for instance, he started a lucrative business selling popcorn at nearby train stations.
D'Agostino Lloyd told me that "back in Pawnee City, Harold used to climb up to the top of an old church, and some of his friends would try to climb it as well. By the time they were halfway up, he was already down the other side."
Living in Omaha, Lloyd had a paper route delivering the Omaha World-Herald. He said it was one of the few jobs that ever gave him any sound business training.
Lloyd loved the stage and got as near to it as he could. He worked as an usher for Omaha's Orpheum Theater, at the time called the Creighton Orpheum. At other times, he was a grip or stagehand, gradually taking in the craft of his future career. 
Lloyd was movie-crazy early on. He saw his first motion picture in the early 1900s when a medicine show came to Pawnee City. (The film was 1903's "The Great Train Robbery," considered to be the first action movie.)
When the family lived in Omaha — 20th and Dodge Streets, then 2836 Burt St. — Harold spent most of his money on nickelodeons. If he had a quarter, he'd go see five shows in an afternoon.
Moving around as often as he did, Lloyd and his older brother, Gaylord, would introduce themselves to their new neighborhoods by putting on amateur plays in their front yard.
Harold also climbed things, showed off, won over his audience.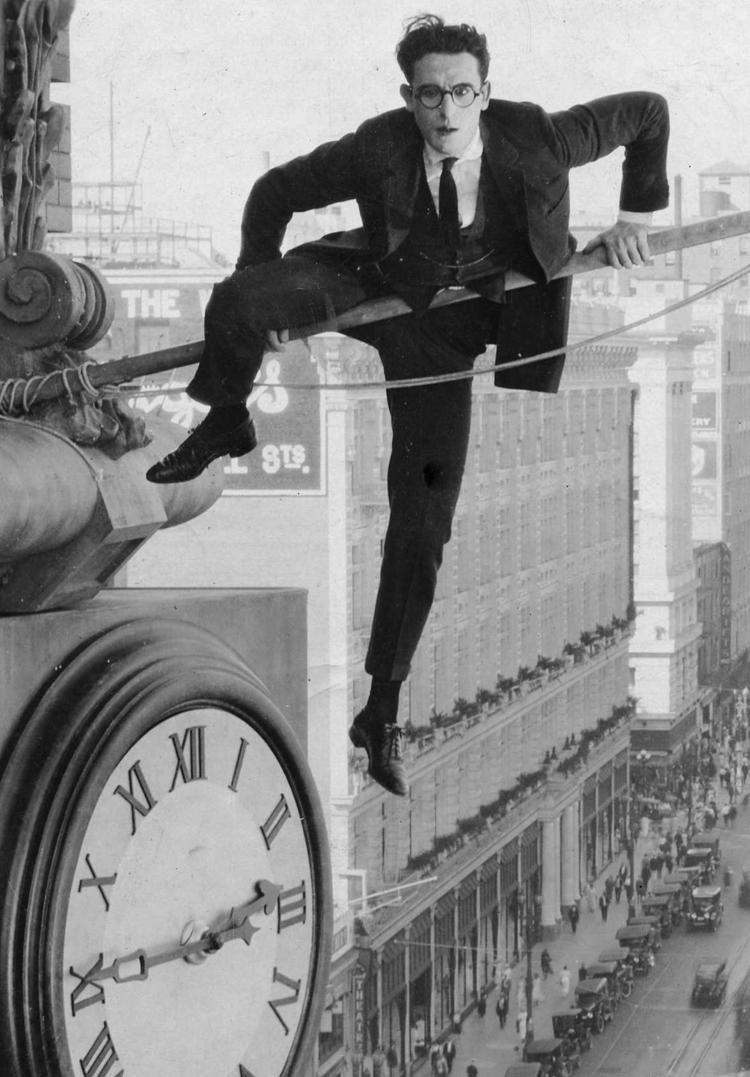 "He did this to make himself stand out and have friends," said Suzanne Lloyd, Harold's granddaughter. Kids who move around a lot have to learn how to win friends fast, after all.
Another way Harold got attention and scored buddies was by learning close-hand magic. Much later, he and Orson Welles would bond over their mutual love of magic tricks. Welles would later say that his friend was "surely the most underrated comedian of them all."
Lloyd's acting career started in Beatrice, where as a boy he landed his first role in a stage production of "Macbeth."
But Lloyd's origin story really begins in downtown Omaha. In 1906, Harold was drawn to the act of a fortune-teller who was squatting in a vacant storeroom.
A small crowd had gathered round. But then a few fire wagons rushed by, off to a nearby blaze. The crowd followed the engines in search of new entertainment. But Lloyd barely noticed. He stayed with the fortune-teller.
Only one other member of the crowd stayed behind, and he was the head of a local theater company. He and Lloyd got to talking, and Lloyd had soon won a part in the company's upcoming production of "Tess of the D'Urbervilles."
The World-Herald reviewed the play, in 1907, and I have to say, we really called it:
"The part of Tess' brother was well done by Master Harold Lloyd, who demonstrated that he has a dramatic instinct which will doubtless carry him on to success in the histrionic arts."
That good review meant the world to the young actor, and encouraged him to continue his craft.
Forty-two years later, Lloyd did an interview with gossip columnist Hedda Hopper that ran in The World-Herald.
Hopper: "Harold, what do you suppose would have happened if you'd followed the fire engine in Omaha that day?"
Harold: "I would have become an actor, (but) I might have gone a different route."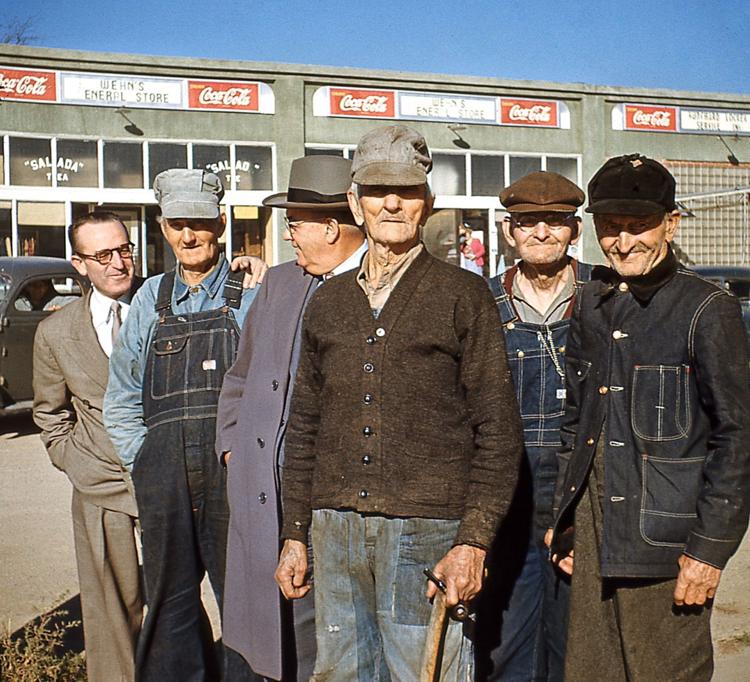 Beer truck of destiny
In 1911 Omaha, the Lloyd family had a stroke of luck when Harold's father was hit by a beer truck.
James recovered from his injuries and was later awarded $3,000 by a jury. Lloyd's parents were divorced by this time, and Harold was living with his dad. Flush with unexpected fortune, father and son determined that a move was in order. But where to?
They decided to flip a coin. Heads, they go east to New York. Tails, west to California.
Within a few years, Lloyd had found steady movie work in Los Angeles. When he was 20, working as an extra, Harold met filmmaker Hal Roach, who would become his chief collaborator for the first part of his career.
Roach was making short movies, and he needed a comic actor. Lloyd was a serious actor, but Roach tapped him anyway.
Roach once said of Harold: "(He) worked for me because he could play a comedian. Harold was not a comedian. He was the best actor I ever saw being a comedian. No one worked harder than he did."
That praise actually sums up the chief knock on Lloyd vs. his now-more-famous contemporaries: They had an inborn comedic talent. But Lloyd had to work at it.
Together, Roach and Lloyd created the characters Willie Work and Lonesome Luke, which were more or less rip-offs of Chaplin's wildly successful Tramp character. Luke, for instance, looked like a mirror image of the Tramp. Instead of Chaplin's baggy pants, Luke's were tight. Instead of Chaplin's centrally located mustache, Lloyd wore his stache split down the middle.
In spite of this (or more likely because of it), the early Lloyd movies were quite successful. But Lloyd wanted to be more than a Chaplin imitator. And he had an idea for a character.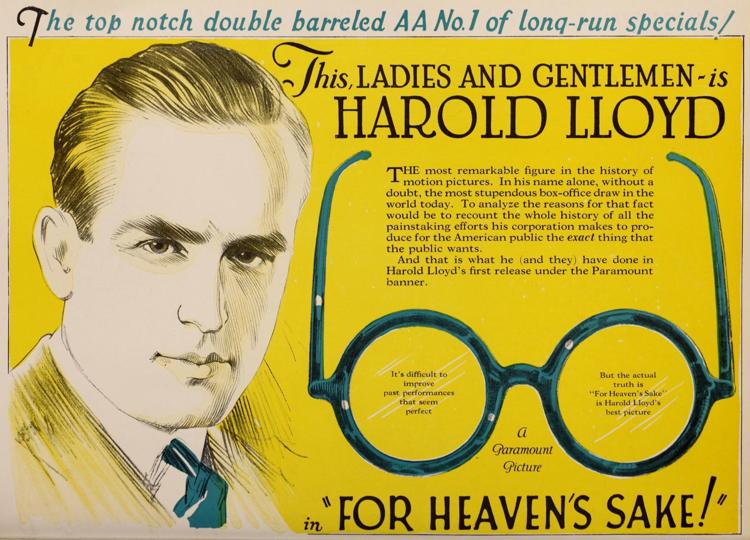 The "Glass" character
Most successful screen comedians of the late 1910s and early 1920s were grotesques — uniformly odd-looking wretches who wore ill-fitting clothes and off-putting mannerisms.
Even at their most appealing, comic personas were just a little bit alien, like Buster Keaton's stone-faced acrobat.
Harold Lloyd wanted to create a character whom audiences could relate to and root for. He did it with a 75-cent pair of horn-rimmed glasses. (Or rather just the frames. The lenses were removed so as not to catch the stage lighting.)
The "Glass" character was a tough sell for Roach and Lloyd's distributors. His Lonesome Luke character was doing so well. Why fix what wasn't broken?
But Lloyd was insistent and, ultimately, convincing. 
The Glass character (also known as "The Boy" or just Harold) was a can-do fella, socially inept but ultimately winning. With his handsome everyman relatability, he was the guy whom audiences cheered for and feared for. The guy who got the girl.
The Glass character was both a reflection of the striving spirit of the 1920s and of Lloyd himself, who ran headfirst (often skyward) into any challenge he faced. 
Later in his career, once he was world-famous, Lloyd said, "With (the glasses), I am Harold Lloyd. Without them, (I'm) a private citizen. I can stroll unrecognized on any street in the land at any time without the glasses, a boon granted no other picture actor."
Lloyd once won $10,000 on a bet with his crew and castmates by proving that he could do this very thing. He removed the glasses and made it several blocks undetected.
Starting in 1918, Lloyd was releasing a new short every week, and the Glass character was starting to win over audiences. Lloyd was on the verge of immense fame.
Then the accident happened.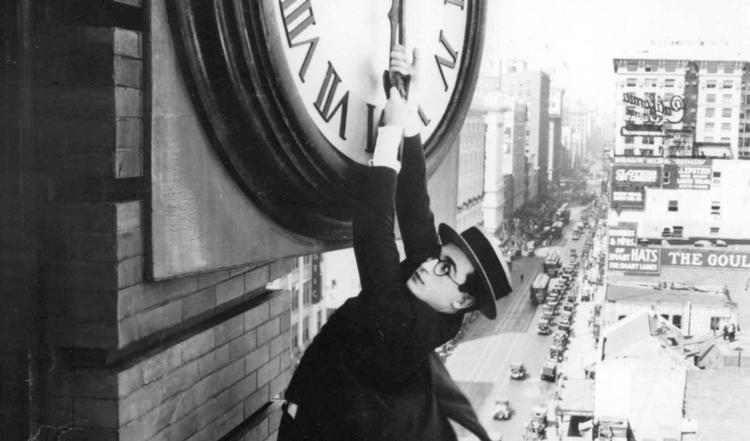 The accident
In the summer of 1919, Lloyd was doing a photo shoot for an upcoming film. The photographer suggested that Lloyd pick up one of the prop bombs (round, cartoon-y things with long fuses) and strike a pose with it.
For reasons that were never determined, the bomb they grabbed was a real bomb amongst a box of prop bombs, a stunt explosive.
Lloyd raised what he thought was a fake bomb, fuse now lit, to his face to light a cigarette for a funny photo. But the bomb was making too much smoke. The photographer could no longer see Harold's face.
Right as Harold lowered the bomb, it exploded. The blast was mostly upward, ripping a hole in the ceiling and breaking all the windows. Had Harold not lowered the bomb at just that instant, he would have been killed.
He survived, but the blast had blinded him, burned his face gruesomely and blew off the thumb and index finger of his right hand. His doctors thought he might be blinded permanently.
Harold feared that his career, so close to achieving super-stardom, was over.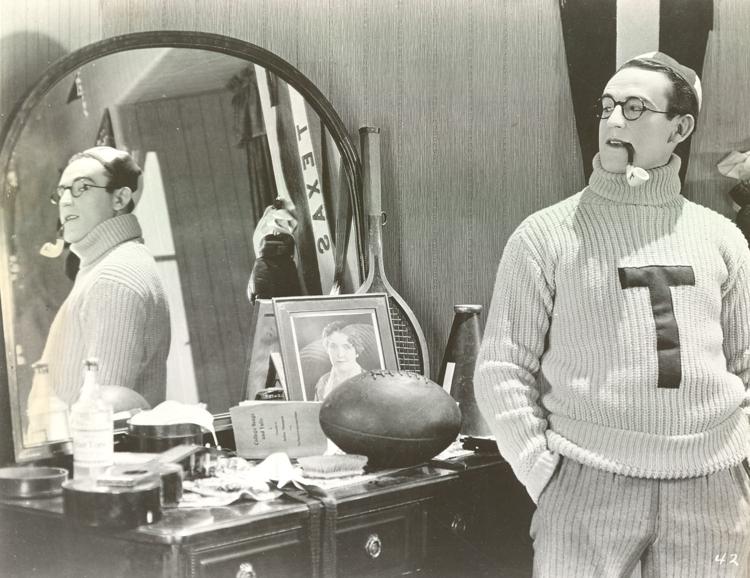 Comeback kid
But this was Harold Lloyd — Nebraska boy, church-steeple climber. He couldn't quit, and he didn't.
Within months, Lloyd had recovered from his injuries and was ready to go back to work. Makeup could mask the burn scars on his face. But his hand was a trickier matter.
He knew that missing half his right hand might interfere with his movie-star persona. So he enlisted the help of Samuel Goldwyn (former glove salesman turned studio exec and the "G" in MGM). They made a prosthetic glove, leather and flesh-toned, the thumb and index fingers filled with rubber molds. The index and middle finger of the glove were sewn together, making Lloyd's hand movements look natural.
Lloyd never spoke publicly about his hand injury, typically keeping his right hand in his pocket when he was in public. But his Glass character always wore the prosthetic glove, especially when he was clinging to the ledge of a building. As in all things, Harold wanted to maintain the illusion for the sake of his audience.
"He didn't want people to go to the theater and go, 'Oh my God! That's the guy with the missing hand!'" his granddaughter said.
The bomb, in the end, just ended up being another obstacle for Lloyd to overcome. Another story of the building to climb on Harold's way to the top.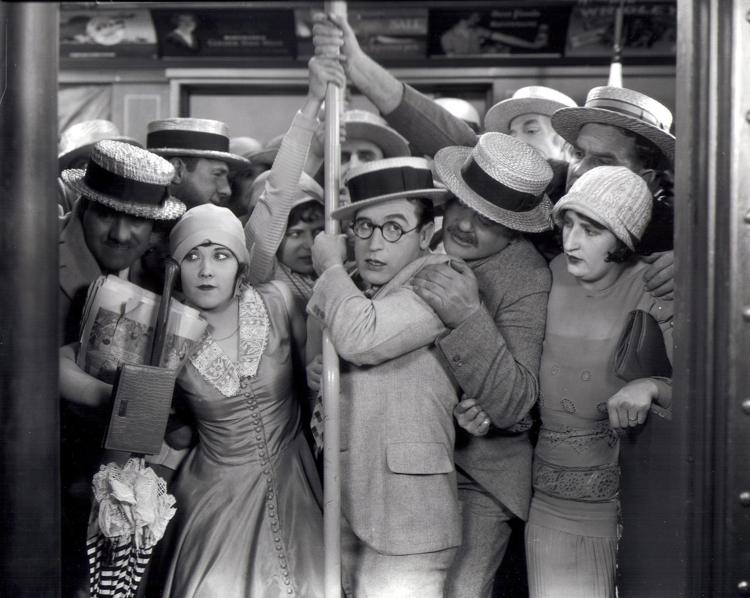 The features
In the early '20s, Lloyd — along with Chaplin and Keaton — made his way into feature films (movies that ran six or seven reels in length).
Each of Lloyd's 1920s films proved a hit. Many of them innovated in camera techniques, stunt work and storytelling for what was at that point still a burgeoning medium.
It was through his classic features — "Grandma's Boy," "Safety Last!," "Girl Shy," "The Freshman," "The Kid Brother" and "Speedy" — that Lloyd landed on what in hindsight appears to be a new genre.
"The old formula for a comedy drama was 'a laugh, a tear and a laugh,'" Harold said. "The recipe for thrill pictures is 'a laugh, a scream and a laugh.' Combine screams of apprehension with stomach laughs of comedy, and it's hard to fail."
With "thrill pictures," Lloyd was referring specifically to the comedies that got him stuck up at some great height.
Harold Lloyd movie ads from The World-Herald and elsewhere
He and Roach started this with their short films, like "Never Weaken," after discovering a special effect by accident. The studio they worked at resided on a steep hill overlooking L.A., and if they placed the camera just right, it gave the illusion of extreme height.
And so they would construct sets of steel girders or building facades on top of the hill, and it would look like Harold was up much higher than he actually was.
He was still up pretty high, though — two to three stories in order for the illusion to work.
For "Safety Last!," the crew constructed various building facades on top of increasingly taller buildings throughout Los Angeles. Had Harold fallen off the facade, he would have landed on a mattress on the roof of a building, a few stories beneath his feet. This was still insanely dangerous.
To illustrate this, Harold had the crew drop a dummy down onto the mattress. It bounced off the side the roof and fell several stories down into the street.
"His films were very action-packed," said D'Agostino Lloyd. "Lots of sight gags with cars and running along streets and being chased. But what he did in a pioneering way was he made the physicality story-based. It wasn't just a thrill sequence for thrill sequence sake. He felt it was important that whatever he was doing by way of action on screen, it had to somehow fit into the story."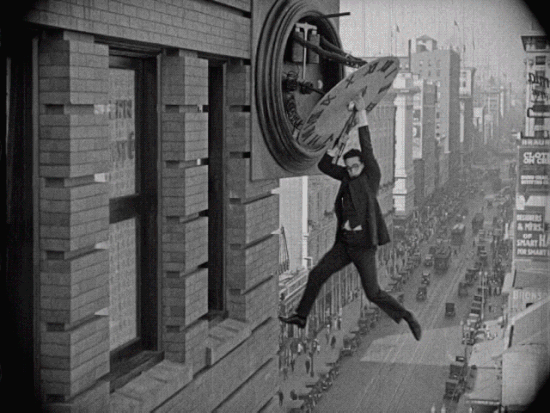 Dangerous days
And so here it is. The thrill of Harold Lloyd's movies — and Buster Keaton's movies and Douglas Fairbanks' — is this:
You believe at many times while watching their films that someone could die. Because when they were making these movies, someone could have very easily really died.
These were the movie stars who risked their lives to give audiences "a laugh, a scream and a laugh."
Back then, there was no CG, obviously. They didn't use double-exposure photography or any of the other special effects that came along later.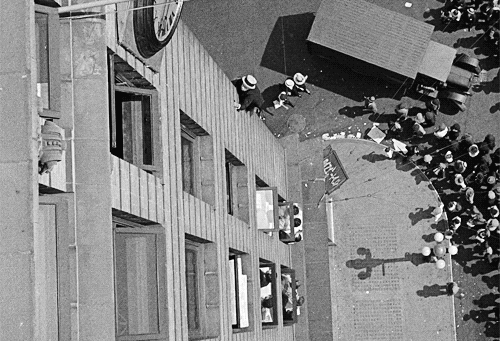 They clung to the sides of trollies.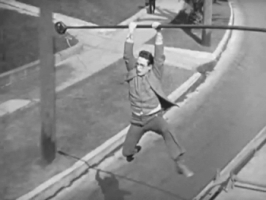 They swung through a waterfall to grab the girl at just the right moment.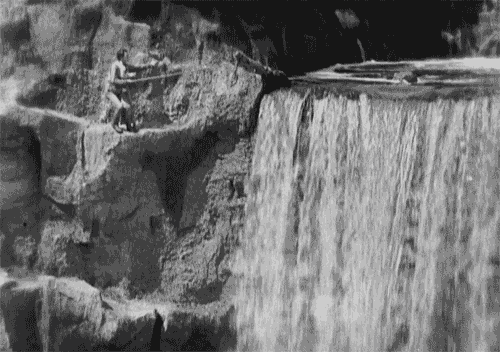 They stood there while houses fell on them.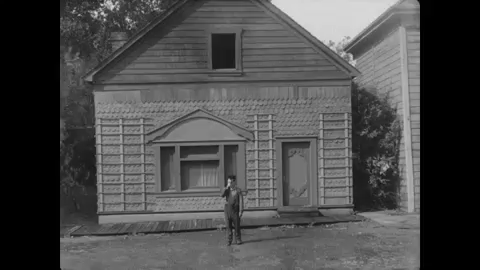 "That stuff is fantastic," said Jessie Graff, a UNL grad and stuntwoman. "The original actors were such athletes. It was a such physical storytelling."
Watching action movies of the 1920s today is a little like watching black-and-white episodes of "Jackass," but if the stunts were a little less dumb and a lot more dangerous.
"The thing that Harold did better than anybody," said D'Agostino Lloyd, "he did the stunts that he was allowed to do because they scared him. And he knew that they would scare an audience."
There were countless close calls and grievous injuries throughout the silent film era. And quite a few actual deaths.
In this scene from "Sherlock Jr.," Buster Keaton broke his neck doing the stunt. (Though he got right back up.)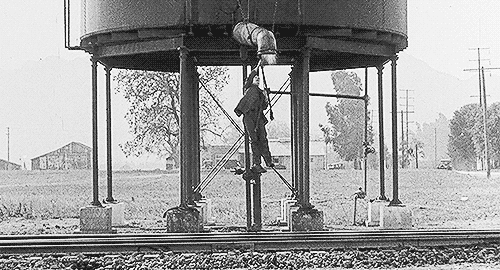 A stuntman fell to his death doing promotion for "Safety Last!" And, of course, Harold Lloyd nearly died at a photo shoot!
In a New Yorker article on the demise of physical comedy, Richard Brody writes: "A new Harold Lloyd is unthinkable because physical comedy depends on the proximity and possibility of death, which no longer seems acceptable to viewers who are completely aware of the prevalence of stunt doubles and digital effects, and who are repelled by the idea that a performer would actually face death for what is, after all, only a movie. In other words, physical comedy — the kind that made silent comedies famous — has been moralized out of existence."
Harold put it another way: "No sir, they don't seem to put the same stuff in thrills that they used to."
Brody is right. Lloyd is right. But not entirely.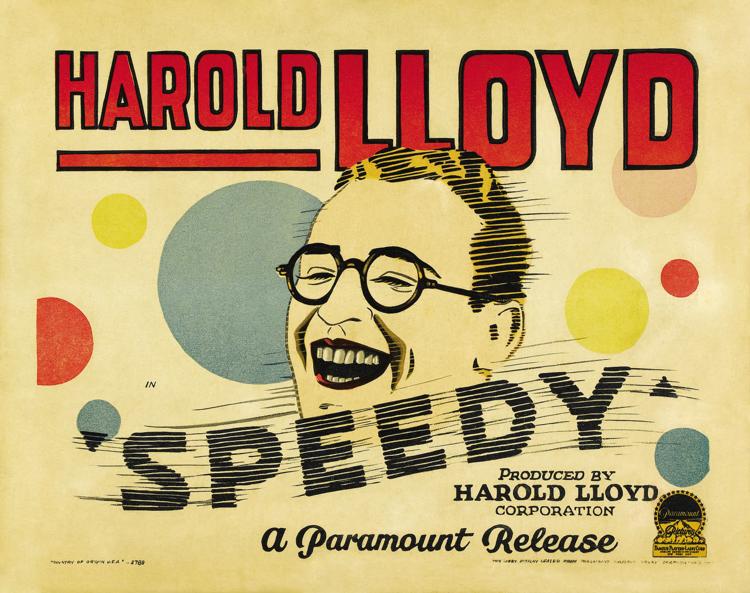 Thrill pictures
Blockbusters are growing less physical. Sets, characters and stories are increasingly fake, made up of computer animation because computer animation is faster and more economically practical than on-location shooting and choreographed stunt work.
It's one of the reasons that blockbusters are becoming increasingly less exciting to watch. One of the thrills of watching a well-done car chase or kung-fu fight on the big screen is their ability to make us forget that what we're watching is fake.
Real cars, real bodies, real punches, explosions and falls help maintain that illusion. They give us a physical empathy with the people on screen. We feel their pain and peril in the way we can't with a CG superhero.
That said, yes, of course it's better that making movies is now much safer. No movie is worth dying over.
Though stunt people still occasionally do lose their lives on movie sets, filmmaking is nowhere near as dangerous as it was in the wild west of Harold's heyday.
And yet a marginally safer version of thrill picture still exists. In the best action movies of today, Lloyd's influence can still be felt.
You can see it every time Tom Cruise hangs off the side of a building/plane/helicopter in a new "Mission: Impossible" movie.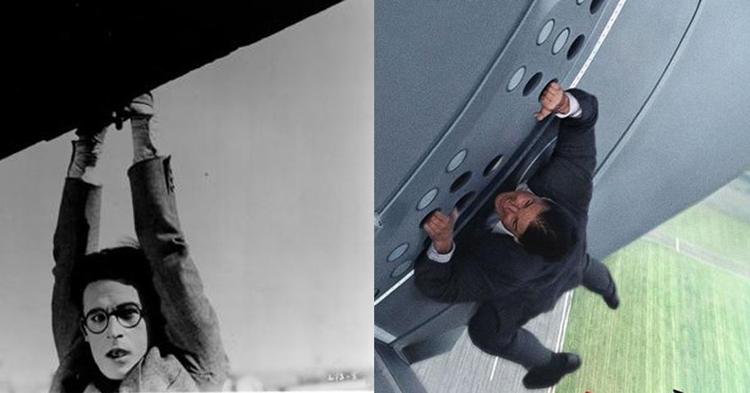 You can see it in Jackie Chan's best movies. Chan is a silent film buff who counts Keaton and Lloyd (and another Omahan, Fred Astaire) as his biggest influences. In various films, Chan has paid tribute to Lloyd's most famous stunts, including the clock scene.

Chan's not the only one to do his own version of the clock sequence. You can find Hugo Cabret hanging off a giant timepiece in Martin Scorsese's "Hugo."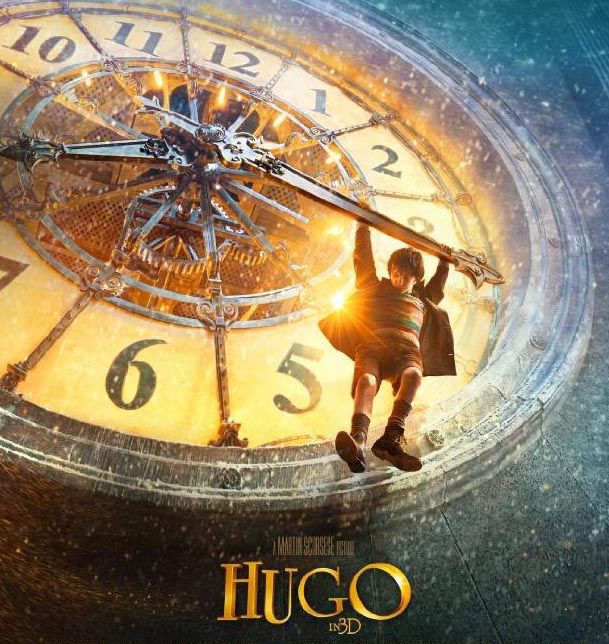 Christopher Lloyd, no relation, hangs off a clock in the finale of "Back to the Future."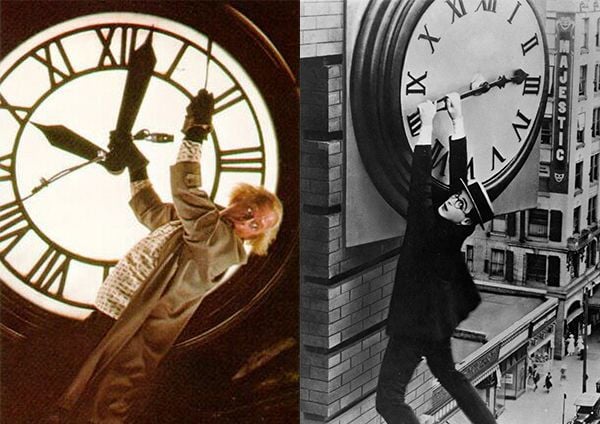 Also, fyi: The characters Harry and Lloyd in "Dumb and Dumber"? Guess who they're named after.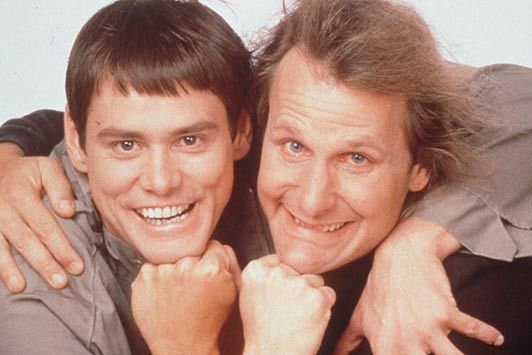 And another thing: Where do you think the Coen brothers got their look for Barton Fink?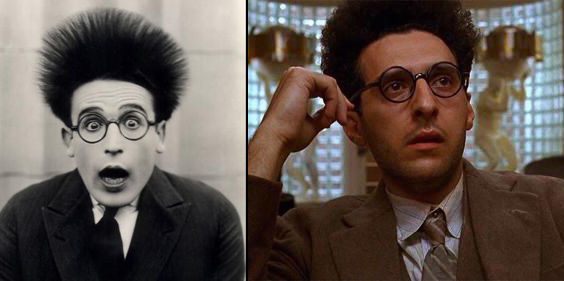 Chad Stahelski, director of the "John Wick" movies, admitted in an interview that "we stole all this from the silent movie people." As if to underline this, Stahelski opens "John Wick 2" with a scene from Keaton's "Sherlock Jr." being projected onto the side of a building. The "John Wick 2" poster lifts imagery directly from a publicity shot for "An Eastern Westerner," a Lloyd two-reeler from 1920, with a dozen guns pointed directly at our hero.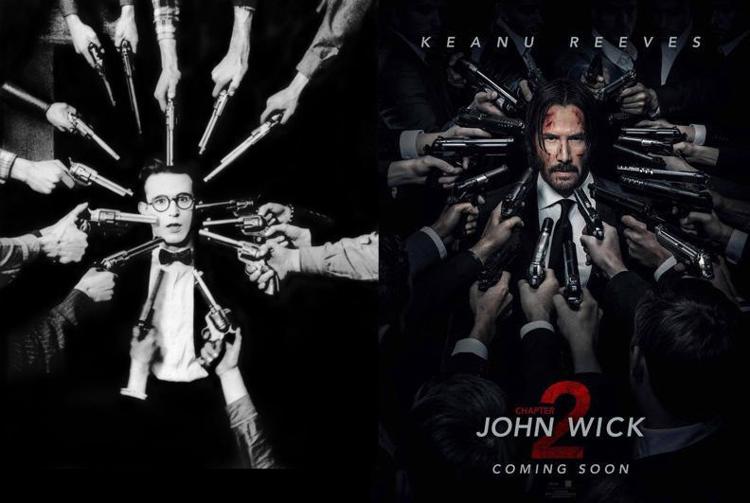 And, of course, there's "Mad Max: Fury Road," which besides being the best film ever made is also, at its heart, a silent film. And one heavily influenced by Keaton's "The General" and Lloyd's chase pictures "Speedy" and "Girl Shy."

In a Variety interview, "Fury Road" director George Miller described the "Mad Max" movies' relationship to silent cinema: "I saw silent films, like 'The General' and Harold Lloyd. It's a universal language, and its syntax was developed pre-sound. So I try to conceive of each movie as a silent movie, and then when you add sound and music, see how much more you can get out of it."
In our franchise film era, with blockbusters growing ever more reliant on thickly knotted plots and nonstop dialogue, movies like "Fury Road," "John Wick" and the "Mission: Impossible" series keep this syntax alive.
Like the silents, these movies really only use plot as the spartan scaffolding on which to hang their jaw-dropping set pieces. They have a little exposition here and there (the silents had their intertitles, after all). But the spirit of the 1920s remains. The formula lives on: Put a movie star into serious trouble. Let him slowly, hilariously get out of this impossible pickle. And take a breather as the audience breaks into uproarious applause at the death-defying showmanship of it all.
That is the legacy of Harold Lloyd, a hard-working Nebraska boy born 125 years ago who once sold papers for the Omaha World-Herald.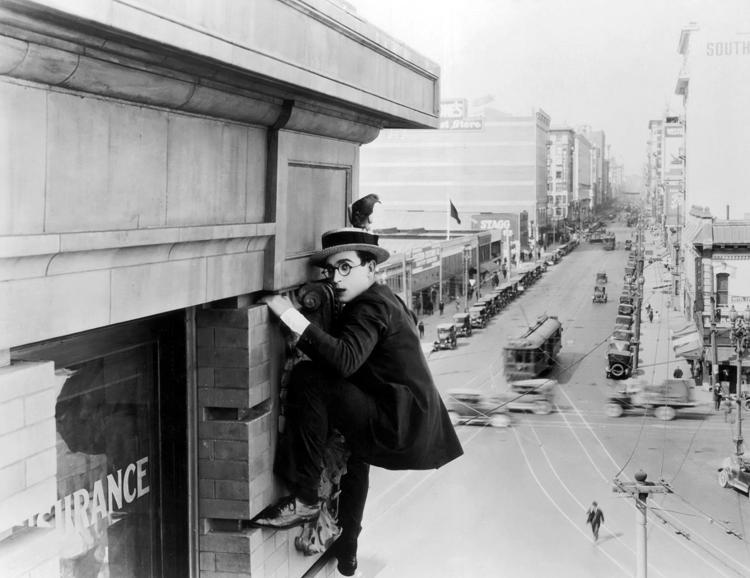 The end
Lloyd continued making pictures well into the sound era, and he made a few really good ones, too. But they didn't compare to his silents, and most of them disappointed at the box office. Part of it was that he'd grown out of fashion.
If Lloyd's striver embodied the ethos of the roaring '20s, he was starting to feel out of place after the Great Depression hit. Audiences bristled, perhaps, at the can-do attitude of Lloyd's character. They were no longer trying to succeed. They just wanted to survive.
With the exception of one misbegotten Preston Sturges/Howard Hughes movie in the late '40s, Lloyd had retired from acting by 1938.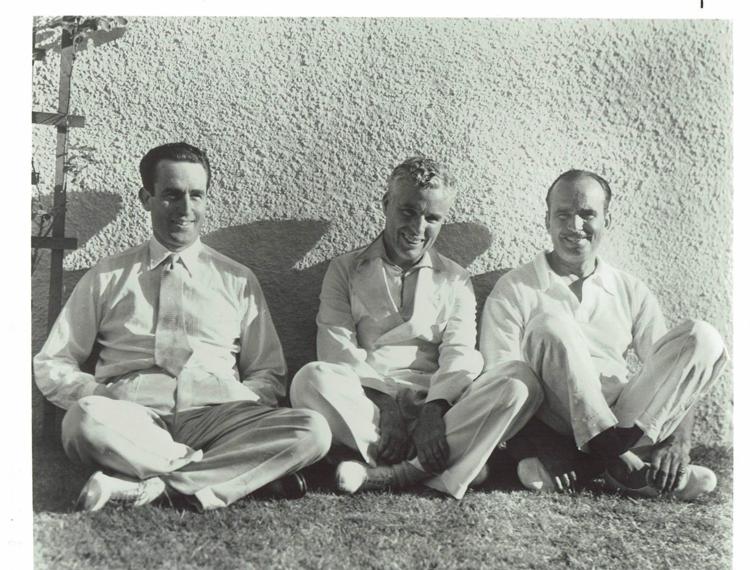 But by then he had a lot of money and plenty of hobbies. He remained busy the rest of his life. He stayed married to the same woman, Mildred Davis. They raised their family in a 44-room mansion on 10 acres of Beverly Hills.
He played handball with Douglas Fairbanks. Hung out with Cary Grant.
He became an active Freemason and Shriner, and was eventually appointed as the Imperial Potentate of the Shriners of North America, an honor that landed him on the cover of Time magazine.
Harold's post-retirement hobbies included microscopy, color science and (ahem) 3D nude photography.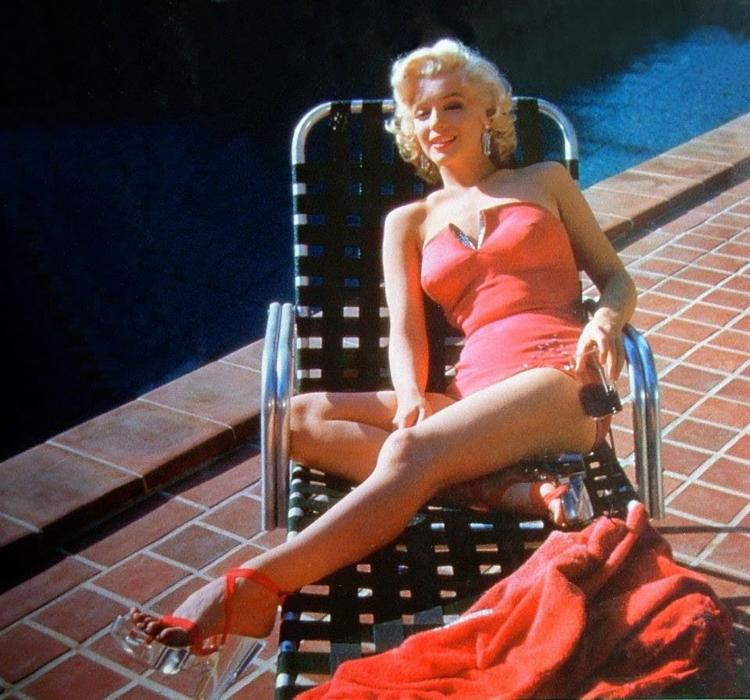 Harold left behind 300,000 photo slides, about 70,000 of them nudes of female models. He had photos of pin-up girl Bettie Page, and a pic of Marilyn Monroe wearing a one-piece bathing suit poolside.
Lloyd appeared as himself on TV many times throughout the '50s. In the '60s, he introduced a new generation to his work through various compilation films.
Since his death, Lloyd's granddaughter, his greatest champion, has done her part to keep Lloyd's legacy alive. Harold raised Suzanne. She still refers to him as "Dad."
"He just had this drive in him," she said. "He had to please the audience. He had to be up there on that building."
And here's something about him not everybody knew.
"He wasn't crazy about heights."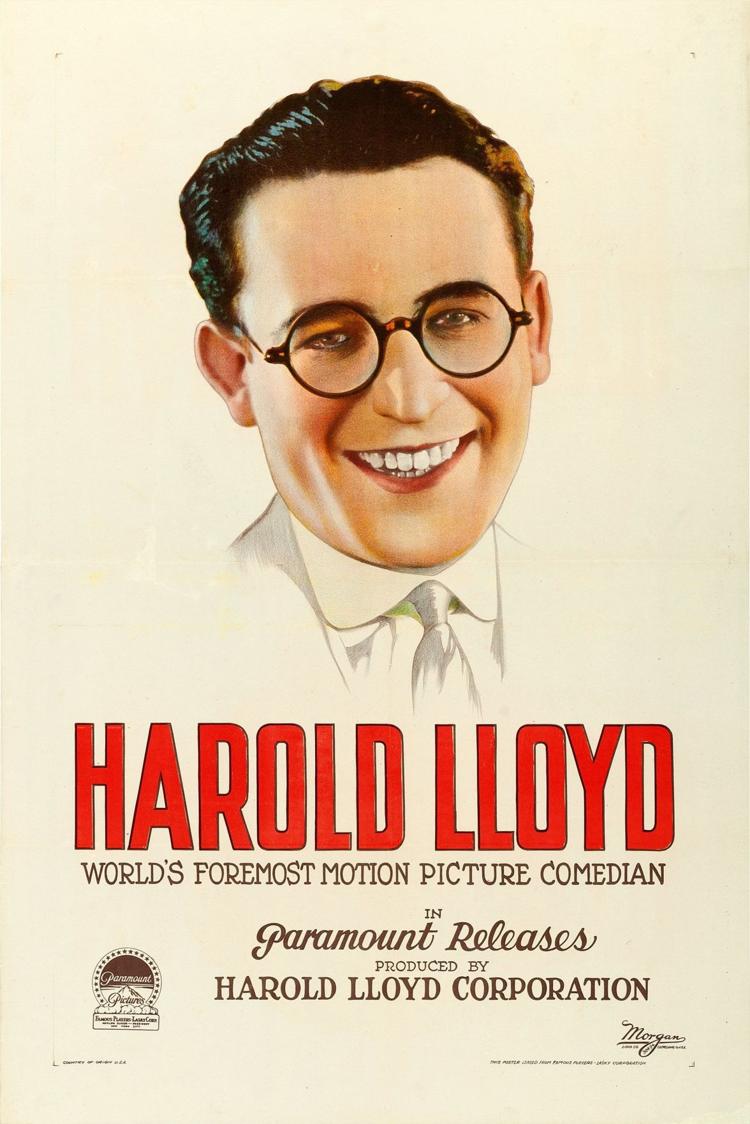 A few of Harold's greatest action scenes
"Safety Last!"
"Girl Shy"
"Speedy"
"Never Weaken"
And last but not least, "The Freshman," my favorite Lloyd film by a mile.