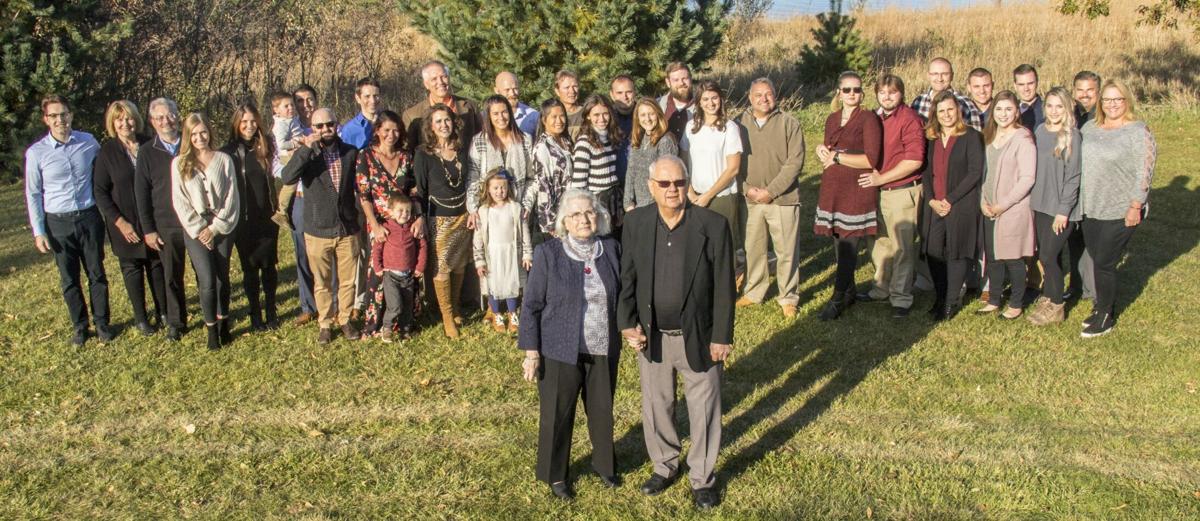 Tim Pfannenstiel is doing his best to honor his father's memory.
The quiet patriarch of the Pfannenstiel family, Ernest "Ernie" Pfannenstiel, died April 17. He was 82 years old.
"(He) was always a giving person," Tim said of his father. "Being his executor, I get all the letters from the places he's given to. Right and left he was giving."
Five years ago, Ernie gave each of his seven children $100 to be used for the benefit of others. Tim chose to donate his to The World-Herald's Goodfellows charity.
Goodfellows, which has now partnered with United Way of the Midlands, offers one-time emergency aid for rent and utilities, distributes holiday food vouchers and provides hats, gloves and wearables to schoolchildren.
Giving became more important to Ernie in 2008, when Tim's son lived through a serious health scare.
"A virus suddenly attacked his heart," Tim said. "My dad was very affected by the suddenness of all this, so whenever he heard of fundraisers for other sick kids, he's the one who would grab us and take us to go and support those fundraisers," Tim said.
Last year's donation was made "in honor of Ernie & Carol Pfannenstiel's 60th wedding anniversary from their seven children." The couple celebrated the anniversary in November 2019.
Tim said his father is sorely missed.
"There's a lot more he could have done for this world," he said. "It's what I'm trying to live up to."
Goodfellows Donations
Slosburg Family Charitable Trust
In Loving Memory of: Carol Schlosser, Ken Sievers and Gerald Smith — Frank and Diana Schlosser
Bob and Patty Henrichs; Jimdonna Charitable Fund; Michael Hansen; In memory of Maxine and Dale Ruser from Lynn, Scott and Barb; Don Erftmier; anonymous; anonymous; anonymous
In memory of Lt. Col. John & Doris Hancock from sons Terry, John, Steve and David; In memory of Barb and Joe Kenney — Patricia Gorham; In memory of my husband William Brickman and son Charles Brickman — Corrine Brickman; In memory of Dan Beck by Norma Beck; Joan and Robert Miller; Larry and Maggie; Sharon Hammer and Martin Wetzel; anonymous
In memory of our daughter, Tammy — Mike and Bobbi Gatrost; In memory of Otho Cox and Marge Turner — Tessa Turner
House of Vacuums; anonymous
In memory of my dear husband Orv Menard — Darlene Menard
Sarah and Bob Williams; Harry & Margaret Bianchi Donor Advised Fund; anonymous
In memory of my Ray, Sooz; In memory of Jill Karnett — Dick and Pam; In memory of Ann Hancock — Robert and Suzanne Hancock; Karl and Suzanne Kehm
In memory of H. Wayne Smith — Craig and Rita Smith
For our neighbors — Renan and Patricia Rieur
Mary Ann and Clyde Anderson Charitable Fund; Mr. and Mrs. John Ransom Charitable Fund; In memory of Marie and George Copenhaver and Suzanne and Bradley Walde; Robert and Mary Bestenlehner; In honor of my good neighbors on Fieldcrest Drive from Kate Bradley; David Danielson; Chuck and Julie McGinn; anonymous; anonymous
In memory of all the people who have died as a result of COVID — Joyce and Vic Samuel, Jr.
Val Moritko; anonymous; anonymous
In memory of our son Andrew Robert — Robert and Debra Krueger
In memory of Will Hodges — Grandpa and Grandma G. We love you!
In loving memory of Garrett and Ted Schomer from Doris Schomer
In honor of Corey, Ryker, Andrew, Melissa, Aiden, Madison, Makenzie, Noah, Liam, Jessica, Timmy, Cecilia from Karen Hurd
In memory of Sam Toy — With respect and love, the Witters, Brazda, McCord, and Hansen families (July Donation); In memory of my parents Mabel and Fred Lofdahl — Anna Carlson; In memory of Joyce's father, Donald Wilkins — The Joyce Wilkins Fund; Thomas Deacon-Deacon's Handyman Services; In memory of SSGT Andrew S. Zaraya — Raymond and Nancy Zaraya; Lauren and Betsy Thomas; In memory of my mother, Maurine McNally — Sylvia Jenkins; Gwendolyn and Raymond Graves; Gail and Sally Hennings; In honor of our parents and grandparents — Vicki and Larry Parker; In memory of my Grandson, Colton Bertleson of Logan, IA from Grandpa Ron; Arlene Smith; In memory of all the lives lost in the pandemic — Constance Peterson; In memory of Walt and Mary Murphy — Dan Murphy; Sharon Appleby; Dennis and Nancy Petersen; anonymous; anonymous; anonymous
In memory of my Dad — Billy D. Duncan
In memory of Goompa's 82nd Birthday 11/12/1938 — Gail Parsonage
In memory of LeRoy Potter & Richard and Shirley Poulsen Love Dave and Lynne
In memory of Margie Clayton — Dave Clayton; Robin Gottsch
To celebrate my now 60 year membership in Acappella Omaha Sweet Adelines Chorus! — Nancy Hill
In memory of Mike's 53rd Birthday — Paul and Susan Rice
In memory of our grandson, Joseph Riley Fehr — Charlotte Fehr
In memory of those lost to COVID — Debbie and Scott Friedman; In memory of Harold L. Rock, Esq-a great lawyer — Maureen McGrath; In memory of Lou and Esther Groeniger — Eleanor Rogan; Larry and Colene Kobs; Donna and Don Kummer; Carol Sanderhoff; Tom and Pam and Family; anonymous; anonymous
In memory of Henry Chee — Linda Chee
In memory of my Son — Cole A. French
Edward Lenz and Sherri Helman
In loving memory of my Mom Josephine Mickells — from Lori McIntyre; In honor of my family — Joan Clements; In memory of Wally and Carol — Robert Marceau; anonymous; anonymous
In honor of all first responders and frontline workers — Tig Loeffler
Happy Hanukkah and Happy New Year to Donald "Mr. G" Gerber from the Kohll "kids"
In memory of Stanley and Adolf Teterus, Tarnov, NE WW2 Veterans by Anonymous; In memory of John Eledge, Gene and Doris Hensman, Carly Henkel by Darlene Eledge
Campaign Total: $154,176.60
---
The Goodfellows fund through the years