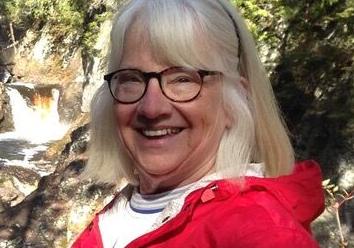 Nebraska native Marilyn Hoegemeyer took note of Goodfellows a few years ago when she moved home.
She grew up on a farm near Hooper, Nebraska, went to the University of Nebraska-Lincoln and then moved to Minnesota, where she lived for the next 50 years.
Now she's in Omaha, and since she came back, she has been a loyal supporter of The World-Herald's charity.
"I liked the idea that it gathered money and gave it to the people with needs, based on their times and the times we were in," she said.
Goodfellows, now administered by the United Way of the Midlands, provides one-time emergency housing and utility aid for families in crisis, among other endeavors.
Hoegemeyer's dedication on her first gift to the charity honored a family fitting that description.
Andrius and Auguste Trautrimas came to live with Hoegemeyer's family in 1951. The couple and their children had to leave their farm in Lithuania when the Russians invaded, and they ended up in a displaced persons camp.
"Farmers and others took in these families at least for a time so they could get on their feet," Hoegemeyer said. "Another farm family near us had a family from Estonia."
Hoegemeyer remembers the Trautrimases as "a wonderful family." The kids, she said, went on to do wonderful things after getting that initial boost in their new country.
Son Martin Trautrimas earned bachelor's, master's and doctoral degrees and eventually became a professor of languages and humanities at Midland University in Fremont. Daughter Marta was a dietitian, and another daughter, Ruta, was a beautician.
All proved how a little help can change lives.
This year, Hoegemeyer gave in memory of those who have died of COVID-19, though no one she knows has succumbed to the disease.
"It just touches my heart," she said. "I have watched all the news, and it's so difficult for families, with so many not being able to be with loved ones when they die."
News has been an important part of Hoegemeyer's life, and she said that's another reason she was attracted to Goodfellows. She studied journalism at NU and was editor of its student newspaper, the Daily Nebraskan, in 1965.
She also had a brief unpaid internship at The World-Herald while she was in college.
Hoegemeyer spent her entire career at the Minneapolis Tribune, which eventually became the Star-Tribune.
Now she's retired in her home state. So far, she said, she's dodged the coronavirus.
"I'm trying to stay safe and healthy," she said.
Goodfellows Donations, Dec. 13
In memory of Cecil and Laila Walker – Tom and Laura Walker
In memory of Margaret Beitenman – J and Mary Derr; John Maczynski Family
In memory of our daughter Deanna—Donald and Dena Fey; anonymous
Danish Brotherhood Lodge #1
In memory of our parents – Dennis and Pat Austin; In memory of Bill & Clara Owens and Don & Wilma Midlander – William Owens; In honor of our grandchildren: Jack, Sam and Kate Morrison – Doug and Connie Pera; anonymous
From Mary Wright in memory of my mom, Rose
In memory of Bob and Harriet Nutty, Herschel and Mildred Hartsell – Susan Nutty; In memory of Mike Ralph by Terry Ralph; In loving memory of Mike Bruening. Your warm smile and generous spirit are missed daily. – Mary Turner; anonymous; anonymous
On behalf of my parents – Jean Larsen
In memory of our parents – Joni Learch
In Memory and Honor of our 25 Grands & Greatgrands. Jim'n Jo – Sydney Morton
In loving memory of John Eledge, Joann Reynek, James Babcock Jr. and Carly Henkel from Kirk and Cele Eledge
In memory of Betty and Robert "Scoop" McArdle – Kevin McArdle
In memory of Ernie and Loretta Blum – Wayne Blum; In memory of Bev and Ken, Bob and Mary, Tim and Tom, with love and aloha from Brian and Colleen; In memory of Bill Welsh and his 101 oysters. Much love from all of us. – Joan Welsh
On behalf of Larry and Pamela Carlson; In memory of Otto and Rosemary Rubin – Paul Rubin; In memory of Chapter FL Members, P.E.O. – Cynthia Hadsell; In memory of our brothers-in-law, Geoff Loper, Mike Drummy and Mike Vinkavich – Jerri Koenig; In memory of Janet Fleissner—Teri Quinn (Correction from Dec. 8, 2020); In memory of Shirley Hanel – Traci Hanel; On behalf of our families – Lynn Bluml; In honor of my 90-year-old parents – Jane Schulte; anonymous; anonymous; anonymous; anonymous
In memory of Delores M. Stokes – Denise Manners
On behalf of Linda Gorman – Cheryl Gorman
In memory of our friends Kay Nurse and Cindy Sawatzki – Wayne Fitzhugh
Anonymous; anonymous; anonymous; anonymous; anonymous; anonymous
On behalf of Tom and Macy Huber – Tom Huber
In loving memory of Ray Jacobson. Love, Sharon Jacobson (58 yrs marriage), Jim and Debbie Ciurej, Bruce and Donna MacGregor, 7 grandkids, 1 great-granddaughter, Mia and Marley
In honor of Corrin and Ezekiel – Becky Balestri
In Memory of Anthony Prismantas by Vera Crnkovich – Elvyra Crnkovich
Campaign Total: $115,137.65
Photos: The Goodfellows fund through the years