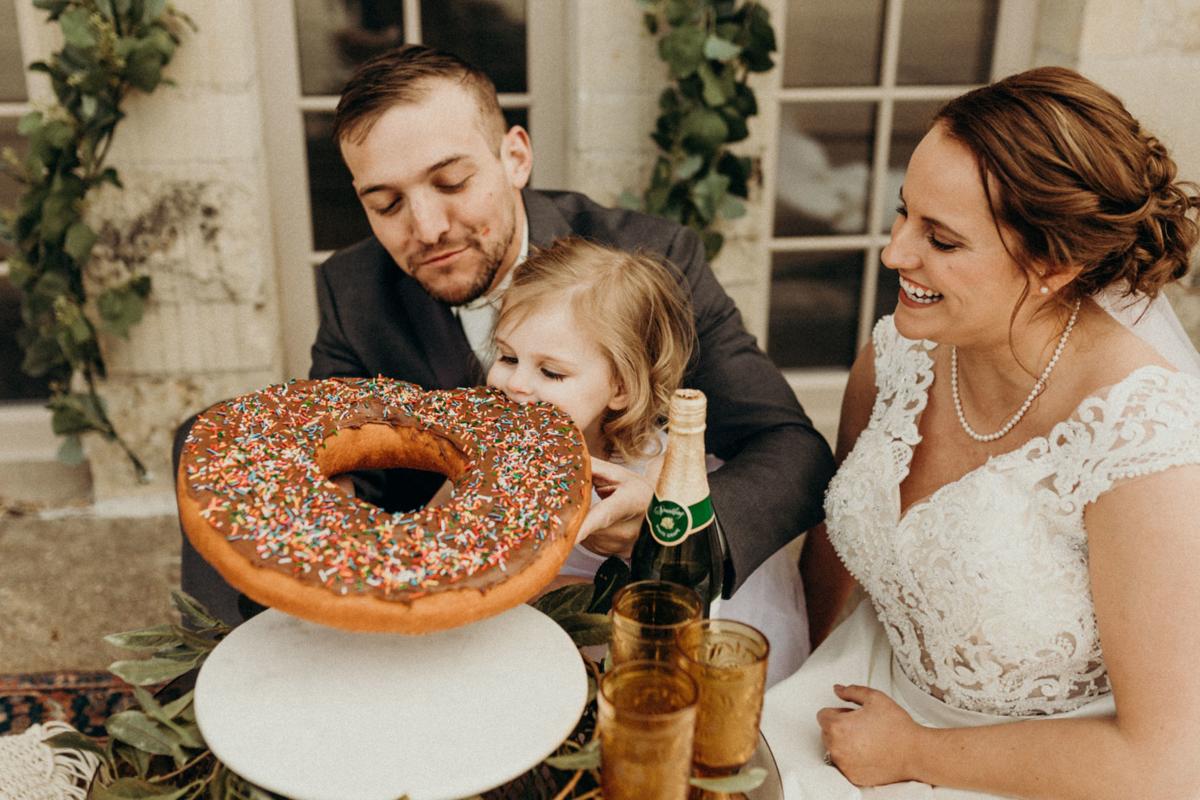 Brandon and Allison Reeves' guest list numbered eight people. A giant doughnut was served at a reception for three.
Friends who were supposed to be in the wedding didn't even know the couple were married until after the fact.
And then they wanted to know: Did a bite or two from that monster pastry end up in the freezer, to be brought out again to celebrate their first wedding anniversary?
The answer is no, the bride said, because who knows how a huge doughnut covered in chocolate frosting and sprinkles would taste a year later? Although the 12-inch confection from Sunrise Bakery in Beatrice, Nebraska, was perfect at the time, and just the fun touch they wanted.
"It was delicious," Allison said. "It was 100% gone by the end of that night."
Cake is the usual fare frozen and pulled out a year later, but this wasn't your usual wedding.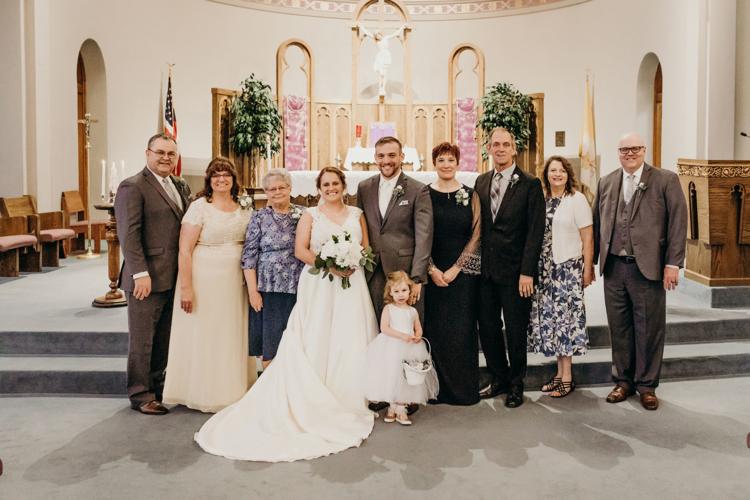 Coronavirus restrictions cut the guest list from 200 to parents, stepparents, Allison's grandmother and their daughter, Raelyn. Instead of a reception, Brandon, Allison and Raelyn walked across the street from St. Joseph Catholic Church in Beatrice to a lovely table set by The Bohemian Hatter, a rental company out of Aurora.
It was part of an effort by photographer and friend Laura Oswald of In Laura's Lens to make the Reeveses' day special, despite the fact that nothing had gone as planned.
Except the most important part: They exchanged vows on the altar with the Rev. Robert Barnhill officiating.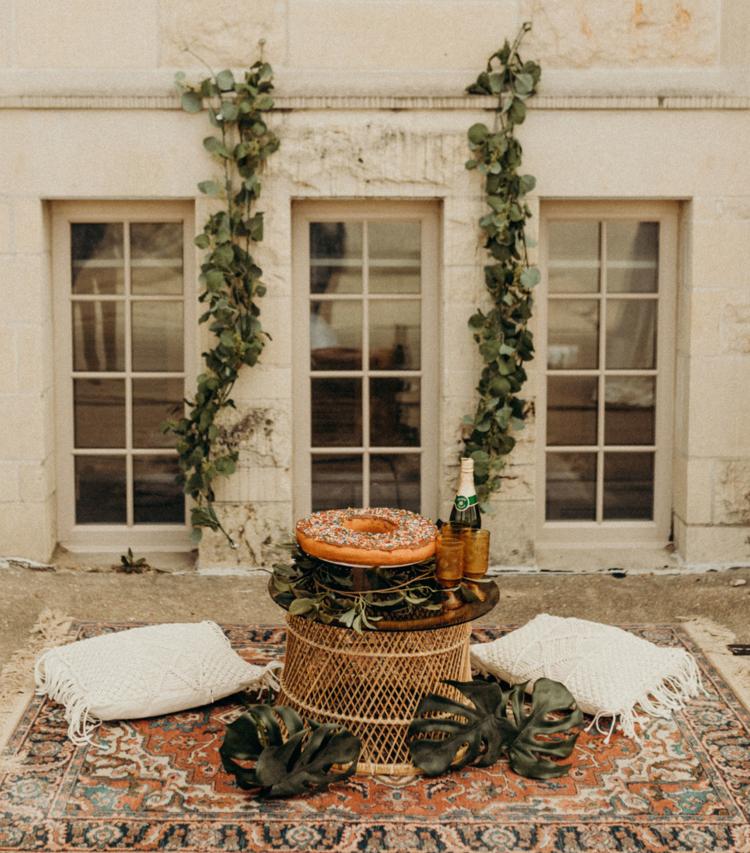 "We had been planning it for 18 months," Allison said. "We knew it was something that meant more than having everybody there."
If everything goes as planned, they'll hold a vow renewal ceremony and reception in July. How lucky is she, Allison said, that she'll get her hair done again by cousin Amber Hain and wear her wedding dress from Ellynne's Bridal twice, although it does need a little cleaning after that encounter with the doughnut.
"We wanted to do something special for our day and not just end it with the wedding," Allison said. "We decided we wanted to have a little bit of a celebration. But nothing too elegant without anybody else."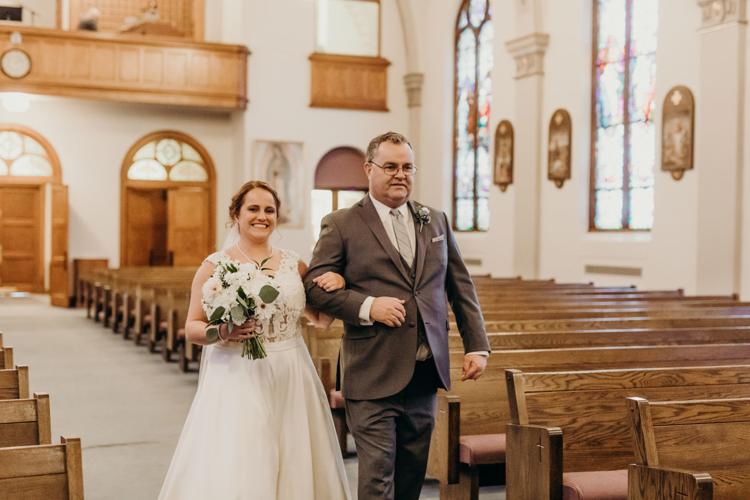 The week before was stressful and hectic as Allison continued to work her 12-hour shifts as a nurse at Bryan Medical Center East in Lincoln, where they live. Brandon, Allison said, deserves major props for helping to arrange the new details.
They're not railing at fate that a virus ruined their dream wedding, because it didn't.
Although not everyone they wanted was there, those who were are a crucial part of their lives, especially in these times when family is so important.
"I think it might have been even more special," Allison said. "It was more intimate and passionate. Everything worked out."
Real Wedding: Allison and Brandon Reeves
Allison and Brandon Reeves were married March 21, 2020 at St. Joseph Catholic Church in Beatrice, with only 10 people present due to coronavirus restrictions. The couple and their daughter celebrated after the ceremony with a giant doughnut from Sunrise Bakery in Beatrice, and an intimate reception set-up styled by The Bohemian Hatter in Aurora.