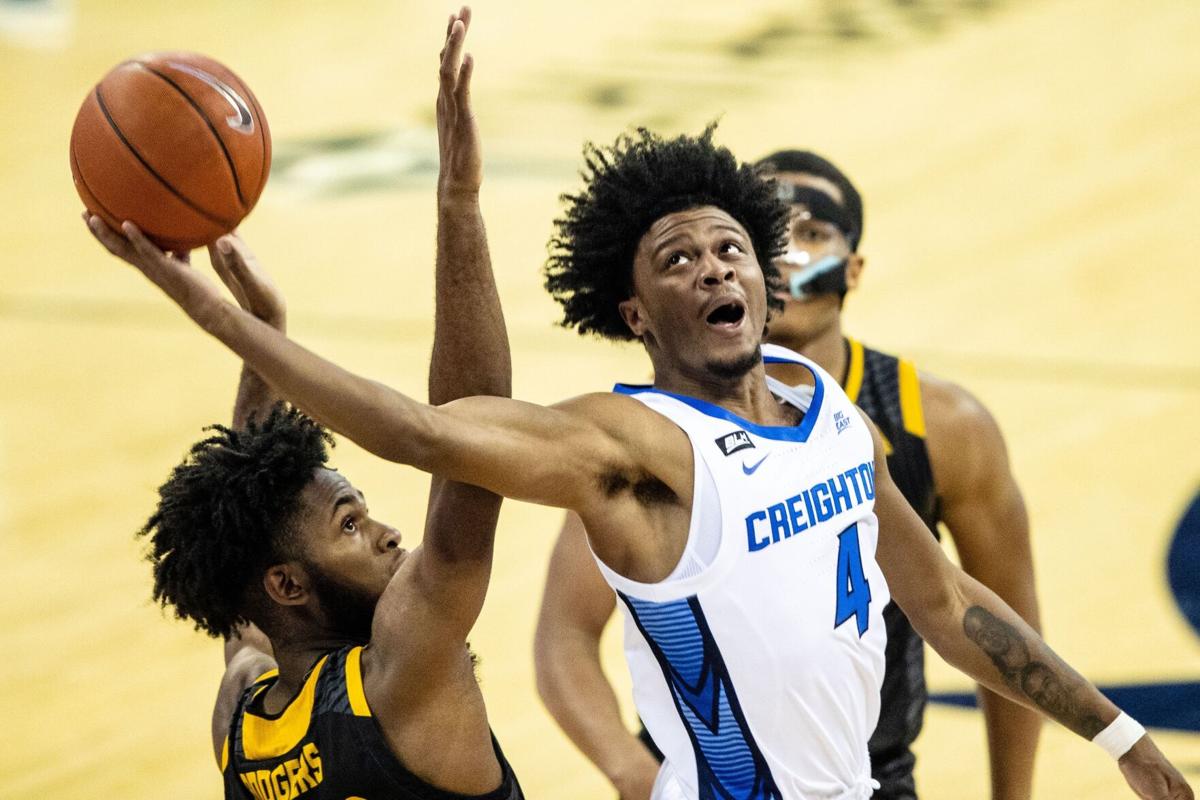 Creighton's Shereef Mitchell wasn't talking much about basketball when he sat down with a couple of CU coaches before the summer to discuss his role on a 15-man team that features eight newcomers.
The junior guard had spent his first two seasons with the Jays witnessing firsthand the benefits of an intentional effort to create meaningful chemistry inside the locker room.
The team's goals were prioritized over individual pursuits — everybody sacrificed in some way. You held one another accountable. Adversity only seemed to strengthen the players' bonds as Creighton reached new heights (Big East title in 2020 and NCAA Sweet 16 in 2021).
But that core group is gone.
The members of this new CU squad just got introduced to one another in June.
How do they form the same kind of deep relationships? So that the commitment to the team isn't threatened by playing time disputes, or tough losses, or injuries or other moments of crisis.
That's been the focus of Mitchell and the rest of Creighton's veterans all summer.
"It's more off the court than on the court, trying to get to know each other better, being all together in the same vicinity," Mitchell said. "Just talking and listening. And being uncomfortable — getting guys to come out of their shell. At first, it was very different, for all of us. But we've come a long way."
They've had team trips to the lake. There have been hangouts in dorm rooms and the locker room lounge.
Back in June, CU's campus was mostly empty — so the Jays essentially had to kick it together, or else they'd be doing dinner solo or checking out hot spots in a new city on their own.
Creighton's roster has four nationalities represented — five, if you include freshman Arthur Kaluma's Ugandan roots. None of the nine U.S. players on scholarship grew up in the same state — the Jays have guys from both coasts, the Midwest and the South.
"From the jump, it's been fun," freshman guard Trey Alexander said. "I feel like the chemistry just hit from the beginning. The guys are real cool, real down to earth. We're all real close and we move as one."
What appears to have helped is that they're all aligned on the objective here.
The returnees were part of the most prolific two-year run in Creighton history. They want to build off that.
The five freshman members of CU's top-10 recruiting class were so highly regarded because they'd helped their respective high school and AAU teams succeed. Ryan Nembhard won a 2021 national title with Montverde Academy. Alexander was part of an under-16 Peach Jam championship team on the Nike EYBL circuit two years ago. Mason Miller is coming off a Tennessee AAA state title.
Senior grad transfer Ryan Hawkins was part of three national titles during his Division II career. Senior Alex O'Connell went to two Elite Eights with Duke before joining CU last year.
So there's been little debate at the approach the team needed to take this offseason, according to O'Connell. The Jays officially start preseason practice Tuesday.
"If you want to have the level of discipline and that level of work ethic that it takes to be successful at the end of the season, it definitely starts now," O'Connell said. "Which I think we're capable of. But we're young. So we need more work."
The hope for Creighton is that it can counteract some of the constraints of on-court inexperience with the joys of collective growth.
The more they achieve together, the easier it'll be to handle the growing pains.
CU has five scholarship freshmen, plus two redshirt freshmen (Modestas Kancleris and Rati Andronikashvili). Mitchell, O'Connell and sophomore Ryan Kalkbrenner are the rotation players back from last season.
There's uncertainty. Plenty of it.
But the Jays are motivated to sort it all out — and perhaps that process breeds confidence, and success.
"We're going to do our best to get better every single day, and see where it goes," Mitchell said. "I do like where our mindset is. I feel like we have a great connection."