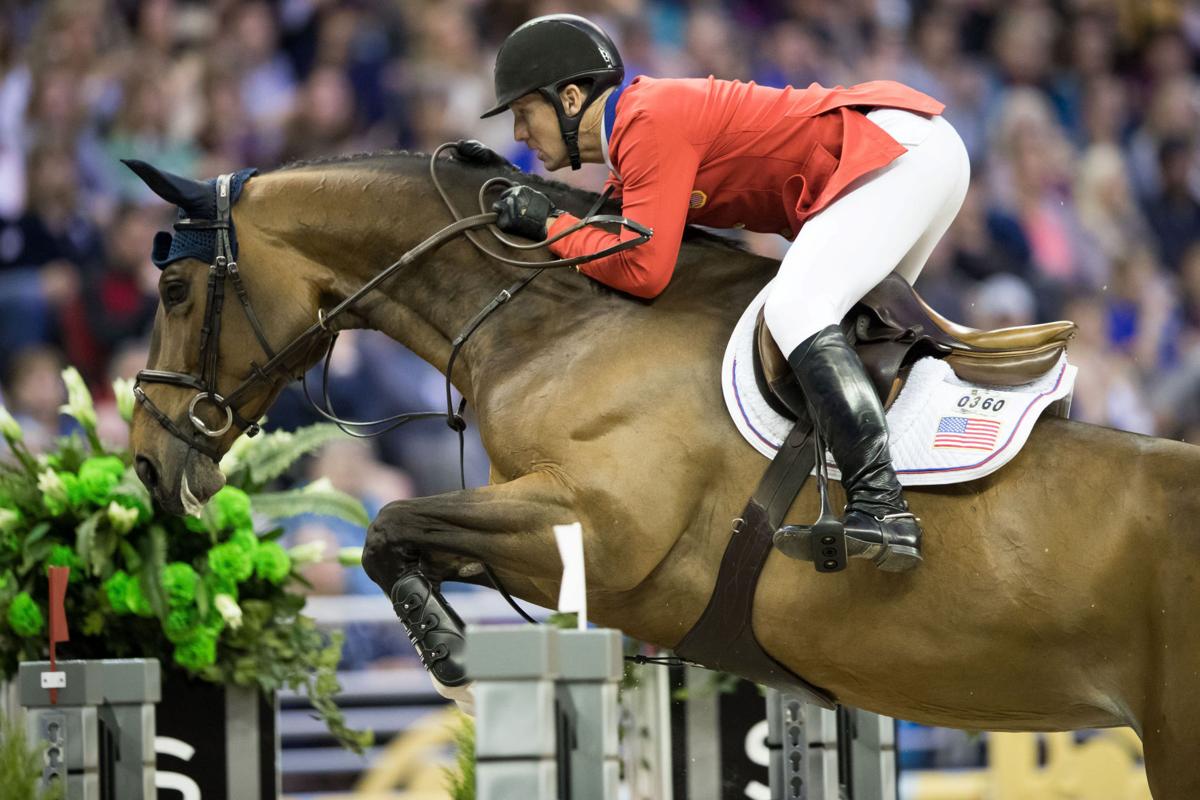 McLain Ward's path to his first FEI World Cup Jumping title — after 17 tries — became a lot clearer Friday at the CenturyLink Center.
The United States' Ward claimed a win for the second straight night to put some distance between himself and Switzerland's Steve Guerdat, who is aiming for a third straight World Cup title and entered the night in third place.
Thirty-three riders competed in Round 1 on Friday with only those who completed a clear round with no penalties advancing to a jump-off.
Ward, a two-time Olympic Gold medalist, was among six that advanced to the jump-off with a clean run in Round 1 while Guerdat was not.
Guerdat's mare, Bianca, clipped a rail on the third to last obstacle of Round 1 to eliminate him from the jump-off.
Ward pounced on the opportunity.
He turned in a blistering run in 36.87 seconds with another clean round in the jump-off that bested Belgium's Gregory Wathelet by 2.69 seconds on the final run of the night to clinch first place.
Ward said he wasn't about to let the pressure of the situation get to him.
"I think any rider at this level who wants to do as well as these riders do, you feel tension. Anybody that says they don't, I don't think they're telling the truth.
"And that gets particularly highlighted in championships and when you think you have a shot. When you're coming just to get a placing or to get a paycheck, it's different," Ward said.
Ward now leads the overall standings with 76 total points while Wathelet's second-place finish move him into second overall with 70 points.
Switzerland's Romain Duguet, who finished third Friday, moved into third place overall with 67 points while Guerdat fell all the way to sixth with 59 points.
Ward can wrap up the World Cup title on Sunday in the final round.
He said he's looking forward to ending years of frustration.
"I'm disappointed to say I've been to 17 World Cups and never won. I'd like to be able to stay focused. I'd like things to fall my way a little bit. The biggest challenge for me is to keep my head right.
The first 17 riders of Round 1 committed at least one penalty, but Germany's Marcus Ehning ended that trend when he put together a clean run in 69.78 seconds.
Guido Klatte Jr., also from Germany, became the second rider to qualify for the jump-off, completing the course in 71.27 seconds seven riders later.
Martin Fuchs, Duguet, Wathelet and Ward completed the jump-off field as only three of the final seven riders failed to qualify, including Guerdat and Sweden's Henrik von Eckermann, who began the night in second place.
West Des Moines native Todd Minikus finished Round 1 in 17th place, charged with four penalties in 72.98 seconds.
The FEI World Cup Finals continue at the CenturyLink Center on Saturday at 2 p.m. when the Dressage Final will determine the winner of the FEI World Cup.
Germany's Isabell Werth, the No. 1 ranked Dressage rider in the world, leads the competition with 82.300 points while Laura Grave of the U.S. is in second with 79.800 points following Thursday's Dressage Final I.
Jumping Final II (Grand Prix)
1. McLain Ward, USA, 0 penalties, 36.87 sec jump-off. 2. Gregory Wathelet, BEL, 0 penalties, 39.39 sec jump-off. 3. Romain Duguet, SUI, 40.46 sec jump-off. 4. Martin Fuchs, 0 penalties, 44.01 sec jump-off. 5. Marcus Ehning, GER, 8 penalties, 39.56 sec jump-off. 6. Guido Klatte jun., GER, 8 penalties, 51.38 sec jump-off. 7. Maikel Van der Vleuten, NED, 1 penalty, 73.95 sec round 1. 8. Lorenzo De Luca, ITA, 1 penalty, 74.57 sec round 1. 9. Keean White, CAN, 1 penalty, 75.22 sec round 1. 10. Denis Lynch, IRL, 1 penalty, 75.44 sec round 1. 11. Sergio Alvarez Moya, 4 penalties, 70.08 sec round 1. 12. Eric Navet, FRA, 4 penalties, 70.14 sec round 1. 13. Steve Guerdat, SUI, 4 penalties, 70.57 sec round 1. 14. Laura Kraut, USA, 4 penalties, 70.84 sec round 1. 15. Henrik von Eckermann, SWE, 4 penalties, 71.64 sec round 1. 16. Christopher Surbey, CAN, 4 penalties, 71.74 sec round 1. 17. Todd Minikus, USA, 4 penalties, 72.98 secround 1. 18. Charlie Jacobs, USA, 8 penalties, 68.40 sec round 1. 19. Leopold Van Aster, NED, 8 penalties, 69.61 sec round 1. 20. Kevin Staut, FRA, 8 penalties, 70.37 sec round 1. 21. Simon Delestre, FRA, 8 penalties, 72.12 sec round 1. 22. Sheik Ali Al Thani, QAT, 8 penalties, 72.60 sec round 1. 23. Nicola Philippaerts, BEL, 12 penalties, 69.56 sec round 1. 24. Rein Pill, EST, 12 penalties, 69.96 sec round 1. 25. Ludger Beerbaum, GER, 12 penalties, 70.93 sec round 1. 25. Gabor Szabo Jr., HUN, 12 penalties, 70.93 sec round 1. 27. Markus Brinkmann, GER, 12 penalties, 71.53 sec round 1. 28. Jenni McAllister, USA, 14 penalties, 77.43 sec round 1. 29. Christian Heineking, GER, 21 penalties, 74.59 sec round 1. 30. Jamie Barge, USA, 23 penalties, 95.40 sec round 1. 31. Martin Rodriguez Vanni, URU, 28 penalties, 85.03 sec round 1. 32. Nayel Nassar, EGY, retired round 1. 33. Dawid Kubiak, POL, disqualified round 1.