COZAD, Neb. — They both looked out this window.
That's what you think when you duck down and peer out the bedroom drapes of a nondescript stucco hotel on Cozad's Eighth Street.
The view isn't much: a fire station across the street, the sidewalk below and, stuck in the yard, a white sign announcing that this longtime hotel is now a museum.
The view isn't much until you consider how much of the state itself — our art, our blazing sunsets, our history and our violence — is tangled up in the two boys who long ago peered out onto Eighth Street.
A teenager named Robert Cozad once looked out this window because it was his bedroom. His dad founded Cozad — named it after the family — before he pulled his gun and forever changed Robert's life.
Robert Cozad tried to forget all about Cozad, both the town and his name. He took a different one, a French-sounding one, and became one of the greatest American artists of the early 20th century.
Years later another young man, Miles Maryott, looked out this window, because it was likely his bedroom, too. He was fast becoming a well-known hunting guide, outdoorsman and landscape painter — there was talk he would become the first-ever Nebraska state naturalist — before he pulled a gun on his best friend and changed his own life.
He tried to forget all about that night. He tried to forget about it by picking up his paintbrush and becoming maybe the greatest jailhouse artist in American history.
Robert and Miles. Miles and Robert. Born eight years apart, they grew up in this west-central Nebraska town, may have even met and spoken a time or two. No one can really say.
But as you peer out the window inside this nondescript hotel where they both once lived, you can see the talents that made them great and the secrets that damaged their souls. You realize, with a jolt, that you understand all of it, can recognize it like an old farmer knows a coming rainstorm.
This isn't just a story about Robert Henri and Miles Maryott, you think as you peer out the window. This is a story about Nebraska.
* * * * *
The painting is the biggest draw at the Museum of Nebraska Art in Kearney, the star of the show, the one that schoolchildren and Saturday morning museum strollers find themselves stopping and staring at, transfixed. It is a life-size painting of a woman on her wedding day, looking beautiful and serious and maybe a bit haunted. The Museum of Nebraska Art bought "The Bride" as one of its first acts in 1978 — eight full years before it even had a museum in which to display it. Today it's likely the most valuable and important work in MONA's entire collection.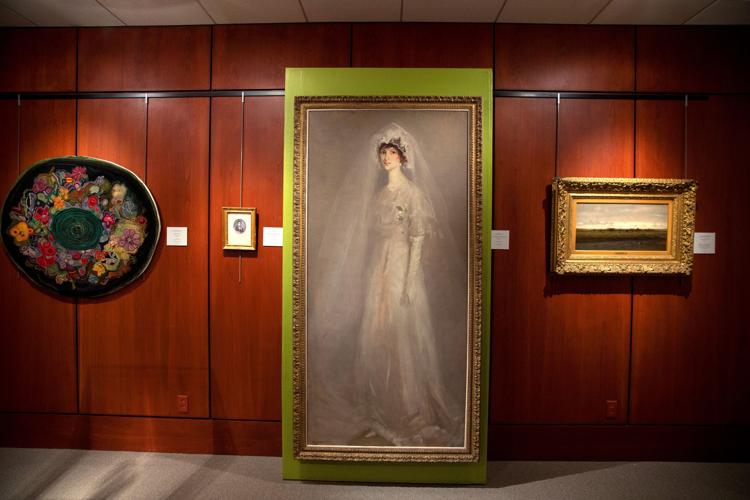 "She looks so enigmatic," says Jean Jacobson, MONA's longtime collection coordinator. "Besides, who doesn't like a bride?"
The people who stare up at "The Bride" by and large do not know that the famous artist who painted it, Robert Henri, was in fact not born with that famous name. They do not know that "The Bride" herself — the woman whom Henri painted — is a famed early 20th century artist named Eulabee Dix who grew up in Beatrice, Nebraska.
They do not know that this famed Nebraska artist who painted another famed Nebraska artist never once publicly admitted he was from Nebraska. That he hid his past so completely that no one except his family knew the truth until it was revealed nearly three decades after his death.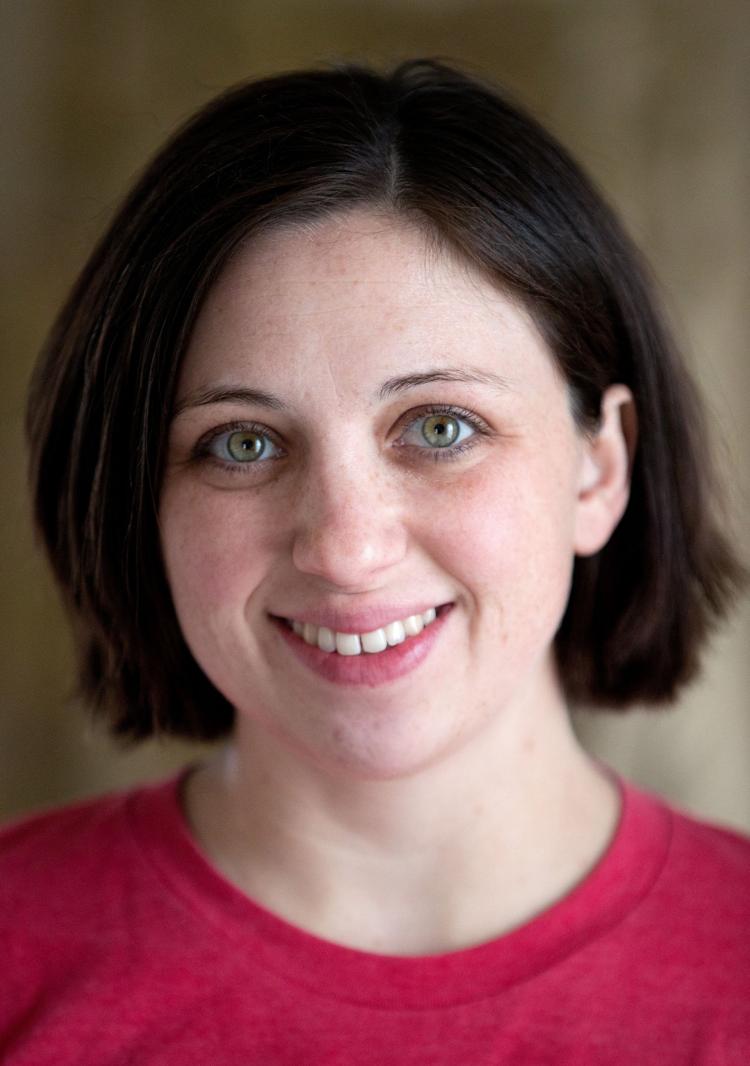 "I think he thought it was maybe better to forget Cozad," says Caroline Gaudreault, director of the Robert Henri Museum. "To forget it and move on."
He was born in Cincinnati at the tail end of the Civil War, the second son of Theresa and John Cozad, a meticulously dressed card shark and real estate developer with a well-earned reputation for being wildly ambitious and wildly temperamental.
John Cozad didn't just build buildings or neighborhoods. He started entire towns: First, Cozaddale, Ohio, in 1871. Then, two years later, he moved west, bought land from the Union Pacific Railroad and started another settlement in the middle of the newest U.S. state. Cozad, Nebraska, they called it.
Robert moved with his mother and sister to town, to the family quarters of the hotel owned by his family. Locals remembered him as a standout teenager, with his father's smarts but not his hard edge.
John Cozad quickly made enemies in the area and inside the town that bore his name. He got into a heated dispute with the leaders of a nearby town, Plum Creek, over which town should be the county seat. That fight grew so heated, in fact, that Cozad's older son, John Jr., was reportedly jailed and nearly lynched in Plum Creek — a town today known as Lexington. (There are counter allegations that John Jr. set fire to that town's jail.)
John Cozad also got crosswise with local ranchers, some of whom hated him so much that they tried and briefly succeeded in getting the town's name changed to Gould.
All the animosity led to Oct. 14, 1882, when a rancher named Alfred Pearson strode into a store owned by the Cozad family, wanting to settle a dispute involving some of Pearson's cattle and some of Cozad's hay. He allegedly tried to settle it by slugging Cozad in the face and threatening him with a knife. Cozad allegedly responded by pulling his pistol and shooting Pearson through the head.
John Cozad quickly fled, eluding authorities. The family, including a 17- or 18-year-old Robert Cozad, followed several months later, after selling most of their property, including the hotel, amid dark talk that their patriarch was a cold-blooded murderer. Robert Cozad reportedly left town, never to return, with gold coins sewn into his jacket lining.
Once safely out of state, in Denver, the Cozads reunited and made a decision: They were no longer the Cozads.
John and Theresa Cozad became "Mr. and Mrs. Richard Lee," according to relatives. John Cozad Jr. became Frank Sothern — he would go on to become Dr. Sothern, a well-respected Philadelphia physician.
And their second boy, Robert, kept his first name but chose a new last name: Henri, pronounced "Hen-rye."
The man who emerged with that name became a world traveler, classically trained as a painter in Paris. He returned to the United States and gained some renown both as a painter and teacher of Impressionist painting then favored in Europe. (Think Monet, Manet and Renoir.)
But then, fascinatingly, Robert Henri rebelled. He helped to found what became known as the Ashcan School, a loose group of painters who believed that turn-of-the-century art was too polite, and more than a little bit fake.
He painted portraits of regular people with real flaws, such as a Gypsy girl missing her two front teeth. He painted cityscapes that showed the dirty snow in New York City, the tattered condition of the buildings and the residents.
"Put yourself back in 1910," says Toby Jurovics, chief curator at Omaha's Joslyn Art Museum. "What Henri was doing, both with his emphasis on subject matter and this idea of a very loose, free, spontaneous approach to painting ... this work was undoubtedly avant-garde."
And Henri's influence went beyond his own work. He taught painting for decades, serving as a mentor to a generation of American artists like John Sloan. He helped to organize two hugely influential art shows that thumbed their nose at the art establishment while giving tens of thousands of middle-class Americans their first looks at the Ashcan School paintings as well as avant-garde styles like Cubism and Futurism.
"Henri wanted art to be akin to journalism," famed Time magazine art critic Robert Hughes later wrote. "He wanted paint to be as real as mud, as the clods of horse-s--- and snow, that froze on Broadway in the winter, as real a human product as sweat, carrying the unsuppressed smell of human life."
When you read those words, it is easy to wonder about the hypocrisy of Henri, to know that even as he strove to present American cities in their real condition, he himself was living under a pseudonym and sometimes telling people he had been born on a ship off the coast of Cuba. (Jurovics cautions against reading too much into this: "I don't see too much in his work that points back to this unusual child narrative.")
The family secret wasn't revealed until Nov. 27, 1956 — revealed to the world by the Cozad Local newspaper — when a relative and the paper's staff published a series of stunning stories about the Cozad family and their famed, and by then long dead, artist son.
When you read those words, it is also easy to wonder about something else.
Robert Henri didn't like pretension, fakes, phonies. He disdained art — and likely people — that seemed to him too precious, too perfect. He was wary of the establishment, of ruling class rules about how to look, act, behave.
To the best of one's knowledge, Robert Henri never told a single soul that he was Robert Cozad from Cozad, Nebraska.
But when you read those words, you wonder: Was he, secretly, a Cornhusker to the core?
* * * * *
Eighty-seven years ago this week, an Omaha World-Herald reporter named Eva Mahoney went to Lincoln to cover an exceedingly odd art opening.
It was a one-man show featuring an artist named Miles Maryott, who already had works in the New York City Elks Club as well as the homes of various rich Nebraska collectors.
Except this show wasn't well-attended, because it was being held in a gallery where Nebraska's art patrons didn't normally venture.
"Tiers of iron doors, bolted and barred, lead from this receiving room into the outer hall," Mahoney wrote in a front-page story published April 20, 1930. "In and out of his office moved the deputy warden, keen-eyed, alert. ... In the center in an elevated iron cage a vigilant sentry kept a business-like looking gun constantly in evidence. ... Armed guards, forever unlocking and locking doors, came and went."
Maryott, the famed painter of Nebraska outdoor life, was holding an art show in the visiting room of the Nebraska State Penitentiary. He was holding an art show at the state pen as he served a life sentence for murder.
"He painted scenes that are so identifiable to us," says Jacobson, the Museum of Nebraska Art's collection coordinator. "He captured the outdoor environment of Nebraska, even after that environment was taken away from him, by himself."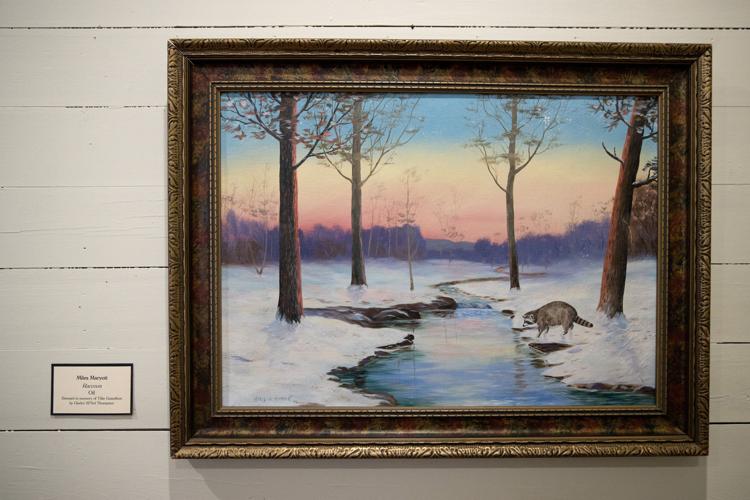 Miles Maryott started out as a Nebraska farm boy with a fondness for nature. By the time he was a young adult he was an accomplished semi-pro baseball player whose career had been cut short by a broken ankle. He was a crack shot who had won national honors for trap shooting. And he was learning to be a taxidermist, a hunting guide, and a painter of the outdoors he loved so much.
Caroline Gaudreault, director of the Robert Henri Museum — which is located at the Hendee Hotel — says that Maryott and his mother lived in the Hendee Hotel and managed it for a short period, likely after Maryott's father died and his mother was in bad health. It's not known if Maryott lived in the same bedroom that Robert Henri had occupied years before, when it was owned by the Cozad family. It is likely, she says, that Maryott either lived in that bedroom or the one directly next to it.
Not much about Maryott's time at the Hendee Hotel is clear, but this is: He was fast becoming a well-known Nebraskan, and a well-known alcoholic.
After moving to Oshkosh, he led hunting trips through western Nebraska and gained renown for his ability to shoot animals, stuff them and even cook them. He also got better as an artist, painting vivid watercolors of flying ducks, grazing buffaloes and the Sand Hills skies he held so dear. His Nebraska landscapes were printed on postcards and sold at ever higher figures to well-heeled Nebraskans who wanted a Maryott in their sitting rooms and their dens.
But, the art experts say, the stories of his drunken anger multiplied even as his local fame did. Warning signs about his drinking — and his anger when drunk — seeped into World-Herald stories written about Maryott.
In 1926 he got into a fight with the local owner of a meat market and was arrested for firing two shots at the butcher shop.
It led to Nov. 24, 1926. The Osh­kosh town marshal, George Albee, caught a drunken Maryott driving on the town's streets. He didn't arrest him but advised him to return home and go to bed.
Maryott, who would later describe Albee as one of his closest friends, did not heed the town marshal's advice. Instead he drove to the town's hardware store and bought a Colt .45 pistol and ammunition.
First, brandishing the gun, he threatened a local schoolteacher. Then, when Albee caught up with him and tried to place him under arrest, Maryott responded by shooting him through the chest.
Albee died almost instantly. More than 1,100 people — a crowd larger than Oshkosh itself — showed up at his funeral, paying their respects to his widow and their eight children.
Maryott claimed self-defense at the trial. It didn't work. The jury convicted him of second-degree murder and the judge in the case sentenced him to life in prison.
By 1927 Maryott was a prisoner at the Nebraska State Penitentiary where, according to World-Herald stories, he was a model citizen. His good behavior, and the guards' affection for him, led the warden to grant Maryott an unusual request: He allowed Maryott the right to set up a small painting studio in an empty part of the prison commissary. Maryott got paints and brushes and started to paint more prolifically than he ever had before.
Livestock and hunting dogs. Sandhills and prairie grass. Brilliant Nebraska sunrises and blazing sunsets. All painted from a studio where Maryott couldn't see the sky.
He left prison only to be transferred to the hospital in 1939, after the decades of hard drinking had destroyed his liver. Miles Maryott died on Sept. 20, 1939, leaving behind dozens of paintings he had painted as a free man and likely hundreds he had painted after being jailed.
"Better look out Miles. I'll take one of those pictures," a guard jokes to Maryott in the 1930 World-Herald story. "That's all right, I will paint another," Maryott replies. "Got plenty of time."
* * * * *
Walk through the Museum of Nebraska Art, descend the elevator into the basement vault, and you will find a treasure trove of these two Nebraska artists linked by their pasts.
The museum owns seven pieces of Henri's, including the famed bride. Many of them are on display, but when they are not, you can find them down here, cataloged by a computer system and hung on movable walls.
It owns far more Maryotts, 17 total, many of them painted after he went to prison.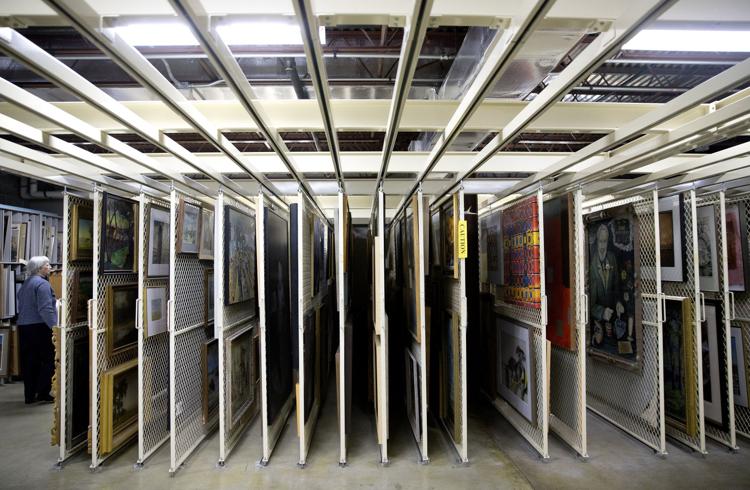 Jacobson stands in the vault and locates a painting of an elk, a painting of a wolf in the snow, a painting of an Indian scout. She points out that the work Maryott completed in prison has markedly deteriorated over the decades, in large part because the prisoner had to use cheap paints, canvasses and brushes.
"It's a little sad when you think about it," she says. "He painted these from memory."
Another treasure trove is located in nearby Cozad, in a small gallery space located directly behind the Robert Henri Museum.
The museum does own a few Maryotts, which hang together in the kitchen. But it owns far more Henri works: seven paintings and 33 sketches in all, which the museum says is the biggest single collection of Henri work currently on display in the world.
There's a painting of the Amsterdam skyline here. A painting of the queen of Spain. A portrait of the toothless, laughing Gypsy girl.
"We're really proud of these," says Gaudreault, the museum's director, as she takes you on a tour.
So 57 works by Robert Henri, and at least two dozen more by Miles Maryott, can be seen when you venture to central Nebraska. And you can also walk up to the museum's second story, and look out a window, and consider that both Robert Henri and Miles Maryott once had this view. They both lived right here. They both outlasted violence that altered the rest of their lives.
And they both surely stared out this window, before they went out and changed the world. They both stared out at the Nebraska horizon, and it surely changed them, somehow.
"It's not something that you can put your finger on exactly," Jacobson says as she tries to describe Nebraska's imprint on the two artists.
"Maybe it's the prairie landscape. Maybe it's Nebraska. Maybe it's just a feeling."
She pauses for a moment and asks a question.
"Can't you feel it yourself?"
Correction: An earlier version of this story said the Robert Henri Museum in Cozad owns 17 Henri paintings. It actually owns seven. 
Be the first to know
Get local news delivered to your inbox!