Chris Petersen had a successful consulting career and was happily approaching retirement.
"The traditional thing is to sell your house in the country and move to town when you retire," Petersen says. But he did just the opposite.
In 2018, Petersen met a new business partner, Mike Kenney. Together they shared a vision of creating a private nature sanctuary with luxury glamping cabins on 22 wooded acres between Omaha and Lincoln.
"This is a story of true bootstrap entrepreneurism," Petersen says of Kimberly Creek Retreat.
The destination eventually will have 10 to 12 glamping cabins and geodesic domes appointed with all the comforts of home so guests can stay, unplug and immerse themselves in nature. The partners are nearly there, with eight units available for rental. Each has its own propane grill and fire pit that lights with the flick of a switch.
"Almost everyone will have a fire going at night, even in July," Petersen says.
It's first-class glamping right down to a private indoor toilet and shower and fully equipped kitchenette in each unit.
"Guests aren't suffering here," Petersen says with a smile.
The father of three and granddad of five is keeping convenience top of mind as cabins are furnished and accessorized.
"Our goal is to make it easy for Mom," he says.
Kimberly Creek Retreat seems to be attracting two primary types of guests: Nature lovers and those who want a base camp for exploring the attractions at Interstate 80 Exit 426. Those include Eugene T. Mahoney and Platte River State Parks, Wildlife Safari Park, Strategic Air Command and Aerospace Museum, Quarry Oaks Golf Course and main street Ashland.
Reservations, says Petersen, are gangbusters. A high percentage of rentals are by groups of women. "There have been more parties here than you can imagine. And I don't even want to know what happens on 'girls getaway' weekends!"
For most guests, Petersen says, "The main attraction is peace and quiet."
Darcie and Michael Venem and their children, Connor, 7, and Claire, 5½, were hot on the trail of treasure on a recent Saturday afternoon. They had come for a one-night stay in the Dream Queen Dome to celebrate the end of the school year.
Heather and Bob Batt of Omaha were first-time guests celebrating their wedding anniversary and already had their next visit planned — with several family members.
"It's peaceful," Heather says. "I love the area for its trees."
She needed a respite (after treating patients during COVID). Nature provided the remedy.
"This is a nice decompression."
Kimberly Creek Retreat has a laid-back check-in process by design.
"It doesn't do any good to talk to guests in the first 15 minutes of their arrival," Petersen says. "They're too excited about what they're seeing."
Guests text when they arrive and Petersen or Kennedy stops by they're settled.
Here's a rundown of the glamping cabins and domes, with all-inclusive average nightly rates.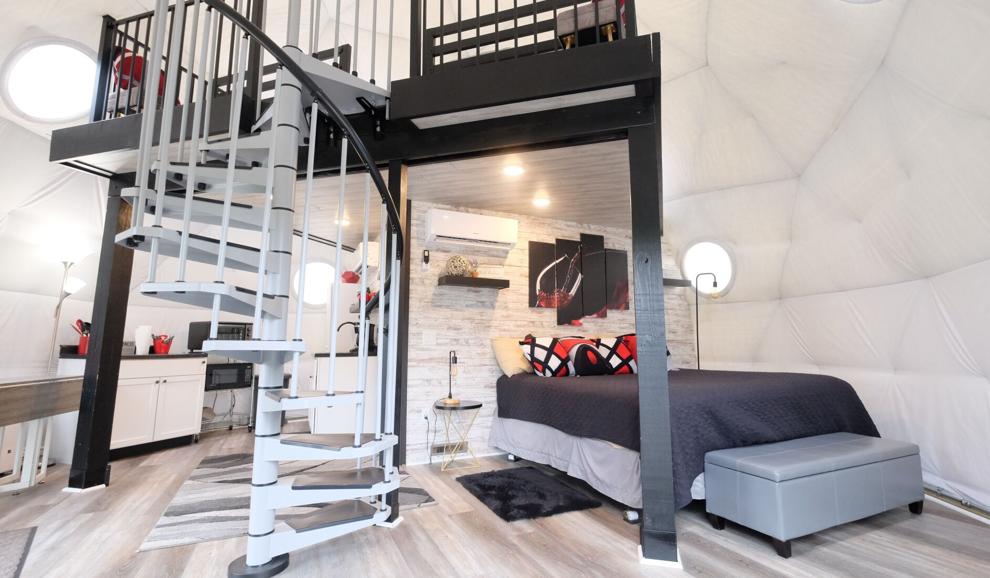 >> The King Dome has one king bed and a spiral staircase to a loft with two queen beds. A space-saving table and stackable chairs and a pair of upholstered chairs invite reading, board games and puzzles. Rate: $280.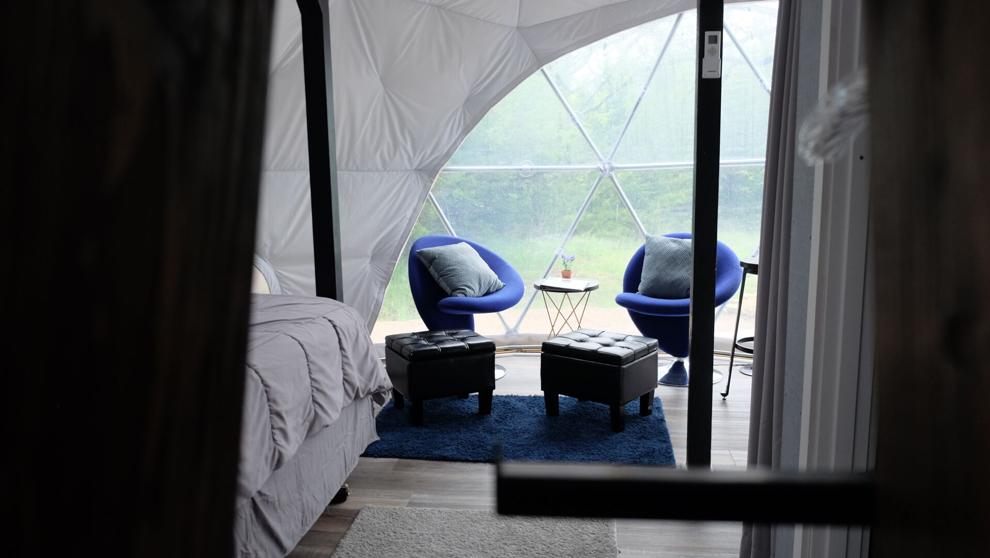 >> The Dream Queen Dome next door has a 20-foot ceiling and a sleeping loft accessible by ladder. There also is a 7-by-20-foot bay window with a view. Rate:$240.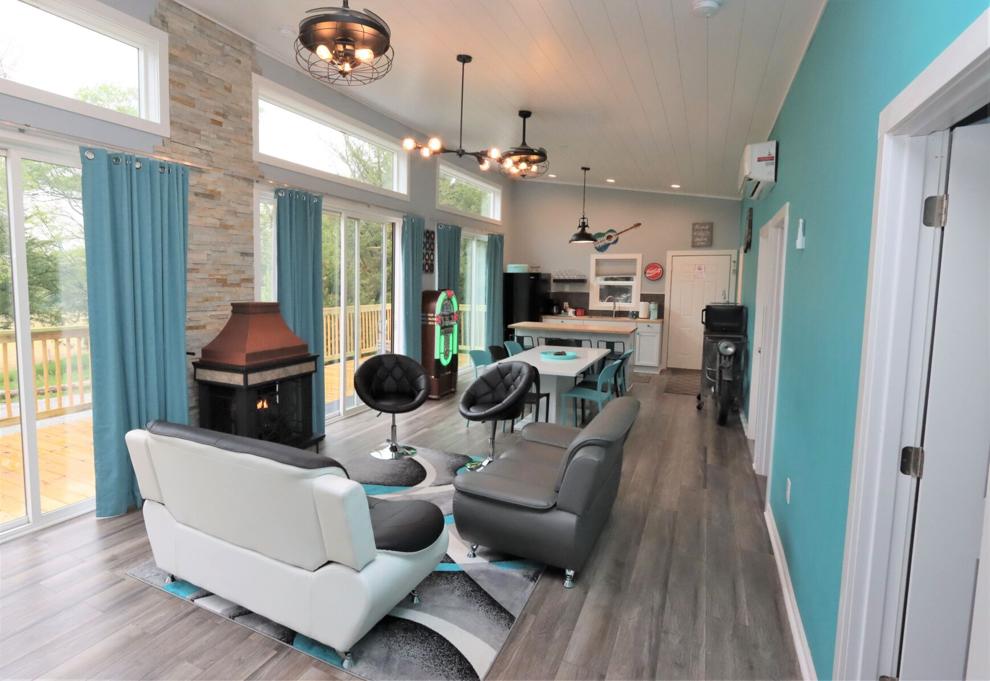 >> The Sundowner is an all-ages hit with its contemporary furnishings, white, gray and aqua color scheme and Route 66 theme. The three bedroom unit sleeps eight, has a jukebox and a back patio with hot tub and firepit. Bring on the party (but keep the noise down)! Rate: $495.
>> The Sanctuary sits in a clearing that shows off its contemporary design. The open floor plan with a standard queen bed with a double trundle and a Murphy bed that snugs up against the wall. Guests with infants and toddlers will appreciate the floor space. Rate: $255.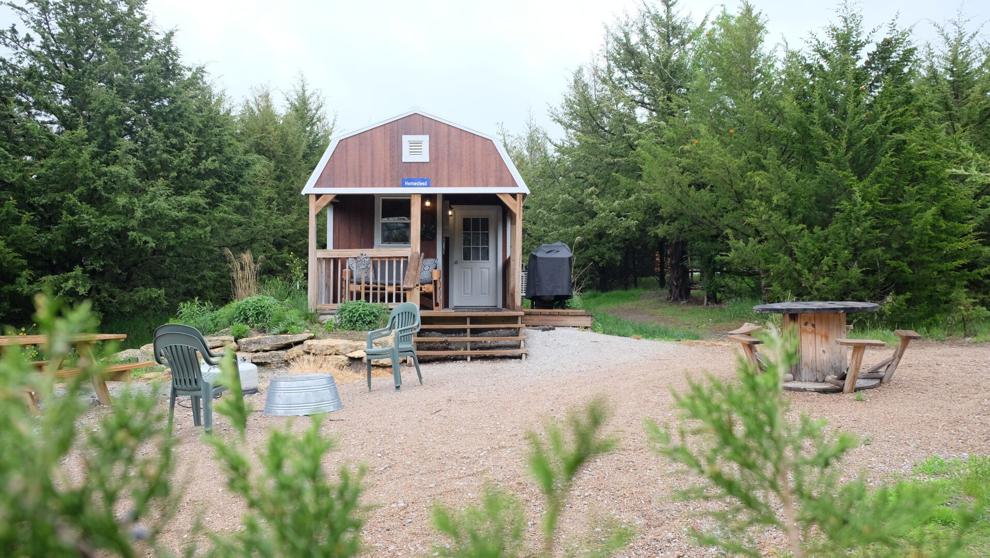 >> The Homestead, a prefabricated "little house" that sleeps four. It's paneled in knotty pine and has a Minnesota cabin feel. The loft sleeping is a bit tight for adults but young kids will think it's cool. Ditto for the breakfast nook. Rate: $185.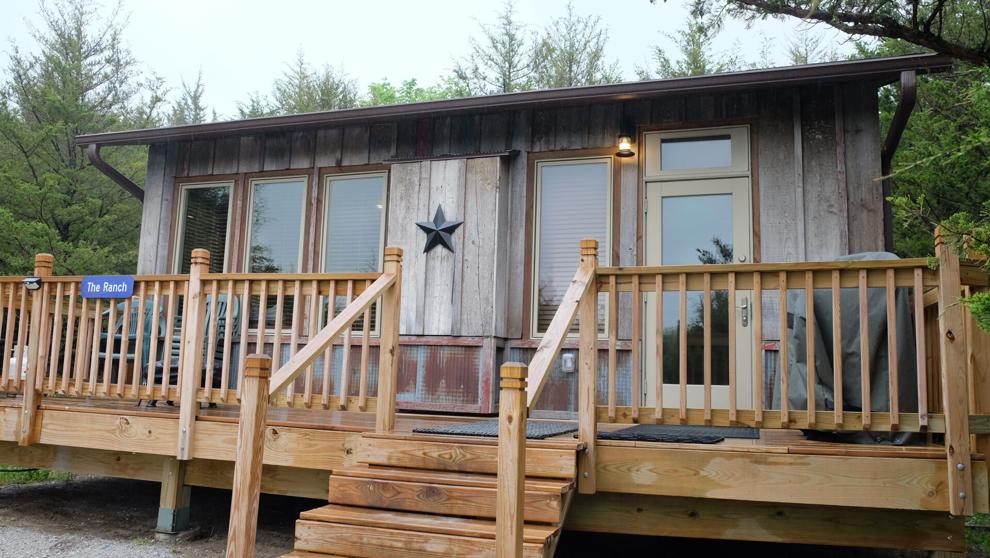 >> The Ranch is cozy and rustic. Two queen beds, foot-to-foot, make good use of the space. The wooden table in front of the fireplace is an inviting place to play board games and cards. Rate: $255.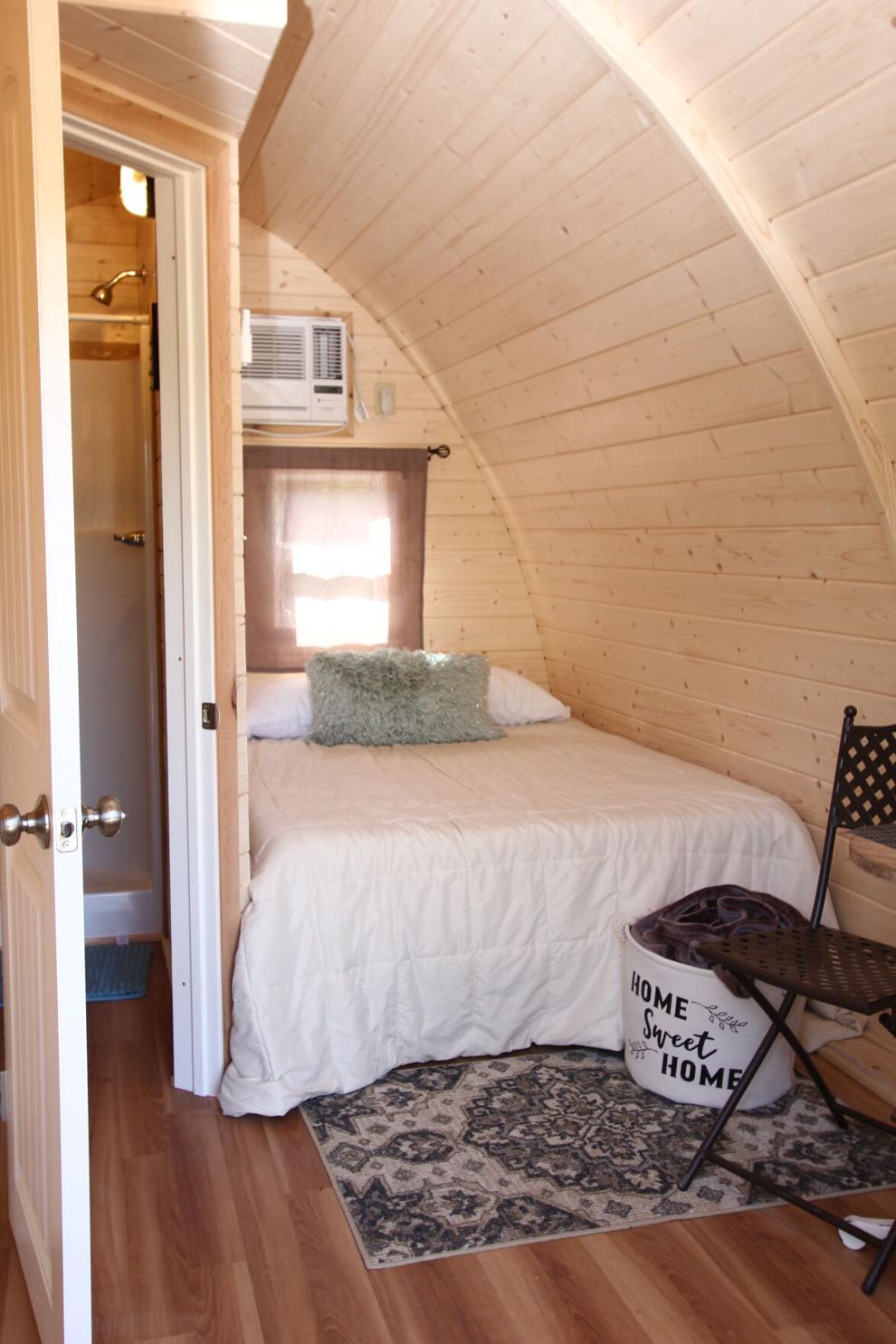 >> The Nook and The Cranny are aptly named. These twin glamping pods are for guests who want to economize and intend to spend most of their time outdoors. Each has a double bed, bathroom with shower and coffee station. Rate: $135.
>> The Loft, coming in early September, has a handicap-accessible main floor and bathroom; a loft bedroom with a bathroom; and a hot tub. It will be around $245/night.
>> Sleeping units are equipped with bedding and towels. Guests need to bring their own toothbrush, food and beverages.
>> Hobo foil meals can be reserved three days prior to arrival. You also can get s'more packs, egg bakes and muffin breakfasts delivered to your door by advance request. Charges apply.
>> No RV or tent camping is allowed due to zoning regulations.
>> No WiFi service is available but cellular coverage is good.
>> Use Google Maps to navigate here.
>> Nature-related activities on 22 acres under cedar, ash, walnut and oak trees.
>> The Grotto, campgrounds of the Pawnee Indians. Equipped with a fire ring, propane grill, tables, chairs, limestone slabs for seating and white twinkle lights. Live music and other family entertainment on occasion.
>> Dynamite Pete's Treasure Hunt. A map puts kids on the trail of four dynamite sticks and, ultimately, a prize.
>> Pete's Place, for guest registration and souvenirs. Named for an actual hermit who once lived along the Platte River.
>> Myrtle's Path for hiking, named for the gal Dynamite Pete wanted to marry but couldn't because he didn't have a proper house.
>> Bird-watching and wildlife photography. The area has coyotes, deer and turkey, plus other woodland creatures and migrating birds. "I enjoy that aspect of it," says Petersen. A viewing blind accommodates four.
>> Alien Encounter and a UFO Treasure Quest that involves a variation of geocaching. "Adults get into this one," Petersen says.