ORD, Neb. — You have an image fixed in your head of a small-town Nebraska bar, an image of three weather-beaten old boys in seed caps perched on bar stools, silently sipping Busch Lights as the dusty old jukebox wheezes a dusty old country song.
Works just fine, so far as stereotypes go, right up until the moment you enter Ord's Scratchtown Brewery on an unseasonably warm Thursday evening.
The indoor taproom and outdoor patio are packed with 30-something professionals — the sort of people who do not exist in the stereotype. They sit elbow to elbow with the City Council president, a mailman, a trucker and a couple of farmers and hoist a variety of Scratchtown's own beers: double IPAs, imperial porters and dopplebocks. There is no dusty jukebox here. There is no Busch Light.
Here, in this town of 2,100 people, three business partners — an electrician, an ex-banker and a former Omaha Chamber of Commerce exec — are brewing what may be the best craft beer in the entire state.
And here, in this central Nebraska town left for dead decades ago, the Scratchtown trio and a whole bunch of other residents are also crafting one of this state's best small-town success stories.
You have an image fixed in your head of a small Nebraska town. Ord is busy destroying that image, one craft brew, one new family and one major project at a time.
"This is a happy place where people come to talk. To connect," says Caleb Pollard, one of the brewery co-owners, as he lounges on the Scratchtown patio in the late-afternoon sun. "It was our dream to bring people here, from Ord and from all over, to break bread in our taproom. Our bread just happens to be beer."
The Scratchtown dream started soon after Pollard and wife Christina left Lincoln and relocated to Ord, where they had no relatives and no roots. The reasons for their move are instructive: Caleb had grown tired of spending two hours in a car each day commuting to Omaha; they wanted to raise their kids in wide-open spaces; and, finally, because Ord leaders recruited them with coordinated aggression not often seen in small towns. That aggression has become a hallmark of how this central Nebraska town does business.
Caleb became Valley County's economic development director. Christina got a good job at the hospital, where she's now chief quality officer. They settled into Ord and made friends. Caleb dabbled in home brewing on the weekends. And then he started wondering: Could a town like Ord support a small-town brewery? Could he turn this crazy idea into a sudsy success near the edge of the Sand Hills?
He found partners. First, his friend Jade Stunkel, who invested money and business expertise. And then the secret ingredient: an Ord native named Mike Klimek, who had recently been laid off from Omaha's First National Bank and called Caleb — the county's economic development director — looking for financial industry work. Mike also happened to be a skilled, award-winning home brewer.
Caleb told him to forget about banking. You should open a brewery, he said. Heck, we should open a brewery together.
Mike wasn't having it. "I found the nicest way possible to tell him he was (bleeping) crazy," he says.
But Caleb kept working. He took long pickup rides on weekends with Jade, where they drove over the rolling hills and talked about what it would be like to bring craft beer — and outsiders — to this gorgeous but largely unknown area of the state. And he hung out on Mike's back deck on summer evenings. They drank Mike's home-brewed beer, talked life and watched as the blazing sun sunk below the horizon. One night, after they had one too many, Caleb said this: "Wouldn't it be awesome to make beer in this town and live here and do this forever?"
Mike looked out at the sunset. Yes, it would, he said.
The next morning, after Caleb sobered up, he picked up his cell and dialed Mike. We still doing this? Yes, Mike said again. Yes, I guess we are.
So in 2012, the trio sunk their life savings into the construction of the first craft brewery in this part of Nebraska since ... well, since Prohibition.
"A lot of people in Ord were cautious, waiting to see if we could do this," Caleb says. "And maybe 20 to 30 percent of people here thought we were nuts, and definitely going to fail."
Which is fascinating, because not long ago, many residents of Ord thought exactly that same thing about Ord itself.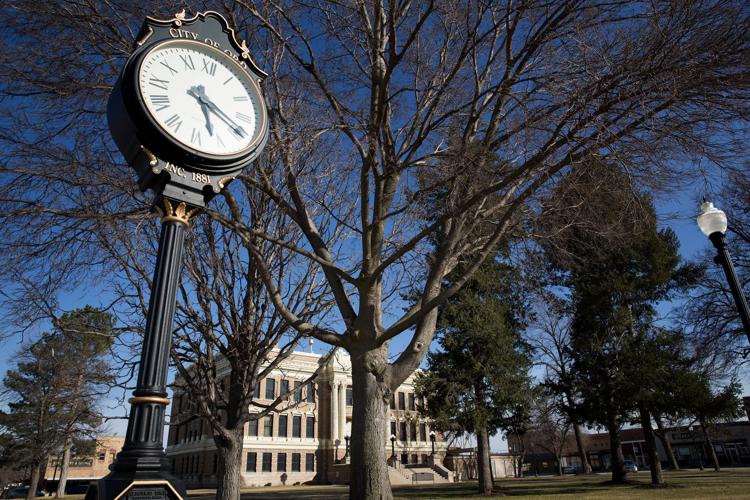 To understand the town's fall and rise, we need to briefly rewind three decades, to the mid-1980s when the American farm crisis smacked Ord hard.
The town's ag-dependent economy got hammered. Nobody was building, so the lumberyard closed. So did two hardware stores. People had less money for food, so the bakery closed, as did two grocery stores, as did almost every mom-and-pop restaurant in town.
With crop prices spiraling ever lower, and no end in sight, many longtime Ord families picked up and moved: Texas. Arizona. California.
The only real local philanthropy came in the form of college scholarships, so the area's high school students could leave home and likely never return.
"We were helping kids escape," says Bob Stowell, a veteran lawyer in town. "The mid-'80s through the '90s was a period of very, very low hope."
Things started to change around the turn of the century, when a local resident donated $1.2 million to the county with the vague directive to improve the area.
The county government didn't really know how to manage that money, so Stowell and several others created the Valley County Economic Development Board, filling it with city leaders and hiring a dynamic 23-year-old named Bethanne Kunz to run the new organization.
In 2001, the new board put out a survey question: Would Ord residents support a city sales tax for economic development in the area? Most of the residents surveyed had the same answer: No.
And yet Stowell and other city leaders followed that survey result with a serious campaign, giving nearly three dozen presentations and hosting three public community meetings. Late that year, the town voted, and the ballot measure to add a 1 percent local sales tax passed with 74 percent of the vote.
"That," Stowell says, "began everything."
The economic development board used a donated building and the new economic development money to attract a call center that brought 100 new jobs to Valley County. City leaders aggressively fought to lure a $50 million ethanol plant and $9 million corn oil factory to the area. That led to a $16 million distiller's grain operation and several offshoot trucking businesses. They also gave a 99-year free lease to an international company, SubConn, that makes parts for underwater cables, a move that spawned the development of more related businesses on the outskirts of Ord.
As the area's job base expanded for the first time in generations, Ord leaders used a combination of $2.6 million sales tax money and federal grants to renovate Ord's downtown, a high-profile move that drew a few tourists and caused city pride to swell.
And then, not content with these improvements, Ord leaders did something even bigger: They partnered with the Nebraska Community Foundation on an audacious project to teach Ord residents — both adults and children — how to be better leaders and better entrepreneurs.
Today, here's what that looks like: The Ord area supports a four-year leadership academy, where local adults learn how to better impact their community. The school system has a mandatory eighth-grade class on leadership, and elective classes for high school students who want to start their own businesses. There's a summer entrepreneurship camp for teenagers, and a day where high school students "speed date" with local businesses, and another event where they present their business plans to the public.
Today, 70 percent of Ord High School students say in an annual survey that they want to return to Ord after college graduation. (A decade ago, that same survey showed that 30 percent of Ord high schoolers wanted to return home.)
The town's population is steady. More shockingly, census data show the total number of young adults living in Ord spiked by 53 percent between the years 2000 and 2010.
It all leads to this: Ord Public Schools boasts 626 students this year, a spike of roughly 12 percent since 2012. And, even better, public and private enrollment figures show this year's Ord-area kindergarten class is the largest in the past decade.
"None of this happened by accident," Stowell says. "The success is feeding on the success. And there's no reason it has to end anytime soon."
Which brings us back to Scratchtown Brewery as the sun sets on another Thursday night. The City Council president is chatting with a businessman. The trucker is drinking Scratchtown's Black Eye Imperial Porter, which has won numerous national awards and is coveted by beer nerds across the Midwest.
Everyone is talking about how people from Lincoln and Omaha and Kansas City and Denver show up here on the weekends, often just to try the brews.
From your bar stool it is easy to see why Scratchtown is a runaway success. It's a product of three founders who combined business skill and brewing skill with a healthy dose of bravado. And it is also a product of Ord, Nebraska, a small town that is destroying small-town stereotypes and then clearing the rubble for places like Scratchtown.
"You know what term I hate?" asks Mike Klimek, the Scratchtown brewer. "I hate the term 'good enough.' "
Caleb Pollard grins and says, " 'Good enough' doesn't go on tap here."
Be the first to know
Get local news delivered to your inbox!