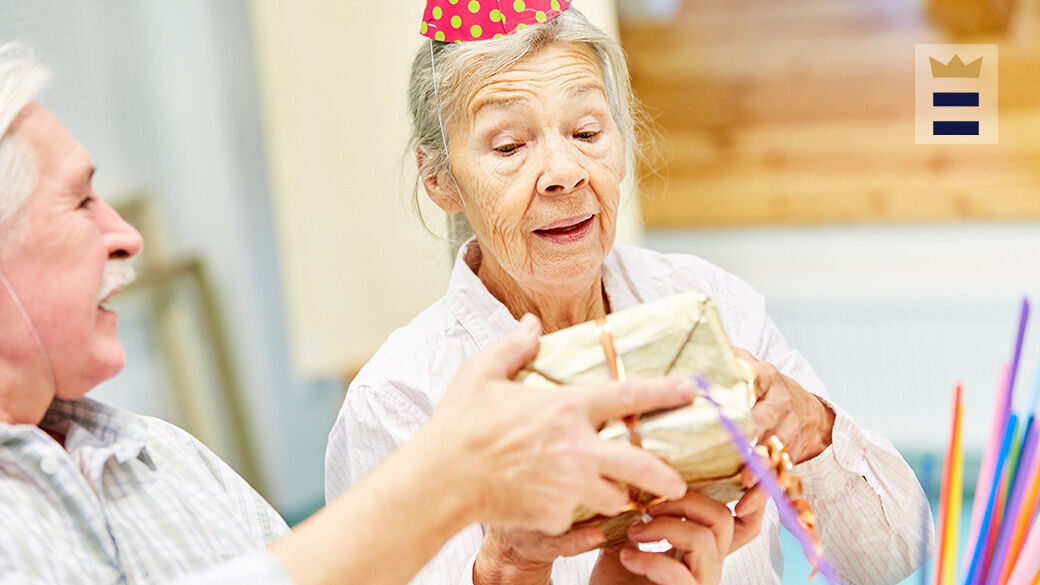 Gift ideas for people with dementia 
Whether you're buying for a family member, friend or partner, it can feel challenging to find something that those living with dementia can find some joy from. However, even though they may not always remember who you are, they may still appreciate a personal, helpful gift that will hopefully make their life easier or more enjoyable. Bring a smile to their face by supporting them and finding the best gifts for people with dementia. 
What to keep in mind when finding the best gifts for loved ones with dementia
Dementia patients suffer from confusion and disorientation, following memory loss, hindered verbal communication and limited thinking abilities. All this makes it challenging for themselves, their carers and their loved ones and results in the need for additional support. It's important to understand the condition and the daily challenges that come with it.
When finding the best gifts for loved ones with dementia, be sure to keep in mind a few considerations, such as how you can support them while still considering their personal interests and circumstances. 
Understand their daily challenges
Understanding the needs of your loved ones and their daily challenges will help you support them to make their life easier and more enjoyable. These challenges differ depending on the severity of the condition, so be sure to consider their individual circumstances.
For example, if they live independently, you could help them stay connected and safe with useful gadgets like voice-control speakers, adapted telephones or personal monitoring systems. Additionally, you could consider easy-to-read clocks and calendars that help them get through their days smoothly.
Reflect on what brings them joy
They may not always know what excites them, let alone be able to communicate this. If you know what has often brought them joy in the past, this could inspire a gift idea that may still spark some interest. For example, if they love art and crafts, you could gift them mess-free art kits to encourage them to be creative, which would also boost their mental and sensory stimulation or a jigsaw puzzle. 
Useful gift ideas for people with dementia
Be sure to consider their needs and preferences, and decide how you wish to show your love and support them. Check out these useful gifts ideas that each serve a purpose, and are ideal for people with memory loss:
Gifts to make daily tasks easier
Easy-to-read calendars, clocks and timers
Reminder gadgets
Pill dispensers
Reusable signs
Home care robot for vacuuming
Modified technology (speakers, telephones and voice-control systems)
Kitchen accessories (non-spill cups and cushioned crockery).
Gifts to help them stay connected
Multi-use gadgets to make calls and control systems
Smart telephone with easy-to-use memory dialing
House monitors
Identification bracelets
Gifts to improve their memory
Memory box
Photo albums
Gadgets to display photos, videos and play audio
Memory-enhancing games (conversation cards, mind games and brainteasers)
Gifts to reduce anxiety and agitation
Weighted blankets
Soft toy-pets
Therapy dolls
Scent sprays
Speakers and music players
Sensory cushions
Fidget toys
Gifts to encourage creativity and mental stimulation
Coloring books
Water painting
Puzzles
Mind games
Word searches
Picture books
Easy-to-read books
Sensory crafts
Personalized gifts to make them feel loved
Blankets
Cushions
Cups
Puzzles
Photo albums 
Jewelry
The best gifts for people with dementia
SMPL One-Touch Music Player: available at Amazon
This retro music and radio player is easy-to-use and ideal for seniors. Plug into 75 pre-loaded songs or 10 radio stations, or fill the 8GB with your own music and audiobooks. It's made up of durable materials and comes with easily accessible technical support.
SVINZ Newest 5 Alarms Dementia Clock: available at Amazon
This adapted clock is designed with large buttons and an 8-inch display screen. It clearly displays the date, time and whether it's morning, afternoon, evening, night or pre-dawn. It features 3 screen colors and an automatic light-dimming function.
JOY FOR ALL  Interactive Companion Pets: available at Amazon
This award-winning, life-like cat is the perfect companion, providing the opportunity to care for a pet, without the responsibilities of a real animal. This soft-touch cat is ultra-therapeutic with its realistic purr sound, movements and a built-in sensor that responds to touch.
MXCUSTOM Custom Wooden Jigsaw Puzzle 300 Pieces: available at Amazon
Personalize your own puzzle with a photo and text to keep your loved one entertained and mentally stimulated. This wooden puzzle comes packaged in a sturdy box that also displays your chosen image.
Future Call FC-0613 Picture Phone for Seniors: available at Amazon
This phone is designed for those with memory loss, vision and hearing impairments. It features large buttons, bright lights and amplified volume options of up to 40 decibels. It boasts a one-touch programmable memory dialing that works with small pictures of key contacts.
Talking Products Photo Album: available at Amazon
This is no ordinary photo album with its built-in microphone and speaker that records and plays back up to 6 minutes of messages. Each page features a pocket for a 5-by-7 photo and an individual play and pause button. Fill the 20 pages with instructions or create a photo album with heart-warming messages. 
Relish Garden Wonders Aquapaint Water Painting Art Pack: available at Amazon
This art pack is specially designed to provide smiles and mental stimulation while promoting a sense of independence and accomplishment among dementia patients. Seniors can paint mess-free over and over again, with these five nature-inspired reusable sheets that only require water.
Aadyan Weighted Cotton Blanket: available at Wayfair
Soothe your loved ones, stimulate their senses and keep them warm and cozy with this super-soft weighted blanket. It features breathable, non-toxic materials and is filled with micro-beads. It boasts a 100% cotton removable cover that is machine washable and is suitable for all seasons.
Courtney Love is a writer for BestReviews. BestReviews is a product review company with a singular mission: to help simplify your purchasing decisions and save you time and money.
BestReviews spends thousands of hours researching, analyzing and testing products to recommend the best picks for most consumers. BestReviews and its newspaper partners may earn a commission if you purchase a product through one of our links.
Distributed by Tribune Content Agency, LLC.