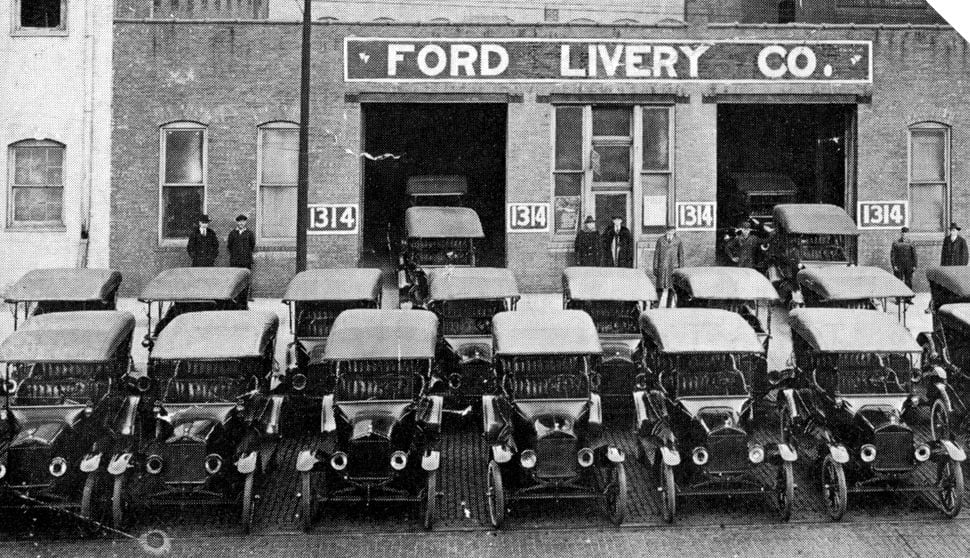 Editor's note: This piece originally was published on Jan. 3, 2010, as part of David Harding's "Everyday History" column in The World-Herald.
Business was slow for Joe Saunders and his three brothers in 1915. About the best thing their family real estate operation had to offer was a decent view of downtown Omaha from their 12th-floor office in the old Woodmen of the World Building.
The Saunders boys had inherited their father's entrepreneurial spirit, and Joe in particular chafed at the bit for a new business idea, something more innovative and profitable.
It appeared in the guise of bad news one morning when Joe's younger brother reported that the touring car they used for real estate showings had broken down while he was out on a date the night before. Repairs would likely take weeks, so Joe needed an interim solution. He arranged to borrow a car from one of their employees and paid six cents per mile for the privilege.
Automobiles had become a lot more common since Henry Ford introduced the Model T in 1908, but most people still couldn't afford to own one.
Joe Saunders began to wonder how many people might want to borrow one to fill a temporary need or just for fun. He and a brother began to loan a car from their home on a trial basis. Then, in August of 1916, Joe placed an ad in The World-Herald announcing "Automobiles for Hire."
He had only one car, a Model T, and he offered it for 10 cents a mile. "You may drive the car or I will furnish the driver" the ad announced, taking into account that many people had never driven a car.
The car rental industry was born that day.
Saunders added cars to his "fleet" almost immediately. His brothers abandoned real estate and signed on as soon as they witnessed the tsunami of demand for rental vehicles.
People clamored for the chance to borrow a car. One drove up to Fremont to visit relatives. Another went hunting. Some just wanted to take a spin in the country for pleasure. Others needed to make a good impression on a customer.
The Saunders brothers moved their cars to a location on North 22nd Street, where they converted a horse stable into a garage. They called their new business the Ford Livery Company because all their cars were Model Ts, and they advertised it as "the 20th Century Livery Barn, " a place to rent horseless carriages.
Joe urged his father, who was living in Birmingham, Ala., to join the new enterprise. He argued in a letter that the business "requires practically no salesmanship. The demand is here and everywhere; all you have to do is get the cars ... and before you know it you are swamped."
Their father cautioned them from investing too heavily in an untested idea, but when he came to Omaha and observed the operation — now featuring 18 Model Ts — he joined the firm.
In 1917 the company name was changed to Saunders Drive-It-Yourself System and the fleet moved to a larger location at 13th and Howard Streets, where again they displaced a horse stable. By year's end, more than 100 rental cars and trucks were rolling out of the modern livery.
Saunders System opened a Kansas City office in 1919 and a location with 100 cars in Birmingham the following year. The business then exploded, spreading to 56 cities by 1926.
The Saunders family sold their company to Avis in 1955.
Twenty years later, Omaha resident Jay Golden worked for one of Joe Saunders' sons at a car rental agency in New York and had dinner with Joe on several occasions.
"He used to say that the more spaces you have for cars, the less likely you are to rent those cars. So he said you only need one space — it's for the car you drive home at night, " recalled Golden.
Joe Saunders started with one car and one space 93 years ago right here in Omaha. He had one key — it was an idea that unlocked a brand new industry now worth $35 billion in annual U.S. revenues.
Thanks to the Douglas County Historical Society for research assistance.
Want more of this? Check out Omaha.com/history for more stories from our city's fascinating past.