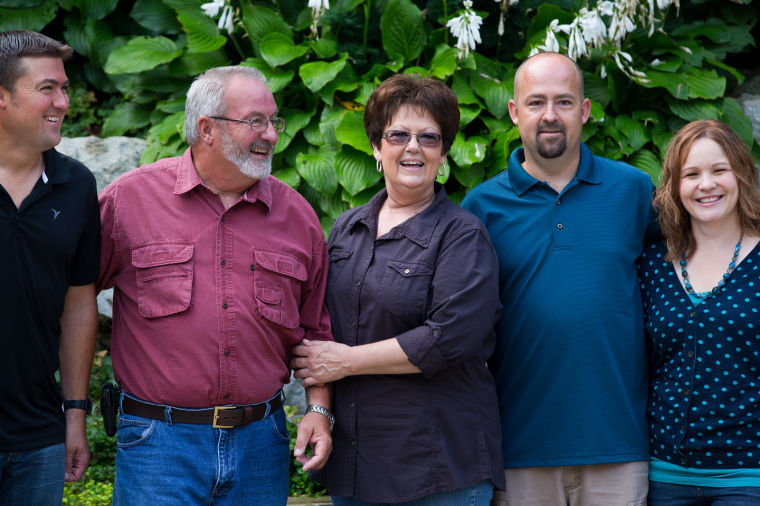 It was a humble wish: one nice family portrait.
But it was a wish an Omaha foundation was eager to fulfill.
So on a warm, muggy morning in early September, a fancy limousine picked up Dan and Deb Stuck at their home in Council Bluffs. Eleven family members joined them and they were whisked off to Omaha's Elmwood Park.
At the park, they were joined by professional photographer Catherine Bosley.
Ron and Jeanie Carson, founders of the Dreamweaver Foundation, were there too.
The Dreamweaver Foundation is the Carsons' way of giving back to the community. The couple, who have a successful business, Carson Wealth Management, were trying to think of a charity or foundation they could create that would help one of the groups closest to their hearts: children or senior citizens.
The Carsons found several organizations to serve children but not many that benefit older adults.
With the Make-A-Wish Foundation in mind, they decided to grant wishes for older adults who have life-threatening or terminal illnesses. They wanted to fulfill that one wish that was beyond a person's financial means or couldn't be granted by family.
Jeanie Carson also hoped to honor her late father, who appreciated the little things she was able to do for him before he passed away. "The smile and the look on Dad's face is one that I wanted us to replicate on other elderly people's faces."
After selecting a board of directors and setting up all the financial and legal necessities for the foundation, they sought nominations for Dreamers. The Carsons' initial gift has been supplemented by a fundraiser and donations.
The first Dream was for a couple who both had serious health problems, whose Dream was a night out for dinner and a symphony concert. The second nominee, who didn't want any publicity about her Dream, has since passed away, Carson said.
That brings us back to the Stucks.
During a preliminary meeting, Carson and some foundation board members visited the Stuck house. They talked about Dan's health problems. He was diagnosed with liver cancer and told there was no treatment for it aside from a transplant.
He will be put on the transplant list, which has about 37,000 names on it. Only about 13,000 liver transplants are done each year.
Dan was in the military before entering the ministry in 1985. The couple, who have been married 40 years, have always been active participants in their community, wherever life has taken them. Deb grew up in Carter Lake and Dan is from Omaha. They moved around the country with the military and then lived in Wyoming until 1992, when they returned to the Omaha area. They now live in Council Bluffs, where Dan has run the Community in Action Christian Fellowship, a nondenominational church.
"I'm a blue jeans minister," he said with a laugh. "I built a relationship with God without a lot of religion."
His nomination to be considered for a Dream came out of the blue, he said.
"It was a total surprise. At first we were bothered that we were nominated," Dan said. "We are usually the ones helping others. We feel we have everything we need."
The couple eventually settled on something they had long wanted but never been able to set up — the family portrait, one with their two sons and daughters-in-law and all seven grandchildren. Arrangements were set in motion in July. Finding a photographer was easy. Bosley is a Dream Foundation board member and was happy to volunteer her time and expertise. But Dan's precarious health and various work schedules made setting a date for the portrait difficult.
But finally, on Sept. 8, the stretch limo picked them all up. Dan, a huge fan of Husker football, also received a basket of memorabilia that included a signed football.
"I think this is great," said daughter-in-law Michelle Stuck while Dan and Deb were posing with the grandchildren. "This is the first family picture we've ever done. And it's perfect because it's Grandparents Day!"
All 13 family members went wherever Bosley took them — down in the grotto, by some trees, on a small bridge — and no one complained, not even youngest grandchild Jacob.
"This is so much fun," Dan said as he walked slowly along one of the park sidewalks. "I'm feeling pretty good. It's incredible."
In fact, the morning was all smiles except for Deb, whose tears began falling before the shoot was completed.
"I was so happy and enjoying it," she said later. "Then about halfway through I remembered why we were there (Dan's terminal disease). There was joy. ... It was bittersweet."
Soon the family piled back into the limo for the final portion of the Dream, brunch at Granite City.
It should be pointed out that the couple don't think they're senior citizens yet — he's 59, she's 58. "We're just kids," Deb said with a chuckle.
Dan's reaction to the entire morning? "I was just in awe," he said recently. "I've never experienced anything like it."
Now it was his turn to tear up. "It was just phenomenal," he said with a hitch in his voice.
Both Stucks said it was almost impossible for them to think of a way to show their gratitude for that morning. But they do have a thank-you surprise planned.
It's all working out as the Carsons had hoped it would.
"The joy Ron and I had was immense," Jeanie Carson said. "We are so blessed to be able to do this and to be able to be part of their lives."