Laurel Burleson, chef and owner of the Ugly Apple Café in Madison, Wisconsin, first made this fruity riff on Italian caprese salad toasts for a catering gig. Fresh mozzarella offers a creamy counterpoint to the tartness of strawberry-basil jam, and a balsamic drizzle underscores some of the same flavor notes.
For a sweeter canapé, make a balsamic glaze by simmering a little balsamic on the stove until it reduces by half. Or do as Burleson and pick up a high-quality balsamic vinegar and just use it straight.
Put a pin in this jam recipe for the first time you see strawberries at the farmers' market. Burleson says this recipe makes six 8-ounce jars of jam, which you can give away to lucky friends or freeze to treat yourself later this winter.
The jam recipe can be cut in half and will still work just fine. A kitchen scale is more accurate and may speed up the process. Burleson always advises that, when making jam, surface area is your friend, so she recommends using a wide sauté pan or saucepan. Also, if you plan to can the jam in sealed jars, bottled lemon juice is preferred for its uniform level of acidity.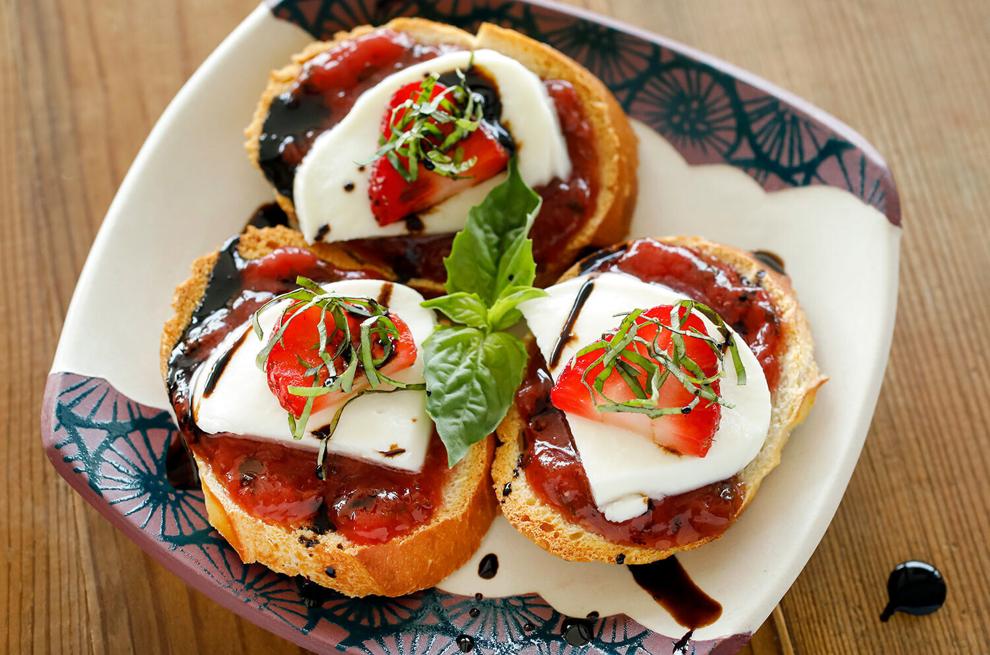 ---
Strawberry Caprese Canapés with Strawberry-Basil Jam
3½ lbs fresh, ripe strawberries, hulled and cut into ½-inch pieces
3 cups (1¼ lbs) granulated sugar
2 Tbsp (1 oz) lemon juice
cant ⅓ cup (1 oz) chopped fresh basil leaves
Strawberry Caprese Canapés
1 demi baguette (about 8 oz)
1 ball (8 oz) fresh mozzarella
2 to 3 fresh strawberries, thinly sliced
2 to 3 large basil leaves, thinly sliced
balsamic vinegar, glaze or reduction
freshly ground black pepper, to taste (optional)
finishing or coarse salt, to taste (optional)
Prepare Strawberry-Basil Jam: Place a plate and a few teaspoons in freezer. In large sauté pan or wide saucepan over low heat, add strawberries, sugar and lemon juice. With potato masher, mash strawberries, then stir with rubber spatula until sugar dissolves. Increase heat to medium; heat to boiling, stirring occasionally. Boil about 10 minutes, stirring frequently and scraping sides and bottom of pan to prevent sticking or burning.
After about 10 minutes, stir in basil. Remove pan from heat. To know when jam is done, test jam's gel point: Remove plate and teaspoon from freezer; drop about 1 teaspoon jam onto plate. Return plate and spoon to freezer for 1 minute. After 1 minute, push jam with spoon into a line. If jam remains somewhat firm when pushed and line does not fill in with juice, the jam is ready. If line fills in with juice, then continue to cook, retesting gel point every few minutes.
Set aside about ½ cup jam for canapés. If desired, for longer storage, ladle remaining jam into six 8-ounce sterilized jars, leaving a half inch of space at top of jar. Seal and secure jars with button-top lids; place in boiling-water bath about 10 minutes or until seal takes hold and pops. Place jars on drying rack; cool jam at room temperature. Refrigerate sealed jam up to 1 month. Or place jam in airtight containers; cover and refrigerate up to 1 week or freeze up to 1 year.
Prepare Strawberry Caprese Canapés: Preheat oven to 325°F. Meanwhile, trim ends from baguette; cut baguette crosswise into ten ¼-inch-thick slices. Place slices on cookie sheet and bake 7 to 10 minutes or until lightly browned and crisp. Cut mozzarella into ¼-inch-thick slices, each to about the same size as each bread slice (slice mozzarella ball in half, if necessary).
Assemble canapés: On large serving platter, arrange toasted baguette. Spread 2 teaspoons or so Strawberry-Basil Jam over each slice of bread; place 1 slice mozzarella over jam, then top with 1 or 2 slices strawberries and some basil. Drizzle with balsamic. If desired, sprinkle canapés with pepper and salt.