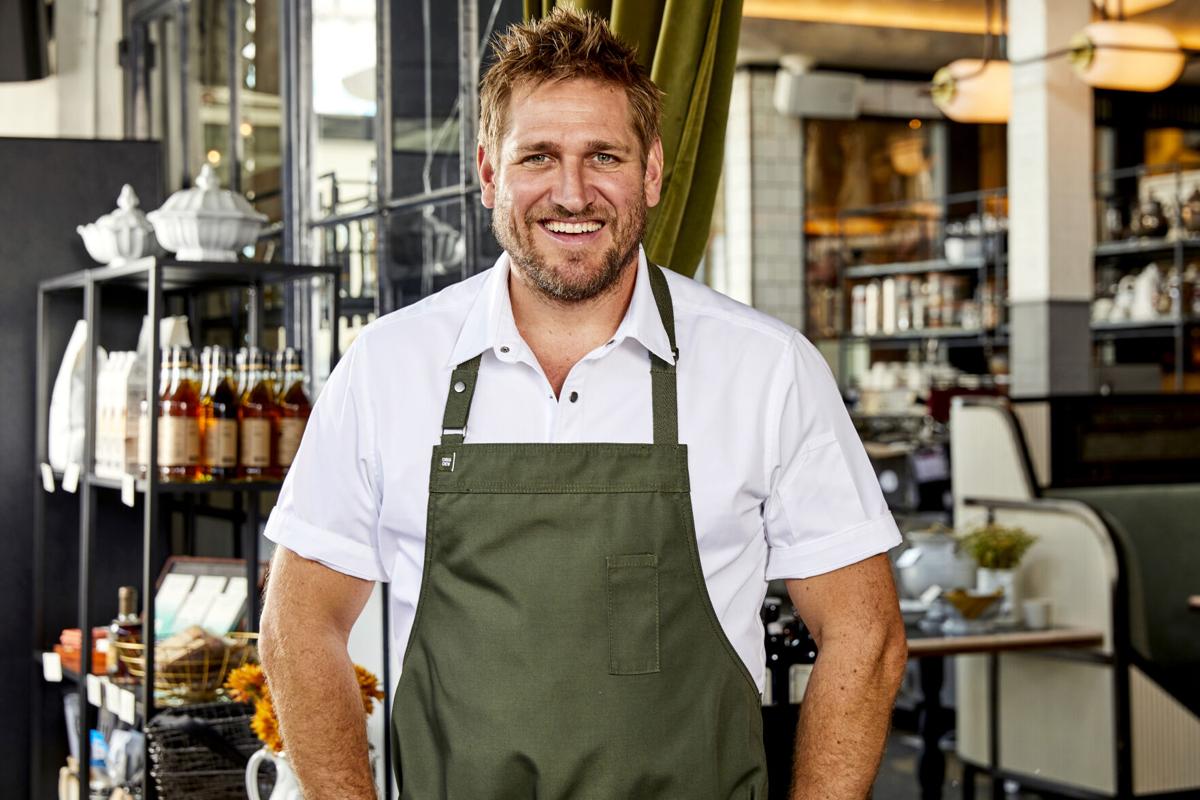 A Los Angeles-based chef will show Omahans how to cook a mouth-watering dinner Thursday night at a fundraiser for the Food Bank for the Heartland.
Curtis Stone, who has been on television cooking shows such as "Take Home Chef" and "Top Chef Masters," is livestreaming a demonstration of three recipes from his kitchen to the homes of those who sign up for the virtual "Celebrity Chef" event. He was in Omaha for the same fundraiser in 2018.
He also owns two L.A. restaurants, Maude and Gwen Butcher Shop & Restaurant, and has a show on PBS called "Field Trip With Curtis Stone."
People who buy tickets can obtain meal kits with all the ingredients by curbside pickup prior to his livestream, which stars at 7 p.m.
Stone volunteers with Feeding America, a national hunger relief organization that has been more important than ever during the pandemic. We talked with him about his work, what he plans to cook on Thursday night and his advice for those new to cooking.
Q: Why do you work with Feeding America?
A: Feeding America provides food support for our neighbors without enough to eat. The pandemic has intensified America's hunger crisis. Right now, 1 in 6 people face food insecurity. It's unacceptable, as hunger is a completely solvable problem.
Q: What do you do for the organization?
A. I lend my voice, time and energy to hunger organizations when and where I can — speaking out on social media, participating in events to raise funds and encouraging followers to contact their lawmakers to improve and escalate hunger legislation.
Q: What will you demonstrate for the Omaha fundraiser?
A: I'll be making goat cheese bruschetta, wild mushroom risotto and a pan-seared steak. They are accessible recipes that I hope attendees will use in the future.
Q: Can anybody cook? Why or why not?
A: Of course. Many people who don't cook are simply afraid to cook or find it a taxing chore. Whether you're cooking for yourself or for others, cooking should be joyful and fun.
Q: What advice do you have for beginning cooks?
A: Start with the best ingredients. You'll be setting yourself up for success. Find a simple recipe with basic ingredients and easy techniques and master it. You'll build from there.
Q: How can we provide more healthy options for people with limited means?
A: Education is the best way to get people eating healthy. Basic pantry items such as rice, beans, pasta can be inexpensive and super healthy when paired with fresh fruits and vegetables. Making healthy choices accessible to everyone is the biggest battle.
Q: If you weren't a chef, what would you be?
A: A boxer. It's my favorite workout and one of the best ways to start my day.
Q: Why is it important for you to appear at fundraisers such as the one for the Food Bank for the Heartland?
A: I have a very hectic schedule, but I make time for events such as the Food Bank for the Heartland. They do wonderful work getting food into the hands and onto the tables of the people who need it most. It's a noble cause which I'm happy to be a part of.
Master class at Playhouse
The workshop, from 10 a.m. to 2:30 p.m., is for people of all skill levels who want to learn more about auditioning for musicals as an actor, dancer, singer or all of the above.
There are a limited number of spots in the class, and priority will go to people who wish to audition for the Fats Waller musical "Ain't Misbehavin'," to be presented at the Playhouse this spring.
Workshop sessions will include dance with Mercer; music with Playhouse music director Jim Boggess; and acting with Denise Chapman, an Omaha theater director.
There will also be a question-and-answer segment with all of the instructors and workshop moderator Kathy Tyree, who will direct "Ain't Misbehavin.'"
'Disney on Ice' returns
After 7 ½ months, "Disney on Ice" is touring again.
The new show, "Dream Big," features favorite Disney characters such as Mickey Mouse, Moana and Elsa on skates. It's destined for the CHI Health Center Omaha, March 11-14.
It's coming to town with a new safety program in place. Seating capacity is reduced with a pod seating structure that allows family and friends to sit together socially distanced from other groups.
Masks will be required for everyone 2 and older. Patrons can buy souvenirs with digital purchasing and payment.
---
Signature dishes from 50 countries around the world