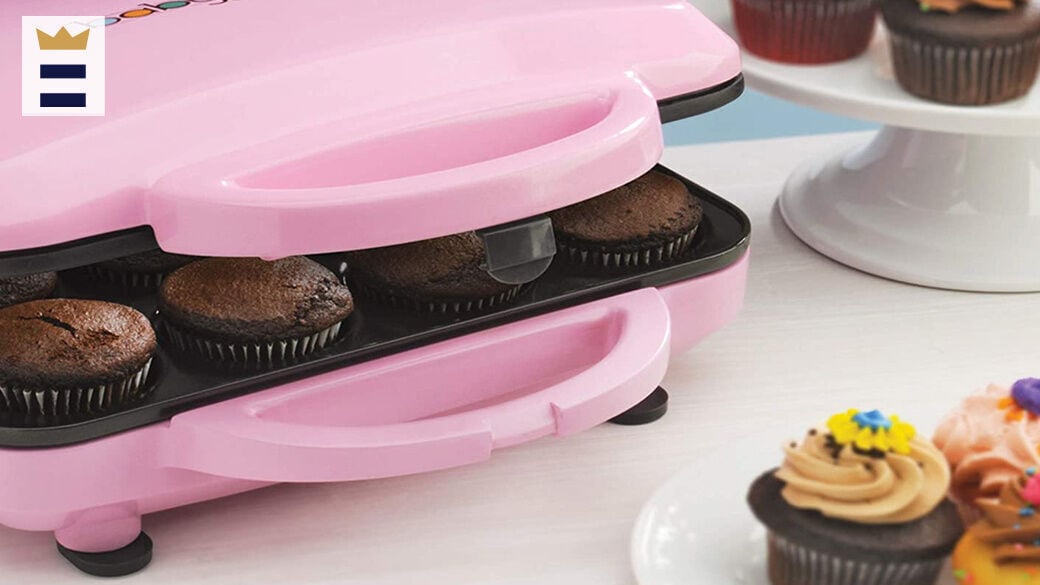 If you have a sweet tooth, cupcakes are the perfect treat to satisfy a craving. But you don't always was to go through the mess and hassle of making them in your over. A handy countertop cupcake maker can let you make a small batch without heating up your entire kitchen.
A cupcake maker uses a lid to close over baking cups filled with batter and surround the cakes with heat. As a result, your cupcakes bake faster than they do in an oven — and you don't have to make a full batch every time you want a tasty treat.
Whether you want to make only a few cupcakes at a time or just want to avoid turning on the oven on a hot day, a cupcake maker can help you satisfy your sweet craving. The top model from Baby Cakes is a long-time bestseller because it only takes 10 minutes to make a whole set of full-size cupcakes.
What to know before you buy a cupcake maker
Capacity and dimensions
The capacity and dimensions of a cupcake maker determine how many cupcakes it can make at a time and how much space it requires in your kitchen. Some models can bake a dozen full-size cupcakes at once, but many only produce six full-size treats. There are also some cupcake makers that make four to eight mini cupcakes at a time. 
The larger a cupcake maker's capacity is, the larger the appliance is overall. That's why models that make full-size cupcakes are usually bigger than those that make mini cakes. It's also important to consider the number of cups that a cupcake maker has since a model with a dozen cups is typically larger than one with four or six. 
You can usually find a cupcake maker's dimensions in the product description, so measure the area where you plan to use it (and the cabinet or shelf where you'll store it) to see if the model you're considering will fit. 
Cooking plates
A cupcake maker with nonstick cooking plates is the easiest to use. That's because you can get the finished cupcakes out of the maker with ease and you can quickly clean it when you're finished baking. Just like waffles in a waffle iron, the less sticky the plate, the better your cupcake will turn out.
A model with plates that feature deeper cups is usually better too. Cupcake makers with plates that have shallow baking cups produce cupcakes that aren't as substantial as those with deep cups.
Lid design
Cupcake makers with a high-dome lid are usually the best option because they allow the cupcakes to rise significantly. Those with a flatter lid tend to produce flat cakes, so they don't resemble traditional cupcakes.
Cupcake maker features
Heat and cook time
The main benefit of a cupcake maker is that it can make a batch of cupcakes in less time than a traditional oven. However, the specific heating and cooking time varies from model to model. 
You can find some cupcake makers that don't require any preheating heat time, so you can turn it on and add your batter right away. Other models need a few minutes to heat up, but some cupcake makers can require up to 10 minutes to fully heat. 
The majority of cupcake makers take 10 minutes or less to bake a full batch of cupcakes. They can cook more quickly than your oven because the cook plates deliver heat from both the top and bottom simultaneously. 
Indicator lights
The most user-friendly cupcake makers feature indicator lights. They light up to let you know when the appliance is turned on, heated and ready to use. You can also find models with indicator lights to let you know when the cupcakes are finished baking. 
Cool-touch exterior
If you're using a cupcake maker with kids, it's especially important to choose a model with a cool-touch exterior. The outside of the appliance won't get hot during baking, so you don't have to worry about accidental burns. 
Accessories
Some cupcake makers come with extras that make it easier to make and decorate your cupcakes. For example, you can find models that include a recipe guide, spatula for mixing or a piping bag with nozzles for frosting your cupcakes. 
Cupcake maker cost 
You'll usually pay between $15 and $65 for a cupcake maker. Models that make mini cupcakes can go for $15-$25, while smaller full-size cupcake makers generally cost between $25-$45. For the largest, full-size cupcake makers, though, you'll typically pay between $45-$65. 
Cupcake maker FAQ
What can I make in a cupcake maker?
A. You can make cupcakes from a box mix or a from-scratch recipe in your cupcake maker. The fun thing about a cupcake maker, though, is that you can make other baked goods like muffins and cinnamon buns in it, as well as savory treats like mini quiches and omelets.
What's the best way to clean a cupcake maker?
A. You should never submerge a cupcake maker in water. Unplug it and wait for it to cool completely. Use a damp cloth to wipe both the interior and exterior clean. You can scrub away any baked-on mess with a plastic brush or mesh sponge. Use a clean, damp rag to rinse the cupcake maker and dry it thoroughly before storing it. 
Which cupcake maker should I get?
Best of the best cupcake maker 
Baby Cakes Full-Size Cupcake Maker: available at Amazon
Our take: The best model if you want a large batch of full-size cupcakes.
What we like: This cupcake maker features nonstick cooking plates that make it easy to remove the cupcakes and clean the appliance. It only requires a couple of minutes to heat up and has indicator lights to let you know when it's ready to bake. It bakes a full batch in just 10 minutes. 
What we dislike: Requires paper cupcake liners. 
Best bang for your buck cupcake maker
Our take: A compact cupcake maker that can make seven mini cakes and is safe for kids, all at an affordable price. 
What we like: This model offers nonstick cooking plates, stay-cool handles and indicator lights to let you know when it's on and if it gets too hot. It can also stand upright for easy storage.
What we dislike: Cupcakes don't always brown deeply enough on top. 
Honorable mention cupcake maker
Bella Cucina Cupcake Maker: available at Amazon
Our take: A compact cupcake maker that makes seven mini cupcakes quickly and easily. 
What we like: This model only requires 5-8 minutes to bake a batch. Its nonstick plates and indicator lights make it extremely user-friendly. It is compact enough to store in a cabinet.
What we dislike: The lack of a timer requires you to watch the cupcakes carefully. 
Jennifer Blair is a writer for BestReviews. BestReviews is a product review company with a singular mission: to help simplify your purchasing decisions and save you time and money.
BestReviews spends thousands of hours researching, analyzing and testing products to recommend the best picks for most consumers. BestReviews and its newspaper partners may earn a commission if you purchase a product through one of our links.
Distributed by Tribune Content Agency, LLC.