If you're celebrating St. Paddy's Day at home, why not try cooking with the king of Irish beers — Guinness?
Wine is frequently used as an ingredient in recipes, and cooking or baking with a rich stout like Guinness isn't much different. The roasted wheat flavor definitely adds a unique dimension to dishes. Just beware: While Guinness pairs well with other strong flavors, it can overwhelm subtle ones.
Try experimenting with Guinness in meat and vegetable stews for a mellow, roasted flavor. Or use it as a tenderizing marinade for meat, or as a braising liquid for short ribs (which we heartily endorse after preparing the recipe here).
Beer is a mild leavening agent in breads and other baked goods, like our Guinness and Cheddar Biscuits.
You may be surprised to find that it's also a perfect pairing for chocolate. Case in point: Guinness Chocolate Cupcakes with Irish Whiskey Frosting.
Guinness Braised Short Ribs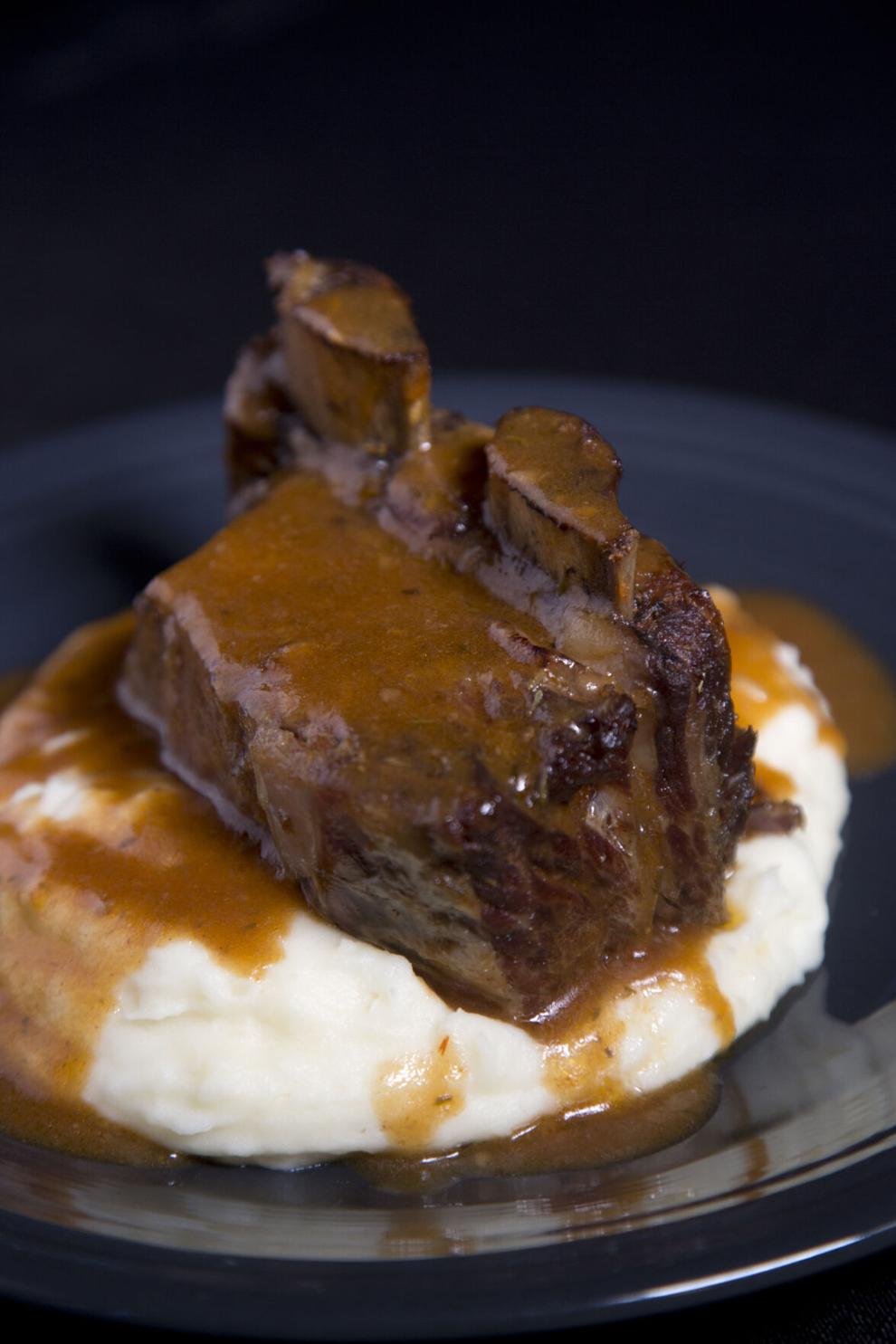 2 tablespoons tomato paste
1½ teaspoons smoked paprika
1 teaspoon dried rosemary
2. In a shallow plate, whisk together the flour, salt and pepper. Dredge the short ribs through the flour mixture, making sure that all sides are coated with flour.
3. In a large Dutch oven, heat the olive oil over medium-high heat. Add half the ribs, being careful not to overcrowd them, and sear on all sides, about 3 to 4 minutes per side. Repeat with remaining ribs. Remove the ribs from the pot and set them aside.
4. In the same pot, add the onions, carrot, celery and garlic. Sauté for 3 to 4 minutes or until the onion has softened and the garlic is aromatic.
5. Stir in the tomato paste. Add the Guinness stout, beef broth, smoked paprika, rosemary and thyme and bring to a boil. Season with salt and pepper, if needed. Add the short ribs back to the pot and cover with a lid.
6. Place the pot in the oven and cook for 2½ to 3 hours, until the ribs fall off the bone.
7. Pull ribs out of the Dutch oven. Strain cooking broth into a 2-quart saucepan and skim as much of the fat off the top as you can. Bring to a boil. Combine corn starch and water. Add to broth and stir until slightly thickened.
8. Serve the short ribs hot over mashed potatoes with a drizzle of the gravy.
Guinness and Cheddar Biscuits
2½ cups all-purpose flour
1 tablespoon baking powder
6 tablespoons butter (cold, grated)
1 cup (4 ounces) finely shredded sharp cheddar cheese
7 ounces Guinness Stout (if you'd like less beer flavor, substitute a lighter beer)
Optional: Melted butter (for topping hot baked biscuits)
1. Heat the oven to 425 F. Line a baking sheet with parchment paper or a silicone baking mat.
2. In a mixing bowl, combine the flour, sugar, baking powder, salt and baking soda. Stir with a whisk to blend thoroughly. Stir in the shredded cheddar cheese.
3. Using a cheese grater, grate the cold butter over the flour mixture. With your fingers, work in the butter until the mixture resembles a coarse meal.
4. Lightly stir in the Guinness (or other beer) just until moistened. Turn out onto a surface that has been dusted with flour and knead a few times, until you have a soft cohesive dough.
5. Pat the dough out into a circle about ½-inch thick. Cut with 2½-inch biscuit cutters and arrange on the prepared baking sheet.
6. Bake the biscuits for 10 to 12 minutes, or just until lightly browned. Remove from oven, brush with melted butter and serve warm.
Guinness Chocolate Cupcakes with Irish Whiskey Frosting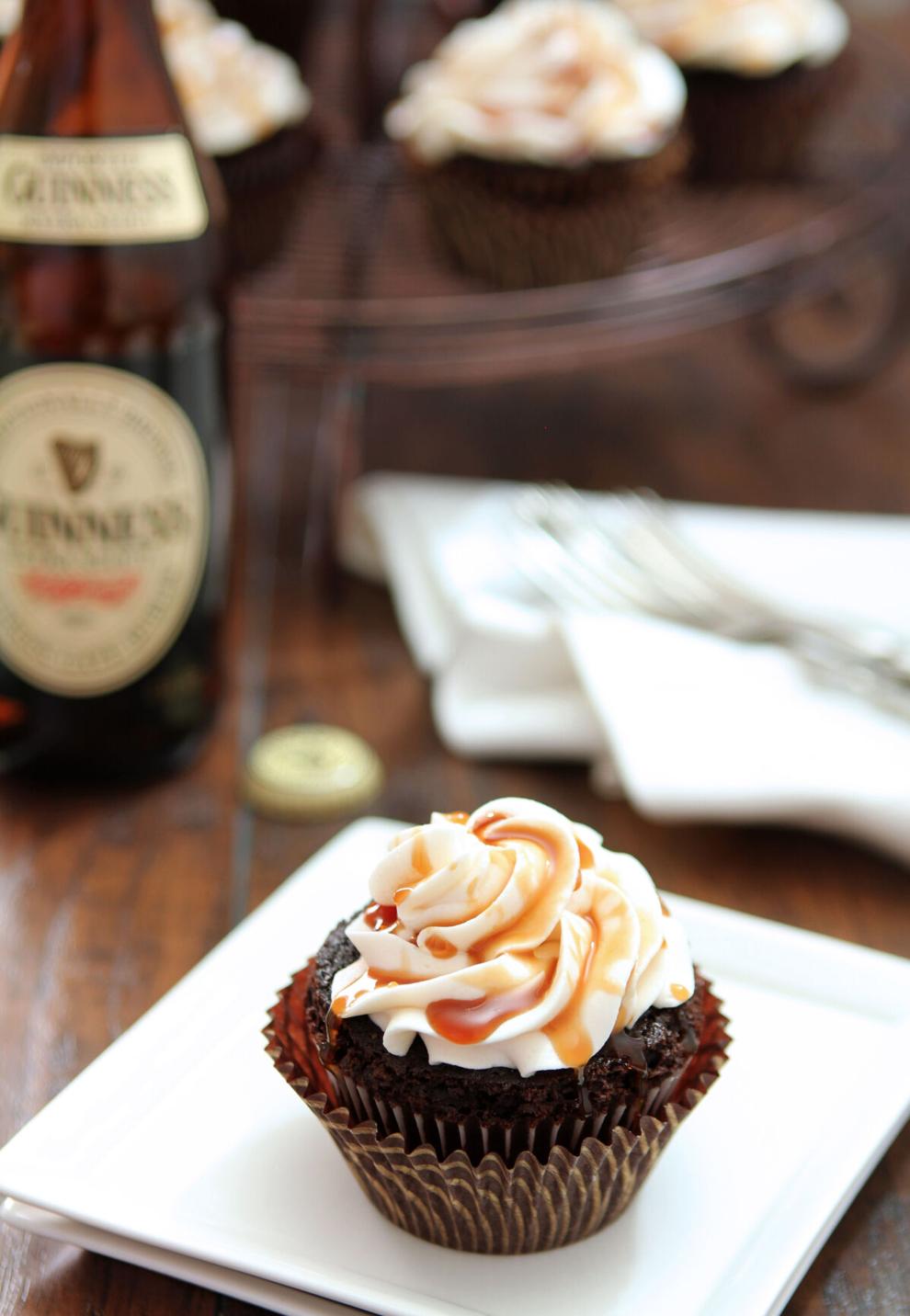 ¾ cup cocoa powder, unsweetened
1 tablespoon dry espresso powder (optional)
2 eggs large, at room temperature
2 tablespoons vanilla extract
6 ounces Bailey's Regular or Salted Caramel
4-5 tablespoons Jameson Irish Whiskey
1. Heat oven to 350 F. Add cupcake liners to cupcake tin.
2. In a medium saucepan over low heat, combine beer and butter. Keep on low until butter dissolves.
3. Once butter is melted, slowly whisk in sugar, cocoa and espresso powder, if using, until completely dissolved.
4. Set mixture aside and allow to cool to room temperature.
5. In the meantime, sift together flour, baking soda and salt in a small bowl; set aside.
6. Mix together sour cream, vanilla and eggs. Beat on low until combined, then slowly blend the cooled chocolate mixture into the sour cream and eggs, keeping mixer speed on low.
7. Add flour, one cup at a time, and mix on medium speed until well blended but do not over mix.
8. Pour cupcake mixture into the prepared cupcake liners to about ¾ full. Bake for 15-18 minutes or until a toothpick inserted into the middle comes out clean.
9. Cool cupcakes in the pan for about 10 minutes, then remove them to a wire rack to finish cooling.
To Make the Bailey's Drizzle
Combine the Bailey's and sugar in a saucepan. Cook over medium heat until the mixture is reduced by half. Remove from heat and let cool completely before using.
1. Cream the softened butter in the bowl of a mixer. Gradually add the powdered sugar and mix until well combined.
2. Add the vanilla and mix thoroughly. Add the Irish Whiskey, one tablespoon at a time and combine thoroughly. If necessary, add a bit more powdered sugar for correct consistency.
3. Spread frosting on cupcakes with a knife or offset spatula, or pipe using a piping bag and tip. Let the frosting set up a bit before garnishing with the Bailey's Drizzle.
---
5 spring-friendly recipes to check out
5 spring-friendly recipes to check out this week
This week's recipe roundup features light, fresh recipes that are perfect for warmer weather. Think grilled shrimp, spring pasta and an easy Mediterranean salad (plus a spring cocktail and dessert).