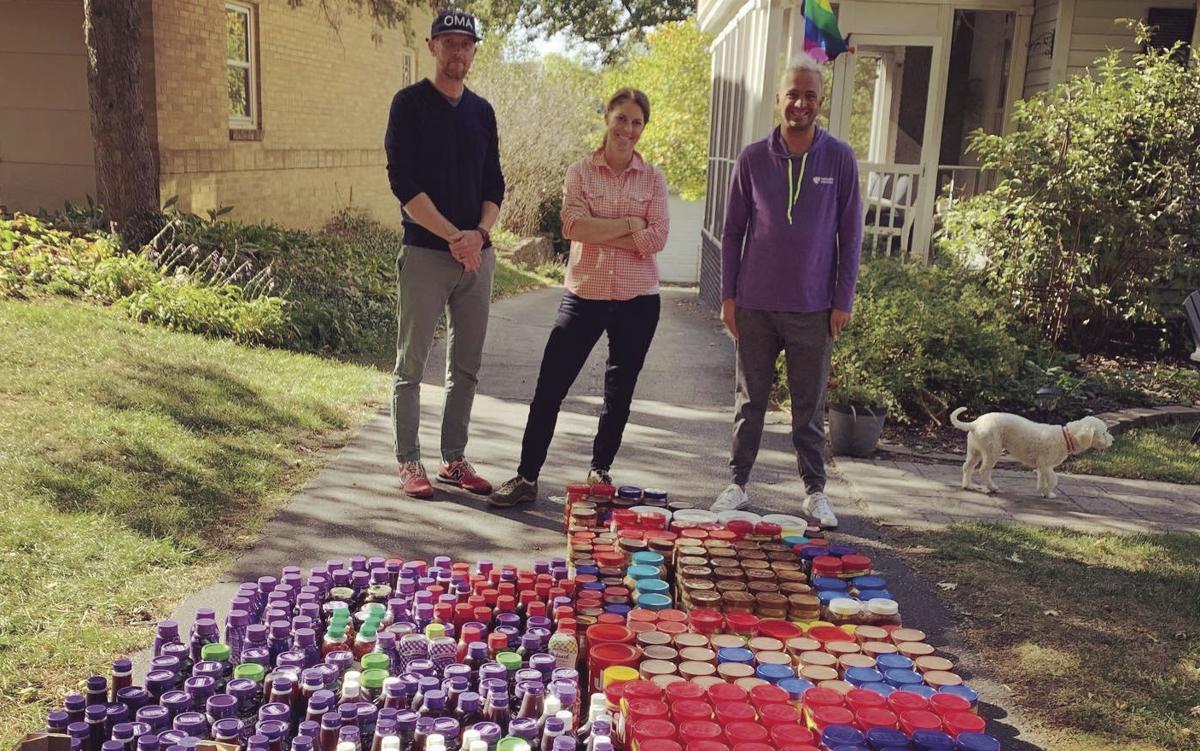 The Foodies at Food Bank for the Heartland are at it again.
Because of the success of their Peanut Butter and Jelly Challenge earlier this fall, the volunteer group has launched a Holiday Baking Challenge that continues through Nov. 21.
They are asking people to donate baking items. In other words, "Let's bake the world a better place."
"The Foodies want to make the holiday season a little brighter for the many Heartland families in need," said Joani Mullin, community engagement officer at Food Bank for the Heartland.
It is their way to stay active, involved and make a difference for those served by the Food Bank.
Donors may drop off items in the blue barrels outside of the Food Bank at 10525 J St. in Omaha, or they can visit FoodBankHeartland.org to make a financial donation in support of the Holiday Baking Challenge.
"This is a great opportunity for the community to spread some joy and help our food-insecure neighbors during this difficult time," Mullin said.
Foodies are asking for donations of cake, cookie, muffin and brownie mixes, frosting, sugar, flour, pie crusts, canned pie filling, stuffing and cornbread. Avoid glass containers.
Delivering Smiles Program
The Women's Center for Advancement has been chosen to participate in the Delivering Smiles program by Amazon and actress and Omaha native Gabrielle Union.
The Delivering Smiles program seeks to fulfill hundreds of AmazonSmile charity lists in the United States, donating millions of essential items through product and monetary donations to more than 1,000 nonprofit organizations worldwide.
The WCA will receive hundreds of much-needed items, including toiletries, cold weather clothing items, baby products and more.
Union will present the gift to Jannette Taylor, WCA's interim CEO, during an Amazon Live segment on Monday at 2:30 p.m. Tune in at www.amazon.com/live.
"We are so thrilled to receive this incredibly generous gift from Amazon and Gabrielle Union," Taylor said. "Like many nonprofits in the country, we've seen a huge uptick in community need, and this gift will allow us to provide some of the critical essentials our clients need to thrive."
Project FeederWatch
If you're searching for something fun to do over the winter, you don't have to look any farther than the birds in your backyard.
Project FeederWatch started this weekend and stretches until April 9. Sign up at feederwatch.org, and in a few weeks you'll get a kit, but you can start counting the birds before then.
Choose a portion of your yard that is easy to monitor, typically an area with feeders that are visible from one vantage point. Even if you don't provide feeders, you can still count birds for FeederWatch.
Select two consecutive days as often as once a week. Even if you only count once all winter, it helps.
Count birds attracted to food or water you provide, birds attracted to fruits or plantings you maintain and hawks and other predatory birds that are attracted by the birds at your feeders.
Letters to Santa
Children can stop by Nebraska Furniture Mart and write a letter to Santa.
They can fill out a postcard to Santa in-store or print it out at home by visiting www.nfm.com/events and dropping it off in a special Santa mailbox.
As long as they place their letter in a Santa mailbox by Dec. 13, they'll receive a letter mailed back to them (child's home address must be included). In addition, every child who writes a letter to Santa will be entered into a drawing to win a grand-prize toy package.
Each of the first 500 letters written to Santa will include a $1 donation from NFM to the Toys for Tots Organization.
The mailbox will be located in the appliance and electronics building near the pool table display.